Fly fishing waders can be the difference between a full day on the water and an afternoon on the couch. They're a vital part of any fly fishing arsenal and are necessary for making the most of your time on the water. With dozens of options for waders, the pressure to make the proper choice is high.
Snowbee, a company specializing in waders and fly fishing equipment, has found a formula for creating high performance waders with some unique features. Ingenuity is difficult to find in the world of waders, but when it happens, it makes the fishing experience that much better.
I grew up in the northern Midwest, and waders were a part of my everyday attire. I've owned far too many pairs that didn't do the job as well as advertised. It can be a challenge to find the proper set of waders, but once you do, you can survive in just about any conditions you find yourself in.
As an Amazon Associate I earn from qualifying purchases.
Who Is Snowbee?
Snowbee is a company that offers everything from fly rods and reels to apparel. The growth and development of the fly fishing industry has allowed them to reach even more markets.
Over 30 years of experience as a company has allowed them to see the industry grow and identify exactly what areas need improvement.
Snowbee Fly Wader Warranties
All Snowbee products are covered by a 12-month warranty, with some products under a lifetime warranty. If anything goes wrong with the manufacturing or material, the item will either be replaced or repaired at Snowbee's discretion.
If you're purchasing items from Snowbee USA, they won't honor the warranty on items purchased from any other Snowbee distributor.
Waders
Waders are under the 12 month warranty, but this doesn't cover accidental damage, punctures, fair wear and tear, or seam damage due to an incorrect size choice. However, if something is wrong on Snowbee's end, they'll replace it as long as it's within the 12 month warranty time.
Features of Snowbee Fly Waders
Snowbee fly fishing waders are all made with synthetic materials and have a soft-touch material. It's a newer fabric that isn't nearly as noisy as many of the waders on the market.
You won't be heard by everyone on the water once you start fishing.
Length
Snowbee offers a variety of sizes for anglers. They understand that x-small, small, medium, large, and x-large don't work for everyone. They offer short, long and king sizes within each of those categories as well. Don't worry, you'll find something that fits your necessary length.
If you're anything like me, you have a strangely shaped torso and leg length, so finding the proper size can be a challenge.
Material
Snowbee offers a variety of materials for their waders. If you're interested in breathable waders, you can purchase waders with their soft touch and peach skin material. These waders are made of 24% nylon, 59% polyester and 17% polyurethane. The inner laminate has Snowbee's Vapor-Tec breathable membrane.
Snowbee strives to fill the needs of all anglers with their waders. You can purchase breathable options for warmer days as well as completely rugged options in case you're truly out in the elements.
Cleated Soles
The cleated soles on the boot foot on Snowbee waders are great for sand, mud or other slippery surfaces. These will bury themselves in the ground and make for a more comfortable experience. Too often, anglers are so worried about slipping in their waders that they aren't as focused on the fishing side of things.
Combi-Sole
This is a unique development by Snowbee that lets you go just about wherever you'd like. With the combo-sole boot foot option, you have a felt sole and deep cleated heel. As a result, you can fish in wet grass, slippery banks, or rocks in rivers.
The felt will grip the rocks and the cleated heel will grip other slippery surfaces near shore.
Studded Felt Sole
The studded felt sole is exactly what it sounds like. It has a felt sole that allows you to grip the slippery rocks in the river, and it also has studs to make sand, mud, and grass fishing experiences that much better. It's a great versatile option for anglers.
History of Snowbee
Snowbee started as a wader company in 1984. They were established in the UK and eventually found their way to the United States due to the popularity of their products. They started selling lightweight PVC waders, and since then they've continued to create better and better products with new technology.
Snowbee Fly Waders
Snowbee offers anglers access to several types of waders. You can purchase breathable, Wadermaster, neoprene and PVC waders.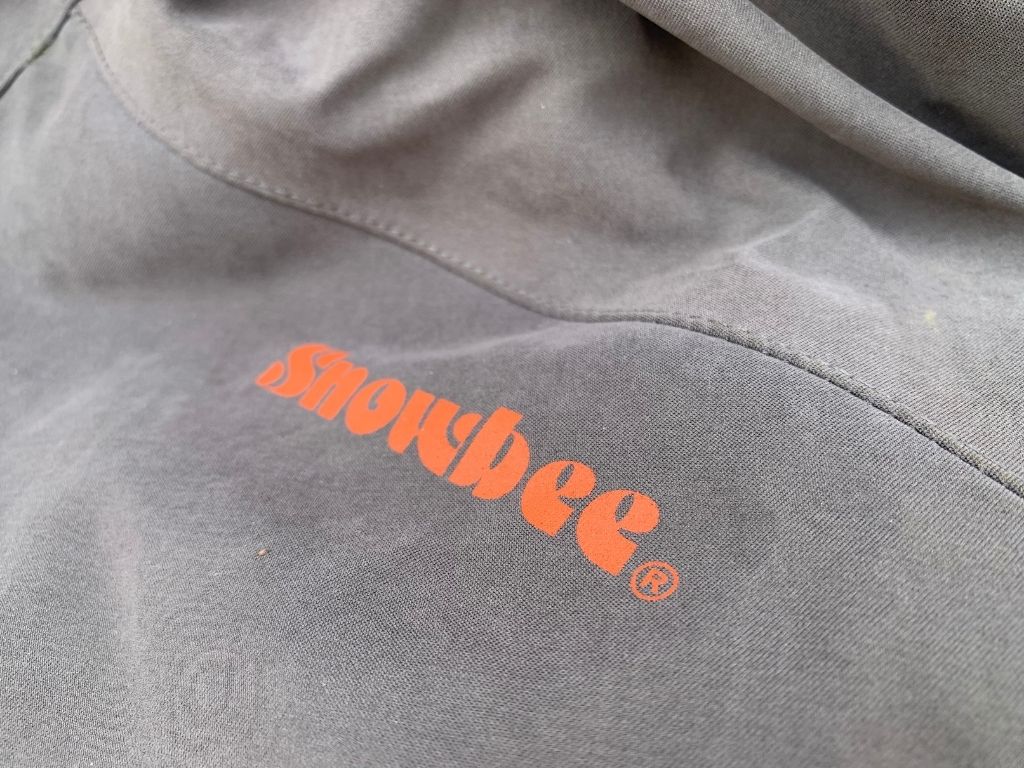 Depending on what you need, you'll likely have access to a proper set.
Prestige STX Breathable Waders
Best for: Anglers looking to fish in a variety of conditions. If you spend time in both warm and cold climates, the Prestige STX waders will perform well. All you'll have to do is layer differently underneath.
Material: These waders are made of 24% nylon, 59% polyester and 17% polyurethane. The outer layer is rated at L10/80, so it retains 80% of its DWR performance after washing it around 10 times. The breathability is 4,000g/m2/24hrs. These waders are very breathable and perform well.
You can purchase the Prestige STX Breathable Waders in both a boot foot and stocking foot option. Snowbee decided to put a second layer of material down the front of the legs from above the knee. At this point, they have six layers on the lower portion of the waders.
This feature allows for more breathability, and it's also protected from ripping. You can wander through the bush without worrying about how the waders will perform. They've done everything possible to keep the comfort and improve the durability.
Also, these waders have quite a few pockets for you to utilize. You can fit a fly box, leaders and a few accessories within the pocket. Waterproof pockets are often far too small, so Snowbee created a pocket that's able to fit just about everything you need.
The "peach skin" finish is also a unique feature. It almost silences these waders. Often, waders are extremely loud and can be disruptive. Snowbee created this material so you won't feel as if you're being a distraction.
Available Sizes in Stocking Foot
Extra small
Small
Medium short
Medium
Medium long
Medium king
Large short
Large
Large long
Large king
Extra large
Extra large short
Extra large king
Extra extra large
Available Sizes Boot Foot
6
7
8
8k
9
9k
10
10k
11
11k
12
12k
13
Ranger Breathable Chest Waders
Best for: These nylon waders are another versatile option. They will work on warm days as well as freezing cold days. It all depends on what you wear underneath. Take them wherever you fish and they'll do the job.
Material: Ranger waders are made of a nylon outer material and have a durable water repellent coating. The Vapor-Tec breathable membrane is a feature in the Ranger version as well. These have the same breathability as the Prestige waders.
If you're looking for a great overall wader option, the Ranger Breathable Chest Waders from Snowbee are a great option. You'll have breathability as well as comfort when using these. It has gravel guards and a nice elasticated section on the back to give more comfort when you're bending over. Snowbee doesn't want you to feel inhibited while you're on the water.
The pockets on these waders are another great feature. They have a hand warmer pocket on the front, an outer zipped chest pocket, and an internal pocket. All of these pockets have certain uses that let you to stay productive and bring everything you might need on the water.
These come in both stocking foot and boot foot options. You can purchase the boot foot waders with the cleated option if needed. You'll find a Ranger option that is going to perform exactly how you would like in your specific fishing situation.
Available Sizes Stocking Foot
Small
Medium
Medium fuller body
Large
Large fuller body
Extra large
Extra large fuller body
Extra extra large
Available Sizes Boot Foot
6
7
8
8 FB
9
9 FB
10
10 FB
11
11 FB
12
12 FB
13
210D Nylon Wadermaster Waders
Best for: Hard core anglers! If you spend most of your time fishing in cold water and temperatures, these is a wonderful option. They're tough, durable and will keep you comfortable no matter the conditions.
Material: 210D nylon material. It has a laminated PVC lining, so you don't have to worry about the waterproof features of this set. However, they aren't nearly as heavy as many other nylon waders.
Nylon waders have been available for the better part of two decades from Snowbee. The Wademaster version is Snowbee's bulletproof option. They took those features and combined them with nylon waders and created the 210D Nylon Wademaster series.
Three separate pockets on the outside of these waders will hold all of your necessary material. First, there's a hand warmer pocket to get yourself warm after handling a fish or changing a fly.
The main zippered compartment will hold a fly box or an extra reel, depending on what and how you're fishing. The two mesh pockets are great for your forceps or nippers. Finally, there's an internal pocket that can hold your keys or phone.
The waders can be rolled down and turned into waist waders if you're fishing on a particularly warm day. Finally, the wading belt is high quality and even has a couple D rings for any accessories you might have.
You can purchase these waders in shoe sizes 5-15. They're a boot foot wader to ensure that there are no rips or tears. Again, heavy duty is the name of the game with these waders!
Available Sizes
5
6
7
8
8 FB
9
9 FB
10
10 FB
11
11 FB
12
12FB
13 combi felt sole
14 combi felt sole
Classic Neoprene Chest Waders
Best for: Neoprene waders are built for the cold weather angler. They're thick, comfortable and provide a sense of security on challenging weather days. Neoprene waders are quite warm, so be aware of this.
Material: These waders are made from a 4 mm double lined styrene chloroprene rubber grade neoprene. They're flexible and comfortable! The boots in the boot foot option are made from PVC and have a neoprene lining.
The Classic Neoprene Chest Waders are Snowbee's most reliable yet. They have a return policy of less than .5%. These waders also have a roll down option. You can turn these waders into waist waders on warmer days. Since neoprene can be so warm, you may need to catch a breather and roll them down for a few minutes. Snowbee makes this quite easy!
You can purchase these waders in a boot foot or stocking foot option, depending on what you'd like. Stocking foot waders do require you to purchase your own wading boots, so keep that in mind.
There's a large main pocket on the front that will hold your fly boxes, reels and any other materials you might need to be easily accessible on the water. Also, you'll have access to the internal pocket that will hold your phone and keys to ensure they don't get lost or wet.
Making the most of your time on the water is important, and these neoprene waders will keep you warm! Keep this in mind before you purchase them. You should be in an area with cold water and weather if you want to use these.
You can buy these in a stocking foot, cleated sole and even felt sole. Make a careful decision before you purchase.
Available Stocking Foot Sizes
Small
Medium
Large
Extra large
Extra extra large
Available Boot Foot Sizes
6
7
8
8 FB
9
9 FB
10
10 FB
11
11 FB
12
12 FB
13
Neoprene Thigh Waders
Best for: Neoprene thigh waders are an ideal option if you spend the majority of your time fishing in still water. Wade fishing in rivers and streams often requires chest waders due to how often anglers have to move and the varying depths.
Material: These waders are made from 4 mm neoprene. It provides full insulation for those cold days while you're fishing in some still water.
Thigh waders aren't a common choice for many anglers, but they're quite useful and have proven their worth year after year. You can hook these waders directly into your belt loops. They have quick releases that allow you to take them off and move around if necessary.
Many versions of thigh waders are far too loose and don't fit well. Snowbee makes these with a stretchable material, so you won't feel as if they can easily fall down or are too tight. They don't look old-fashioned or feel too bulky. It's a nice balance from a company that understands the importance of style and comfort on the water.
Available Sizes
Granite PVC Waders
Best for: Those not looking to spend as much on their waders, but who still want to be able to spend time in colder water and not have to worry about stepping out every few minutes to get more comfortable.
Material: These are made of a PVC laminate. The inner lining is woven nylon and it's extremely strong. The seams are put together with integral tape with a new welding process. You won't feel the seams chafing as you use these.
The Granite PVC Waders are similar to what put Snowbee on the map in the mid-1980s. These waders are affordable, portable and can be versatile. You'll receive a waist belt with these waders to ensure you stay safe while you're wading in a bit deeper water.
Even with their more affordable items, Snowbee found an avenue to make them high quality and offer several features that you wouldn't otherwise find from many other companies. These PVC waders all come in boot foot style. There are no stocking foot options for the PVC.
You can purchase regular or cleated boot foot waders if you like.
Available Sizes
Granite PVC Thigh Waders
Best for: If you're shallow wading or bank fishing with a longer jacket, thigh waders are a great option for you. These waders prevent things from getting as complicated as they might seem.
Material: These waders are made from a PVC material that's both comfortable and secure. You don't have to worry about these waders leaking or breaking despite the more affordable price.
The Granite PVC Thigh Waders are simple and can easily be transported. You'll find a variety of uses for them even outside of fishing! It's never a bad idea to have a set of these lying around the house in case you're out cleaning in the rain or other adverse conditions.
Available Sizes
Conclusion
Waders are an investment. Anglers often change rods, reels, flies and even accessories. However, waders are a constant for a fly angler. You'll take them with you wherever you go, and they need to perform exactly how you need them to. This will keep you on the water for a long time.
Snowbee fly waders are high quality and have proven to be for years. Do yourself a favor and invest in one of the above mentioned options, and you'll see how well they perform. You'll appreciate having such a reputable product.