In this episode, we'll be doing a full Fishpond Thunderhead Backpack Review.
The boys at Into Fly Fishing asked me back to talk about some more gear. We all love gear. I love gear—probably too much. And I love good gear, so pretty much any gear you see me using or talking about in these reviews is stuff I actually use, have used for a long time, and really like.
Today, I'll be reviewing the Thunderhead submersible backpack from Fishpond.
My Experience with the Fishpond Thunderhead Backpack
I've been using these packs for about six years now. I bought my first one off a buddy of mine in Bolivia when he got himself a new one. I ran that into the ground, and since then I've been an absolute convert.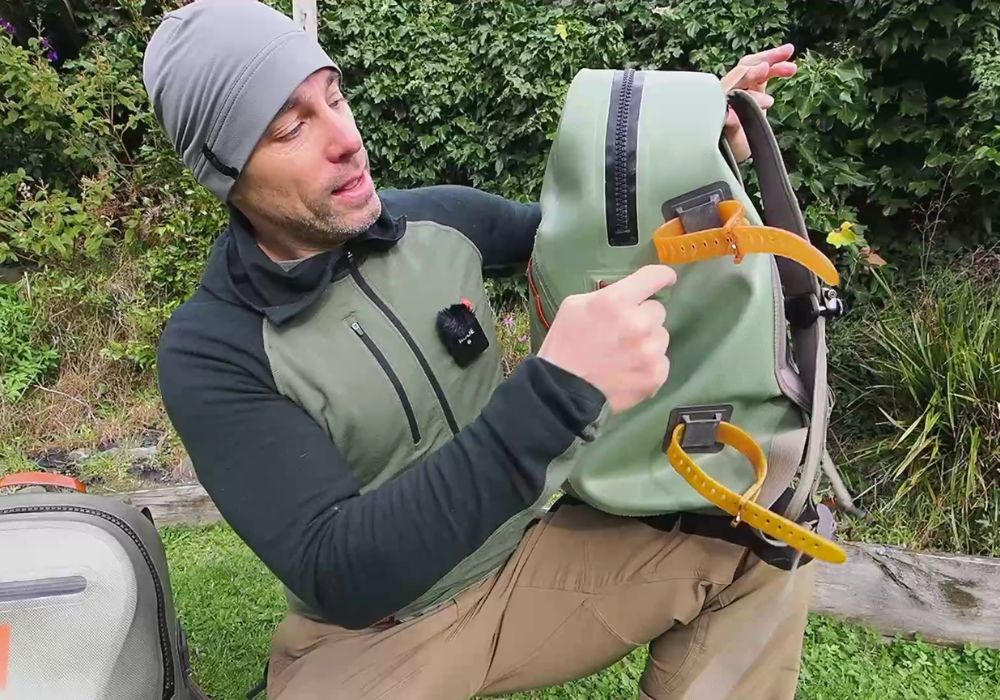 I've had three of these now, and basically, I've run them into the ground every single time, and then I went straight back and bought another one because they're that good.
What I Like About the Fishpond Thunderhead Backpack?
One of the things I really like about Fishpond gear, other than it being quality stuff, is the whole vibe behind them. For example, the hip packs and backpacks—in fact, I think all of their gear, the luggage, the duffel bags, all that kind of stuff—is all made out of recycled materials, industrial stuff.
I'll come back to this later because they've just recently changed a couple of things about the Fishpond Thunderhead Backpack, which I think is really cool, and I'll touch on that in a bit.
Features of the Fishpond Thunderhead Backpack
The Fishpond Thunderhead backpack has a 28-liter capacity. That might not sound like a lot, but you can get a heap of stuff in them. I carry more than most people on an average day in the river, and I can get everything I need, and many other things I don't need, in there quite happily.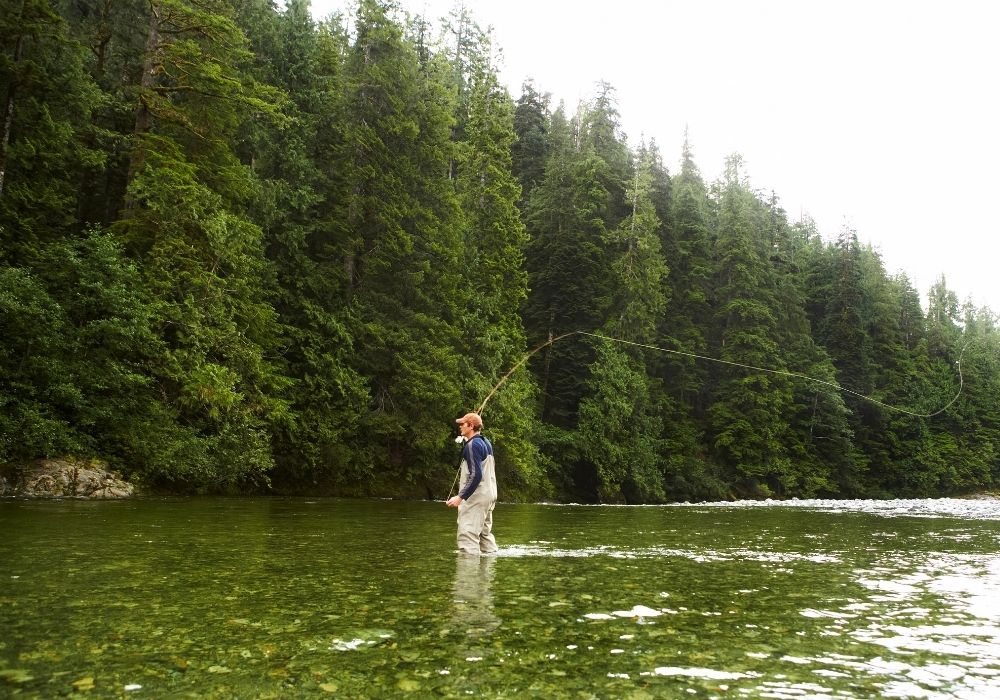 They come in some cool colors. There's an olive green, another kind of green, a camouflage one, and an orange one, which I've used in the past too. About the camo pattern—you can't get it in the new material, but you can still get it in the old design with the old material.
The main thing about these, which I guess is in the name, is that they're submersible. They're fully submersible, which is the same as the hip packs and duffel bags.
The zips are fully waterproof, and they recently changed the design of zips for the better. Once they're all done up, the pack is completely watertight.
It doesn't matter how much it rains, whether you fall in, or if you go for a swim, anything like that—everything in the backpack will stay totally dry, and you can have confidence in that. That's a biggie for me.
I swam a river crossing and swam a gorge with all my camera gear in the Fishpond Thunderhead backpack, and I was confident that it wouldn't get wet. It's never let me down yet.
The zips are a proper zip. They're really good to get your hands around. They're all grunty, easy to use, and really satisfying to mess around with.
There's a little pocket on the outside of the pack. I generally keep a few bits and pieces in there, like my keys. It's also waterproof, as long as it's fully done up by using the little finger tag attached to the zipper.
I've never had a zip break on me yet, and I use them a lot.
On the outside, there are various little hangy-offy bits. That's not the technical term, but you can hang different things off of them. You can make it however you want to put whatever you want on there. There's also a little loop on the back of the pack where you could hang something else.
There's a finger tag below the zip on the side to hold onto as you open the bag. It helps you open and close it. There's one on the other side too.
The handle on the top is solid. Generally my average day pack probably weighs between 12 and 15 kilos because of all the camera gear I carry around. I use the handle quite a lot when I'm picking the bag up or putting it down.
I've never had the handle even begin to break or show signs of wear. That's pretty impressive. You're not going to pick it up one day and have it pop off.
The back pad is really nice foam. It's comfortable, and it doesn't dig into your back, especially for a heavy backpack. I really like that. It's well thought-out and well made.
On the inside is an inside zip pocket with a clear pouch on the outside. You can put your bits and pieces in there—car keys, snacks, or whatever you want.
The rest of it is just one big open container that you can chuck whatever you want into. It's surprising what you can actually fit in these backpacks.
Side Straps on the Fishpond Thunderhead Backpack
On the side there are four attachment points, two on either side, where you can put in your straps. The newer straps are made of rubber.
The older style was velcro. They were good, but to be honest, the new ones are the way to go. If you do get one and it doesn't have the rubber straps attached to it, you can buy them separately as an accessory.
I recommend getting the rubber straps because they're brilliant. What I do is have two on one side, where I put my rod tube with my spare rods. Once it's cranked in, it's never coming out. It's super grippy, super solid, and just impressive.
On the other hand, I use a single rubber strap, which I generally put my tripod in. I have an attachment at the bottom which is for a spare rod. If I'm walking the flats, I can have a spare rod set up there, and then all I do is remove the top one and replace it with a magnetic rod clip. I put the rod in both parts, and I can get it out easily.
Again, a lot of the accessories are very multi-changeable between the packs and the bits and pieces, so you can customize your pack how you want it. That's another thing I like about their gear. Everything is well thought-out and really functional.
Watch The Fishpond Thunderhead Backpack Review Video
Shoulder and Chest Straps on the Fishpond Thunderhead Backpack
The shoulder straps are really grunty. They're not so thin that they cut into your shoulders, but they're nice and wide. They're well padded, and even with a lot of weight in the pack and when you're walking a long distance, they're really comfortable.
You can adjust the chest strap to where you want it on the shoulder straps, depending on your body type and body size. The clips themselves are super solid. They're not cheap, and they're not going to break in the middle of the backcountry and leave you in the lurch.
At the front there are some more clips. All Fishpond bags are compatible. You can take their chest pack harnesses, clip them into any of these backpacks, and have your chest pack on there if you're that kind of person. You can take the chest pack, clip it there, and make it part of your backpack system.
Again, it's so versatile. You can chop it, change it, tweak it, and make it exactly how you like it to suit your style of fishing and what you like.
The clips, the clasps, the webbing, and the straps are all really well made, so you can have confidence that they're not going to break in the middle of nowhere and leave you in a bit of a pickle.
Hip Straps on the Fishpond Thunderhead Backpack
One difference between the two packs I'm reviewing is at the bottom. One has hip straps, and the other doesn't. In fact, they all come with them, but the beauty of it is, if you don't want or need the hip straps, you can undo them. There's a velcro pad inside that you can release to pull the hip straps out.
It's just as easy to put the hips straps back in if you decide you do want them. Generally I don't bother with them, even with the long walks I do, because I tend to find that when they're hanging around on my sides, they just get in my way.
But it's a personal preference, and again, it's really cool that you can change, adapt, and make the Fishpond Thunderhead Backpack how you want it to suit your style of fishing.
Changes to the Fishpond Thunderhead Backpack
Like I mentioned earlier, they've changed a couple of things recently. One of the things they've changed is the style of zip.
One of the problems I used to have for the main zip is that after extended periods of use and a lot of opening and closing, because of the design of the teeth, instead of it sitting even, it would eventually get worn and begin to sit with the outside parts pushed downward.
Then, once it was closed, it would sometimes burst open at those uneven points. It would open up behind the zip, and I was left with an open pack that I couldn't close. It became a bit of a nightmare.
So what they've done is change the zip system to a self-sealing system. Basically it self-seals as you close it, and if it ever does pop open, all you do is just pull the zip back, close it again, and it will rectify the problem.
That's really good because you don't want to be in the middle of nowhere with a broken zip. It's happened to me, and it's not good fun. In fact, it's a real problem.
The other thing they've changed is the actual material they use for their products. I believe that it's all made from old industrial netting. They've changed the sources of the material for the Fishpond Thunderhead backpack, their hip packs, and their duffel bags.
Somehow they've found a way to take single-use plastics and change them into a material basically similar to the material of the pack. It's every bit as durable, strong, and water resistant as the material of the pack.
I don't know how they've done it, but it's super impressive and cool that they've managed to. And I always say that one of the things I really like about Fishpond gear is the vibe behind it. They're finding ways to take and reuse single-use plastics, turn them into quality material, and make really cool gear out of it.
I know they put a ton of time, effort, and money into working out just how to do that, while maintaining the quality that they've become known for. So good on Fishpond, and that's a good reason to get behind them.
My Final Thoughts on the Fishpond Thunderhead Backpack
I've been using these packs for a good six years now, and I think they're awesome. I think they're well thought-out, durable, waterproof, reliable, and they look cool.
I hope this Fishpond Thunderhead Backpack review has given you a little bit of insight into what these packs are all about. If you're in the market for a new backpack for the season, definitely check them out.
Get your hands on one if you can. It's always nice to see the thing in the flesh, pick it up, put it on, and see what it feels like. I think you'll be impressed.
As soon as you pick it up, you can feel the quality in these products. And if you can't get into the store, at least this Fishpond Thunderhead Backpack review will help you out and give you a bit of insight and a bit more detail about what these things are all about.
Please, give us a like and drop a comment in the comment section below, and I'll see you all in the next review. Have a great week everybody.