You can't overstate the quality of fishing in Montana. As soon as you cross the border into Montana from any side, the possibilities are endless. Depending on what type of freshwater fish you want, you'll have dozens of options. The towns throughout the state act as home bases for all types of adventures.
Big Sky, Montana, is a true Western fly fishing town. I've had the luxury to fish in Big Sky multiple times. It has acted as my launching point several times on my trips out West. When you have trophy trout water a few minutes from your front door, life doesn't get much better.
Don't miss our full guide to Fly Fishing in Montana.
Fly Fishing Big Sky, Montana: Why Go?
Big Sky has hundreds of miles of water you can fish within an hour of the center of town. You're in a pristine mountain town and it feels like you have the world at your fingertips. Big Sky offers something for the entire family, regardless of their interests.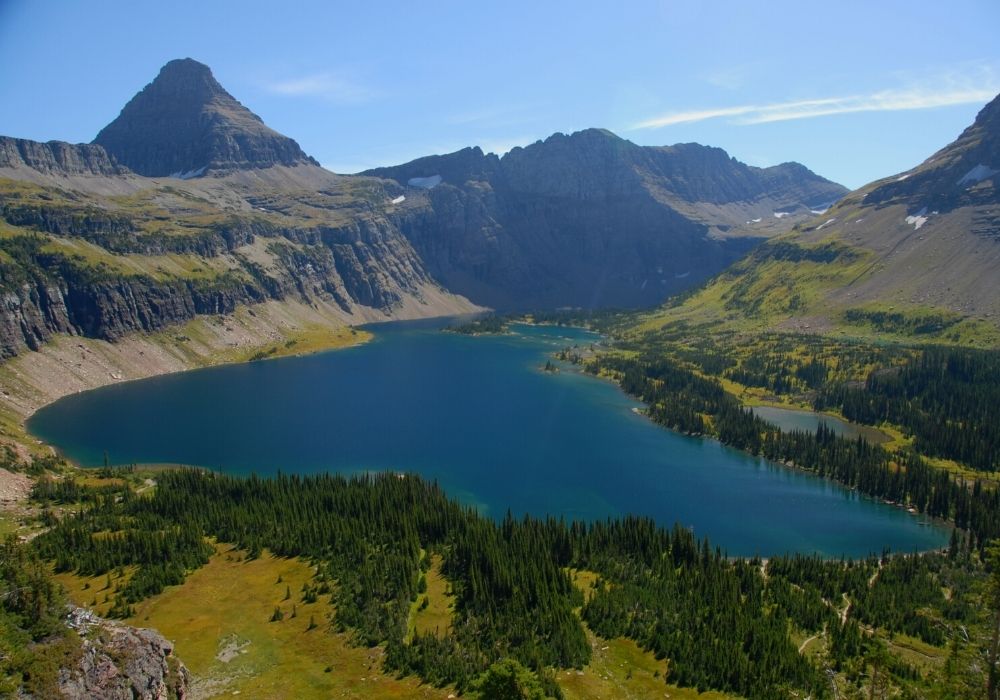 You have all the amenities you'll need for a comfortable vacation, and you can combine them with some quality time in the great outdoors. You can find that needed break from the business of life in this welcoming town.
Plus, if you're in need of a larger city, Bozeman is less than an hour north!
Species for Big Sky, Montana Fly Fishing
The species of fish you can find in the waters surrounding Big Sky make every angler's eyes light up. All of the desirable trout species in the United States can be found in the local lakes and rivers. It's tempting to get stuck targeting only specific species, but you'd be doing yourself a disservice if you didn't explore other options!
Rainbow Trout
Rainbow trout live in almost all of the lakes and rivers around Big Sky. I've hooked into them in the Gallatin, Madison, and Yellowstone rivers. In my time on those iconic rivers, I've caught rainbow trout between 12 and 18 inches. While these aren't the largest trout in the area, their colors are beautiful due to the high quality water.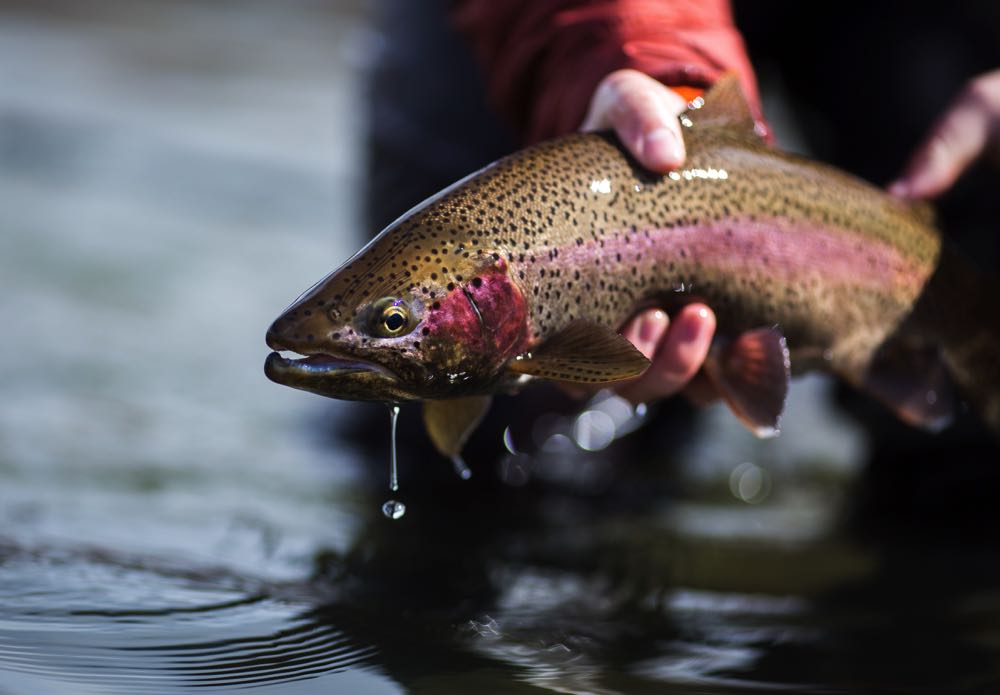 I've had success landing these fish on Salmonflies, Prince Nymphs and Pat's Rubber Legs. Take along your 5-weight, and any cut bank, riffle or pool in the above mentioned rivers offers you a chance to land one of these beautiful fish.
Brown Trout
Brown trout are some of the heartiest trout you can find. As a result, these fish grow very large! I've caught plenty of brown trout over 20 inches in the Gallatin, Yellowstone, and Madison rivers. They can withstand some warmer water temperatures, so don't count out any portion of these rivers.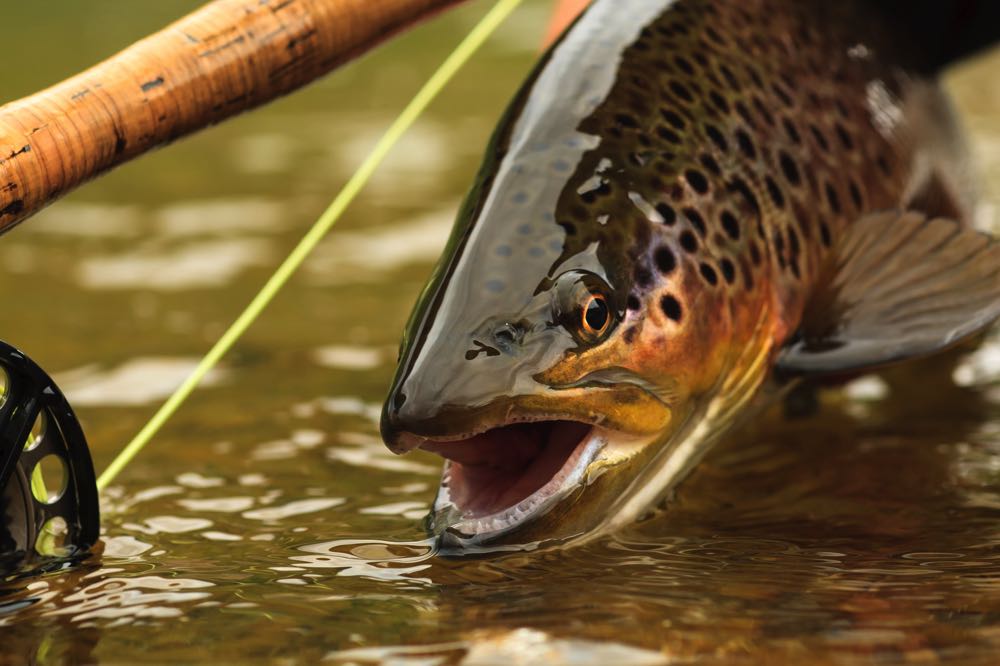 When fishing for them, make sure you're equipped with Muddler Minnows and Woolly Buggers. You need to use some bigger streamers to land the massive fish. If possible, target these fish in the midst of the salmonfly hatch. You'll be amazed at the power of a 20 plus inch fish!
Westslope Cutthroat Trout
The Westslope cutthroat is a must-catch for anyone visiting Montana. This is one of the few native species of trout you can find in the state. As a result, it's been designated as one of the state fish. You can find these in the Madison as well as the Gallatin River.
These fish love to feed on the surface. If possible, target them during the hatch. They're suckers for salmonflies as well as caddisflies. Fish flies between size 12-18, and match the hatch if at all possible. They're so prevalent that you'll have no problem determining what the fish are eating.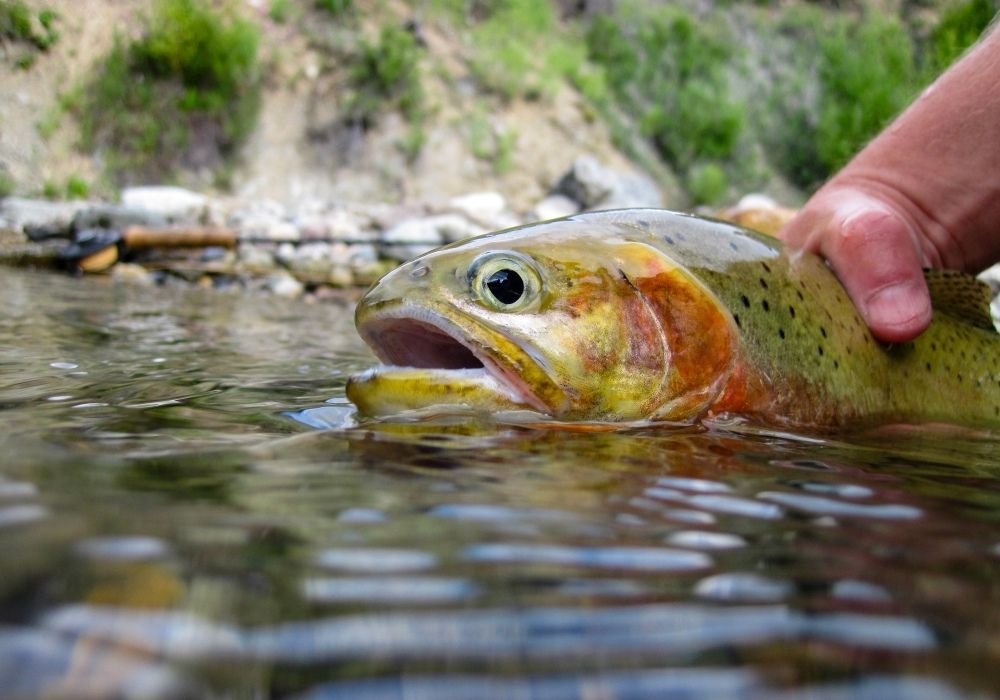 Bring along your 5-weight and see what happens. You might run through a few brown trout before you find a cutthroat, but keep at it! Once you've hooked into one, you'll know it.
Best Spots for Fly Fishing Big Sky, Montana
Big Sky is truly an angler's paradise. You can easily spend a week fishing the waters surrounding this town. As a result, you should spend some time planning your excursions before you get there! If you don't have a plan, you'll likely feel overwhelmed and not no where to start.
That's how it was for me on my first trip to Big Sky. Which river should I hit first? Which direction should I go? I quickly figured out that, even though there's good fishing all around, a little planning about where and when to go makes a huge difference.
South Fork of the Gallatin
The South Fork of the Gallatin is the closest option for those staying in Gallatin. You can walk to the river and begin your fishing excursions. This isn't too common across the United States. Having the possibility to catch a trophy fish right outside of your door shouldn't be taken for granted.
Access can be found along any bridge. Remember that the land owners in Montana own up to the high water mark. If you do fish this portion, make sure you're either float fishing or wading through the water. If you choose to wade, it's important to visit when runoff season has subsided. Anglers can find themselves in trouble in the high water.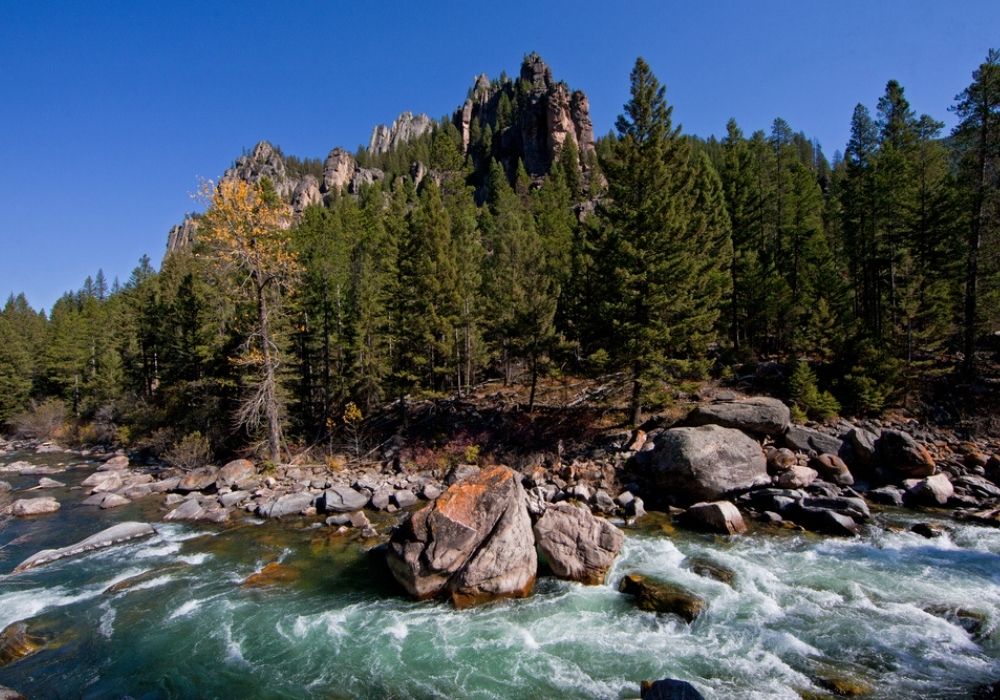 This water is clear and cold. The fish like to sit in the pockets as well as the cut banks. The fishing truly is great near the town center. Many anglers choose to avoid it because they think they need to travel long distances to land fish. This isn't the case! Don't make your life too difficult and enjoy all that the Gallatin offers.
Hog Alley
Just thinking about this portion of the Gallatin makes me excited. Massive brown trout live in this portion of the river. You can find it a couple miles above where State Highway 191 and 64 intersect.
Again, you can access this portion from the river at public fishing points or at any bridge. Some of the land in the midst of Hog is private, but you can wade this portion fairly well and access some of the pockets and pools that fill the stretch of a few miles.
It's possible to land brown trout upwards of 30 inches. This is almost unheard of in the lower 48 states! Do yourself a favor and spend some time here trying to land one of these trophies. Salmonflies and large streamers will be your best friend throughout this portion of the river.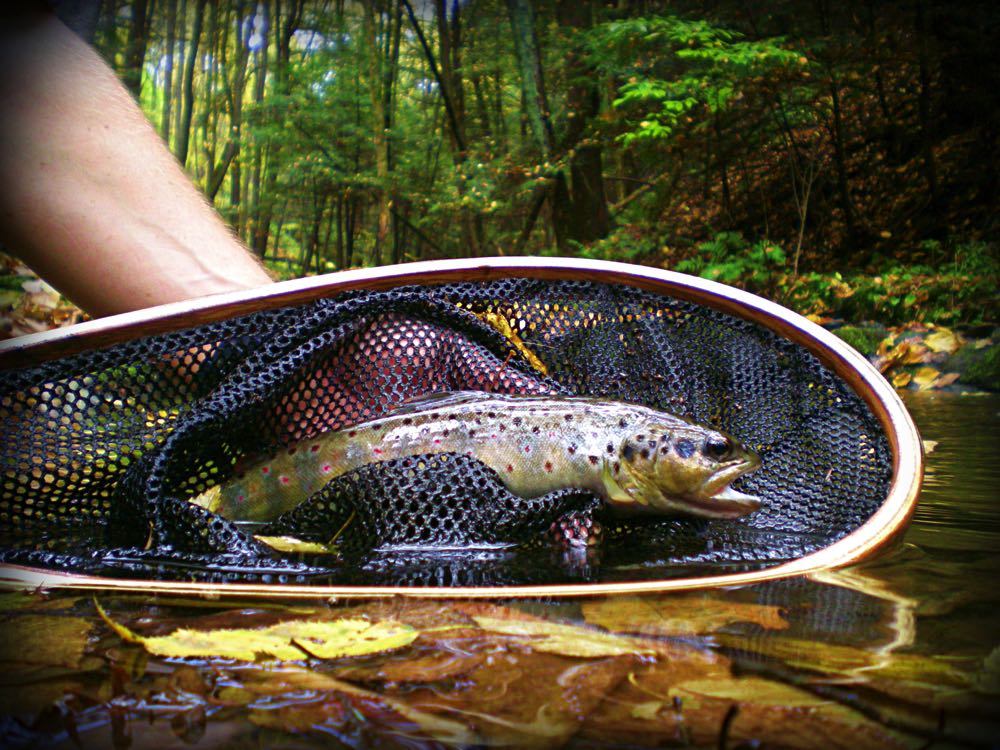 You'll need your 6-weight to handle some of these fish. Also, if you're fishing streamers, make sure you're using 0 or 1x leader. These fish will test you and will take quite a bit of the energy you have to offer. Even if you pull just one trophy fish out of this portion of the river, it'll be worth it.
Work the riffles, pools and up along the bank. The fish are out there, but you'll have to do some coaxing. The trophies are trophies for a reason. They're smart and have seen quite a few flies in their day. Make sure you're matching the hatch and staying secluded.
Yellowstone River (Pine Creek Bridge Access)
The Pine Creek Bridge access point of the Yellowstone is a great place to start your float trip. The Yellowstone is a traditional large Western river. It can be very intimidating to fish! The water is fast and requires some solid fishing abilities.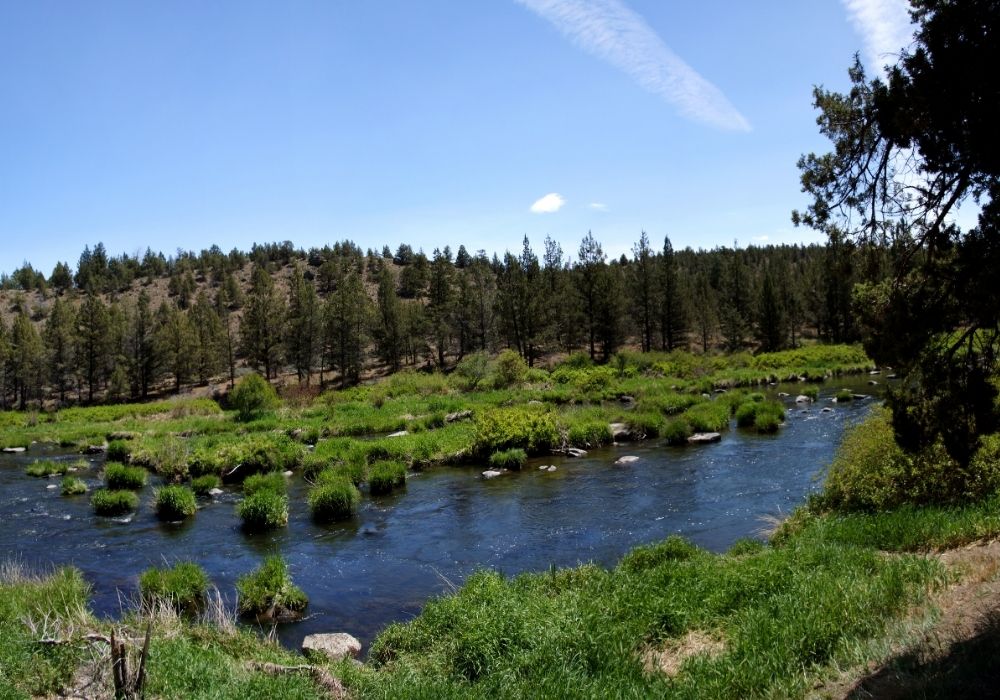 However, if you go with an experienced angler or are up to the challenge of learning yourself, you'll find some great fish. Focus your time along the banks and up into the pools. Floating this river gives you the best opportunity for trophies.
Best Flies for Big Sky, Montana
Your fly choices for the waters surrounding Big Sky shouldn't be too different from what works in the rest of Montana. Don't complicate things if it's not necessary. You'll have plenty of success sticking to the classics.
Pheasant Tail Nymph
The Pheasant Tail Nymph is a must-have for any angler fishing near Big Sky. These are great blue winged olive representations. I recommend fishing them early in the season around April and May before runoff begins.


Purple Holo Prince
The Purple Holo Prince is another great option to use if you're fishing near Yellowstone National Park. These flies are great to use in the tributaries surrounding the Gallatin and Madison rivers. If you're in skinnier waters, use this.
Wooly Bugger
Don't head to Big Sky without your Woolly Buggers. If you do, you'll be missing out on a chance to catch some massive fish. Fish these through the pools and deeper seams. Some of the water is a bit faster, so you may need to attach a split shot to make sure it bounces along the bottom.
Salmonflies
Salmonfly patterns are a must when you're fishing around Big Sky. The salmonfly hatch happens late in June and into early July. This can be a difficult time to fish depending on the runoff flows. Make sure you have a wide assortment or nymphs and dries!
Cutters Yellow Sally
This is a great pattern to use late in the summer near Big Sky. The Yellow Sally fly is a representation of a caddisfly and it sits high in the water. Make sure it's equipped with plenty of floatant!
Big Sky, Montana Fishing Season
The most productive months are April and May along with late June through October. This is when the fish are most productive and the waters flows are most manageable. Spend your time fishing in the mornings and evenings in the midst of the hatches.
Big Sky, Montana Fishing Report
Big Sky was fishing well in early July and late August. I moved to the higher elevations in late August due to the warmer temperatures. I had the chance to fish the salmonfly hatch and chose to chase some trophies late in the summer with large streamers.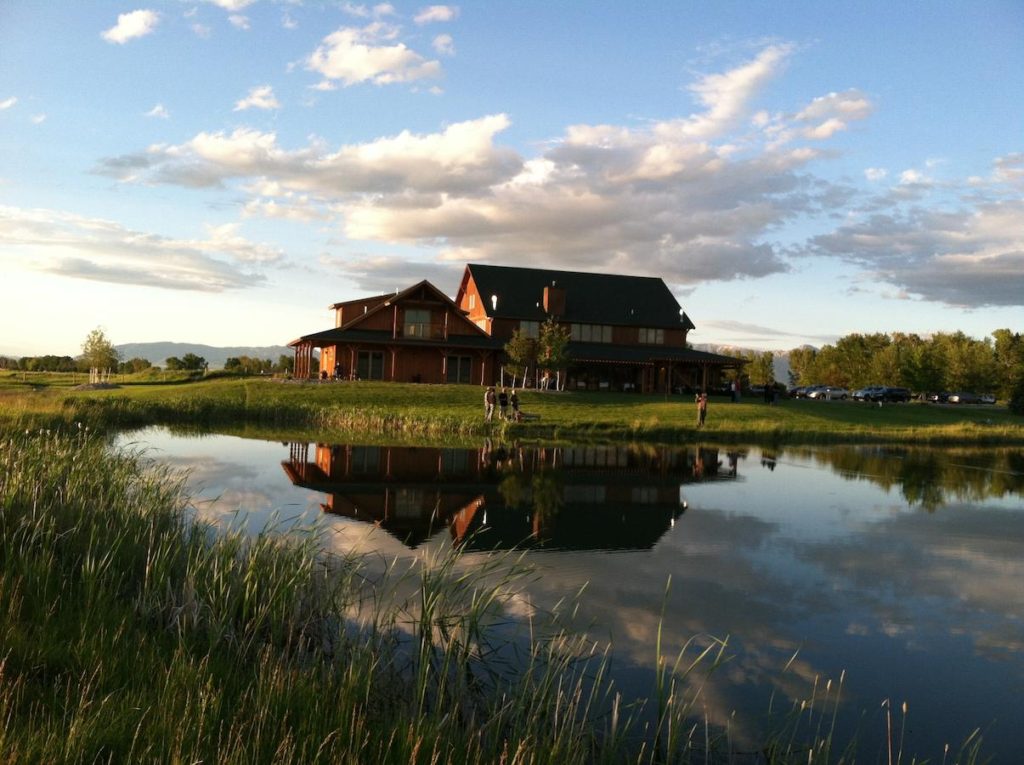 I fished the Gallatin, Yellowstone and Madison rivers. Almost every public access point I visited provided me with some fish.
Big Sky, Montana Fly Shops
Big Sky doesn't have too many fly shops due to the close proximity to Bozeman, but there are a few shops and guide services that can help you.
Gallatin River Guides
This shop and guide service is a must-visit on your next trip to Big Sky. The staff is extremely knowledgeable and can provide a great guided trip if you're interested in the opportunity.
Wild Trout Outfitters
Wild Trout Outfitters is another fun shop in Big Sky. It's a smaller operation, but the customer service is elite and they have some beautiful hand-tied flies that work great on all of the waters surrounding Big Sky.
Grizzly Outfitters on the River
This is an excellent outdoor store located in Big Sky. Fishing isn't the only thing they specialize in! Take advantage of the local knowledge and support some of these small businesses.
Conclusion
Big Sky, Montana, is often overshadowed by Bozeman. As a result, you'll have access to some lesser fished water and better local knowledge from the fly shops. I've caught huge fish in gorgeous rivers near Big Sky, and sometimes with no other anglers in sight! That's not a common occurrence in Montana.
Any time spent fishing around Big Sky will provide opportunities to land a fish of a lifetime and make memories that will force you to return. It's a premier fly fishing destination in Montana, and it's one of my favorites in all of the West.
Disclaimer: IntoFlyFishing.com is a participant in the Amazon Services LLC Associates Program, as an Amazon Associate I earn from qualifying purchases. Please see our Privacy Page for more information.