New York is the birthplace of fly fishing in America. The Catskill Mountains were the playground for some of the most famous fly anglers of all time. Dry fly fishing techniques, catch-and-release policies, and many other aspects of this great sport were established early in the 20th Century in New York.
There is even a museum in Livingston Manor dedicated to American Fly Fishing.
I had the privilege of spending a semester in New York City during college and the first thing I packed in my suitcase was my fly rod.
Despite the wonderment of the city, I knew how special the fly fishing was across the state. The free-flowing, secluded streams filled with sizable trout were unlike any I have seen in the United States.
Why Go Fly Fishing in New York?
On top of the fascinating history and beautiful streams, the purist mentality of the fly fishing community is unlike any other. New York fly anglers have created a culture of respect and diligence when it comes to caring for their landscape.
On top of it all, you have a chance to visit one of the best cities in America in the middle of your trip!
So pack your best fly fishing vest, backpack, sunglasses and waders because you're going to need all of your kit to fish these varied waters.
Fish Species in New York
New York offers access to any sort of freshwater fish a person would want to catch. The variety gives anglers a chance to land multiple species in a single day. Don't pack only hoping to catch trout. You'll miss out on some of these other beautiful fish species.
Brook Trout
Brook Trout are New York's state fish. They're native to the state and are mainly found between one or two pounds. These fish can be found in the legendary Delaware, the Beaverkill, and the Neversink River.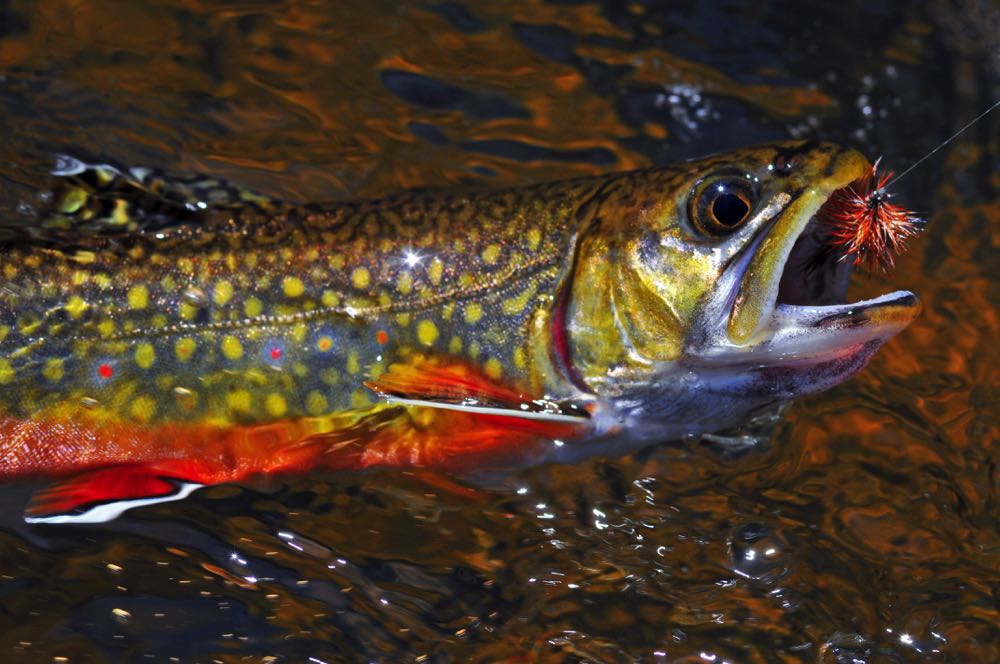 Quill Gordon's, Slate Drakes and Hendrickson's all ranging from size 18-26 are smart choices for your flies.
All trout in New York are going to be spooky. A good 3 weight fly rod, light leader and tippet are the name of the game. Leaders ranging from 4-6x with tippet near 7x may have to be used.
Brown Trout
Brown Trout were brought to New York in the 1880s. These are some of the most hearty trout in the world so they're able to tolerate more diverse water conditions.
You can find these upwards of 10 pounds on a regular basis and the best spots include Esopus Creek, AuSable River, and Wiscoy Creek.
Be sure to use Wooly Bugger's size 4-8, March Brown's, and Trico's ranging between 10-16.
A good 5 weight or 7 weight fly rod will likely be your weapon of choice.
Rainbow Trout
Rainbow Trout were brought to New York in the late 19th Century. You can find these all over the state ranging from 1 to 15 pounds.
They're quite acrobatic and always lead to an entertaining fight.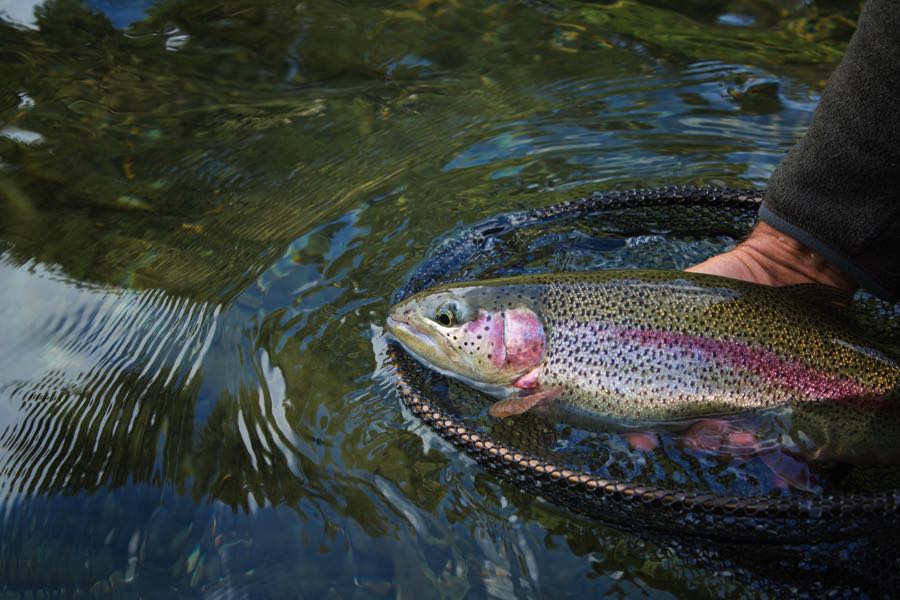 Use Blue Quills, Black Caddis Flies, and any sort of Mayfly pattern. They'll also respond to smaller baitfish streamers.
Look for these in the Salmon River, West Canada Creek, and Nine Mile Creek.
Salmon
Salmon are some of the most prized fish to catch in New York. Many of the salmon in New York live their whole lives in freshwater. You can find these well over 10 pounds in many of the lakes and rivers across the state.
You'll catch Atlantic, Chinook, Coho, and even Pink Salmon. You can find these in the Salmon River, St. Lawrence River, and Oak Orchard Creek.
Use The Eggstacy Egg, Red Tag or an Egg Sucking Leech in sizes 4-8 to catch these fish.
You'll want at least an 8 weight fly rod for the larger size salmon that you can catch fly fishing in New York.
Steelhead
Steelhead are heavily targeted fish in New York. Deemed to be one of the most riveting fish to catch on the fly, anglers are anxious to catch them.
You'll find them in many rivers upwards of 10 pounds. The Salmon River has a fall Steelhead run and so does the Lower Saranac.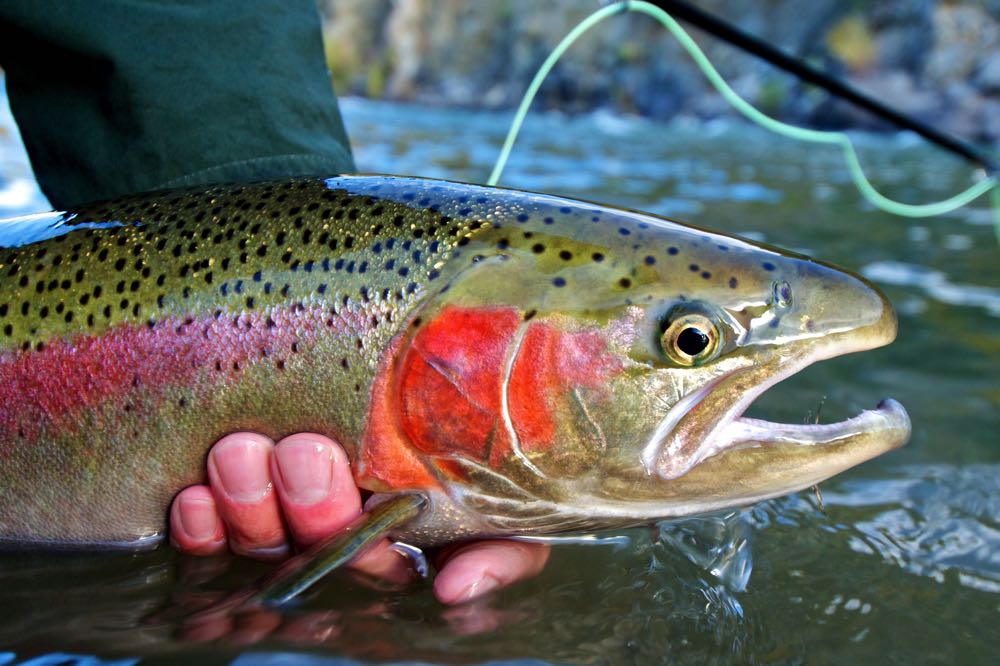 Dead drifting larger Wooly Buggers, baitfish streamers, and even a Crystal Bugger will help you catch these fish. They always live up to their reputation.
A good 7 weight or 8 weight fly rod will be the best tool for catching steelhead while fly fishing in New York state.
Bass
If you're tired of targeting finicky trout and salmon, you can always find your fair share of bass in any of the warm water lakes and rivers across the state.
The Largemouth and Smallmouth can easily be found between three and five pounds. You'll find them in the St. Lawrence River, Lake Ronkonkoma, and Kissena Lake.
Throw poppers when they're surfacing and large baitfish streamers the rest of the time. Gutless Frogs and Crayfish patterns are always smart to use.
Pike/Musky
Pike and Musky are also able to be caught all across New York. Double-digit Musky are not uncommon to the waters in New York. They're always going to be looking for flashy flies with a lot of movement. Snake Charmers, Peacock Predators, Deceiver's and Barry's Pike Fly are going to catch these fish.
You'll find them in the Upper Niagara River, St. Lawrence River, and Chautauqua Lake.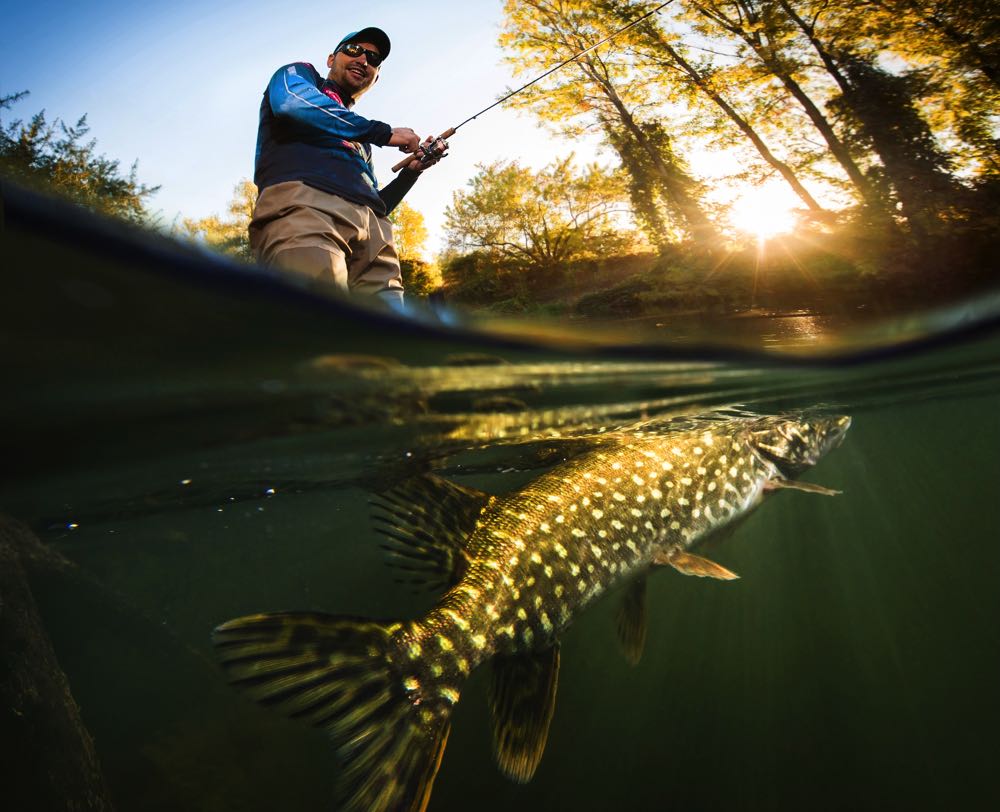 These fish are extremely strong. Be sure you're equipped with a heavy leader (0 or 1x) and tippet that can withstand the power of these fish.
As an Amazon Associate I earn from qualifying purchases.
Best Fly Fishing Spots in New York
New York has something for everyone. Tight mountain streams, wide flowing rivers, and everything in between can be found all across the state. Despite what many think, New York City only takes up about one percent of the whole state.
There are 70,000 acres of water across the state for folks to explore.
Best Fly Fishing Rivers in New York
New York's streams and rivers are world-class. They'll test even the most experienced angler. You're always going to be humbled when you fish in New York, but as many people understand, the payoff is always worth it.
Delaware River
📍Location: The Delaware River, New York
No trip to New York is complete without a trip to the Delaware. Many professional anglers describe it as the best river in the eastern United States. It's broken into three sections: West, East, and the Main Stem.
The West is the most accessible with pools, riffles, and pocket water. This 20-mile portion is located below the Cannonsville Reservoir.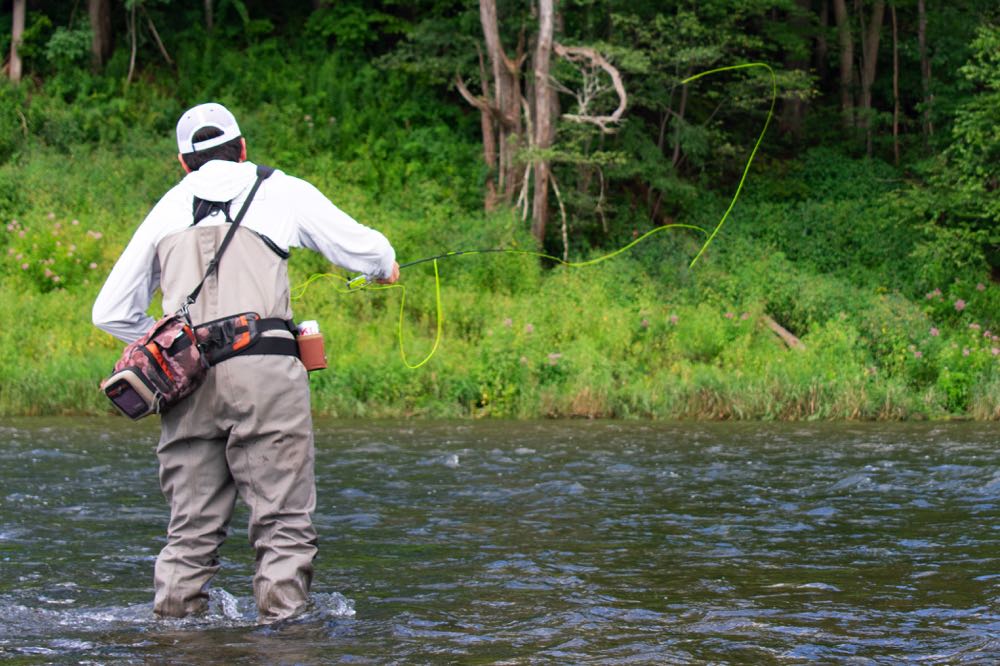 There are trees surrounding the majority of the banks so be sure to bring waders along to allow you to pick the proper casting lanes.
You can use a 5 or 6-weight rod with a Weight Forward line. Attach a 9-12 foot leader to provide yourself with the most privacy.
Also, March Brown's, Trico's and BWO's between 12-16 will all catch fish.
West Canada Creek
📍Location: West Canada Creek, New York
West Canada Creek is a phenomenal trout stream in Central New York. It begins in the Adirondacks near Hamilton County and flows into the Mohawk River.
There are multiple sections that anglers target, but the Trophy Section is catch and release only. It's a wonderful introduction into New York fly fishing.
Casting lanes are going to be fairly tight so be sure to pack waders. Along with waders, you'll only need or 4 or 5-weight to handle the fish in the creek.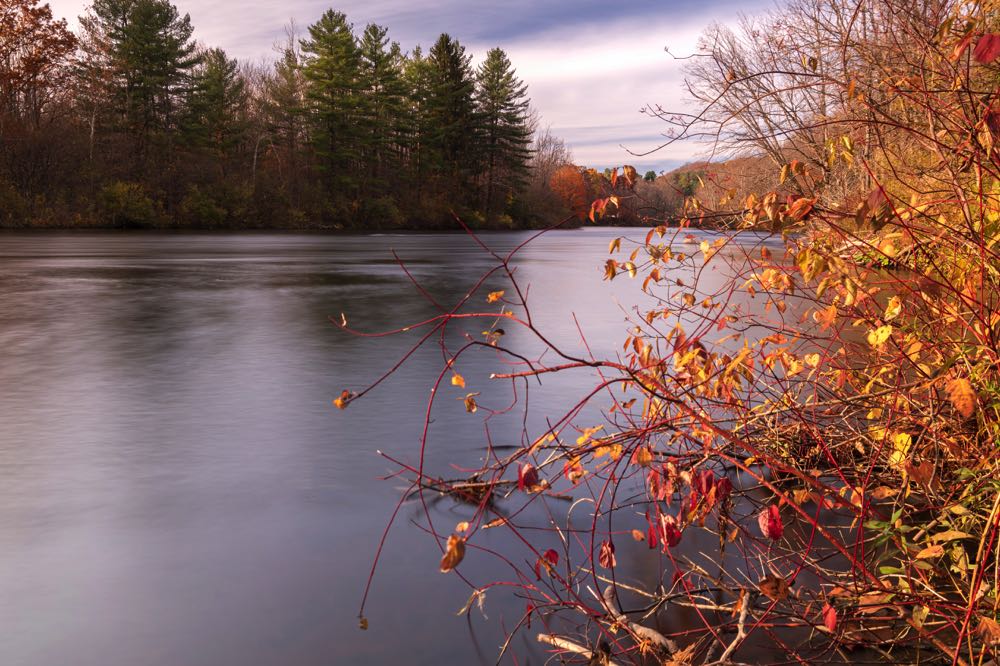 Be sure to match your best fly reel to your rod weight and use a 4 or 5x leader with a 6x tippet, or just bring your best fly rod and reel combo.
These fish have the potential to spook so stay low as you approach the river.
Use Blue Quills, BWO's, Stoneflies, and Black Caddis Flies on the creek. This is some of the purest fly fishing water in the United States.
Some prolific anglers can be found on these waters.
Salmon River
📍Location: Salmon River, New York
No list of places to fish in New York is complete without the Salmon River. The Salmon River is the most famous river in New York amongst trout anglers.
You can find both steelhead and salmon in both the upper and lower sections of the river. The salmon run starts in late August and lasts through October.
The Steelhead start to run as soon as the salmon finish. They can be caught in the river until April. The Skamania, a summer Steelhead, can also be found in the warmest months of the year.
Use an 8-weight if you're targeting this double-digit fish. Use 1 or 2x leader and dead drift your flies through the slow-moving portions. A
lso, Egg Sucking Leeches, Wooly Bugger's, Red Tag and egg patterns are all necessary flies for the Salmon.
Beaverkill River
📍Location: Beaverkill River, New York
The Beaverkill is a dry fly haven. This river is where many dry fly fishing discoveries were made in the early 20th century. It's a tributary of the Delaware River and holds brook, rainbow and brown trout. You'll find these in seams, riffles and deep pools.
The upper 25 miles is extremely technical and harder to access. The lower portion has far more access points and casting lanes aren't as difficult to find.
If you're a beginner fly fisherman and only have a beginner fly rod, maybe choose one of the easier fishing spots on this list.
Like all rivers in New York, you will need waders. Being able to stand near the middle and hit every pocket and seam provides a major advantage.
Use a 4 or 5-weight rod with a floating line. Nine or 12-foot leaders with 6x tippet is best. Blue Quills, Stoneflies, Black Caddis, and BWO's all hatch on the Beaverkill so do your best to match the hatch.
Also, the late summer brings out the terrestrial flies. Be sure to hit this river in July or August.
AuSable River
📍Location: AuSable River, New York
The AuSable River is a beautiful river in the Adirondack Mountains that holds impressive brook, rainbow, and brown trout.
There are three sections of the river with the West Branch being the most accessible and successful. Casting lanes are tight due to the heavy foliage along the banks.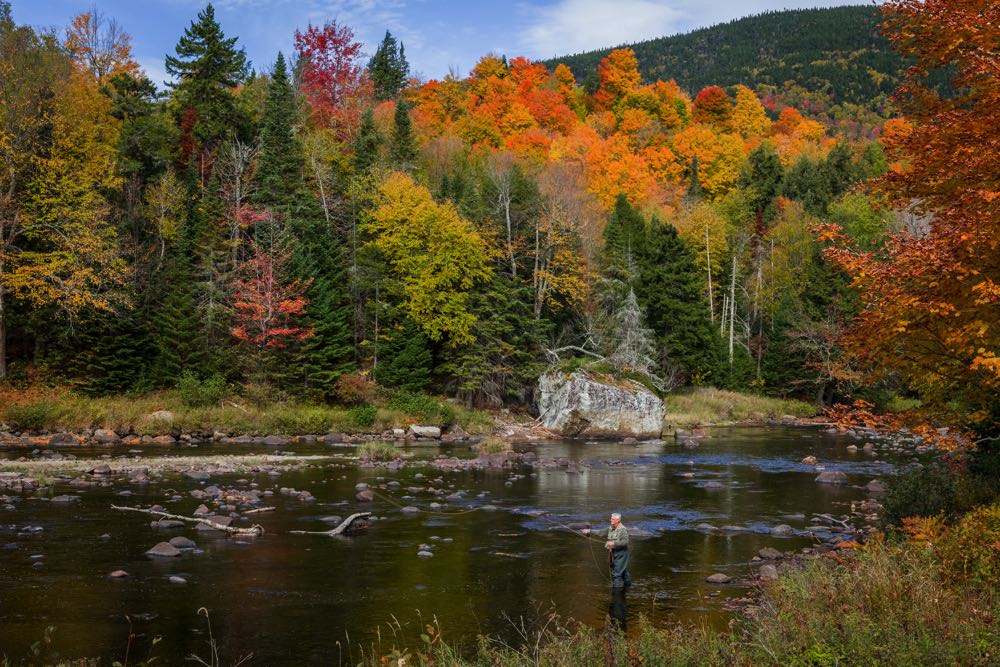 A 4 or 5-weight will handle any of the casting you need to do in the AuSable. Mayflies, Stoneflies, and Hendricksons all hatch on the AuSable. Fish these patterns in size 14-20.
When you fish these, use 5 or 6x tippet to stay hidden from the spooky Brook Trout.
Do your best to fish the cut banks on the AuSable. These may not look like much to the naked eye, but there are always going to be fish hiding in them.
Cast upstream a bit and let your nymph drift under the bank. An indicator is never a bad idea to use due to the limited visibility under the bank.
Best Fly Fishing Lakes in New York
While New York is famous for its crystal clear trout streams, there are over 7,000 lakes filled with a variety of freshwater fish. For fly anglers, the most common targets are going to be landlocked salmon, bass, and pike.
Lake George
📍Location: Lake George, New York
Lake George is located in the Adirondack Mountains and contains landlocked salmon, bass, and pike. It's a wonderful lake for anglers to try when they're looking to switch to still water fishing.
The beautiful scenery along with healthy fish populations is always going to provide an exciting day of fishing.
The most productive season to fish Lake George is the spring. The fish will be more willing to surface feed and are extremely hungry.
It will ice over so be sure to know when the ice is completely out before you begin fishing.
Casting lanes are fairly easy to find, but you'll need to wade in a little ways before you are fully clear.
Use a 7 or 8-weight to catch the fish on Lake George. Also, baitfish streamers, poppers, Egg Sucking Leeches, and Stoneflies are great options to use. Be aggressive with your stripping!
St. Regis Lakes
📍Location: St. Regis Lakes, New York
The chain of St. Regis Lakes is another beautiful option in the midst of the Adirondack Mountains. The three lakes are all connected and easily accessible. You'll find salmon, bass, pike and lake trout in the lake.
It's a wonderful lake to spend the day at with family. If you have a boat, bring it! There is quite a bit of structure throughout the lake.
You'll want your 8-weight when fishing St. Regis. Also, sinking tip line is a must.
These fish often sit near the bottom around structure so be sure you have enough weight to maneuver the depths. You'll need 1 or 2x leader on a large arbor reel.
As far as flies are concerned, you can use flashy flies like Peacock Predators and Snake Charmers to catch the pike.
Poppers and Gutless Frogs work great for the bass and Leech or Wooly Bugger patterns will help you catch the salmon. Give it a shot on your next trip to the Adirondacks.
Piseco Lake
📍Location: Piseco Lake, New York
Due to the rarity of Landlocked Salmon, here is another lake for you to catch them in. Piseco is also home to brown trout and bass.
Piseco Lake is perhaps the best shore fishing lake on the list. With over 21 miles of accessible shoreline and 2,800 acres of water to explore, Piseco is a perfect spot to cast your fly rod.
Many anglers like to use small dry fly patterns in the morning and evenings to catch some of the rising brown trout. These fish can grow upwards of 10 pounds in the lake so be sure to not underestimate these beauties.
Bring along your 8-weight to provide both casting and fighting power. It's another great place to bring the family due to the campgrounds and other amenities available for everyone.
For flies, bring small stoneflies, Wooly Buggers, minnow patterns and even some poppers. You'll always enjoy the day on the Piseco. Its beautiful blue water and views of the Adirondacks are inspiring.
St. Lawrence Lake/River
📍Location: St. Lawrence Lake/River, New York
This may be considered cheating, but St. Lawrence is considered to be both a lake and a river. The river/lake holds salmon, bass, and steelhead. These fish are all going to be powerful and large.
Regardless of the fish you're targeting, you'll need your 8-weight rod. The water and fish are going to challenge you all day long. The St. Lawrence pulls no punches for anglers.
You are going to be exhausted at the end of the day, but thankful for the opportunity to try your hand at this legendary body of water.
Use popping flies, large baitfish streamers and even some Egg Sucking Leeches. You'll want to fish the St. Lawrence from a boat. It's best to cover as much water as you can and a boat will provide the opportunities.
Depending on the species you target, it's never a bad idea to hire a guide. These men and women understand the ins-and-outs of the St. Lawrence.
Brant Lake
📍Location: Brant Lake, New York
Brant Lake is a true mountain experience. Views of the Adirondacks surround you from all sides. You can find stocked brown and rainbow trout in these waters all year round. If you're into ice fishing, Brant Lake is always consistent.
Getting to know the tendencies of the fish in Brant Lake is rewarding.
You won't need anything too special for equipment on Brant. A 6-weight with Weight Forward line will do just fine. Also, be sure to have a 3 or 4x leader along to handle the different types of fish you will catch.
You may want to bring a second reel spooled with a sinking tip if you aren't able to reach the fish at their depths.
This lake is surrounded by trees so its best fished by wading or boat. You'll want small streamer patterns, Hendricksons, Stoneflies and Black Caddisflies to catch both the rainbow and brown trout.
You may be surprised at their size so be prepared for a strong fight!
Heading to the Sunshine State for Fly Fishing?
Don't miss our complete guide to fly fishing around Florida.
New York Fly Fishing Season
Fishing can be done in New York all year long. The lakes will freeze over, but many of the rivers and streams will continue to flow despite the colder temperatures. It's no different than many regions in the United States.
The fish will become more lethargic in the heart of winter, but become more aggressive in the spring and fall.
Fly Fishing in April
The majority of trout fishing in New York is allowed to begin on April 1. The streams are not going to be full of runoff and the fish are willing to eat due to the warming temperatures.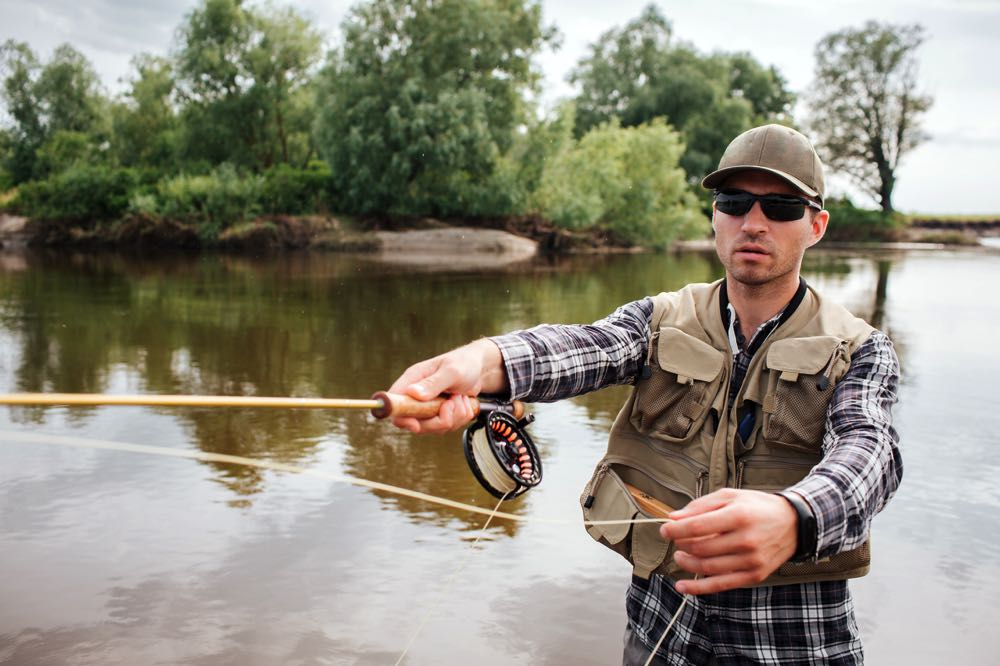 Midge flies are hatching along with Little Black Caddis. Try any of the rivers and streams on the list and you'll find fish.
Fly Fishing in May
May is a great time to fly fish in New York. The only thing to be careful of is the runoff from the snow, which has the potential to cloudy the water and raise the levels.
As a result, you'll need to use darker flies in Midge, Caddis, and March Brown patterns.
Don't let the cloudier water dissuade you. These fish aren't as heavily targeted and are more than willing to eat.
Fly Fishing in June
Fly fishing in New York in June is beautiful. The temperatures aren't at their peak and the fish continue to stay hungry. The water clarity continues to improve so be sure you stay hidden.
Lighter leader and tippet is needed during this time of year. BWO's hatch along with the Drake flies.
Fly Fishing in July
Fly fishing New York in July can be tricky. It's a great time to head to the mountains in search of the cooler temperatures. Stonefly hatches are in full swing along with the Trico's. Use these flies with some light tippet and you'll be in business.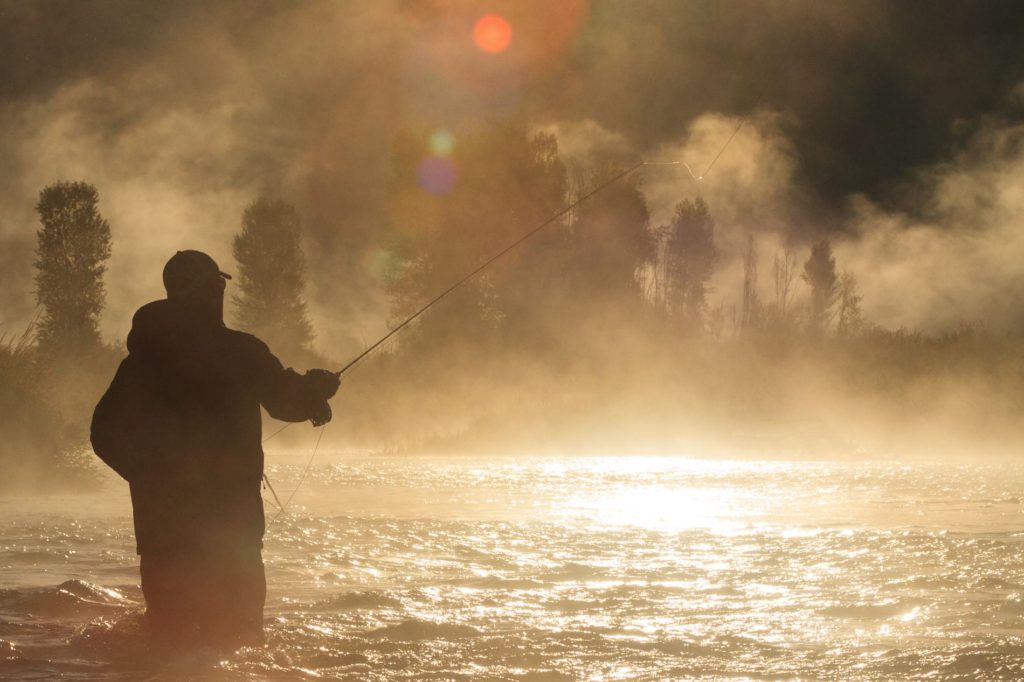 Fly Fishing in August
Similar to July, head to the mountains. The fish are starting to become more hungry and the weather is beautiful. Stoneflies, Trico's and BWO's are the main hatches happening during August so be sure to use these. Streamer fishing is starting to improve!
Fly Fishing in September
Fly fishing New York in September is great. The salmon are in full run mode and the trout are looking to feast on some dry flies. Almost every area of the state will be productive during September.
Fly Fishing in October
The salmon are finishing the run and Steelhead are just beginning theirs. Be sure to use your heavier flies and dead drift them in pools and other slower portions of the river. As the weather continues to cool, the most productive fishing is going to be for steelhead.
Best Fly Fishing Lodges in New York
New York has dozens of fishing lodges across the state. Each specializes in its own technique and fish so you can't go wrong with any. If you're heading to New York to fish for the first time, do your best to stay at one of these.
West Branch Angler & Resort
Located in Hancock, this is an Orvis endorsed lodge. It provides access to two miles of the Delaware River.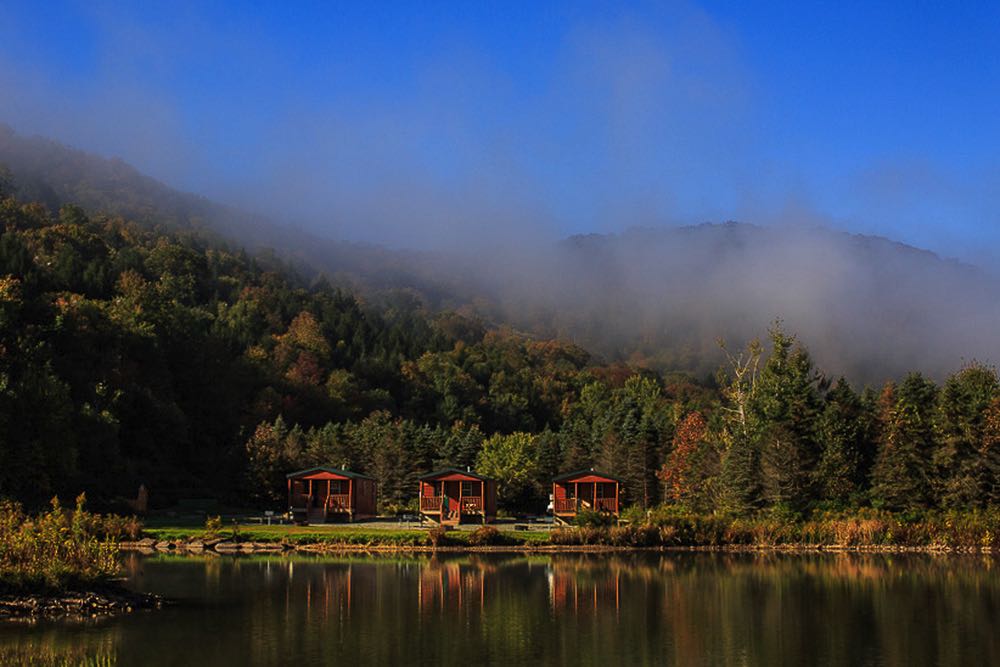 It's full of history and was newly renovated in 2007. The guides at the lodge are going to put you on fish. A two-night stay with a guided trip will cost you around $700.
Tailwater Lodge
Tailwater Lodge is located in Altmar. Located on the Salmon River, you have the opportunity to catch salmon, steelhead, bass, and numerous species of trout. You'll spend around $800 for a two night trip with a fishing guide.
Beaverkill Inn
Located right on the Beaverkill River only two hours from Manhattan, this lodge provides perfect access to the Beaverkill River. You have a chance at one mile of private water. Rooms will cost you at least $300 a night with options of adding meals and guided trips.
Conclusion
Fly fishing in New York is a surreal experience. You can place yourself in the boots of the groundbreaking fly anglers of our past. Chances are you're casting a fly where legends of the sport have caught trophy fish.
You are guaranteed to be challenged, but if you can master the water in New York, you know you're good. Combine your next trip to New York City with some fishing in world-class water.
Some images in this post are courtesy of Shutterstock.
Like This Article? Pin it!