As an Amazon Associate I earn from qualifying purchases.
Fly fishing New Mexico combines the best of the West with the best of the South. You'll find warm temperatures and desert ecosystems all over the state, but still have ample access to seclusion in beautiful mountains.
This is one of the country's best fly fishing destinations. The scenery, water, and fish is plentiful and varied enough to satisfy even the most demanding fly anglers.
The best part of New Mexico fly fishing is that all of these areas are filled with beautiful waters that have large, strong-fighting fish lurking beneath the surface. Combine your fly fishing with mountain biking, climbing, and backpacking and you'll experience outdoor greatness.
On our annual family trip to Arizona, we'd always stop in New Mexico to fly fish. We often seemed to be the only ones on the water. The fish were always willing to eat, and New Mexico became one of our best-kept secrets.
Until now, that is. With this article about New Mexico fly fishing, I'll share all my secrets and what I've learned during the many times I've visited the state. In my camper van with my family along for the ride, I've crossed the desert, bumped through the mountains, and hooked into some truly beautiful fish in the rivers and lakes of New Mexico.
As a part of the Amazon Associates Program and other affiliate programs, Into Fly Fishing® may receive a comission if you order products through links on this website.
Why Go Fly Fishing in New Mexico?
New Mexico isn't a place many anglers choose to fish. While it receives a fair amount of pressure from locals, this state provides a variety of unique lakes and rivers for people to experience. Until you visit, you won't realize how impressive of a state it is.
What to Pack for Fly Fishing New Mexico
Here are a few of the essential items for any fly fishing trip. All of these have come in handy in New Mexico when I went there to fly fish, as there are so many different styles of fishing in the state.
New Mexico Fly Fishing Species
While fly fishing New Mexico, I've caught five different types of trout as well as landing my fair share of bass and pike. New Mexico's fish populations are only continuing to grow. You won't find a shortage of catchable fish, and they're rarely difficult to land.
Brook Trout
Brook trout are some of the more uncommon trout in New Mexico. They're found primarily in mountain streams like Caresto Creek and Tecolote Creek. They usually grow to 8 to 10 inches in these creeks.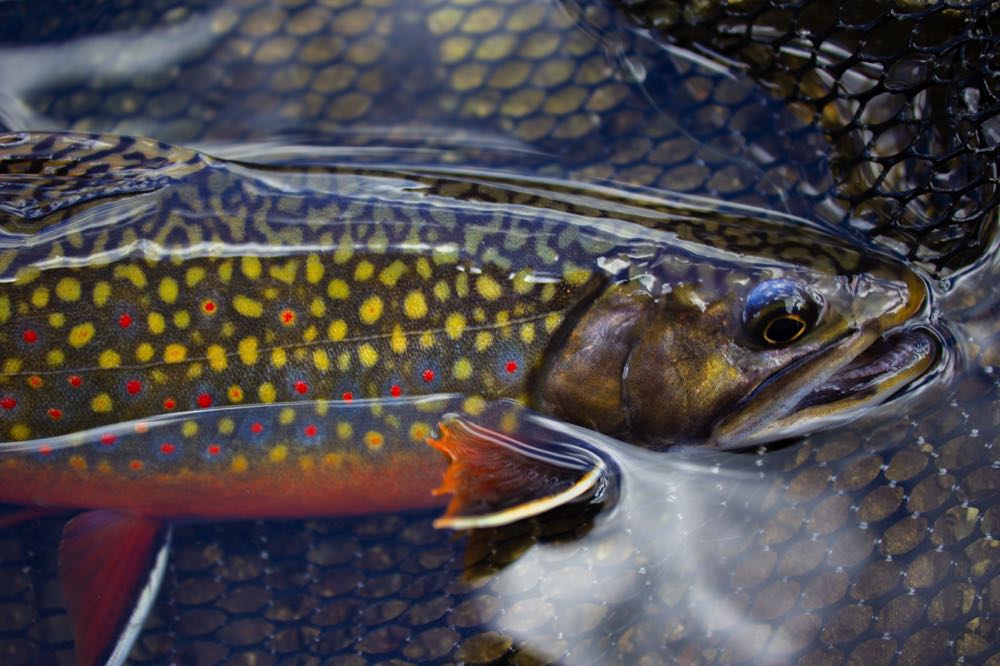 Brook trout are often spooky and need to be fished using fluorocarbon tippet. I've had good days using Western March Browns, BWOs, and Blood Midges. The smaller patterns you can use, the better chance you have to catch these brookies.
Brown Trout
New Mexico holds several wild populations of brown trout, and also these fish are stocked across the state. They can be found up to 5 pounds in some of the lakes and rivers in New Mexico, including the Rio Guadalupe River and the Cimarron River.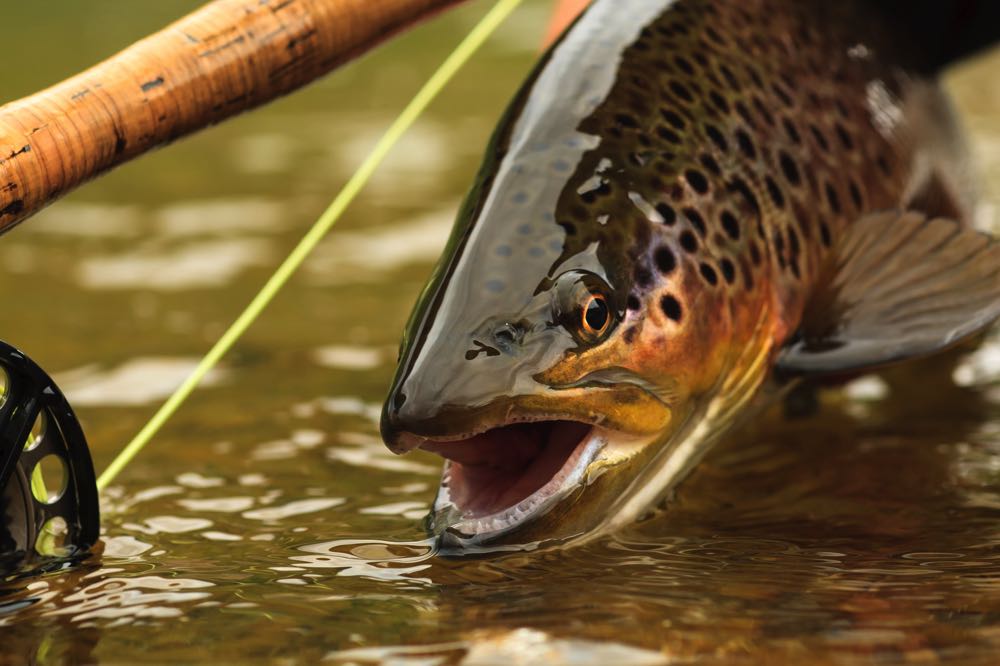 Browns are some of the heartiest trout in the world and can associate with warm-water fish. Therefore, large baitfish streamers like Woolly Buggers, Cluster Minnows, and crayfish patterns work. Prince Nymphs and Elk Hair Caddis also catch New Mexico brown trout.
Gila Trout
Gila trout are one of the native fish species in New Mexico. These golden brown trout have been the subject of many relief efforts. The Gila Trout Recovery Plan was introduced in 2003 to save the species.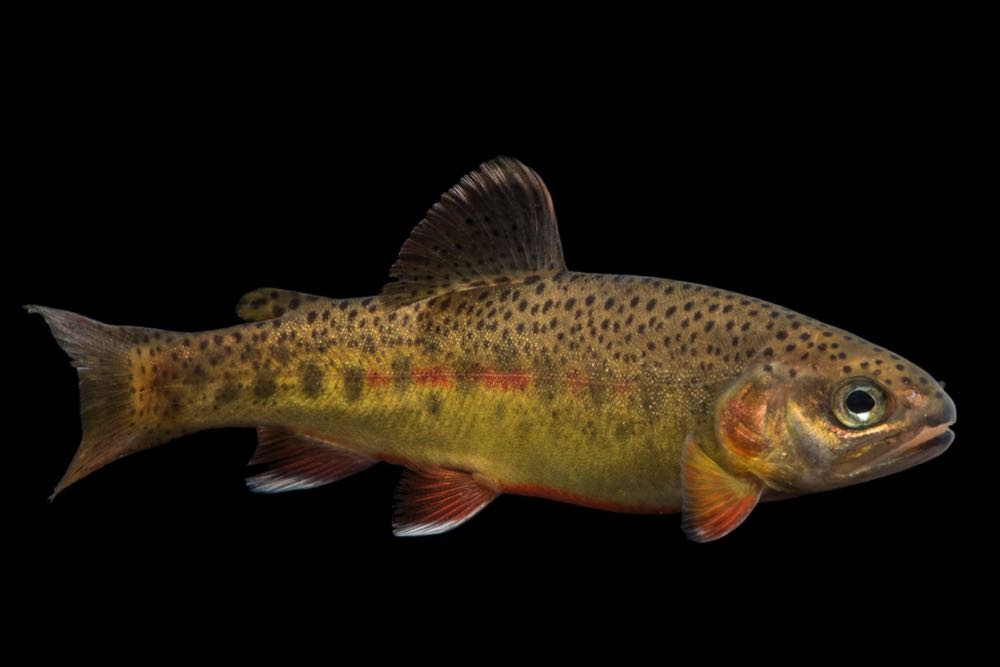 I've hooked into Gila trout in the Gila and Aldo Leopold Wilderness Areas. Main Diamond, South Diamond, Whiskey Creek and Spruce Creek all hold native Gila trout. Also, Black Canyon, Willow Creek, and Mineral Creek hold these fish.
To catch them, I've used small Pheasant Tail and Prince Nymphs. Also, WD-40 flies are a great option. Bring 5 or 6x fluorocarbon tippet. Gila trout are spooky and need to be handled with care.
Rainbow Trout
Rainbow trout are the most heavily stocked trout in New Mexico. The Red River, San Juan River, and Cimarron River are filled with these fish. They can be found upwards of 5 or 6 pounds throughout New Mexico.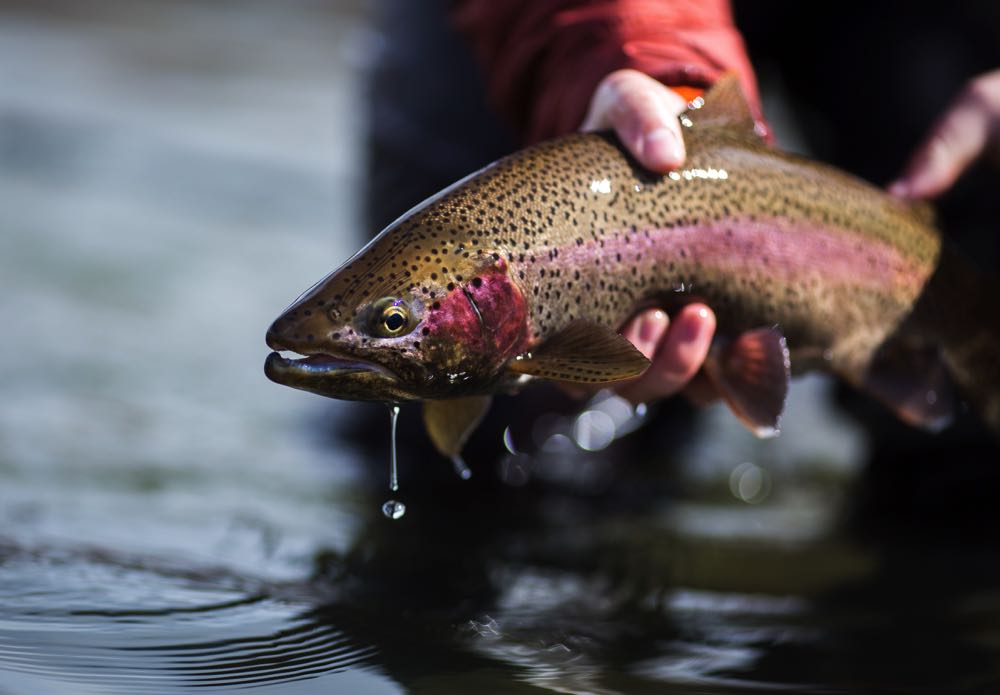 I've landed some of the bigger fish with large baitfish streamers. However, BWOs and Adams are great to use for dry flies. These fish love to surface feed during the hatches.
Rio Grande Cutthroat Trout
The Rio Grande cutthroat trout is the second native trout species in New Mexico. Plus, it's considered to be the state fish. These are mostly found in the high headwaters in northern New Mexico.
You'll catch them in the Rio Grande, Pecos, and Canadian rivers. They're extremely rare, but are considered to be one of the most beautiful trout in the world. If you're targeting these, use barbless hooks to ensure their full recovery.
Use small midge nymphs, Pheasant Tails, and Elk Hair Caddis flies to catch Rio Grande cutthroat trout. I've mainly fished for them in pocket water. If you do too, be prepared to be accurate with your casts.
Bass
Bass are found all over New Mexico. They most often live in the lakes throughout the state, including the Abiquiu Reservoir, Brantley Lake and Navajo Lake.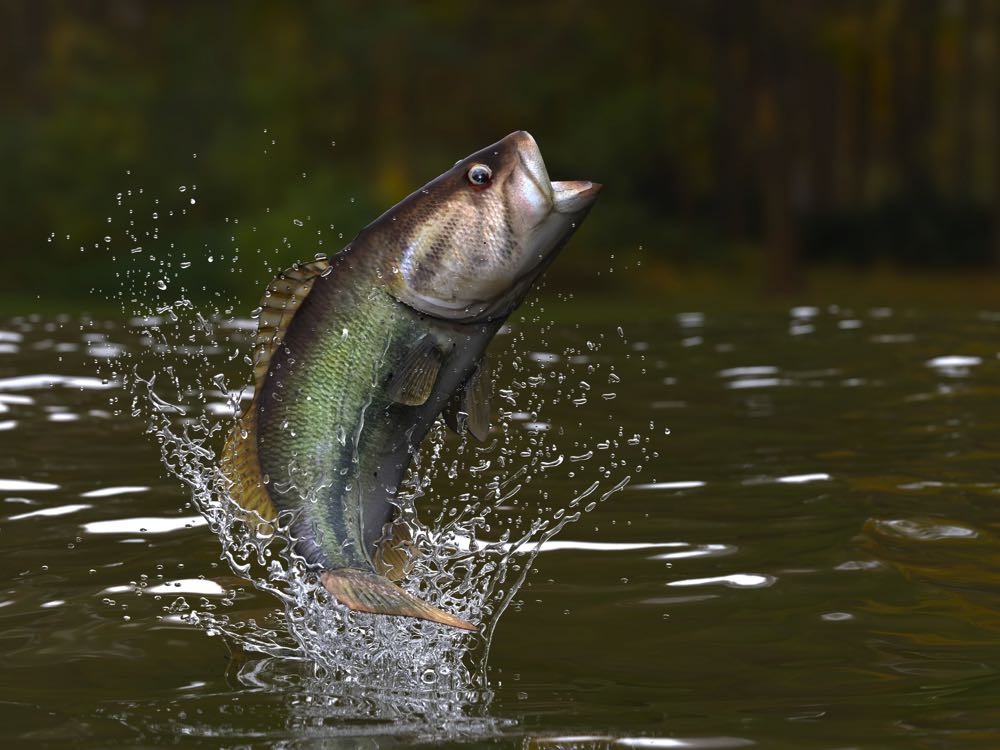 In my experience, an 8-weight is the right rod to handle these fish. I use 1 or 2x leader with Gutless Frogs and Popper flies, and I've had success with Cluster Minnows and Woolly Buggers as well.
Pike
Pike are a more recent addition to New Mexico. The Game and Fish Department started stocking them in the 1970s. I've found them in the Rio Grande Gorge, Elephant Butte Reservoir, and Conchas Reservoir.
They can reach upwards of 30 inches. Chartreuse color crayfish patterns and Woolly Buggers are great choices. The more action with these, the better. Remember your 8-weight and 0x leader. They'll snap you off if they have the chance.
Best Spots for Fly Fishing New Mexico
There's no shortage of variety when it comes to fishable water in New Mexico. I've fished alpine streams and lakes as well as wide flowing rivers. Depending on your preference, New Mexico will fulfill your needs.
Fly Fishing Rivers in New Mexico
New Mexico is world famous for the San Juan River. This is a wide flowing river that requires skill to fish. There are also numerous small mountain streams with wild populations of trout.
San Juan River
Directions: San Juan River, NM
Let's start with the San Juan. This river is an absolute must for anyone visiting New Mexico. In fact, it was the first spot I hit on my first trip to the state.
On average, anglers catch rainbow and brown trout around 17 inches. If you can find them, you'll be in great shape. Some experts say there are over 7,000 fish per mile.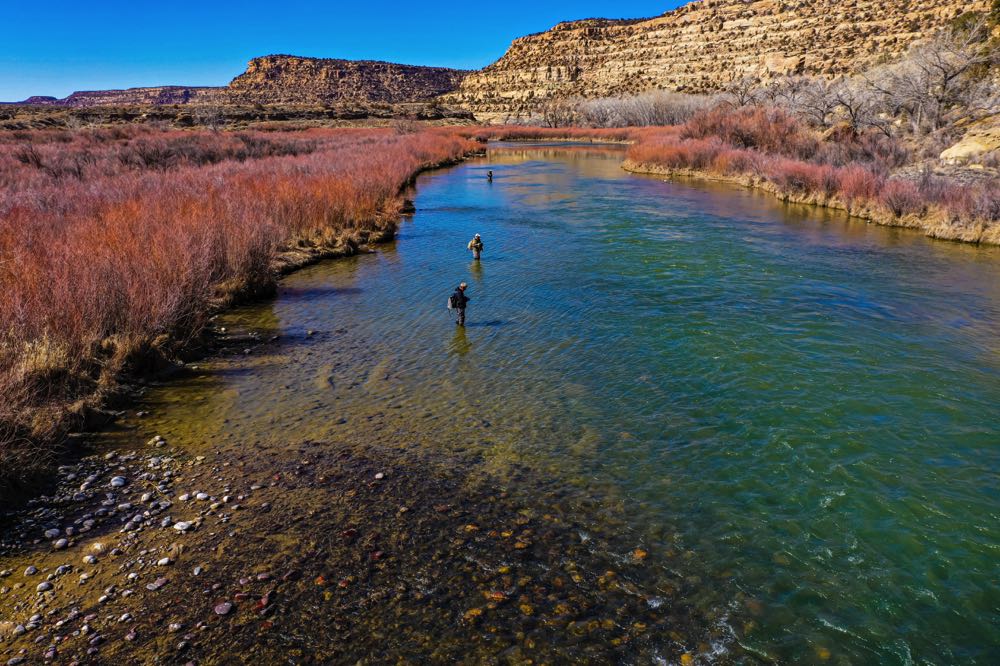 You can find plenty of access to both wade and drift. If possible, drift this water. There are too many beautiful spots to visit that you can't reach while wading.
Use your 6-weight to handle the power of these fish. Also, 3 or 4x leader with 5x fluorocarbon tippet is necessary. These fish are pressured, so they need realistic looking presentations.
The Game and Fish Department requires you to use barbless hooks. Pheasant Tails, WD-40s, Jujubee Midge, Zebra Midges and Sidewinder Midges are all great options to use on the San Juan. Don't pass on an opportunity to fish the river!
Red River
Directions: Red River, NM
The Red River flows out of the Rio Grande River and is filled with rainbow, cutthroat and brown trout. This river is broken into the upper and lower sections. The upper section is easier to fish with more access. You can find this above the town of Red River.
The lower Red River starts below the town of Questa. When I visited, I had to hike in a canyon to reach the best portions of water. However, its beauty and less pressured fish made it well worth the extra effort.
Bring your 5 or 6-weight with lighter tippet. The terrestrial fly hatch in the late summer is a must for any fly angler. Also, Little Yellow Stoneflies and BWOs are great options.
Gila River
Directions: Gila River, NM
The Gila River is a diverse fishery with a variety of options for anglers. You'll find rainbow trout, smallmouth bass, and carp. The upper portion of the Gila is located at around 7,000 feet, so you'll find better trout fishing here.
In the upper portion, use stoneflies, midges, and caddis flies. They'll all catch fish, especially during the hatches. If you're fishing for trout, you can use your 4-weight with 5x tippet.
The East Fork is home to a smallmouth bass population. These are best caught on minnow and crayfish flies. If you're targeting smallmouth, bring your 7 or 8-weight. It's no secret that these fish are some of the best fighters around.
Pecos River
Directions: Pecos River, NM
The Pecos River is located on national forest land, so access is plentiful. Much of Highway 63 follows the river, allowing for ample opportunities to the numerous appealing holes.
I've found rainbow and brown trout in the Pecos. The Upper Pecos has populations of Gila trout in its far reaches. Use your stoneflies and salmon flies. Also, small nymphs and Woolly Buggers can get the larger fish out of the pools.
Bring your 3 weight fly rod or a 4 weight fly rod to the Pecos. The water requires more technical casting, and you'll want as much finesse as you can manage. It's a beautiful river located amongst tall ponderosa pines. You can't go wrong with a day on the Pecos!
Rio Chama River: El Vado Tailwater
Directions: Rio Chama River, NM
The Rio Chama only flows through six miles of New Mexico. Most it flows through southern Colorado. However, the New Mexico record brown trout was pulled from the Rio Chama, so it's well worth fishing.
I've had success with caddis, midges, and mayflies, fishing pools, riffles, and pocket water. The runoff can greatly affect the quality of the Rio Chama fishing, but it always stays fairly consistent.
Due to the large fish, you'll want to use your 6 or 7-weight rod. Bring 3x leader with 4x tippet. You can also catch fish on Woolly Buggers and crayfish patterns. The larger fish won't hesitate to eat the large flies.
Fly Fishing Lakes in New Mexico
You can fish both high and low elevation lakes in New Mexico. Many have healthy populations of trout as well as bass and northern pike. You aren't ever too far away from a lake in New Mexico, despite what the landscape may present.
Santa Cruz Lake
Directions: Santa Cruz Lake, NM
New Mexico's record rainbow trout was pulled out of Santa Cruz Lake. Weighing in at over 30 pounds, it was a good indicator of the massive fish this lake holds. Plus, it's right outside of Santa Fe, so it's easily accessible.
Bank fishing is a great choice for Santa Cruz Lake. There are trails that take you all around the shore. It's best to do a bit of wading when fishing the Santa Cruz. You'll need the room for casting. The banks have cover that can make it difficult to find angles.
If you do have a boat, it's only allowed to be used at trolling speeds.
Bring your 6 or 7-weight to handle some of these fish.  Also, minnow patterns, midges, and Woolly Buggers work well. These are stocked fish so they won't be as picky with your fly choice. Whatever you throw, present it naturally and you're good to go.
Fenton Lake
Directions: Fenton Lake, NM
Located in Fenton Lake State Park, Fenton Lake is a beautiful body of water surrounded by forests. As a result, you'll need to do some wade fishing. If you have a canoe or kayak, Fenton Lake is a great place to bring it.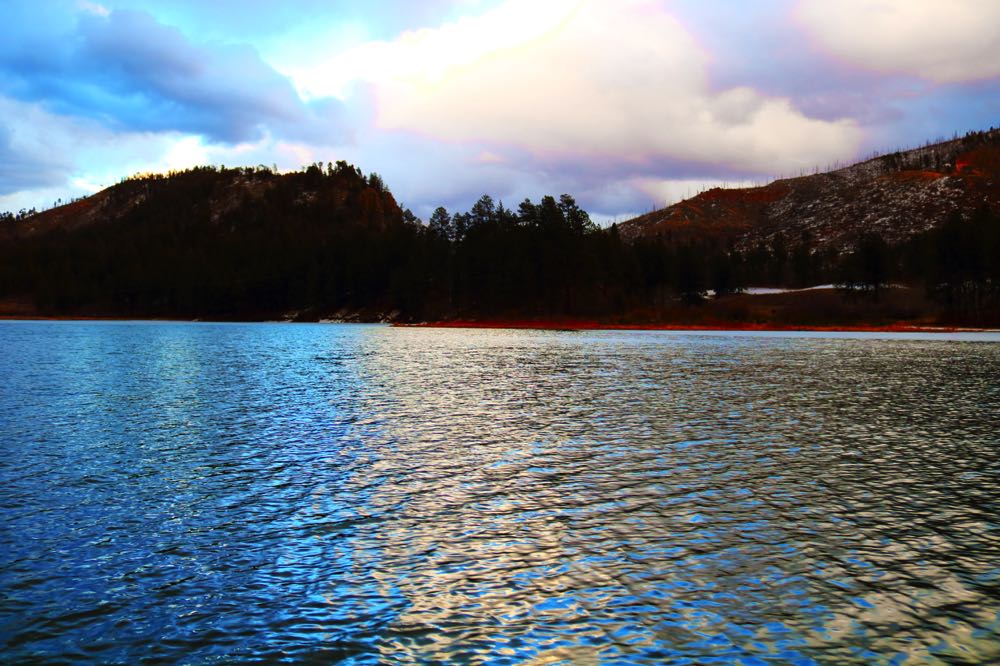 There are several campgrounds that surround the lake, so you can make it your home base as you explore the surrounding areas. It's stocked with rainbow trout all year long and these fish are always willing to eat.
Deceiver flies, crayfish patterns and Woolly Buggers will work. The Jemez River is located near Fenton Lake, so if you want something besides still water you can give it a try.
Bring your family for a few days and experience the beauty of Fenton Lake State Park.
Whiskey Lake
Directions: Whiskey Lake, NM
Whiskey Lake is located on the east side of New Mexico near Gallup. The stocked rainbow trout fill the waters and can grow up to 24 inches.
This lake is located on the Navajo Reservation, so you'll need a special permit to fish the lake. You can find the permit at all of the sporting goods stores in Gallup.
Bring your 6-weight along with a variety of flies to Whiskey Lake. Muddler Minnows, Tungsten Jig Buggers and Sculpin Streamers all work well in Whiskey Lake.
This is a unique fishery that can be fished either on the banks or via a small boat. I found the bank fishing to be tough due to the surrounding vegetation, but if you're willing to wade, you'll be just fine.
Eagle Nest Lake
Directions: Eagle Nest Lake, NM
Eagle Nest Lake in Northeast New Mexico provides some of the best Kokanee salmon and trout fishing in the state. It's located at over 8,000 feet of elevation. Located in Eagle Nest State Park, this is a great place to bring the family.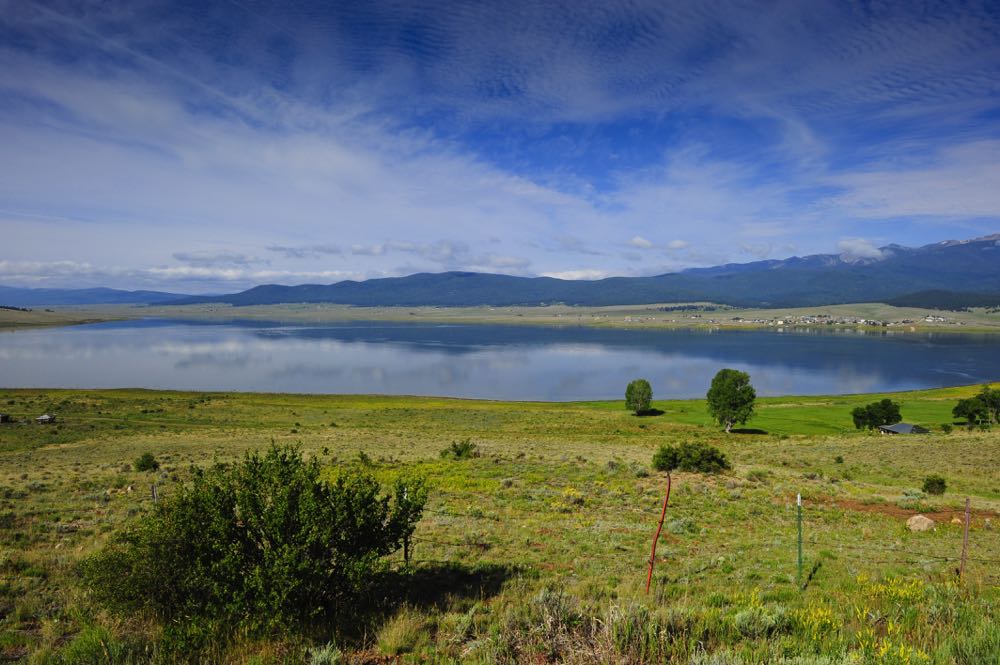 You should fish Eagle Nest Lake from the bank. You can wade in the refreshing water and have a field day landing some of the larger trout that live in the lake. Bring your caddis and gnat patterns to the lake. By the time night falls, the fish rise.
Also, you won't need anything more than your 6-weight to land the fish in Eagle Nest Lake. They're regularly stocked and willing to eat almost everything you throw their way.
Heron Lake
Directions: Heron Lake, NM
Heron Lake is a 6,000-acre expanse that offers the peace and quiet many anglers desire. The Game and Fish Department allows no wake on the entire lake. There are Kokanee salmon as well as massive lake trout available to be caught.
To catch a lake trout, you'll need sinking line. These fish sit very close to the bottom in the deepest portions of the lake. As a result, you'll want to fish this lake from a kayak or canoe.
Bring your 7-weight fly rod to handle these fish and be sure your reel is equipped with 0 or 1x leader. Large baitfish streamers are great to use. Let these sink to the bottom and start stripping. The fish will hit on the drift down or your retrieve.
Bring your family and enjoy a nice, relaxing day in north-central New Mexico.
New Mexico Fishing Season
The official fishing season in New Mexico begins on April 1st, but you can fish the majority of the above-mentioned waters year round. Besides some of the higher elevation lakes (Eagle Nest), the water won't freeze and you can enjoy fishing throughout the year.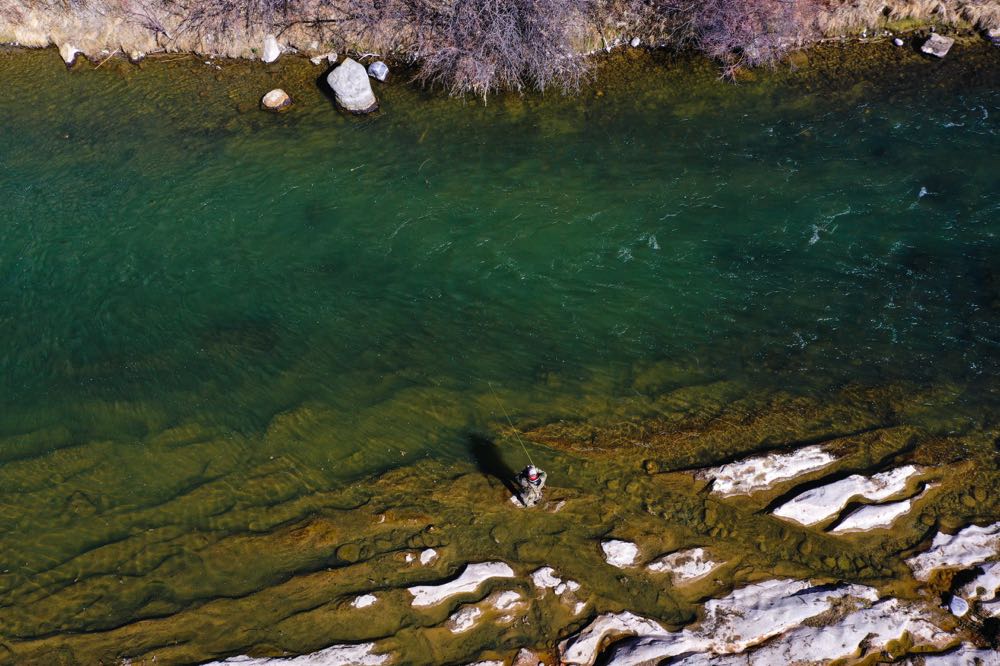 Be aware that many of the rivers listed above are affected by the runoff each year. During the runoff months, it may not be a bad idea to fish the lakes!
Fly Fishing in April
In April, the runoff has yet to start and fishing is phenomenal. You'll want to wear waders and warmer clothes because the higher elevation waters are cold.
San Juan Worms, midges, BWOs and black fly patterns all work in April. The fish are enjoying the warmer air temperatures so they're ready to eat. It's also never a bad idea to throw a streamer throughout the day to see if the big fish are hungry.
Fly Fishing in May
In May, the runoff begins in New Mexico. The fish are still willing to eat, but they're likely pushed up against the banks and more difficult to catch. Be patient during May and try fishing some of the listed lakes.
Annelids, leeches, black flies, and scuds are all hatching in May. Also, BWOs begin to show up. These are great to throw all throughout the month.
Fly Fishing in June
By June, the runoff has begun to subside and the waters become more fishable. The fish are back to their normal eating habits and willing to strike the majority of what you throw their way.
Use scuds, BWOs, and stoneflies, and begin to look for the caddis patterns. These are all great options for fly fishing New Mexico in June.
Fly Fishing in July
I always head to the mountains in July in New Mexico. At lower elevations, the temperatures are far too warm and the mountains provide some relief. Start to throw stoneflies, PMDs, and BWOs.
Also, the terrestrial hatch is in full swing by mid to late July. Don't be shy and be willing to throw these flies up against the banks. They'll lead to some amazing strikes!
Fly Fishing in August
Similar to July, fly fishing New Mexico in August is best done in the mountains. You'll find hungry fish looking for the terrestrials. I love using dry flies and August in New Mexico is the time to throw them.
Beetles, ants, and hoppers are all making regular appearances on the water. Take advantage of the terrestrial hatches!
Fly Fishing in September
By September, the temperatures across the state begin to cool. However, the terrestrial bite still has a few weeks of life. Keep in the mountains and throw these flies.
It's also smart to begin using streamers in September. The fish are more aggressive and starting to fatten up for the winter months.
Fishing in October
By October, the mountains will begin to receive snow, and fishing begins to slow. Throw nymphs through the seams and pocket water. The fish aren't looking to bust the surface or attack heavy streamers.
Best Fly Fishing Lodges in New Mexico
New Mexico has ample options for fly fishing lodges. The vast amount of fishable water makes it a wonderful place to hire a guide and learn the ways of these legendary rivers.
Rainbow Lodge
Located on the San Juan, the Rainbow Lodge has seven miles of wonderful access to this river. There are guided trips available as well as lovely accommodations. A fully inclusive trip for two nights and one day is $960 a person.
Soaring Eagle Lodge
The Soaring Eagle is also located on the San Juan River near the Crow's Foot section. You can purchase an all-inclusive package for around $700 per angler for two nights and one day.
Corkins Lodge
Corkins Lodge can be found on the Brazos River. This resort provides 2.5 miles of private access to the Brazos as well as a private trout-stocked pond. You'll receive guided trips from the Land of Enchantment Guide Service. A cabin will cost you around $400 per night and the guided trips are an added cost.
Conclusion
Anglers need to try fly fishing in New Mexico. The waters are worth the trip. You may not ever fish New Mexico unless you make a conscious effort to visit. It's a perfect place for families and anglers of all skill levels.
On my many trips to the state, I found all of the seclusion that I could ever need in New Mexico. Plus, the size of fish has kept me coming back year after year.
Take it from me, New Mexico deserves to be on any angler's list of dream fly fishing destinations. Check it out and you'll see.
Some images in this post are courtesy of Shutterstock.com.
Like This Article? Pin It!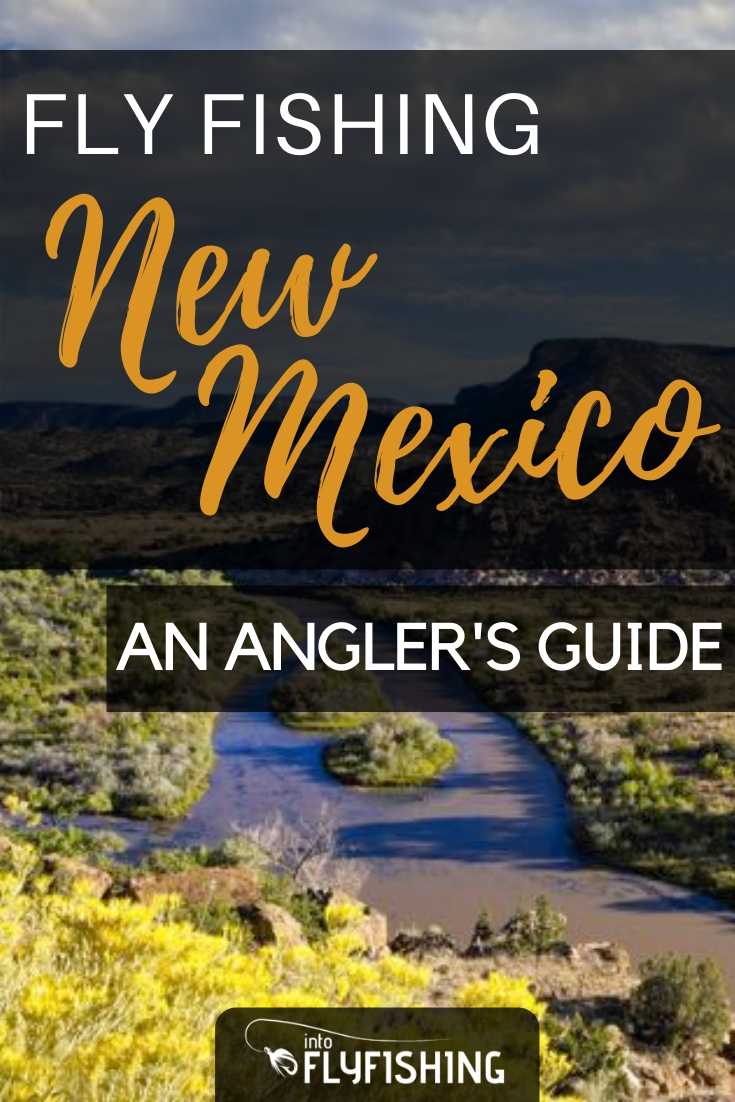 Amazon and the Amazon logo are trademarks of Amazon.com, Inc, or its affiliates.