As an Amazon Associate I earn from qualifying purchases.
Moosehead Lake fishing has been popular since before Europeans reached North America. Native tribes utilized this large water's rich resources, including its big brook trout.
In more recent history, Moosehead Lake is famous for landlocked salmon, big brook trout, and lake trout. Though the fishery has seen its ups and downs, it's still a great place to go to catch these species.
I've fished Maine for years but still haven't had the chance to fish Moosehead Lake myself, although friends of mine have and their experiences were very memorable. It's near the top of my list of fishing destinations to visit in the near future.
Where Is Moosehead Lake?
Moosehead Lake is located in north-central Maine. The two largest towns on the lake are Greenville and Rockwood, neither of which is actually very big.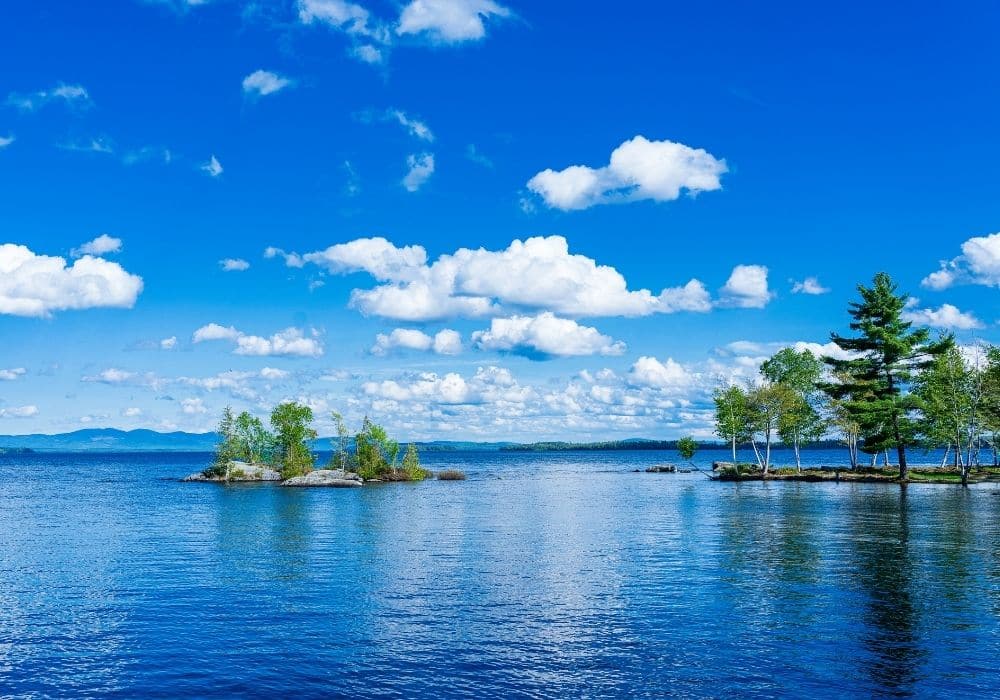 Moosehead itself is large, about 118 square miles. The area around it is mostly wooded and undeveloped. It has numerous rivers and streams flowing into it and two major outlets.
Don't miss our full guide to fly fishing around Maine.
Moosehead Lake Fishing: Why Go?
Fishing Moosehead Lake remains fantastic despite many fluctuations in quality over the years. It still produces some large wild brook trout and abundant landlocked salmon and lake trout.
The scenery is also spectacular and truly wild. Mt. Kineo is an impressive geological feature and one of the lake's signature sights. Even if the fishing ends up being a bust, it would be hard to leave Moosehead unimpressed.
Types of Fishing in Moosehead Lake
There are numerous ways to catch fish on Moosehead Lake, from trolling for landlocked salmon to jigging for brook trout through the ice.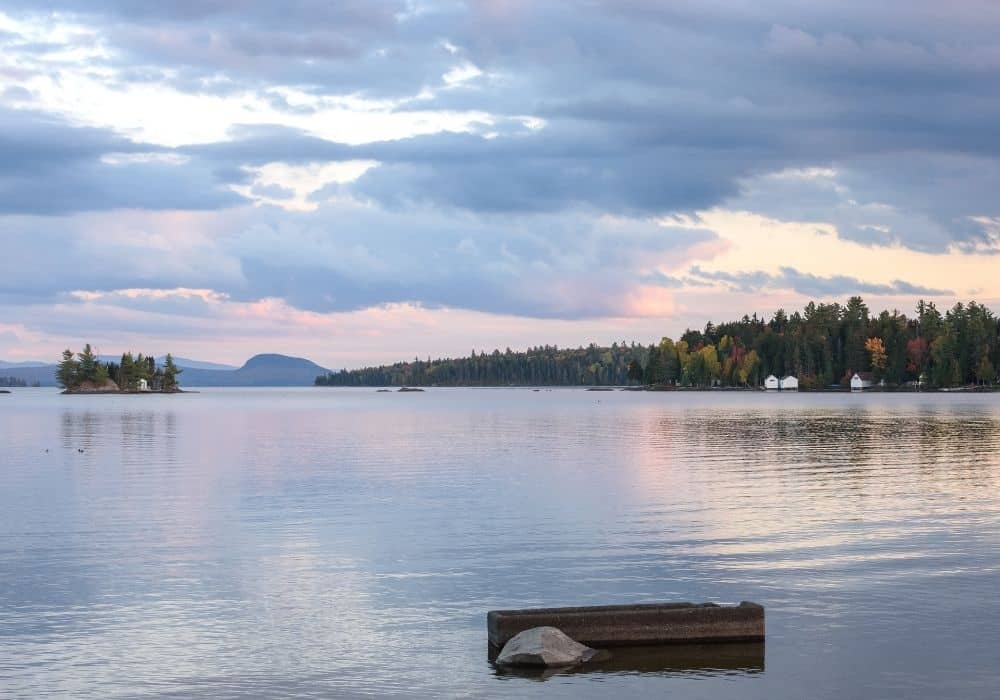 Fly Fishing Moosehead Lake
A fly rod can certainly be an underdog on such huge water, but it has its place. Fly fishing Moosehead Lake is best at the outlets and creek mouths in the spring and fall.
The East Outlet, West Outlet, Moose River, and Roach River are popular fly fishing destinations for fishing near Moosehead Lake. Some of these spots hold fish year round and have excellent summer dry fly fishing.
Spin Fishing Moosehead Lake
Spin fishing Moosehead Lake can be good for lake trout, brook trout, and smallmouth bass. Jigging around rocky structures is always a good strategy for such a fishery.
Trolling Moosehead Lake
Trolling with diving plugs or streamers, sometimes on lead core lines, is often the best strategy for landlocked salmon when the schools are dispersed in the lake. It can also be very effective for lake trout.
Ice Fishing Moosehead Lake
Ice fishing is very popular on Moosehead for lakers, brook trout, and even burbot. Since the winter in Maine is often long and harsh, ice fishing Moosehead Lake can be a welcome adventure. Shanties and space heaters are recommended and a snowmobile is the best way to get around.
Moosehead Lake Fish Species
Moosehead Lake is a mostly coldwater fishery. Salmonids are the most popular species. Native burbot and nonnative smallmouth bass also provide good fishing.
Brook Trout
Native brook trout fishing on Moosehead Lake has fluctuated over the years, but the fish seem to be making a comeback in recent years. Some truly large specimens exceeding 6 pounds have been caught.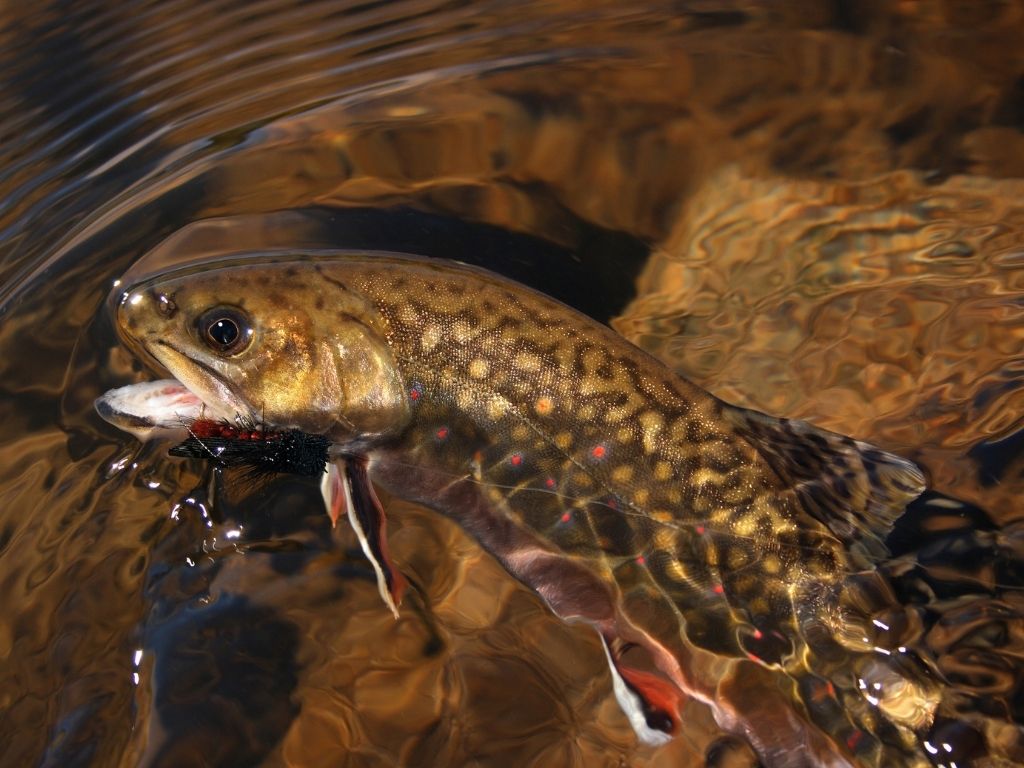 The northern half of the lake is best.
See also: A Guide to Productive Brook Trout Patterns
Landlocked Salmon
The landlocked salmon fishery in Moosehead is famous. These acrobatic fish are both hatchery reared and naturally reproduce in the system. Trolling in the lake is productive, but these fish will also rise to hatches in the outlets and in-flowing rivers.
Lake Trout
Lake trout populations in Moosehead Lake are robust. Throughout the years, the populations have at times been so large in number that the fish were mostly small, stunted, and out-competing other species.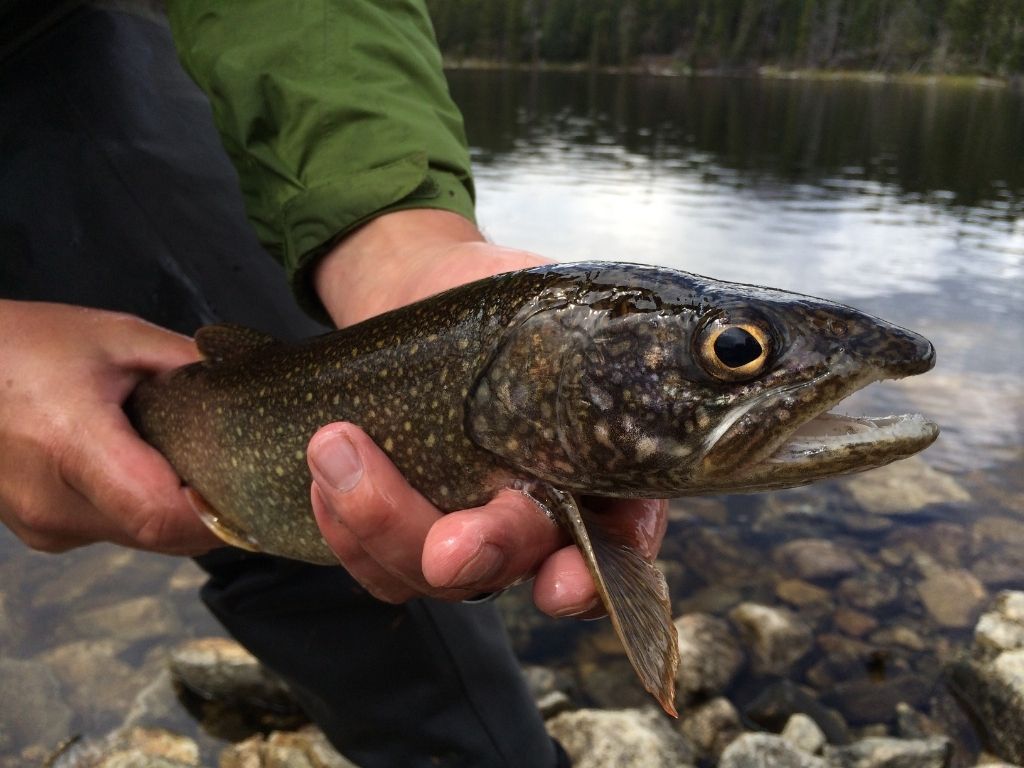 Lakers are great trolling, ice fishing, and spinning targets, but can be caught on the fly as well.
Burbot
Burbot, a freshwater cod species, are found in Moosehead Lake. Ice fishing with bait is the best way to target these unusual native fish.
Smallmouth Bass
Smallmouth were illegally introduced into Moosehead Lake. Though not as abundant as in some lakes in Maine, a few parts of Moosehead support good fishing.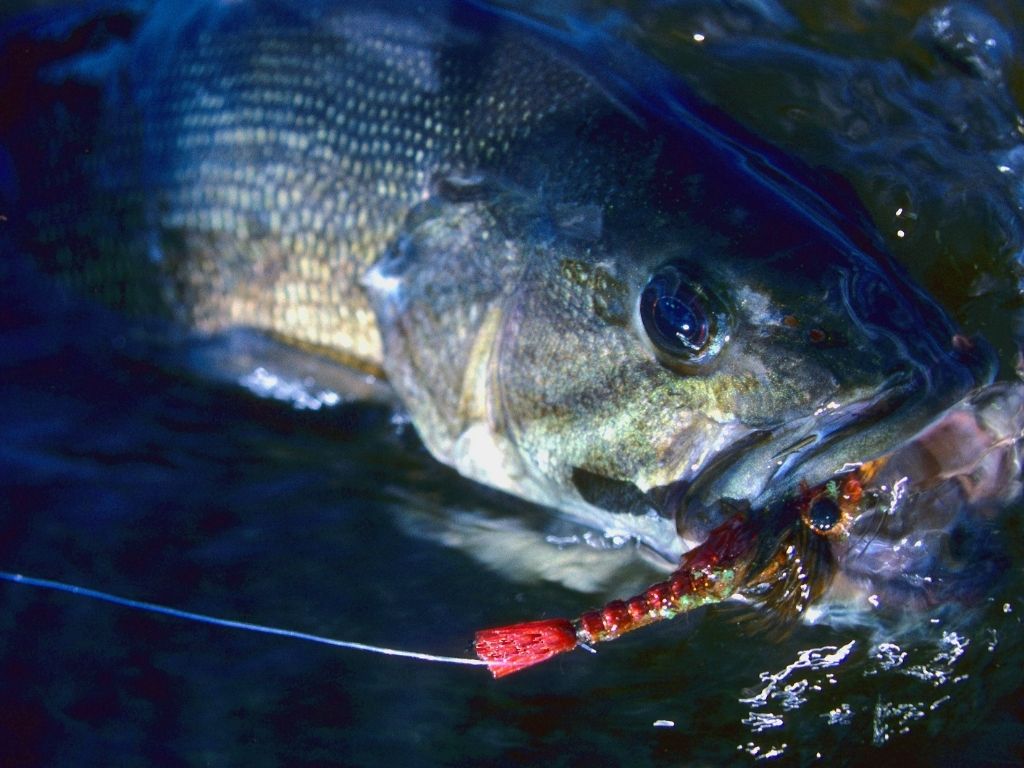 Anglers are encouraged to harvest invasive smallmouth bass.
Best Spots for Fishing Moosehead Lake
Since Moosehead is a big lake with a lot of shoreline and often significant wind changes, it can be tricky to pick a fishing spot. Weather should always be considered before launching a boat, and shore access is often limited to tributaries and outlets.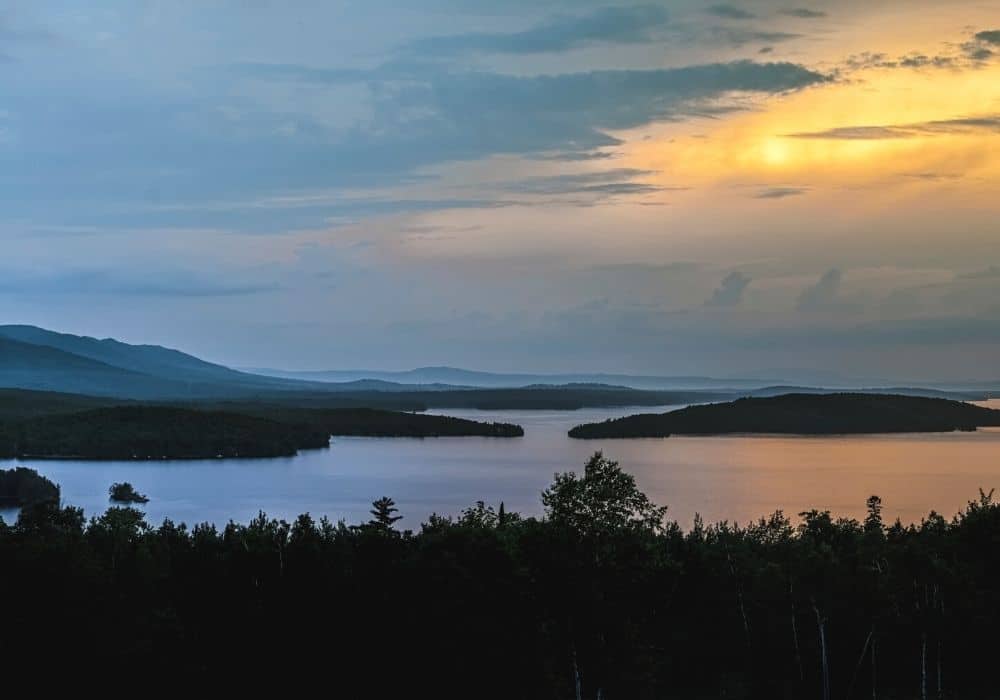 Here are some of the best fishing spots on Moosehead Lake.
East Outlet
Both major lake outlets support good fly fishing for trout and landlocked salmon. Fish streamers in the spring and fall and dry flies in summer.
Rockwood Town Landing
Rockwood Town Landing's boat launch provides access to some of the most productive parts of the lake. Make sure to check the forecast before launching a boat here, as a wind shift and increase can quickly make conditions dangerous on such a large body of water.
Lily Bay
The shallower, warmer parts of the lake are good areas to fish for smallmouth bass. Lily Bay State Park and its boat launches give access to some of the better smallmouth bass fishing on Moosehead Lake. Fishing poppers around rocky drop offs in the summer is a fun way to catch these fish.
Best Flies for Fishing Moosehead Lake
Flies can be used for both fly fishing and trolling in Moosehead Lake. Patterns that imitate smelt and caddis are notably important.
Grey Ghost
The classic Carrie Stevens pattern, designed in the Rangeley Region, is also very productive when fly fishing in Moosehead Lake.
In the spring when smelts gather around the outlets and inlets, Grey Ghost is a good choice.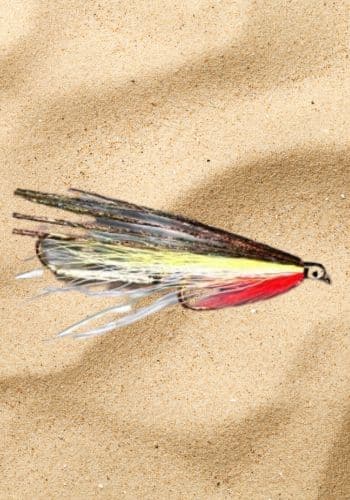 Magog Smelt
The Magog Smelt is another excellent streamer for the spring and the fall. It's also a good fly for trolling landlocked salmon and, in large sizes, lake trout.
Lefty's Popping Bug
Lefty's Popping Bug is a great bass fly and a good choice for smallmouth bass fishing on Moosehead Lake.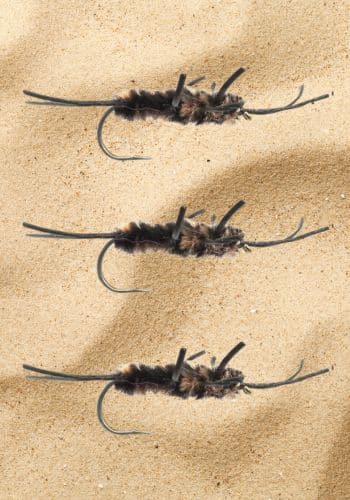 Pat's Rubber Legs
When fishing the tributaries and outlets, it helps to have some big, buggy stonefly nymphs on hand. Pat's Rubber Legs fits the profile.
It'll work well for brook trout and smallmouth bass, and it can catch landlocked salmon and, rarely, small lakers.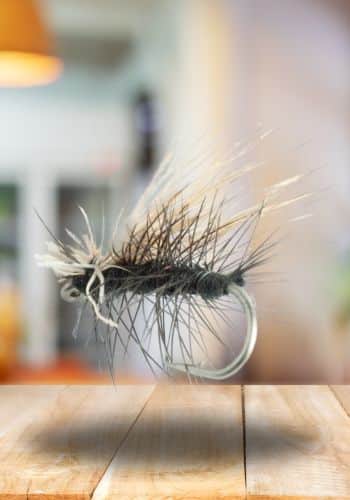 Elk Hair Caddis
When the heavy caddis hatches are on at the outlets and tribs, the Elk Hair Caddis is a handy and buoyant dry fly to have.
Moosehead Lake Fishing Season
The Moosehead Lake fishing season varies from spot to spot. Check regulations to make sure the river of the area you plan on fishing is open before you visit.
Winter is primarily the time to ice fish. Lake trout, burbot, and big brookies can all be caught in the depths of winter. Come spring, as the lake thaws, smell gather in shallow water. This is one of the best times for fly fishing Moosehead Lake for big trout and landlocked salmon.
In the summer, there can be some strong hatches and dry fly fishing. It's also prime smallmouth season. Trolling deeper water is a good way to pick up salmon and lakers while the smallmouth are up shallow.
The fall pre-spawn window is another excellent time to pick up some huge brookies and salmon before the waters close in October.
Moosehead Lake Fishing Report
Maine IFW provides a useful fishing report page for the various regions of the state. I recommend checking their page for a Moosehead Lake fishing report.
Moosehead Lake Fishing Guides
A bunch of guides run trips on Moosehead Lake. Here are a few who utilize a variety of fishing methods.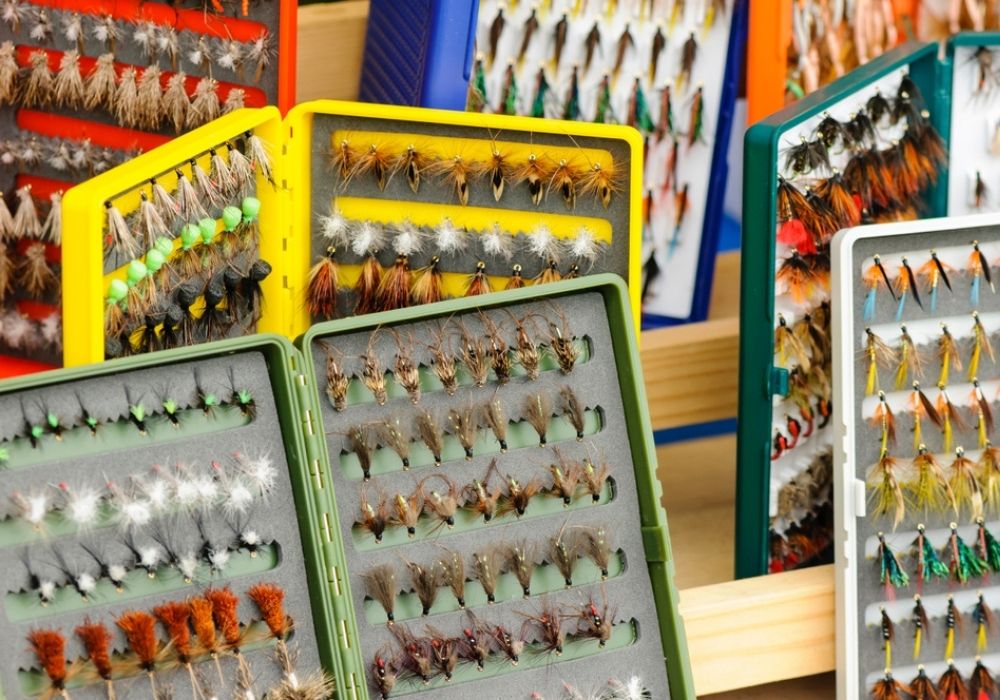 East Outlet Guide & Fly Shop
East Outlet Guide & Fly Shop, located on East Outlet, runs drift boat trips for brook trout, landlocked salmon, and smallmouth bass. They're equipped to cater to beginners and experienced anglers alike.
Reel Moosehead Guide Service
Reel Moosehead Guide Service offers open water and ice fishing trips. Both trolling open water and ice fishing require specialized equipment and tactics, so if you aren't setup for these types of fishing, hiring a guide can be very important.
First Light Guide Service
Owner Matt Lavigne offers a variety of trips for fly anglers. If you aren't only interested in just the lake itself but also the surrounding streams or even remote brookie ponds, he's a good guide to consider.
Conclusion
Moosehead Lake fishing is exceptional not only because of the size of the fish the lake holds but because the place itself is so wild. Maine's big lakes are extraordinary. They can be harsh and unforgiving one day and then bountiful the next.
Although it's important to know that, like any large body of water, fishing Moosehead Lake can be difficult, it's worth a trip. There aren't many places left in the United States with native brook trout over four pounds, and this is one of them.
Maine's Moosehead Lake remains one of New England's great fishing destinations.
Amazon and the Amazon logo are trademarks of Amazon.com, Inc, or its affiliates.
As a part of the Amazon Associates Program and other affiliate programs, Into Fly Fishing® may receive a comission if you order products through links on this website.