As an Amazon Associate I earn from qualifying purchases.
Alaska has always captured the imagination of fly anglers, and the Kenai is an integral part of the Alaskan lore. The Kenai River holds the world record for a king salmon caught sportfishing, which is indicative of how prolific this fishery is.
The Kenai is home to many different species of fish, which means it's an exciting place to visit. It's also more accessible than many Alaskan rivers, which is an attractive quality.
I've been fortunate enough to fish many places in my life, and as a former Alaskan fishing guide, I can tell you that fly fishing the Kenai River isn't a trip you want to overlook.
Where Is the Kenai River?
The Kenai River is located in south central Alaska, beginning at Kenai Lake and flowing for 82 miles down into Cook Inlet and the Pacific Ocean.
Cooper's Landing is the nearest town to Kenai Lake. It's the beginning of the Kenai River and is about a two-hour drive south from Anchorage.
Don't miss our complete guide to fly fishing around Alaska.
Kenai River Fishing: Why Go?
This question has 1000 answers, and it really depends on what you're looking for. If you're looking for great salmon fishing, the Kenai has it. If you're looking for incredible rainbow trout fishing, the Kenai has it. And, if you're looking for spectacular views…well, the Kenai has that as well.
The Kenai River has runs of all five Pacific salmon species, and has trophy rainbow trout and Dolly Varden fishing. It can be floated or fished while wading.
Kenai River Fish Species
One of the most fun parts of fly fishing in Alaska is the amount of fish species you can target, and the Kenai River is no exception. Which salmon are in the river varies depending on the time of year, but there are several species that are available to catch throughout the fishing season.
Rainbow Trout
Some of the best fly fishing on the Kenai is for rainbow trout. This fishery is known for its trophy rainbows, which are often measured not just by length or weight, but by girth as well. These fish enjoy an abundance of high protein food, and it helps pack on the weight.
These rainbows spawn in late spring through early summer, and fishing is closed through June 15 to protect them. Once the spawn is over and fishing reopens, the rainbows are ravenous eaters.
As the year progresses, so does their food source. This means that fly selection also evolves, starting with streamers and salmon fly patterns, then switching to egg imitations, to finally flesh flies as the spawned out salmon begin to die and decompose. This high protein diet is what gives these trout their massive size.
Dolly Varden
Dollies are always fun to catch, and you'll usually hook into a few while chasing trophy rainbows. They're competing for the same food sources and will be mixed in with the trout.
Dollies can range between 10-30 inches and change color as the year gets later. They turn brilliant colors heading into fall, and it never gets old seeing these beautiful fish landed.
King Salmon
These fish are called the king for a reason. They're the largest Pacific salmon species. These fish can grow to be over 40 lbs and are angry when hooked.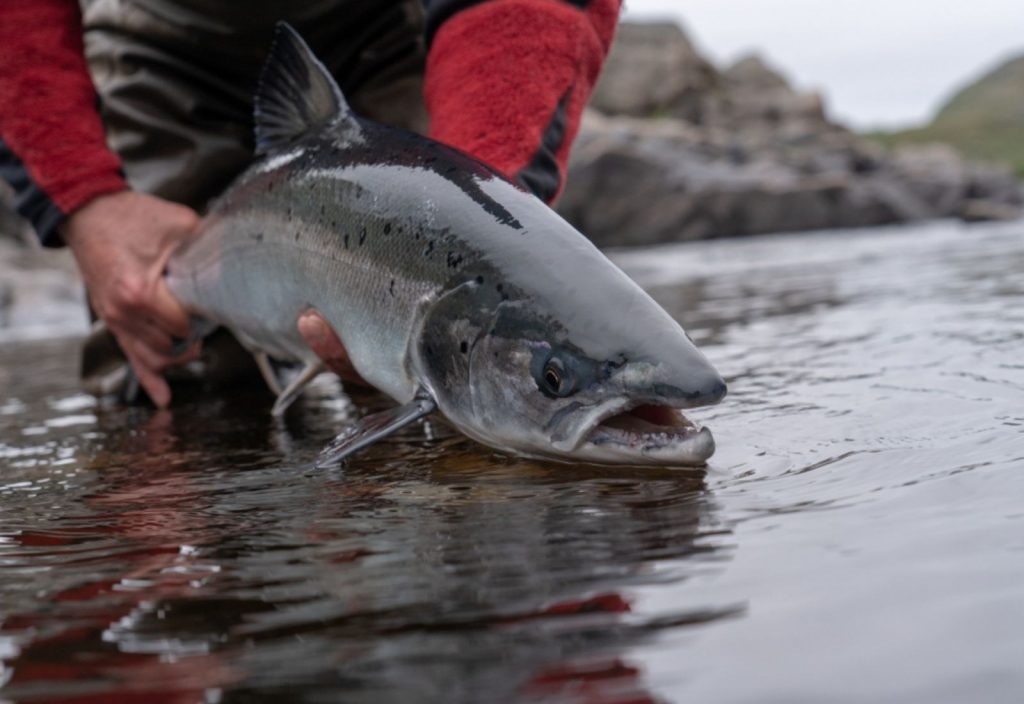 Kings can be difficult to catch on the fly. As they move into freshwater, they stop eating, so the strikes are out of aggression. The Kenai can be a big river, so covering water with spey rods is the most common way to fly fish for these giants.
Coho Salmon
Coho salmon, more commonly referred to as silver salmon, are arguably the most fun salmon species to chase. They are aggressive and eager to take a fly, and once hooked they put up quite a fight that can include aerial displays.
Cohos will go after anything bright, with pink being the preferred fly color for these fish. They can be caught stripping a streamer or swinging, and both will result in some serious takes.
Sockeye Salmon
Sockeye salmon are in many of the classic Alaska pictures. They're easy to identify with their bright red bodies, and they spawn in shallow water. The fish begin looking bright silver and then transition to red as they spend more time in fresh water.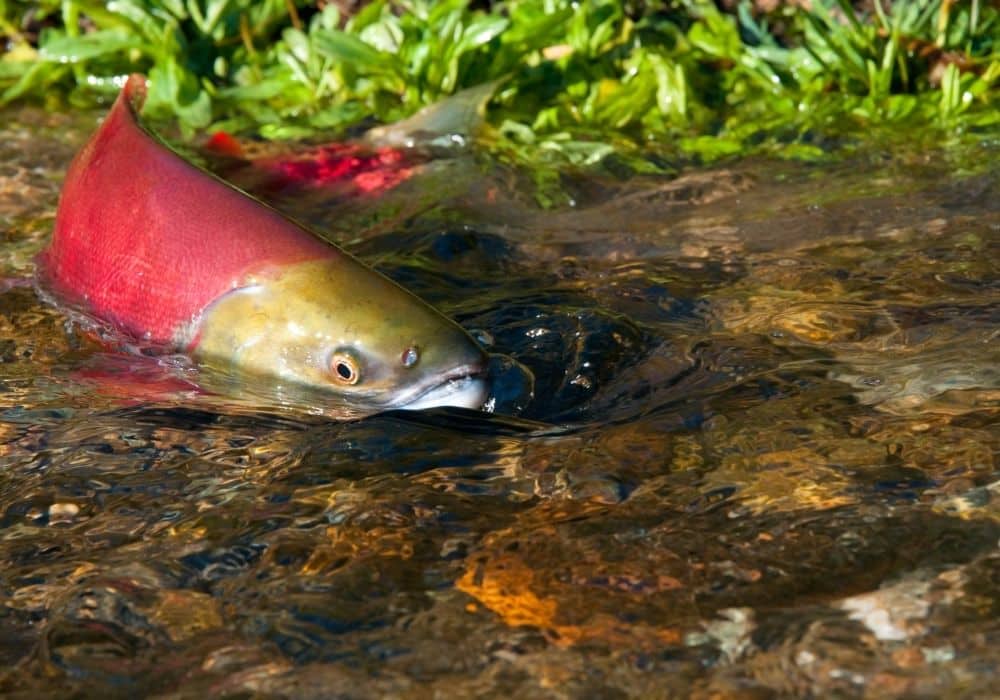 Sockeyes are very different from other salmon species. They're not as willing to chase a fly, but will take one that's presented to them. If you can swing a sockeye fly in front of them, you'll likely get a take and then an ensuing fight that will be remembered.
Sockeyes will take smaller, sparser flies in bright colors like chartreuse.
Best Spots for Fishing the Kenai River
The Kenai River is broken up into three main sections. These are known as the upper section, the middle section, and the lower section. Although the names might sound unoriginal, they're marked by clear landmarks and make understanding the river easier.
Because salmon are moving through each section, and the size of the river changes, it's important to understand the different parts of the Kenai. Below I'll discuss each.
The Upper Section
The upper section of the Kenai River is considered to be where the river begins at the outflow of Kenai Lake, down roughly 17 miles to Skilak Lake. A road follows the river for most of this section, so accessibility isn't difficult. This also means there may be more people.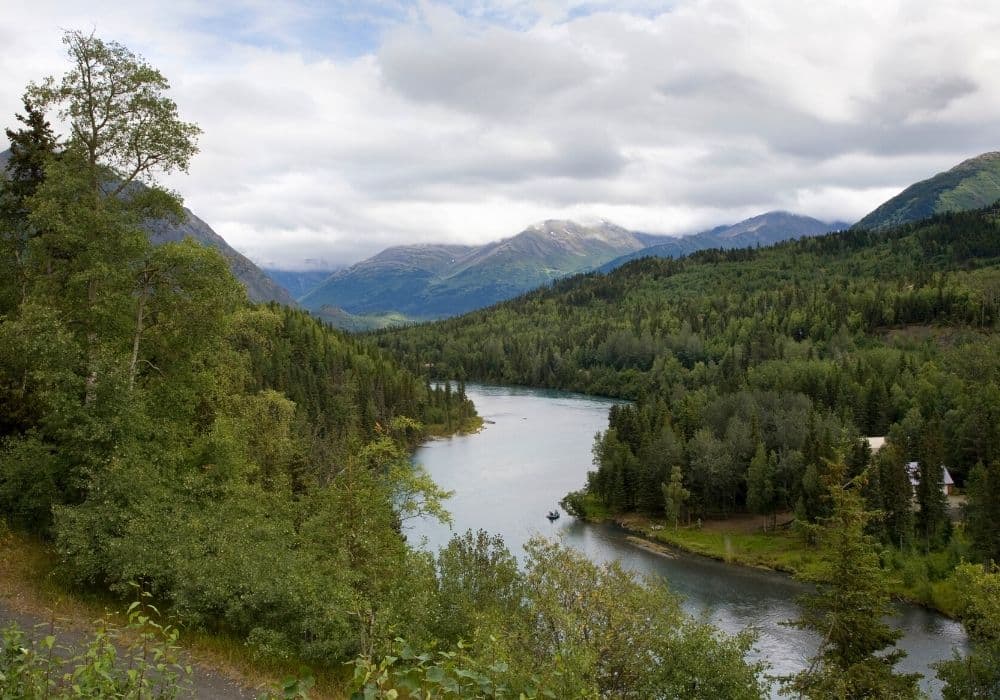 A popular way to fish this section is with a drift boat, which is a great way to cover a lot of water and see more scenery. There are some rapids towards the top of the section by Kenai Lake and then again at the bottom when the river enters Skilak Lake.
The Middle Section
The middle section runs from Skilak Lake down to the Sterling Highway Bridge (near the town of Soldotna). The road continues along much of the river through this section, meaning you're able to access the river from many different locations.
Unlike the upper section, the middle section of the river does allow motors. Like most things in life, this is both a pro and a con. There may be more noise and traffic, but you can also fish sections over and over, or move on to a new place more quickly.
The middle section contains many large trout. It's also a good holding location for salmon, so the action can be spectacular.
The Lower Section
The lower section is marked from the bridge, down to the mouth of the river at Cook Inlet. This is where the river really starts to get wide, and there will be many fisherman chasing king salmon, and not as many fly fishers.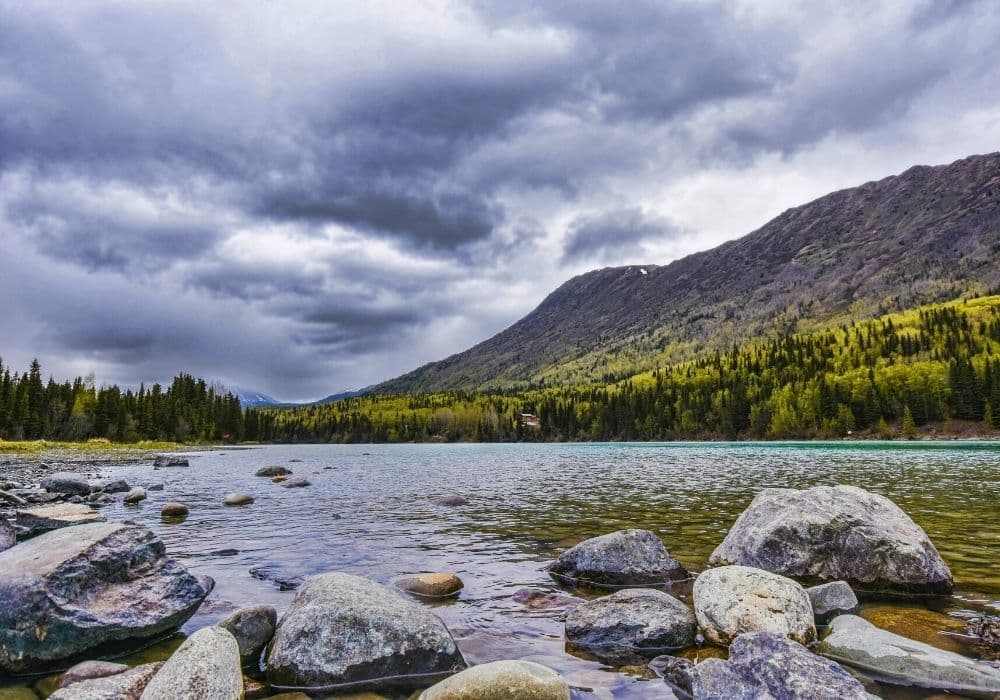 Because the river is larger towards the mouth, this section is primarily a power boat fishery. It can be very productive if fished from a drift boat, and some larger rainbows will likely be making their way in and out of this area.
Best Flies for Fishing the Kenai River
The best flies for fishing the Kenai depend on what time of year it is. A fly that is most effective in September might barely get touched in May. If you understand the changing trends of the fishery, you can choose the right fly and have an incredible day!
Egg Patterns
I'd say that this is the single most effective pattern to use. Once the salmon start spawning, just about every fish in the river will be keyed into eggs. It'll be all they're looking for, and they'll voraciously take anything that looks like a salmon egg.
You'll hook rainbows, dollies, and salmon using egg patterns. Some of the takes will be subtle, while others will be extremely aggressive.

Flesh Flies
These might be the most underwhelming looking flies, but they're extremely effective. Many look like pale or white fluff with no imagination included…but that's exactly what rotting salmon flesh looks like.
As the salmon have completed their spawn, they begin to die. Later in the summer, anywhere from August to October, you'll see many dead salmon carcasses lining the banks and floating in the rivers.
These dead salmon start to decompose, and the floating pieces of flesh turn into high protein meals for all the rainbows and dollies. They've gorged themselves on eggs and are now capping off the summer with flesh flies.

Clouser Minnow
Clousers can be a very effective pattern earlier in the summer when fish are focused on salmon smolt. Each spring and summer, millions of salmon smolt make their way out of the freshwater lakes and rivers to begin life in salt water.
As these smolts are heading for salt water, rainbows and dollies are eating as many as they can catch. The Clouser Minnow can make for some very fun and exciting fishing.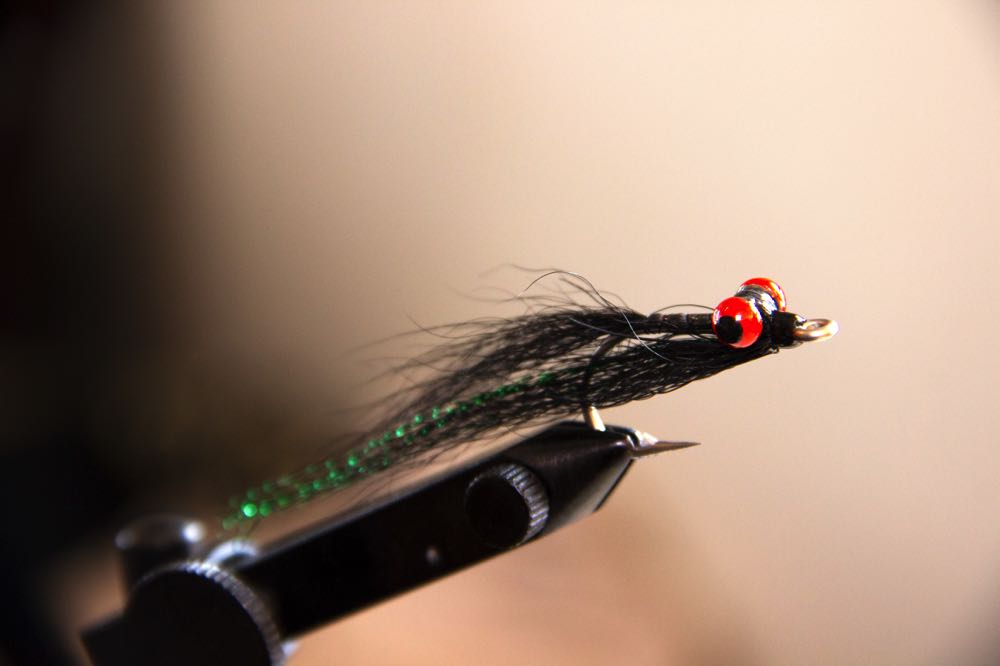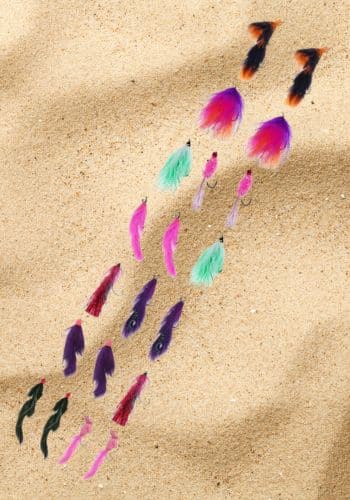 Pink Flies
Yes, that's the most important part. For coho, you want something pink. The Starlight Leech, Coho Comet, and Dolly Llama are all good choices for coho.
If your arm is tired and you want to try something different, you can even cast a topwater pink fly (Pollywog or Popper Wog). Pink Flies might not catch as many fish, but seeing a salmon chase a fly on topwater is a lot of fun!

Dolly Llama
This fly is probably the most versatile fly I've ever used. It has caught just about every species of fish I've chased. It can be swung, stripped, or dead drifted and will produce results.
Rainbows love the Dolly Llama fly, and you will get some very hard takes. In the right colors, salmon will also eat this fly, along with Dollies.
Kenai River Fishing Season
For most anglers, the fishing season on the Kenai runs from May through mid-October. The river can be fished year round, but weather makes this more consistently challenging outside of this time frame. Keep in mind, this is Alaska, so weather may be an issue at any time, especially later in the year.
Rainbows and Dollies are around all year, and fishing can be excellent the whole time. King salmon start to show up in May, followed by sockeye and finally coho.
The timing of these runs can vary depending on many factors, including weather and water temperatures. But don't worry, if you miss the timing of one run, you'll probably be right on time for another!
Conclusion
Fly fishing on the Kenai River presents an angler with a myriad of choices. It offers world-class fishing with an unbeatable backdrop. Make sure to bring a camera, although you'll never forget a fishing trip on the Kenai.
If an Alaskan fishing adventure is what you're after, make sure to put the Kenai River on your list. I promise, you won't regret it.
Amazon and the Amazon logo are trademarks of Amazon.com, Inc, or its affiliates.
As a part of the Amazon Associates Program and other affiliate programs, Into Fly Fishing® may receive a comission if you order products through links on this website.