Fly fishing in Vermont is a collision of the modern and the traditional. The state holds some of the most famous and hallowed dry fly water in the country. It also has one of the best lakes for warmwater fly fishing in the Northeast, where non-traditional fly rod fish like gar, bowfin, and freshwater drum abound. There are endless possibilities in Vermont's waters.
I've fished in Vermont quite a bit over the years. I caught my first pike and gar there, among many other species. Although the warmwater fishery of Lake Champlain was what drew me, I've also been on a couple trout-specific trips as well. I'm always looking forward to my next trip to Vermont for some fly fishing.
Waters in Vermont vary from remote ponds and small streams to easily accessible rivers and big lakes. The scenery is often as spectacular as the fishing, and wildlife abounds.
Disclaimer: IntoFlyFishing.com is a participant in the Amazon Services LLC Associates Program, as an Amazon Associate I earn from qualifying purchases. Please see our Privacy Page for more information.
Why Go Fly Fishing in Vermont?
Vermont, though small, has a lot of public water. It also has numerous native freshwater fish not found elsewhere in New England. Some of the fly fishing for those species is even better in Vermont than it is in parts of the country where they're more ubiquitous.
Vermont has produced a number of fly rod world record fish. The Orvis Company, one of the most known and trusted names in fly fishing, was founded in Vermont near the famous Battenkill. Fly fishing history runs deep there.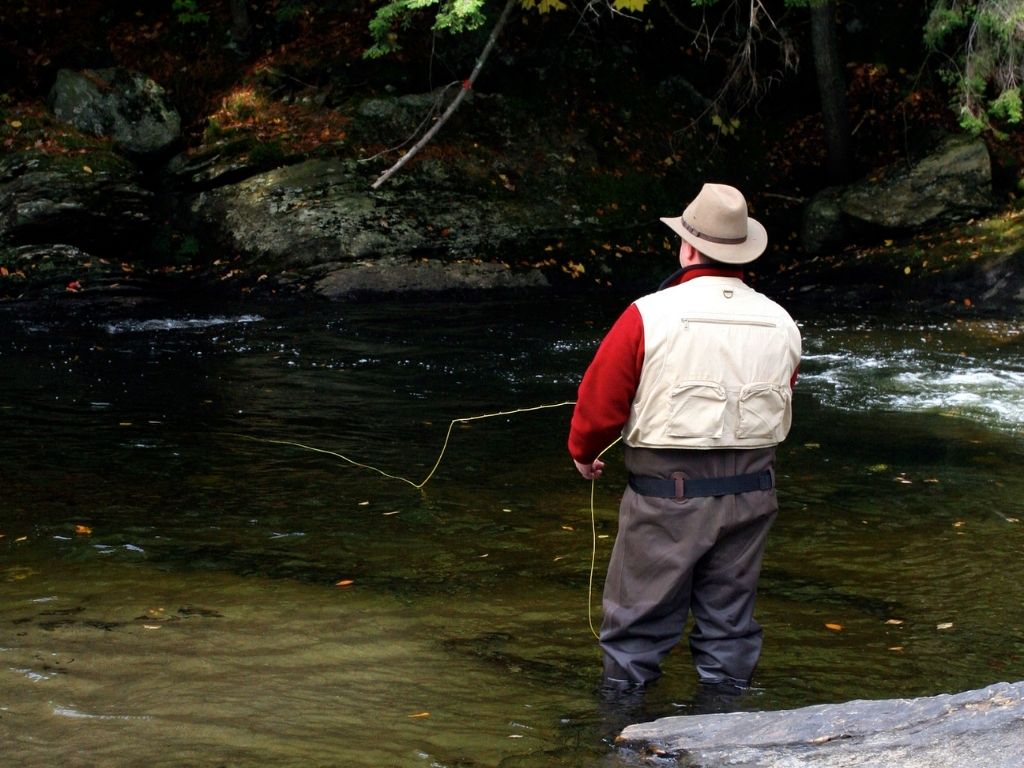 Although many well-known rivers, the Battenkill included, have seen some big ups and downs throughout the years, many are rebounding. There are lots of reasons to visit Vermont to fly fish.
Vermont Fly Fishing Species
Vermont has no shoreline and only a handful of big lakes, but it makes up for that by having a great diversity of species. In both coldwater and warmwater habitats in Vermont, there are exciting species to fly fish for.
Brook Trout
Brook trout are native to Vermont and are most abundant in the state's small streams. For the most part, wild brook trout fishing in Vermont means 2 weight rods, bushy dries, and creeping up of small bejeweled fish in tiny creeks and sometimes beaver ponds. A 10-inch fish is a trophy, though it is possible to catch wild brook trout over a foot long in Vermont.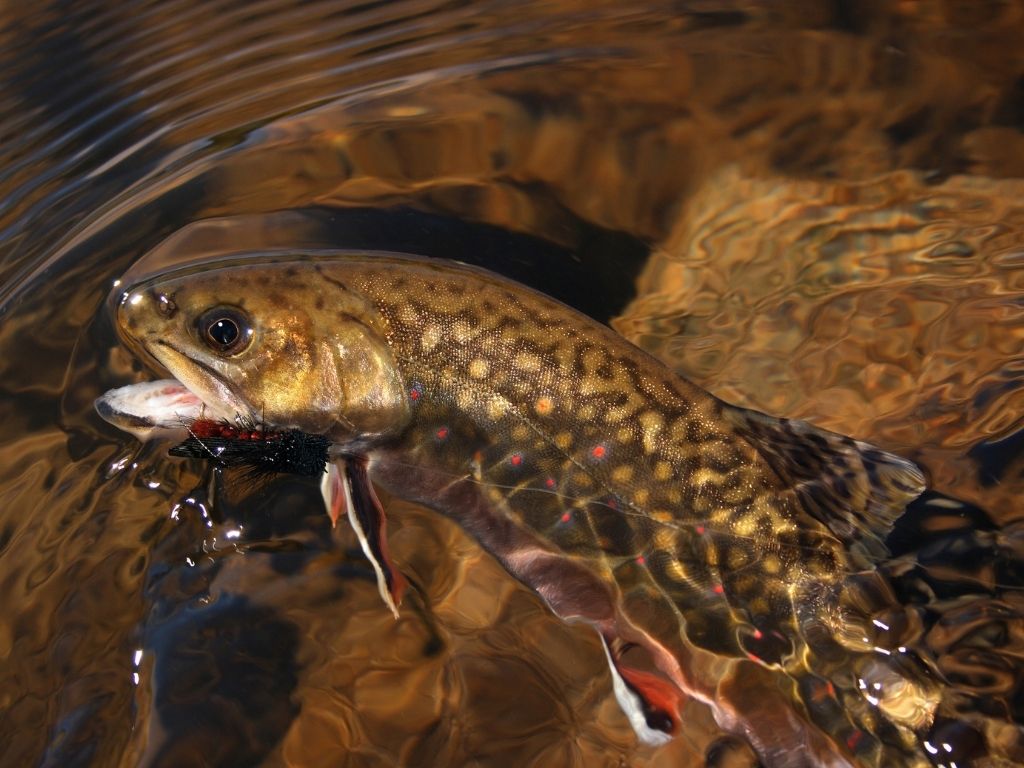 The state also stocks brook trout in many ponds and streams. Unfortunately, even though brook trout are an important native species, Vermont's limit for them is higher than it is in any other Northeast state. Please take care to release and protect these special fish.
Brown Trout
Both stocked and wild brown trout can be found in many of Vermont's rivers and stillwaters. The Battenkill is the state's best known brown trout river. This tricky fishery is often said to not be as good as it once was, but it has certainly seen a rebound. Numerous other streams hold wild brown trout as well.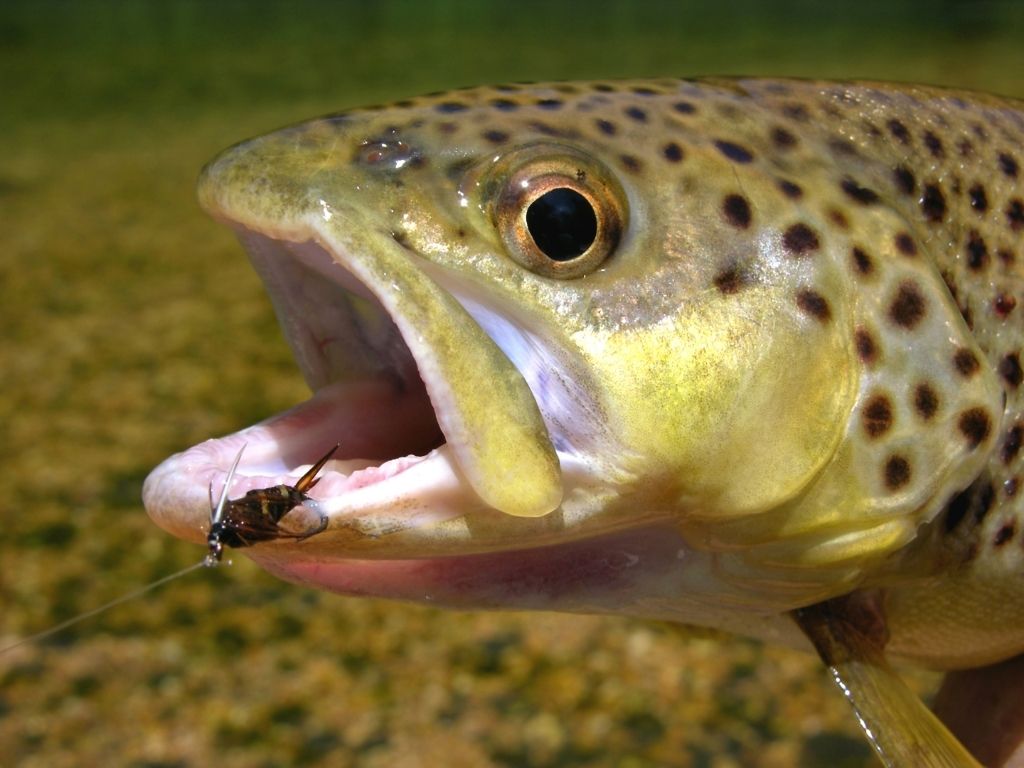 Some quiet, little-known creeks even hold brown trout well over 20 inches, so these are good places to explore away from the famous streams and rivers. Streamers like Coffey's Sparkle Minnow and Conehead Zonkers, as well as nymphs like Pat's Rubber Legs and the Ausable Ugly, could land you the brown of a lifetime while trout fishing in Vermont.
Rainbow Trout
Most rainbow trout in Vermont are stocked fish. The state puts many trophy-sized rainbow trout in lakes, ponds, and streams. Fish larger than 18 inches can be caught. Tributaries of Lake Champlain see modest runs of lake run rainbows or "steelhead."
These fish average a little over 18 inches and will eat eggs, stoneflies, and small streamers. Some river systems in the state, like the White River, also have wild rainbow trout. Since most rainbows in the Northeast are from hatcheries, it can be exciting to catch ones that were born in the wild.
Landlocked Salmon
Lake Champlain is considered one of the best landlocked salmon fisheries in the world. In the fall, these fish run up tributaries to begin spawning. This is the best time to target them with a fly rod.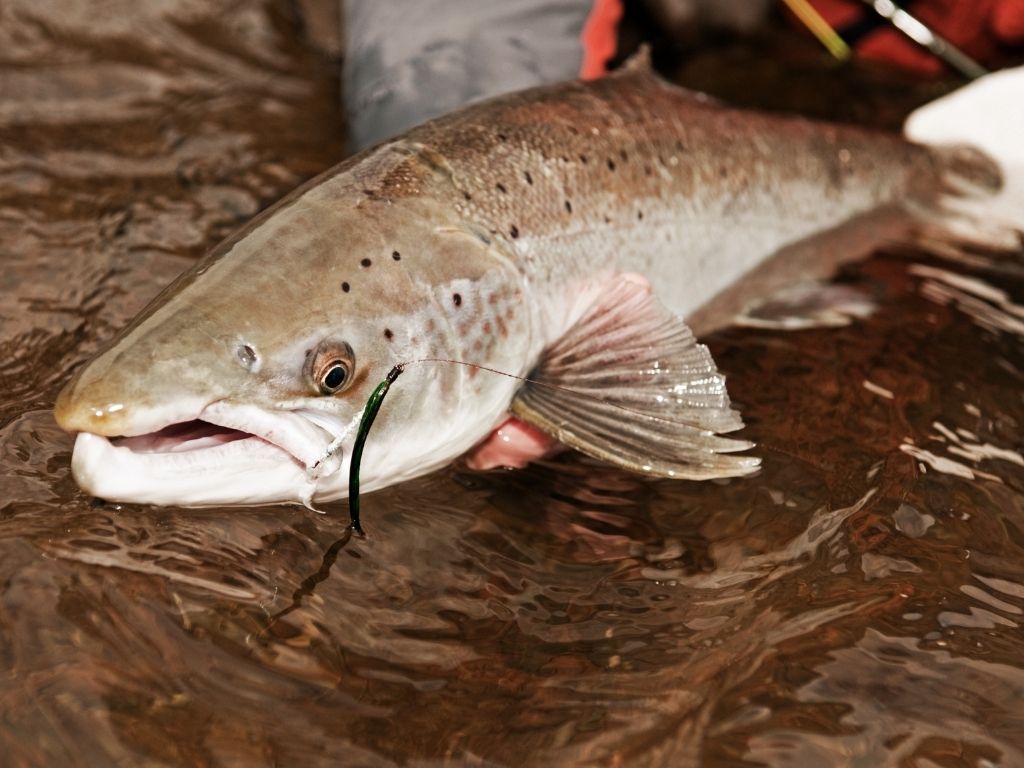 Lake Champlain landlocked salmon average larger than landlocks just about anywhere else, and fish well over 20 inches aren't uncommon. Swinging small traditional streamers with 5 or 6 weight rods is a great way to enjoy these acrobatic fish.
Lake Trout
Lake trout usually aren't considered a fly rod target, as they are known to reside mostly in very deep, cold lakes. However, there's a short window when Lake Champlain's lake trout can be targeted with a fly rod.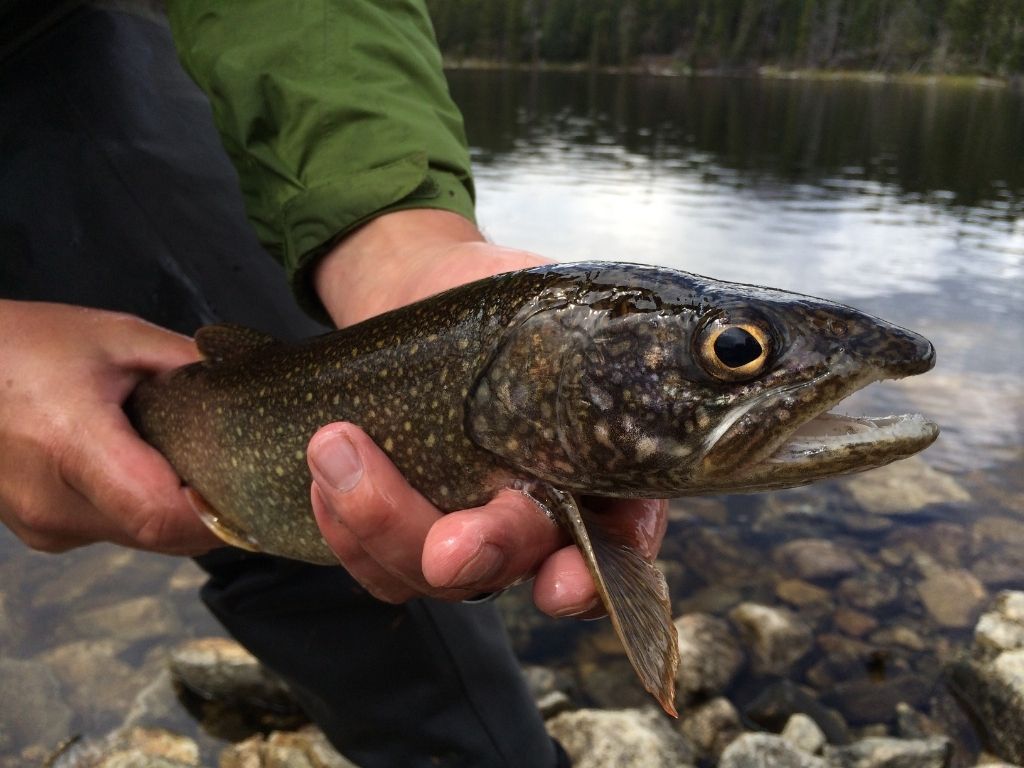 When water temperatures fall into the mid 50s in the fall, lake trout move into areas around shoals and breakwaters, and some even head into tributaries as well. These fish can be targeted from a boat sinking lines and Clousers. The fish that head into the tributaries are often incidentally caught by those targeting landlocked salmon.
Black Bass
Vermont has both largemouth and smallmouth bass. The bass fishing in Lake Champlain is really good for both species, and fish exceeding six pounds are possible. There are also bass in lakes, ponds, and rivers across the state.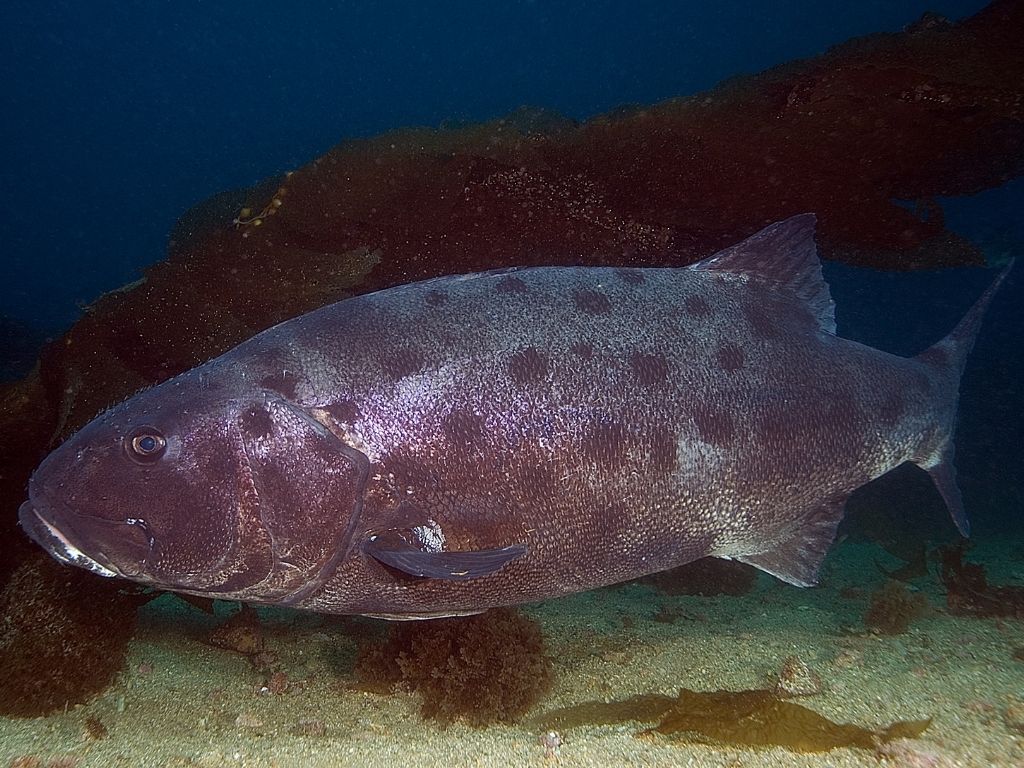 Bring 6-8 weight rods and loads of poppers and streamers, and you'll have a blast fly fishing for bass in Vermont.
Bowfin
Bowfin are an often ignored fly rod target. These fish are a great sport. Fly fishing for bowfin in Vermont is done with kayaks or canoes on shallow backwaters of Lake Champlain. Vermont fishing guide Drew Price has done a lot to promote bowfin as quality gamefish and has created a few great flies for targeting them, including the Mr. Bow Regard.
If close range sight fishing and wild battles with prehistoric fish are your game, bowfin is the fish for you!
Pike, Pickerel, and Muskie
Every Esox species in the Northeast can be found in some numbers in Vermont. The state has great fishing for Northern pike. There is also good fishing for chain pickerel, pickerel-pike hybrids, and the lesser known redfin pickerel, all to be found approaching their maximum sizes.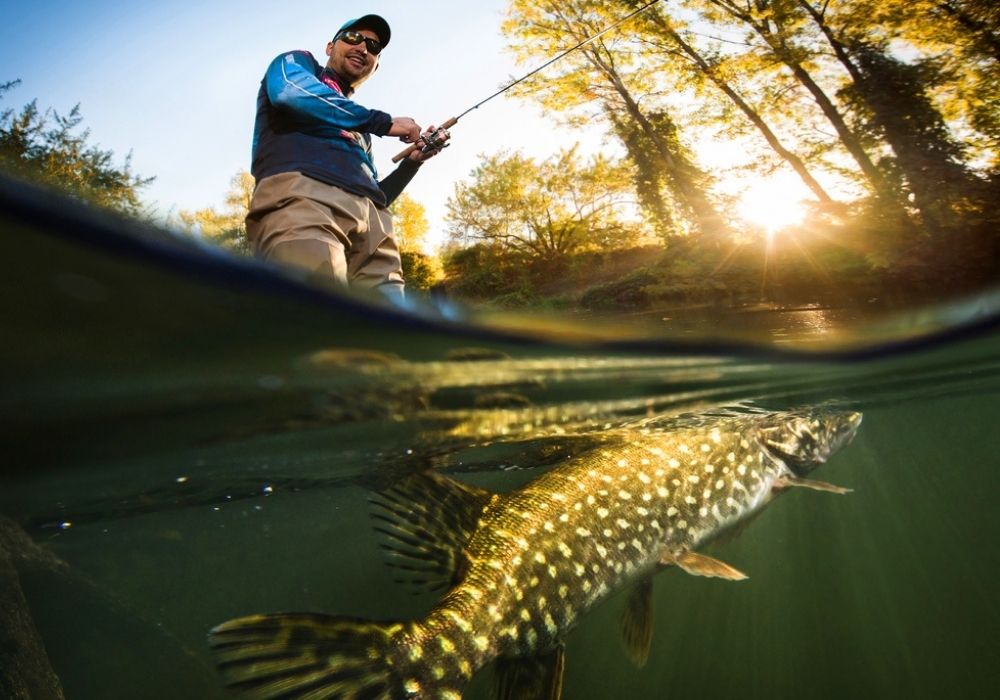 Though Vermont does have some muskie, both in Lake Champlain and its tributaries, you're better off going somewhere else for them. You could just get lucky pike fishing somewhere like Otter Creek and tie into a muskie instead!
Longnose Gar
Longnose gar are another unusual fish to be found in Champlain and its tributaries. Gar reach over 40 inches in length. Fly fishing for gar involves using flies with long synthetic fibers that tangle in the fish's many needle teeth. This is because a gar's jaw is so hard that setting a hook in it is extremely difficult.
Use flies with EP Fibers or SF Blend, and when a gar hits don't raise the rod or strip strike. Just keep light tension on the fish and wait for it to start fighting before raising the rod. Most importantly, be very careful when, well, un-velcroing the fish.
Wear leather gloves to not get bit and use pliers and jaw spreaders to remove every fiber. Releasing a gar with its mouth tangled shut is a sure fire way to kill that fish. Protecting these unique and ancient species is crucial.
Panfish
There's excellent fly fishing for perch and sunfish when freshwater fishing in Vermont. Crappies, yellow perch, bluegills, rock bass, and pumpkinseeds are all abundant in many of the state's waters.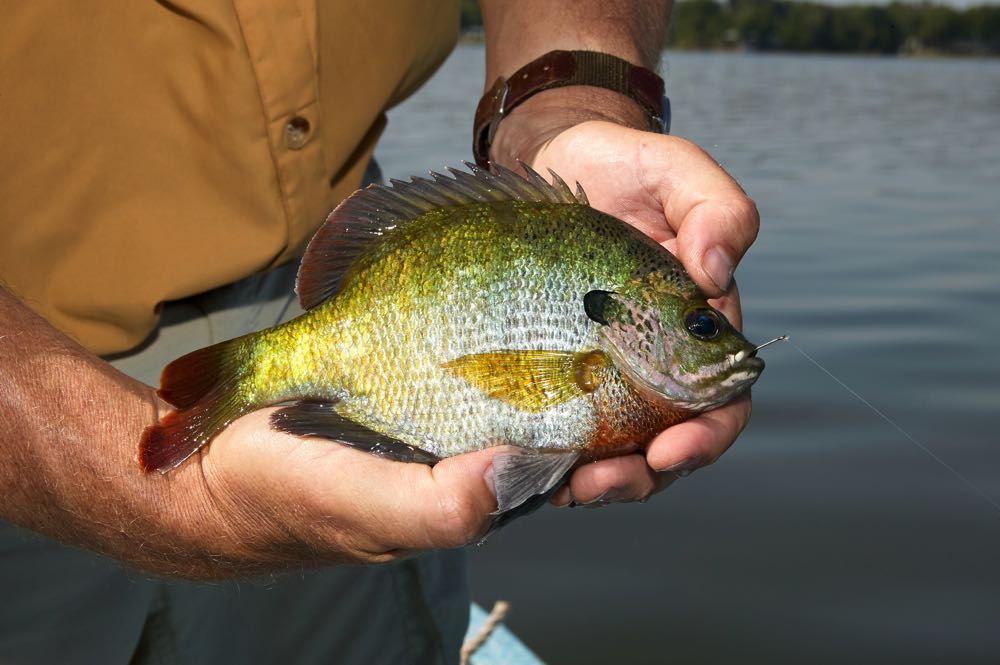 They can reach trophy sizes, with perch and crappies over a foot long and bluegills and pumpkin seeds over seven or eight inches. These are great fun on 5 weight fly rods with small streamers, nymphs, or foam dry flies.
Best Fly Fishing Spots in Vermont
Vermont has a good variety of different fishing spots. There are a few big lakes, a good number of different ponds, and a lot of rivers and streams.
Fly Fishing Rivers in Vermont
With good public access and a variety of species, Vermont's many streams are great places for fly fishing. The cold, clean, fast flowing rivers hold trout. The slower flowing lowland rivers are great for bass and pike fishing.
The Battenkill
The Battenkill is Vermont's most famous trout stream. The stretch of river from the town of Arlington to the New York border is the best stretch to look for this river's wild brown trout, some of which exceed 18 inches.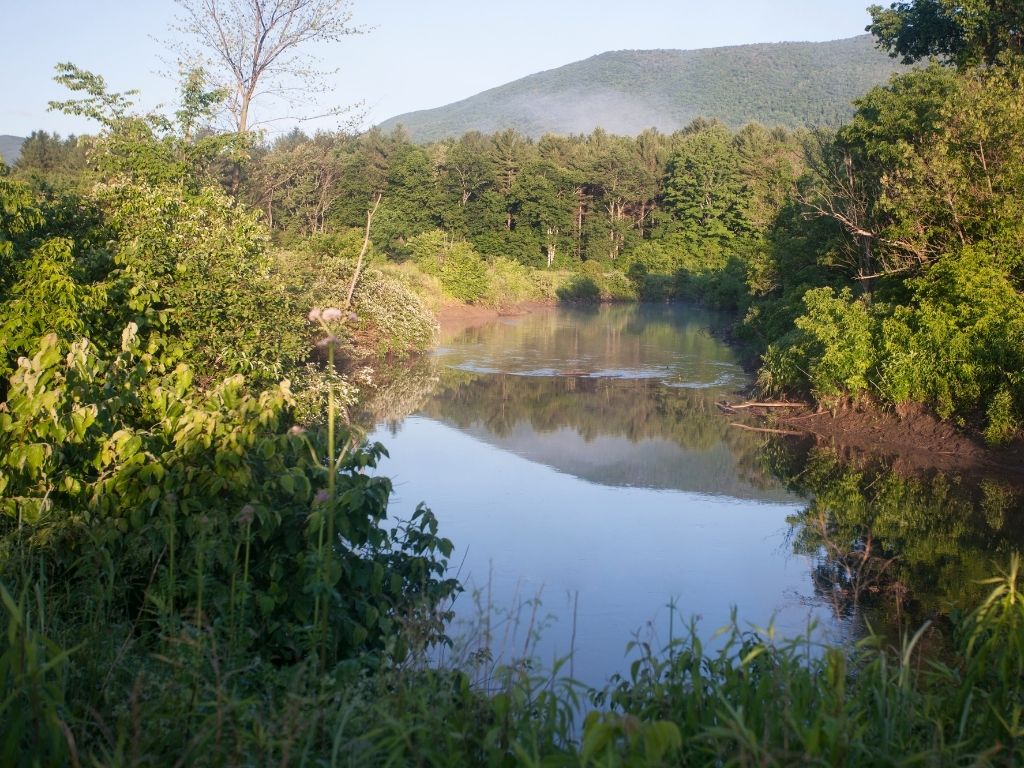 Casting room can be tight in places, and dry fly fishing is considered very tricky. But this river is an excellent place to test your trout fly fishing abilities. It might be the best trout fishing in Vermont.
The White River
The White River was one of Vermont's best wild rainbow trout fisheries. Then, in 2011, flooding from Hurricane Irene devastated the river. It has slowly bounced back, though, and is once again a good place to go trout fishing in Vermont.
Fly fishing the White River is great because access is fantastic and most of the length of the main river and its branches hold trout. Lower down the river there's some real smallmouth bass fishing too. This is a 5 weight river primarily. Fish dry flies to rising fish or plumb the deep runs with big stonefly nymphs, crayfish, or woolly buggers.
Otter Creek
Otter Creek flows all the way from Emerald Lake to Lake Champlain northwest of Vergennes. It's mostly a slow, winding river with a couple rocky sections mixed in. The upper reaches and areas around tributaries hold both stocked and wild trout.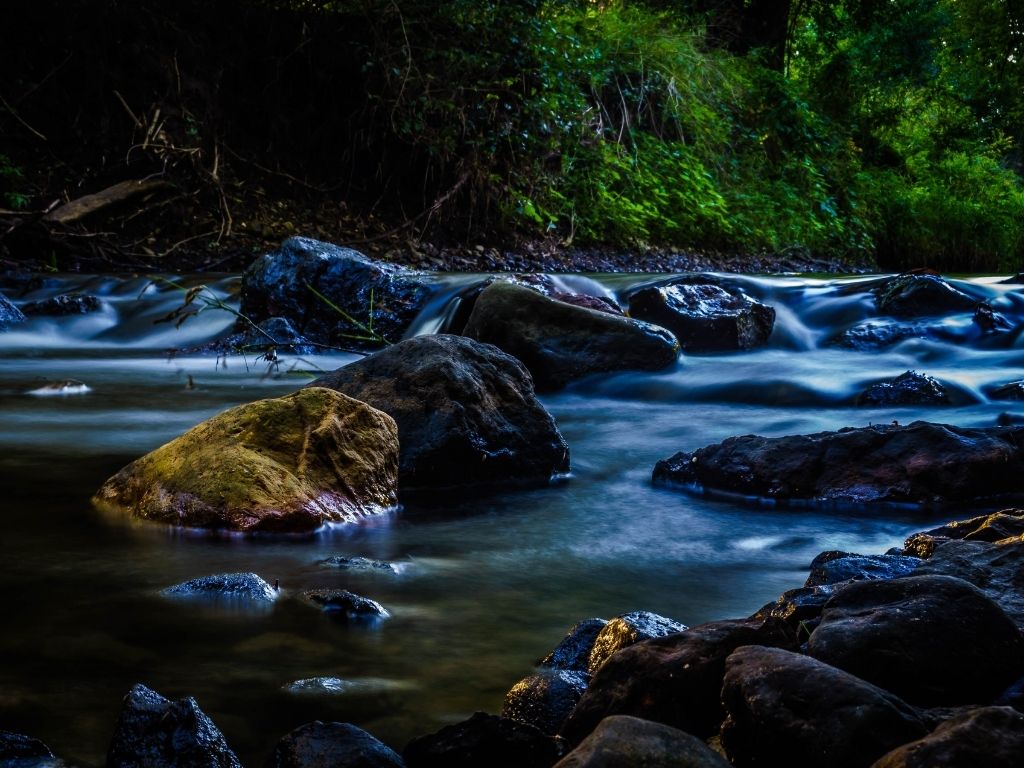 Many of the wide, meandering stretches have excellent pike fishing. There are some muskie both above and below Vergennes as well. This is a good river to carry an 8 weight for pike and a 5 weight for bass and trout. There's a little bit of access for walking and wading, but a canoe, kayak, or raft are the best ways to fly fish Otter Creek.
The Winooski River
The Winooski is one of the popular places in Vermont to fly fish for landlocked salmon. Fishing downstream from Winooski Falls in Burlington in late fall gives fly fishers a fair shot at hooking one. Further upriver, there's some good trout fishing for browns and rainbows.
Some of the tributaries hold wild brook trout. There are also smallmouth bass in the Winooski. The river is wide and the casting room is abundant.
The Black River
The Black River is known for its trophy rainbow trout fishing. These fish are mostly stocked. The river also has brown and brook trout. The best access is in the Trophy Trout section along route 131.
Bring a 4 or 5 weight rod with attractor dry flies like Stimulators or Wulffs and plenty of nymphs and streamers.
Fly Fishing Lakes in Vermont
Fly fishing in Vermont's lakes and ponds can be truly spectacular. There are a variety of places from huge Lake Champlain to the many smaller stillwaters across the state.
Lake Champlain
I know I've mentioned Lake Champlain so much already in this post, but there's a reason for that. This big body of water is probably the best fly fishing in Vermont. It's one of my favorite places to fish anywhere. The variety of species and the number of trophy-sized fish is incredible.
From pumpkinseed to lake trout, this is a fly fisher's paradise. It's best fished from a boat to cover water, but there are great backwaters to fish with a kayak or canoe and a bit of shore fishing as well. An 8 weight is the great all-around rod for Champlain.
This rod, and as many fly boxes as you can carry with everything from nymphs to big pike flies, will cover you for more than a dozen species of fish. Fly fishing in Lake Champlain is a thrilling experience.
Lake Bomoseen
This lake in Castleton is a good place to go for bass and panfish. There's shore access and even boat rentals at Lake Bomoseen State Park. The weedy shallows at the north end of the lake are the best place to go to look for largemouth on topwater.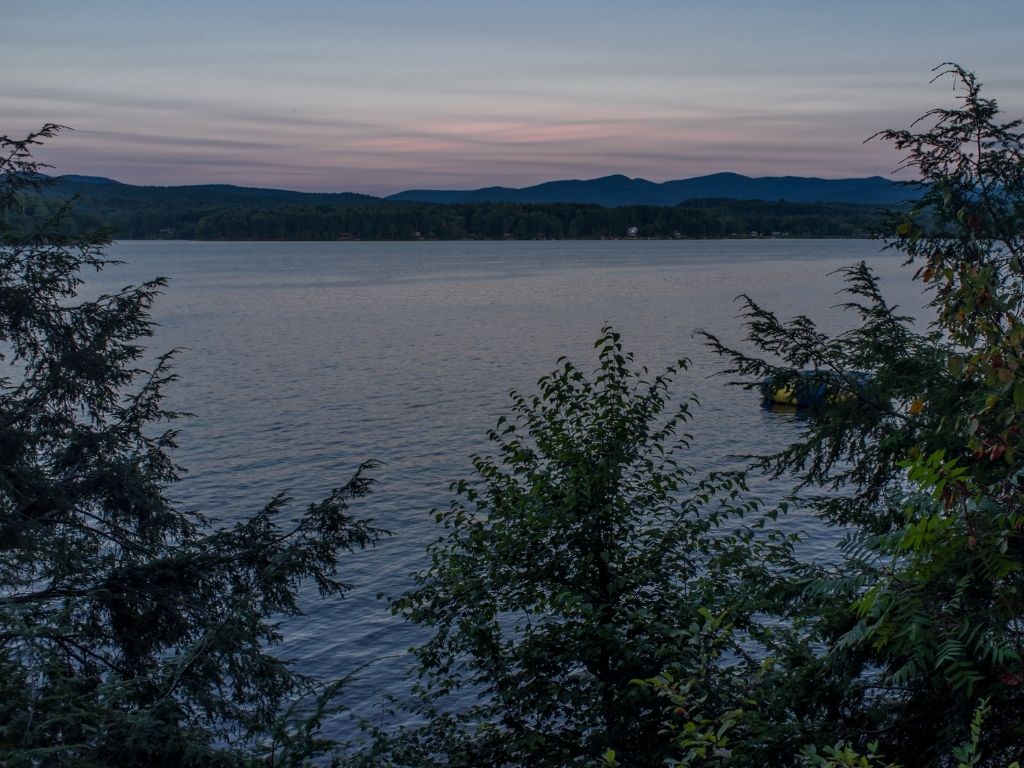 Fish around the island and rocky shoals with Clousers and Woolly Buggers for smallmouth bass. There are trophy size bass and yellow perch in this deep lake.
Lake Memphremagog
Most of Lake Memphremagog lies over the Canadian Border, but the small portion in Vermont has great fishing. The lake is renowned for its trophy smallmouth bass in particular. There are also pike, panfish, and walleye.
The pike fishing is good in the shallow weedy areas with topwater and by streamers like the Flashtail Whistler. The lake's tributaries also see runs of rainbow trout and landlocked salmon. Shore and boat access can be found in Newport, Vermont.
Harriman Reservoir
Harriman Reservoir in southern Vermont is a big, rocky lake with bass, panfish, and some lake trout. There is good shore access and it can be fished by boat as well. Some of the lake's tributaries hold wild brook trout.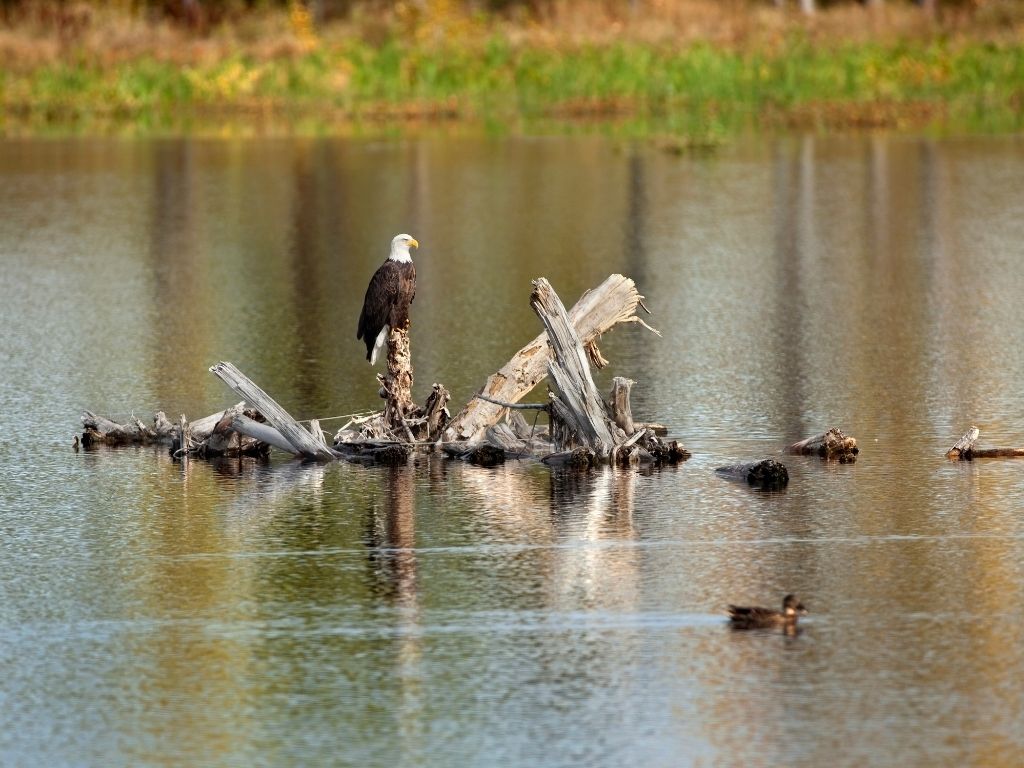 Carry a 5 weight fly rod for bass and panfish, with topwater flies like gurglers and poppers.
Gale Meadows Pond
If you're seeking a quiet small pond to fish for bass or sunfish, Gale Meadows pond is a good place to try. I recommend fishing it from a kayak or float tube.
Strip streamers in the deeper water, or work a Dahlber Diver around the weed lines for largemouth bass and pickerel.
Vermont Fishing Season
Fly fishing in Vermont is definitely best outside of the harsh winter months. However, some of the state's trout rivers are open year round.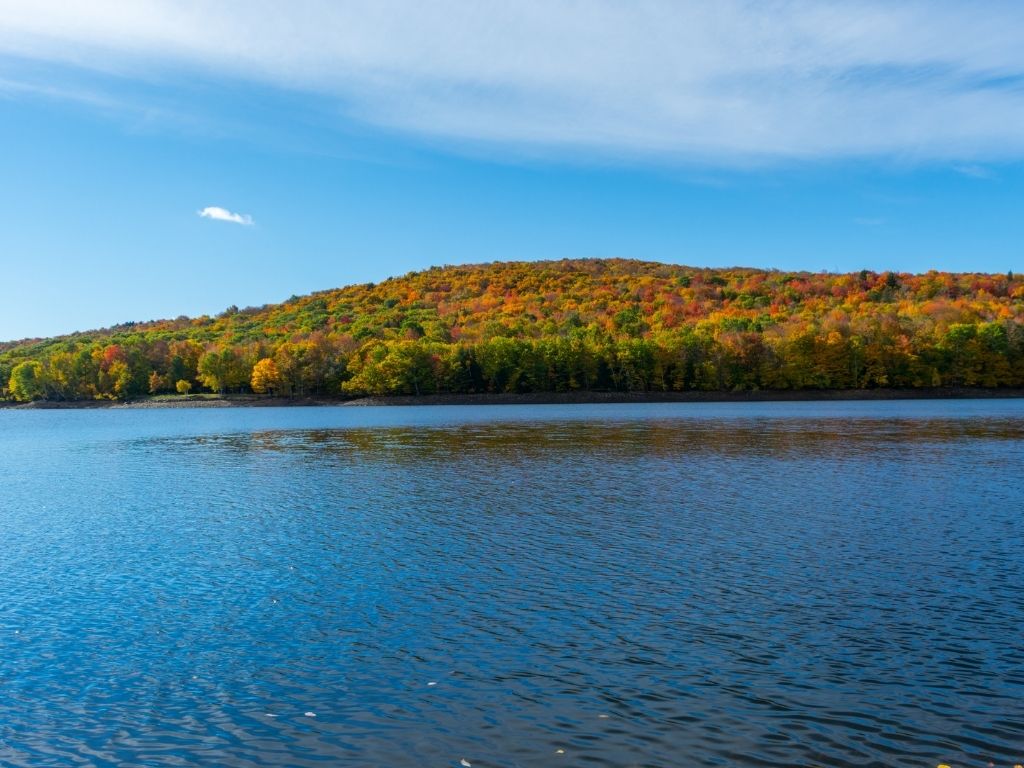 The Black River and Battenkill can fish well in the winter if there isn't too much ice forming.
Vermont Fly Fishing in April and May
Spring is an excellent time for trout fishing in Vermont. Hatches can be strong and rising trout are abundant. Look for mayfly and caddis hatches on the Battenkill and White River in the spring. Pike fishing is also excellent as the fish are pushed into flooded meadows before and after they spawn.
Bowfin and gar can also be sight fished at this time of year. Look for them in shallow waters on calm, sunny days. Gar will suspend over mud flats, while bowfin prefer more weedy areas.
Vermont Fly Fishing in June, July, and August
Summer fly fishing for bass, pike, and bowfin in Vermont is excellent. This is the best time of year to hit lakes and ponds with topwater flies. Also try sight fishing for carp and drum in Lake Champlain, or visit some of the state's good smallmouth bass rivers.
If you'd like to trout fish, carry a thermometer to make sure whatever stream you fish is below 65 degrees. That way you'll reduce the risk of a released fish dying from being overstressed.
Vermont Fly Fishing in September and October
The trout fishing picks up again in the fall. Fishing streamers and nymphs is the best way to hook into a trophy. The pike and bass fishing remains good until things begin to freeze.
This is also the time of year when lake trout and landlocked salmon start to move around. Look for lakers around rocky shoals, and landlocked salmon in the creeks and rivers flowing into Champlain.
Vermont Fly Fishing in November and December
The fishing begins to slow down later in the fall, but landlocked salmon and lake trout remain good species to fish for during these months. Runs of rainbow trout out of the lakes also start up, so this isn't a bad time to look for a big rainbow.
Also try fishing deep pools in the rivers with streamers for brown trout.
Best Fly Shops in Vermont
Surprisingly, there aren't that many fly shops in Vermont. I've struggled to find even a simple bait and tackle shop on some of my trips there!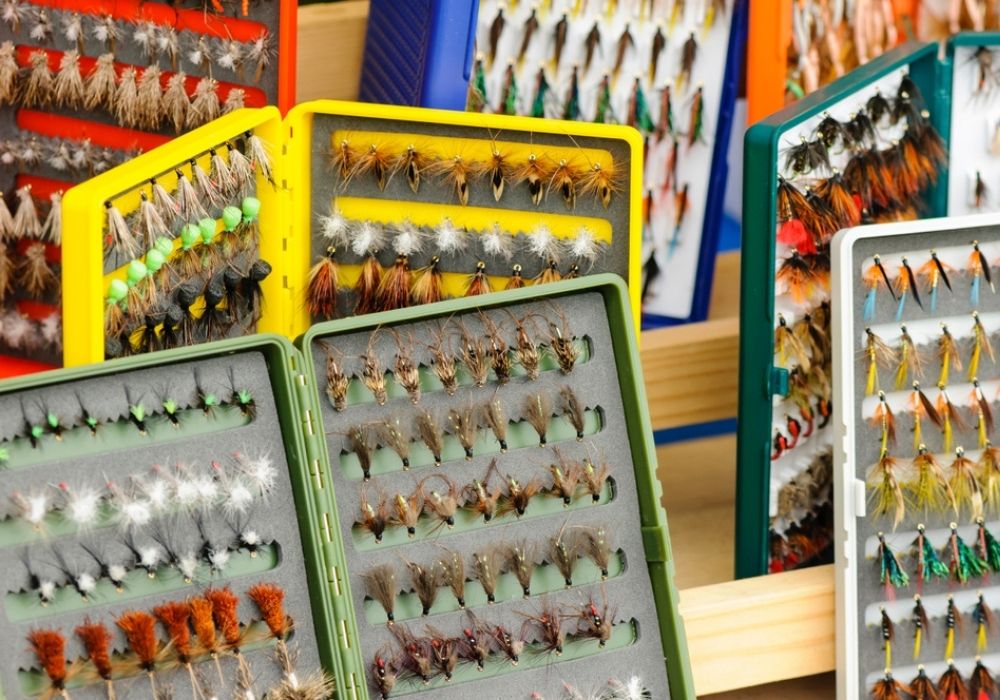 Here are a couple good ones to try.
Orvis Flagship Store
Orvis's flagship store is in Manchester, Vermont. This is worth the visit for fly fishers taking a trip to Vermont. The shop is well stocked, of course. Right next door is the American Museum of Fly Fishing, and I highly recommend stopping there as well to see some of the history of this great sport.
Since the Battenkill is nearby, the Orvis store in Manchester is a good stop to grab anything you might need.
Fly Rod Shop
This shop in Stowe is one of the best fly shops in Vermont. It is well stocked, offers guided trips, and even has free casting clinics! It's also a good place to visit for a Vermont fishing report. The shop caters to ice fishermen too.
If you're interested in branching out to keep the winter blues at bay, you may want to stop in and pick up some ice fishing gear. You can also get some good tips or book a trip.
Tie By Night Fly Shop
This small shop on South Hero Island is a hidden gem. They aren't open on a regular schedule, so it's a good idea to call ahead if you plan on stopping in. This little shop is an excellent place to stock up on flies for fishing Lake Champlain and the surrounding areas.
Conclusion
Fly fishing in Vermont can be a great experience. The variety of species and water bodies is so big I couldn't cover it all here. Whether you are into trout or warmwater species, it's worth the trip. Unique species like bowfin and longnose gar attract those interested in catching a strange new fish.
Pike and smallmouth bass draw trophy hunters. Excellent wild trout fishing exists on numerous rivers. The variety of scenery to enjoy while fishing in Vermont also holds a draw. This thinly populated state has misty mountain areas and lovely bucolic lowlands with rolling hills and meadows. The rivers vary from crystal-clear freestones to blackwater creeks with beaver ponds full of wild brook trout.
Vermont fly fishing has something for just about everyone. I'll keep going back year after year. Have you ever fished in Vermont? If you have, comment below to tell us about your experiences there!