There are few rivers in the world more powerful than the Missouri River. In Montana alone it flows over 700 miles. As fly anglers, this can be seen as extremely overwhelming. How is it possible to break down 700 miles of water and know where to fish? Thankfully, Mother Nature takes it easy on us and provides about 50 miles of prime water.
The Missouri River is one of those classic tailwaters that have books written about it. It inspires people so much that they put their feelings on paper and let others either imagine themselves in similar situations.
I've fly fished the Missouri River several times in my life. Admittedly, I saw it as a challenge. However, the more I fish, the more I see why people are so obsessed with the Missouri.
Don't miss our full guide to Fly Fishing in Montana.
Fly Fishing The Missouri River: Why Go?
Think of an ideal Western United States fly fishing experience. Whatever you're imagining is what you can have when you visit the Missouri River. The fish are massive, plentiful and whatever type of angling you enjoy, you can do.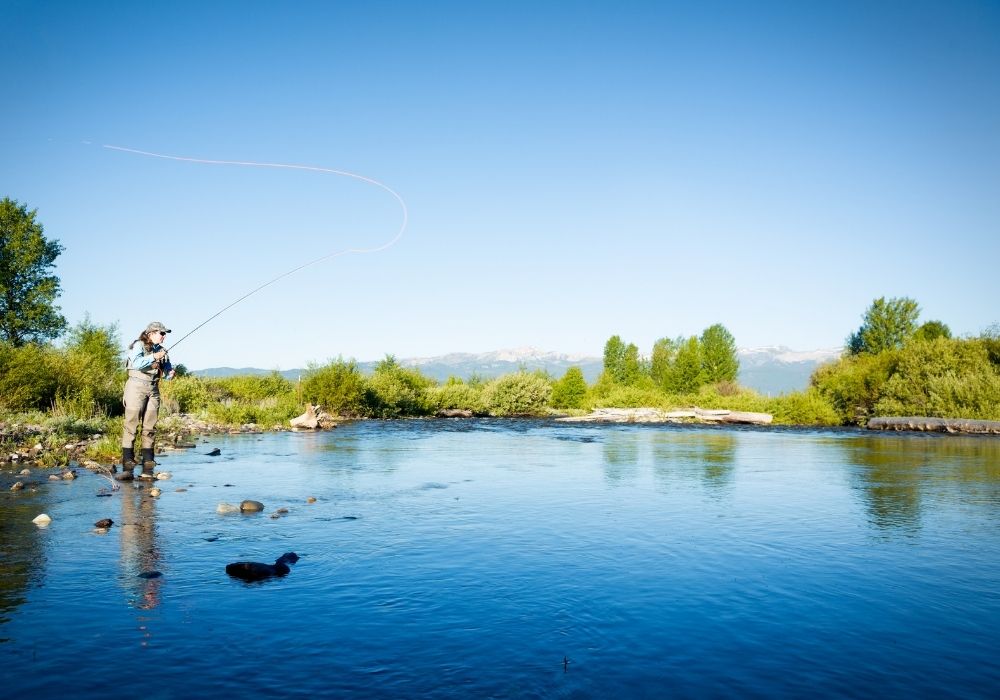 The Missouri can seem overwhelming and many anglers don't even want to try it out of fear of being skunked. Don't be afraid of this river! While it can seem large and overwhelming, it's going to provide you some lifelong memories.
Species for Missouri River Fly Fishing
The Missouri River is full of fish. Since it flows through the majority of the United States you can find whatever you would like! However, for the majority of fly anglers, they're searching for trout! The Missouri doesn't disappoint.
Rainbow Trout
The average rainbow trout in the Missouri is between 14-18 inches. This length for an average is unheard of in many rainbow trout fisheries. You can find these well over 20 inches if you're willing to put in the work and have a decent amount of patience.
There are nearly 5,000 fish per mile in the stretch of river below the Holter Dam to Cascade, MT. Spend your time here and you'll find yourself in the midst of one of the best rainbow trout fisheries in the entire world.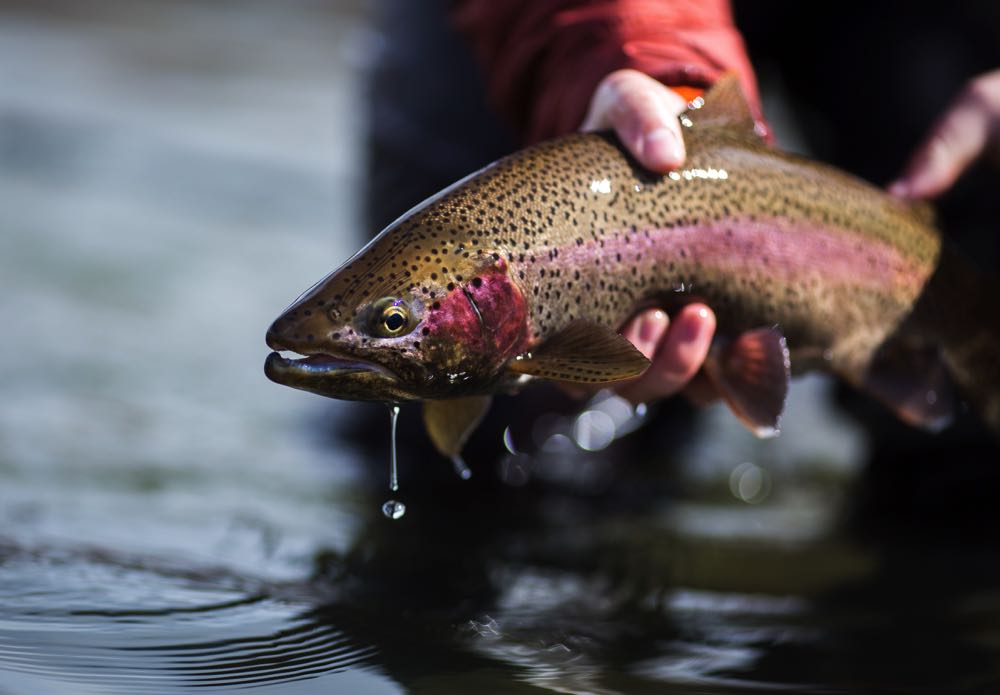 Target them with Stoneflies, caddis flies and a variety of streamers. At times it's important to remember that the larger the fish, the larger the fly. These fish are large and hungry so you need to feed the appetite.
Brown Trout
The brown trout in the Missouri are even bigger than the rainbow trout. The browns can be found somewhere between 15-18 inches. Also, you have the possibility of landing a 25-inch fish as well. While they're not extremely common, it's possible to land a few of these.
Bring your 5 or 6-weight when you fish the Missouri. You'll likely need it. Target these fish with any sort of PMD pattern. The Cripple, Sparkle Dun and Parachute are great options. Also, Pheasant Tail and Prince Nymphs are going to work great as well.
Target these in the section between Holter Dam and Cascade. This is one of the premier tailwaters in the world!
Carp
Carp are another common fish you can find in the Missouri River. Almost any section of this river besides the tailwater between the Holter Dam and Cascade holds these fish. If you haven't targeted carp on the fly, you're missing out on an exhilarating experience.
These fish are smart, strong and take quite a bit of you! Bring your 6 to 8-weight if you want to land some of these. Also, small spider and gnat flies are going to work for these! But small nymphs are going to be the best option. They're bottom feeders 90 percent of the time.
Best Spots For Fly Fishing The Missouri River
Similar to the Green River in Utah, the Missouri has a primary stretch that every angler needs to visit. However, you aren't limited to this portion of the river! As you can imagine, it's very busy. With a little research and creativity, you can find your seclusion.
Holter Dam and South
This section of the Missouri is what makes the river famous. It's a Mecca for big, beautiful trout and pristine trout water. Being that it is a tailwater, it's cold and is a perfect environment for large fish.
The insect population is massive and the fish never go hungry. However, it's important to remember that this section of the river is by far the most busy. On a summer day, you'll see drift boats and wading anglers throughout the entire 30 miles.
If you don't mind a bit of congestion, this is a great spot. It's worth it! You can access this portion of the river in quite a few different areas. Be careful if you choose to wade fish! The river isn't too wide, but it's deep. You cannot wade across it. You're better off fishing it from a drift boat.
Access below Wolf Creek.
North of Canyon Ferry
This isn't going to be as productive as the Holter Dam portion of the Missouri, but you'll still have access to some large brown trout. Brown trout are the most versatile trout. They can survive and adapt in a variety of situations. You'd be surprised where you might find some browns.
Depending on the recent precipitation levels, this portion of the Missouri might be a bit muddy. As a result, you're going to have to spend the majority of your time fishing below the surface. Bring your darker streamers. Again, the fish count isn't as high, but the size of the fish makes it worth it.
Take advantage of the seclusion and less fishing pressure. You'll be thankful when you land a 22 inch fish and no one is around to steal your spot.
Above Holter Lake
This section up to Hauser Dam isn't always targeted by the local guide companies. Since the water is a bit wider and faster, boats do not frequent this area. If the water levels are manageable you can wade and catch massive rainbow trout.
This is often where the trout spawn and look to feast. If you're into some heavy streamer fishing, the section above Holter Lake to Canyon Ferry is going to make you one happy angler. Take advantage of this area in the spring.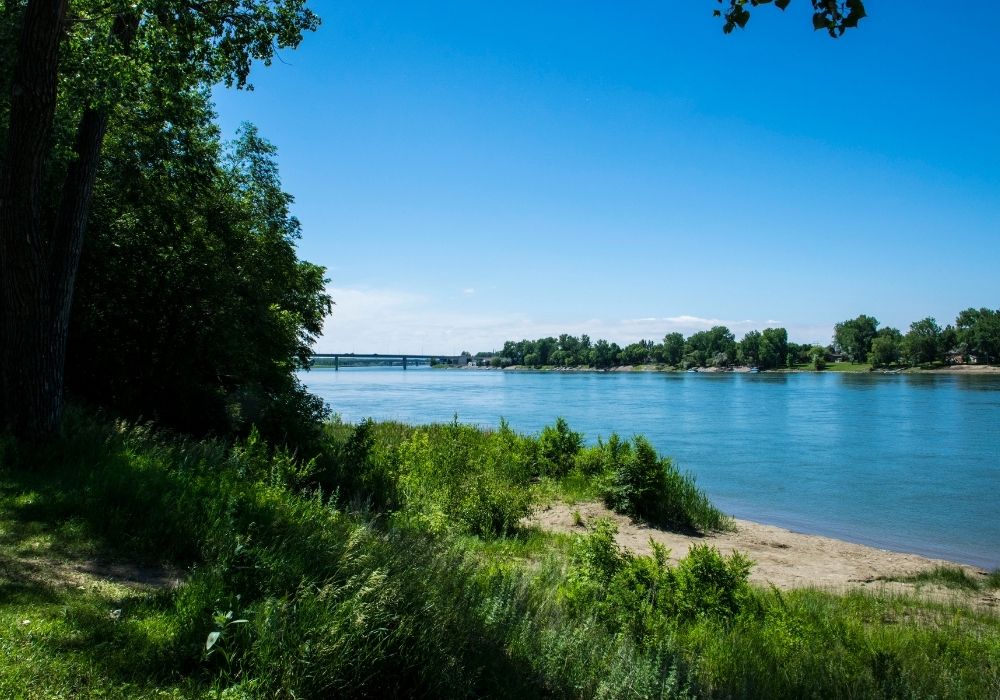 It's not going to be pretty and traditional anglers might not enjoy all that goes into this type of fishing. However, the fight that ensues when you hook into one of these fish makes all of it worth it. Stay safe and make sure you have high quality wading boots.
It's a section for the tough! However, the tough get rewarded when they stick with it.
Best Flies For The Missouri River
The Missouri River has an extensive list of flies that are going to work. Don't hesitate to switch things up if your fly choice isn't working after several casts. These fish are picky so you need to make sure whatever you throw, it's presented well.
Wooly Bugger
Wooly Buggers are great flies to use in Missouri. They imitate anything you would like it to imitate. The fish have a hard time rejecting these flies. You have the freedom to swing and dead drift these flies in Missouri. Do some experimenting and see what brings strikes or flashes.
Have a variety of colors on hand. Olive and black are the most popular and often most successful. Use these between size 6 and 10!
Czech Nymph
The Czech Nymph is an extremely popular fly on the Missouri. Bring every color of this fly that you can possibly find. It will work well right before hatches. As the flies are starting to rise to the surface, the Czech Nymph can absolutely come into play.
It works great as a dropper in a dry-dropper rig. Make sure you're using a bit of a larger dry fly to make sure the nymph stays where it needs to below the surface.
Pheasant Tail
The Pheasant Tail nymph is a must-have in your box when you fish the Missouri. Not only is it able to be fished in a variety of waters, it can also be used year round. Most anglers use the Flashback Pheasant Tail.
You can either fish this in a dropper rig or tie it on with a few split shots. It's going to work either way, but it may take some experimenting.
Parachute Adams
The Parachute Adams is another classic pattern on the Missouri. Anglers from all over the world know this fly and look forward to using it on the Mo. The hatches on the Missouri are impressive to watch. The insects are so thick that you can't understand why a fish would take yours.
As soon as you start seeing a hatch, tie this one and buckle up for a great time.
Zebra Midge
The Zebra Midge is the final fly you need to have in your box. It's a simple pattern, but extremely effective. This is an ideal fly to have on a dropper rig. Whether you're throwing a terrestrial or larger caddis, make sure this is underneath.
Missouri River Fly Fishing Season
Anglers can spend time on the Missouri year round. However, this is best fished from late-June through August. This is when you'll find the most agreeable weather and water conditions.
Missouri River Fly Fishing Report
The Missouri River was fishing great in late-June. The water levels were dropping and the fish were still innocent enough to not be extremely picky. The fishing below Holter Dam was exceptional. There weren't too many people on the river at this point because the weather still wasn't ideal. Bring those Buggers and Pheasant Tails!
Conclusion
The Missouri River needs to be on the bucket list of every fly angler. Experiencing a true western tailwater is something that not everyone gets so be sure to take advantage of it if you have the chance.
The big fish anticipation is found more here than almost every other body of water in Montana. You never know what's going to strike your fly. More often than not, it's going to blow your mind!