As an Amazon Associate I earn from qualifying purchases.
This article forms part of our complete Euro nymphing series where we show you the fundamentals behind this highly effective yet often misunderstood technique.
Today, we're zooming into a run, and I'll show you exactly what you should and shouldn't do while fishing it. These specifics will help you catch fish in similar scenarios.
As a part of the Amazon Associates Program and other affiliate programs, Into Fly Fishing® may receive a comission if you order products through links on this website.
The Run
The image below sets the scene with a drone shot, and it actually shows two runs that possibly hold fish. For the purpose of this article, I'll be focusing on Run A.
This is a shallow run with some nice flow in it, and it could hold fish if the water temperatures are cool enough.
This run will fish well during the early morning when the water temps are low. As the day progresses, or as the season gets warmer, Run B will potentially fish better. This is due to its deeper structure and overhanging shade that offers trout cover.
I'll cover a scenario similar to Run B at a later stage when we'll be looking at fishing overhanging structures and bankside vegetation.
Watch the Video How to Fish a Run for Trout

Where Will the Fish Be?
Before we approach and, ultimately, fish the run, we need to have some idea of where the fish will hold. This knowledge will help us target them more successfully and prevent us from spooking them.
These "rules" are general ones, and there's always the chance of fish behaving slightly different from the norm.
Because the run is so shallow and not flowing at an incredible speed, chances are the fish will hold in the head or the tail of the pool. The body has little to no flow and no real structure types.
Approaching the Run
Because we're fishing from downstream upwards, the tail of the pool is the logical place to start. We're fishing in a river that has a lot of different micro-currents, all flowing in different directions.
That, plus the fact that these trout are incredibly weary for drag, means we're fishing relatively short casts to ensure drag-free drifts.
Make sure that you approach the tail of the run with incredible stealth, and once you're ready, get the required amount of line out from your rod tip. Now you're ready to start fishing the tail and after that the head of the run.
How to Fish the Run?
The two main focus areas here are your presentation and how to cover the water looking for fish.
Presentation
I want you to completely forget about catching fish – a weird statement for an article on how to catch fish. What I focus on are drifts. I just fish for drifts. In other words, all that I do is place all my energy and focus on getting the fly in the right spot and then allowing the fly to drift in the most natural or effective way.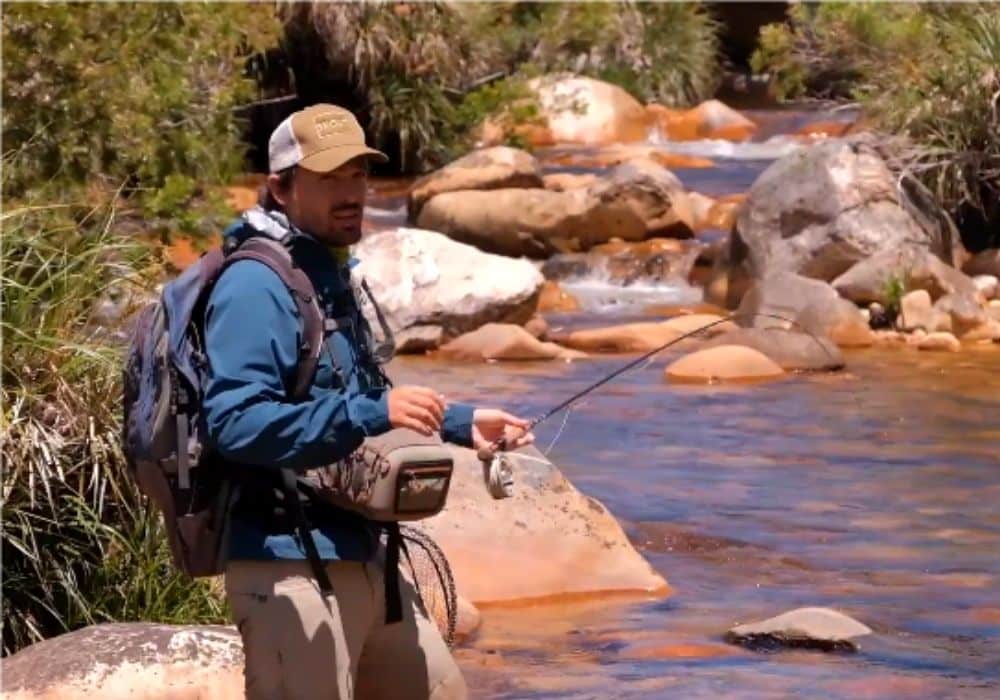 There are a lot of times that I'm so chuffed about drift and feel that I had success, even if it didn't produce a fish. The thing to keep in mind here is, if your drifts are good, you'll catch fish.
Another great thing about focusing on your drifts and not the fish is that you'll start to learn when and where during your drift the fish will take. This will enable you to anticipate takes, and you'll soon start looking like a pro.
What are the elements that make up a good drift, I hear you ask? Let's take a look at some:
Cast
A cast is everything you do before the fly lands on the water. Even though the definition of drift is your fly, or flies, moving through or over the water, a good drift is made or broken by the cast. So what should you look out for?
Practice your tuck casts that help your flies land on the water first. This is the first step, in my opinion, to gaining control over short drifts.
After stopping the rod high on the tuck cast, keep the line and leader off faster-moving water. If your line lands in fast-moving water, but your flies are in slow-moving water, the faster-moving line will drag your flies.
If possible, approach the fish at an angle to prevent lining them as the flies and line land.
If you're unsure if your cast is going to be too long or short, I recommend making a shorter cast. In this way, you won't be lining any fish, and you'll have less line on the water that can cause drag. Once you've made a short cast, it's easy to adjust the cast length bit by bit until you're in the zone.
The Drift Itself
Now to the drift itself. What do you do after the flies have landed?
Now that you've made that beautiful tuck cast and the leader is kept out of faster-moving water, your aim is to keep it that way. As the flies drift closer to you, lift the rod or retrieve the line with your non-casting hand to ensure no line goes into the faster-moving water.
Methodically Working the Run
Before you even make the first cast, I want you to visually break down the head and tail of the pool in small segments in line with the current. Each segment should be around 5 inches wide. Now, unless you see a fish, start fishing these segments across the run from one side to another.
In this way, you're working all the possible water. Sometimes trout won't move farther than an inch or two for a fly, so unless you're not getting the fly through that one specific slot, the fish won't eat. This method will help you cover those stubborn slow-movers.
Conclusion
If you do manage to catch a fish, I urge you to treat the fish with respect, keep it wet and submerged in a net for as long as possible, and release it quickly. I always recommend using barbless hooks. They make life so much easier for both the fish and us anglers.
I'm sure that if you practice and implement the techniques mentioned in this article your success rate will go up drastically, whether you're Euro nymphing or dry fly fishing.
Until next time.
Amazon and the Amazon logo are trademarks of Amazon.com, Inc, or its affiliates.