As an Amazon Associate I earn from qualifying purchases.
In this article, I'll cover everything you need to know about Moonshine fly reels. For those who don't know the Moonshine Rod Co., they're a small American-owned operation that sells solid performing fly rods at reasonable prices.
Recently, they expanded their repertoire with the all-new Creede fly reel. They sent me one to test and review a couple of months ago, and I've been fishing it hard in various scenarios targeting different species of fish.
As a part of the Amazon Associates Program and other affiliate programs, Into Fly Fishing® may receive a comission if you order products through links on this website.
Who Is Moonshine?
Moonshine Rod Co is a small, family-owned company located in Tennessee. Their main ethos is to sell quality fly rods at reasonable prices, or in other words, rods that ordinary people can afford.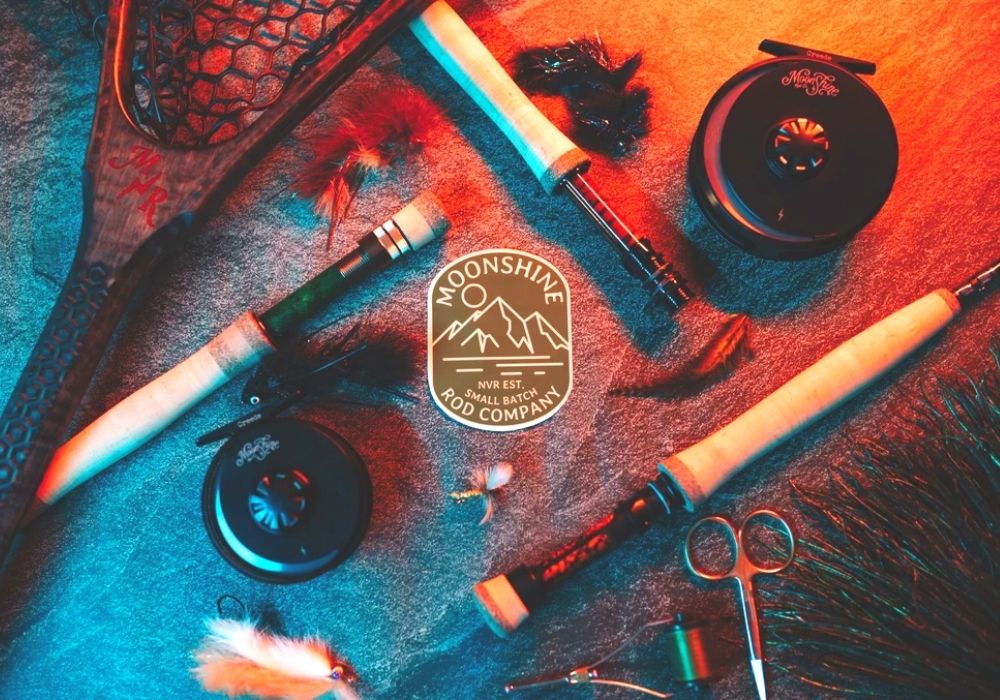 Don't confuse the term "reasonably priced" with low quality or performance. I've tested most of their rods and reels and can say that their products offer incredible value for money.
Moonshine Fly Reel Warranty
All Moonshine reels come with a one-year guarantee to fix or replace the reel if it fails due to any defects in materials or craftsmanship. This guarantee is only applicable to the original owner of the reel.
After the one-year guarantee expires, the reel may be serviced or repaired for a flat rate of $65. This fee is also applicable if the reel is damaged both intentionally or unintentionally, even in the first year of ownership.
Where Are Moonshine Fly Reels Made?
Like most Moonshine products, the current line of reels is made in Korea. The fact is that this process keeps the cost down, making the reels affordable.
Types of Moonshine Fly Reels
Below, we'll look at the different applications for Moonshine reels. I also make recommendations about which model suits which application best and what rod and line combinations should be used with it.
Small River Trout Reel
The 3 to 4 weight Creede is the ideal reel for small to medium sized rivers. It has more than enough backing capacity. Although the reel seems slightly heavy at 5.15 oz, this weight makes it suitable for slower-actioned rods and provides a good anchor in your hand for accurate casting.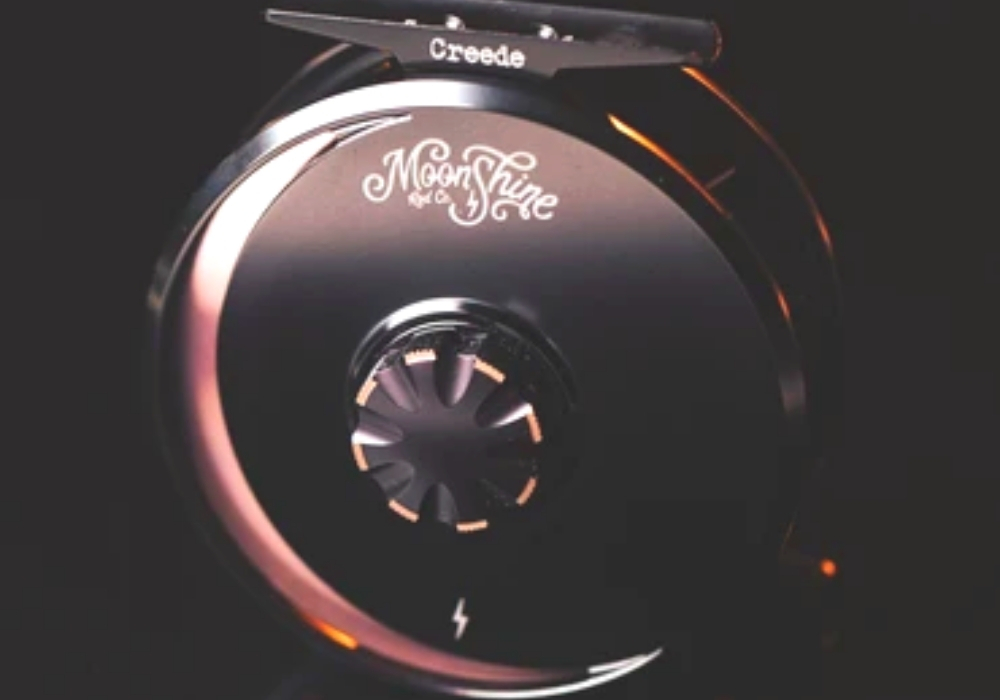 I'd pair the 3 to 4 weight Creede reel with a three-weight 8'6" rod and a conservative tapered 3wt floating line. This setup will give you all the tools to make delicate presentations to finicky fish.
Big River Trout Reel
The 5 to 6 weight Creede is the bread-and-butter size. This reel is ideal for the angler looking to buy one reel to cover most fishing situations. It has an adequate backing capacity and a respectable weight, which will suit most 5 and 6 weight fly rods.
In my opinion, the best combination to use with the 5 to 6 weight Creede is a 9' 5wt rod and a 5wt line.
Nymphing Reel
The two reels mentioned above will balance long nymphing rods perfectly. I recommend the 3 to 4 weight Creede for 2 and 3wt nymphing rods and the 5 to 6 weight reel for anything larger.
On both of these reels, I'd use dedicated nymphing fly lines, which will slightly reduce the setup's overall weight.
Freshwater Predator Reel
The 7 to 8 weight Creede is perfect for large freshwater fish. Think bass, carp, and salmon. The drag is strong enough, and the backing capacity is ample. The reel has a proper large arbor of 4.17 inches, which increases the line pickup rate if the fish swims straight at you.
Features of Moonshine Fly Reels
Let's have a look at some of the design features of the Moonshine Creede reel.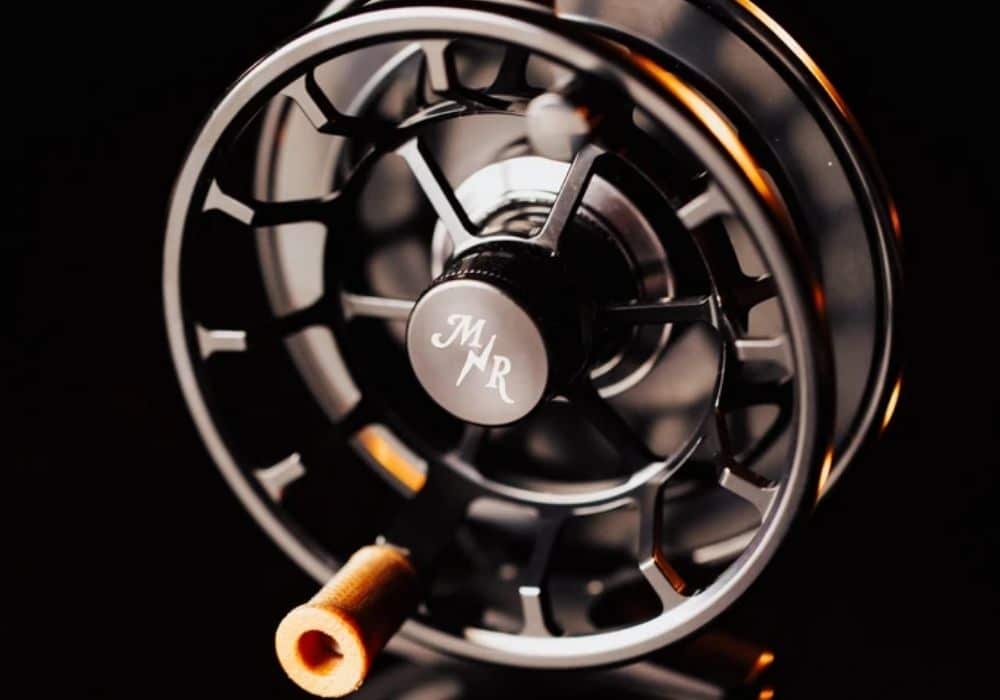 Construction
The Creede is made from forged 6061 aluminum. This process results in a much tougher and durable reel when compared to die-cast construction. Once the reel comes out of the forge, it's then machined to reduce weight by adding ports and decorative details.
Large Arbor
All three reels have a very large arbor for their rated line weight. As mentioned earlier, this feature increases the line pickup rate when a fish swims towards you.
Another benefit of such a large arbor is that it reduces line memory when the reel is stored.
Grip
The unique-looking grip is made from a material called G-10. In essence, G-10 is a molded fiberglass and resin composite. This results in a grip that won't rust, has texture to improve the grip's feel, and rotates without the need for an additional bushing.
Drag
The Creede's drag is made from stacked carbon discs. The drag won't stop a truck, but that's not what the reel is designed to do anyway. In my opinion, its drag torque is more than enough for standard freshwater applications.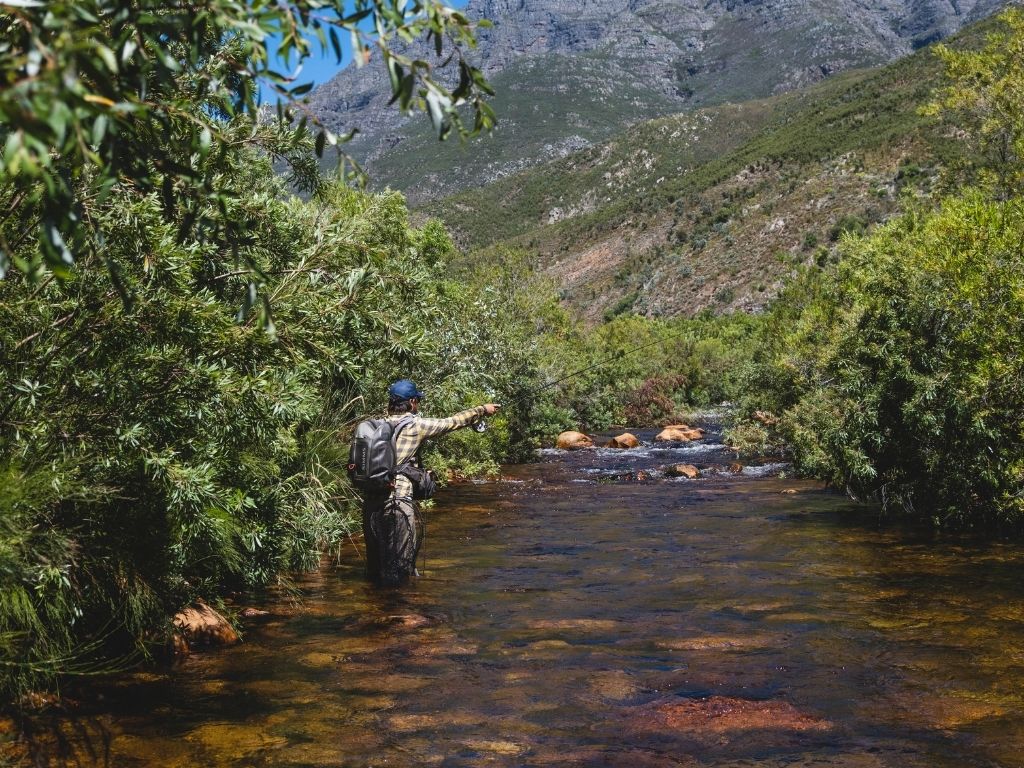 Although the drag is sealed, I don't recommend using the reel in saltwater applications at all. Also, try to keep it out of fine sand.
Retrieve Switching
Like most other fly reels on the market, the Creede's retrieve can be switched from left-hand to right-hand.
Off-center Reel Foot
One unusual thing you'll notice about the Creede is that the reel foot is off-center. The reason for this is that the spool is very light and the cage is relatively heavy. The offset balances the reel.
Spool Design
The spool is removed by loosening the nut. As mentioned, the spool is very light thanks to the generous porting. These holes also allow the backing to dry much faster when it has been submerged in water.
Aesthetics
On the grip's side of the spool, you'll find the initials of Moonshine Rods laser-engraved on the spool loosening nut. You can also see the copper or gunmetal color-matched drag seal from this side.
The opposite side of the reel is unique. It has an almost retro-looking solid face but with a moon-shaped cutout that reveals the spool's color-coded back part. The textured drag knob is tastefully color-coded without being over the top.
You'll find the line rating of the reel engraved on the top of the reel foot.
Reel Bag
Each Moonshine reel comes with a proper reel bag. I've spooled up many clients' reels in my life, most of them super high-end stuff, and I can tell you that Moonshine did a great job with the reel bag. It's constructed from a combination of neoprene and a webbing-like material.
There are three riveted holes at the bottom for either water drainage or to allow the reel and line to dry – a clever design feature. It's small things like this that let you know the guys over at Moonshine are real anglers too.
The reel bag also protects your reel when you're rigged up and transporting the rod to the fishing destination.
Sound
The Moonshine Creede reel has a solid click that sounds the same in both directions. It's not overly loud, like some other reels out there, but it will get your reel juices flowing if you appreciate a good click.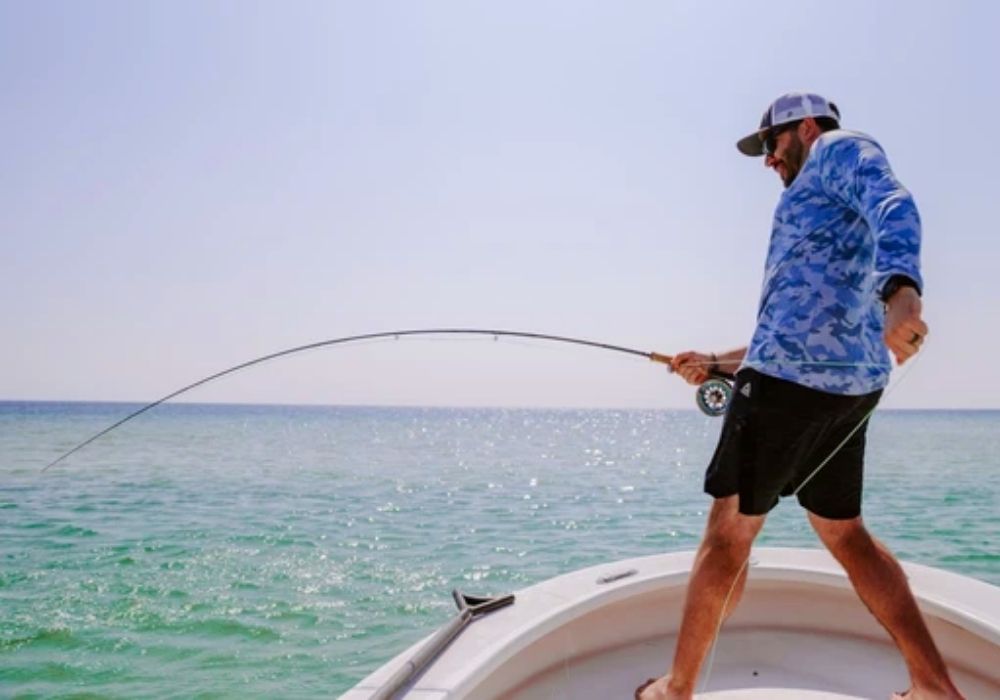 The drag knob also has a nice click to it.
Moonshine Fly Reels
Below, we'll have a look at all the Moonshine fly reels. As soon as they release any new reels, I'll update this section.
Freshwater Fly Reels
Moonshine's current line of fly reels is of exceptional value for the freshwater fly angler. They're well made and pleasing to the eye.
Creede
Best for: All freshwater fly-fishing applications
Drag type: Carbon disc
The Creede reel was introduced in March 2021, with three models offered. The 3/4 weight is ideal for small stream and light nymphing applications.
I reckon the 5/6 Creede is probably the most versatile and should be their bestseller. This reel is ideal for medium to large rivers and nymphing rods over 10ft long.
The 7/8 is perfect for the angler who targets larger and more aggressive freshwater fish species such as big bass, carp, and salmon.
Available Sizes & Weights
Conclusion
If you're looking for a decent, well-priced reel, you need to consider a Moonshine fly reel. Their reels hit the nail on the head with modern features, pleasing aesthetics, and affordable price.
Please leave any comments, questions, or suggestions at the bottom of the page. What are your thoughts on the new Moonshine Creede reel, and where have you used it?
Until next time.
Amazon and the Amazon logo are trademarks of Amazon.com, Inc, or its affiliates.