Whenever fly fishing companies label something as high performance, many anglers' skepticism rises. It's a lofty claim, especially because of all the truly high-performing gear on the market.
Moonshine Rod Company's new Creede Reel deserves this title. It's been tried and tested by me, and in my estimation, the final product is quite impressive.
Fly fishing reels are an overlooked part of a fly fishing rig. Most anglers worry more about the rod and flies. The reel, however, is expected to function at peak performance all the time. You don't realize how special a quality reel is until you don't have one.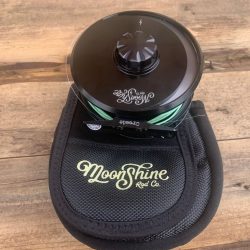 Moonshine Rod Co. 5/6 Creede Reel
If you like what you see in this Moonshine Rod Co. 5/6 Creede Reel review, you can order the reel on Amazon.
I've spent many years fishing with budget reels due to my stronger desire to own more rods and nicer accessories. I've put higher end fly reels on the back burner, but the new Creede reel from Moonshine made me realize how big of a mistake I was making.
In this Moonshine Rod. Co Creede Reel review, I'll tell you all about the rigorous use I gave the reel, along with the pros and cons I found. I have to say that I had a great time fly fishing with it, and you'll see that my observations are largely positive.
Why Trust My Moonshine Rod Co. Creede Reel Review?
I've used the new Creede reel on many occasions in a variety of weather conditions. I used it on a clear sunny day, in heavy wind, and even in the rain. I made long casts on the wide Salmon River in Idado, and I made finesse casts up against a bank with heavy vegetation in a small stream in the mountains of Montana.
In short, I've used this reel in several scenarios that you might find yourself in. Oh, and I almost forgot to mention that I landed some impressive trout in each place too.
At Into Fly Fishing, we only review gear that we've personally used. While this reel hasn't been in my arsenal for years, I've grown quite fond of the new Creede reel during the various times I've used it.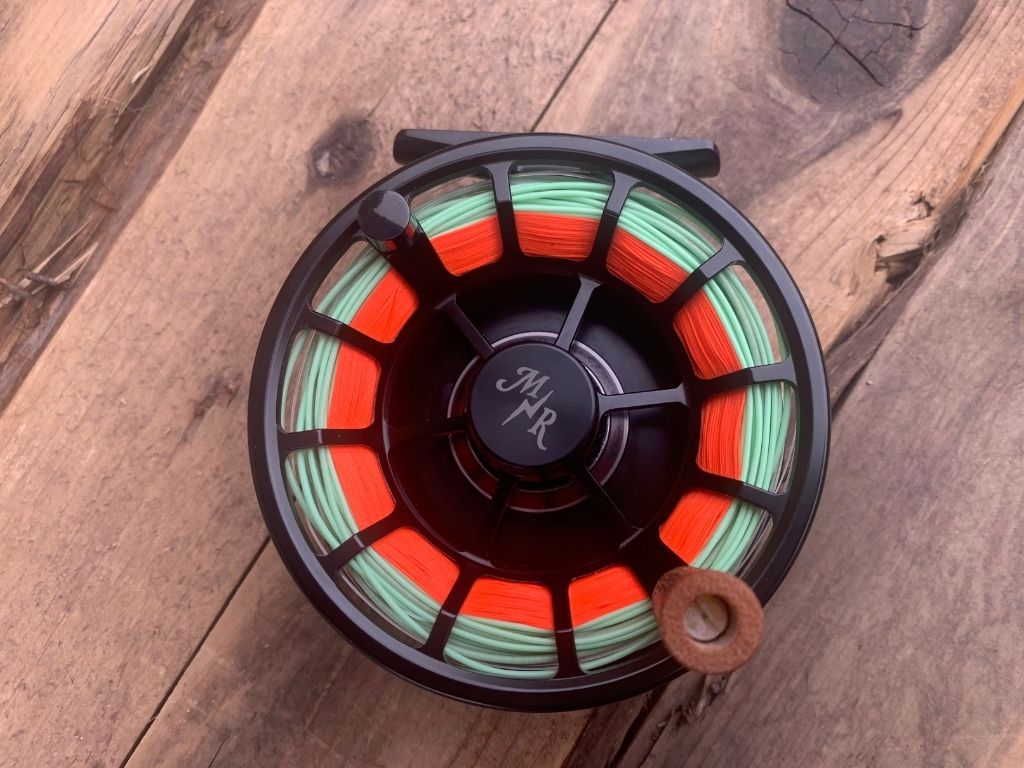 I fish hard and I fish often. I'm not always too kind to my gear, and a few pieces of my setup have failed as a result. I like to put my new gear to the test and see how it performs despite my actions.
I didn't only fish with the Creede reel, but I also hiked with it, bumping it against tree trunks and dragging it through thick underbrush and branches. And when I slipped in the river once, I gave it a nice dunking as well. It took this abuse well and still looks like it's fresh out of the box.
If you'd like to read about the same reel in a different size, don't miss our Moonshine Rod Co. 3/4 Creede Reel review.
Watch the Moonshine Rod Co. 5/6 Creede Reel Review
What's in the Box?
When you receive the new Moonshine Rod Co. Creede Reel, you'll find a soft-sided reel case, the reel, instructions, and a sticker.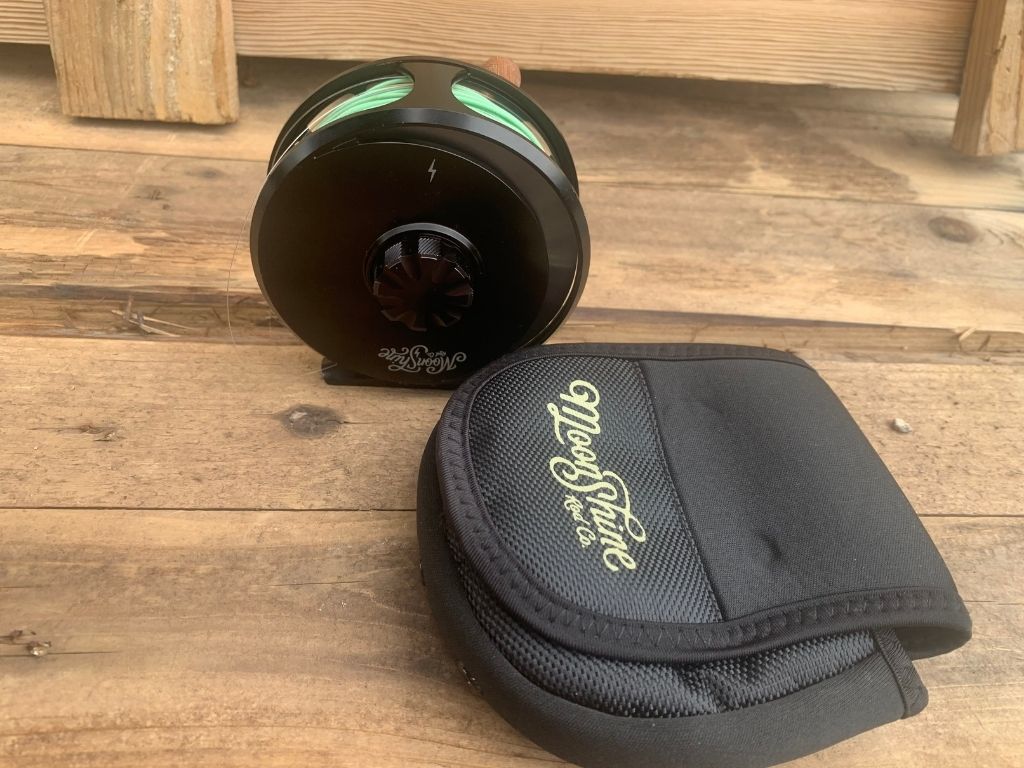 Reel Case
Companies often skimp when it comes to sending a high quality reel case. More often than not, they'll send you a cloth case with a cinch at the top and call it good. Moonshine Rod Co. sends you a soft-sided velcro case that gives you the utmost confidence that your reel will be okay.
This is a nice added feature! Again, most companies don't do this, so it's good to know that some outfits are going the extra mile for their customers.
Reel
The first look at the reel is a nice one. As soon as I picked it up, I got a satisfied feeling. It has a nice weight, great aesthetic and durable feel. There's no second guessing your purchase when you first get ahold of the new reel.
Moonshine Rod Co. Creede Reel Features & Specs
The Moonshine Rod Co. Creede Reel is made of high quality materials that sets the company apart from a variety of other reel manufacturers.
Build Quality
The Creede reel is made in Korea out of 6061 forged aluminum. Many reels are made out of bar stock, but Moonshine created their reels with 6061 forged aluminum for added strength and durability.
Korean-made fishing equipment is usually high quality, so rest assured that it'll last for quite some time.
Arbor Size
The 5/6 Creede is a fully machined large arbor reel. Large arbor reels are almost always your best choice when purchasing a reel. The 5/6 is able to hold 150 yards of line. Most anglers choose to put on 100 or so yards of backing and 30 yards of fly line.
The 5/6 Creede can hold enough line for you to not worry about fighting those larger fish. If they spool you, then they deserve all that they get.
Weight
The 5/6 Creede weighs in at 5.65 ounces. This is right in the sweet spot for 5/6 reels. It doesn't feel too heavy, but it has a solid feeling that you know will allow it to perform quite well. Anglers often complain about a reel being too light. This isn't the case with the new Creede.
The reel is also 3.74 inches in diameter. Again, it's not too big looking or too small. It sits nicely on my rod and feels comfortable in my hand. With this reel, I've never had to worry about a strange looking reel attached to my rod.
Drag
The drag system on the 5/6 Creede is fully sealed. While it could be used in salt water if you rinsed it properly afterwards, that's not its true purpose. The Creede was created to be used in fresh water, so do so as often as possible. That's where I've fished it.
The drag is carbon fiber and extremely strong. I've found that even the heaviest fish I've caught with it have had a hard time fighting their way through the drag. It's always given me enough power to slow down some of those monsters that I was fortunate enough to land.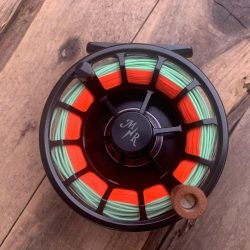 Order The Moonshine Rod Co. 5/6 Creede Reel
If you like what you see in this Moonshine Rod Co. 5/6 Creede Reel review, you can order the reel on Amazon.
Drag systems are becoming more and more important on reels. A fully sealed carbon fiber drag is about as nice of a system as you can find on a freshwater reel. Moonshine Rod Co. didn't pull any punches with this setup!
Aesthetics
The Moonshine Rod Co. 5/6 Creede Reel comes in two different color options. You have Raven/Copper or Raven/Gunmetal. I received the Raven/Gunmetal. It has a great vintage look to it. The design isn't overly complicated.
Moonshine Rod Co. rods have a bit more flash to them, so the reels have a simpler design. This is to make sure their appearance isn't too overwhelming. The silver and copper accents look great on the rod. It's an intimidating looking setup, and you really do feel like you're fishing a great looking rig.
The copper is a bit better looking in my opinion, but both color options are sharp. You can't go wrong with either. It's probably best to match up the color system to your current rod.
Moonshine Rod Co. 5/6 Creede Reel: My Personal Thoughts
Receiving new gear from a company can be a bit nerve-wracking. Knowing that people have worked hundreds of hours on a product with hopes of it being high quality can lead to some extremely proud and some very sad moments.
Moonshine Rod Co. should be proud! I've enjoyed and appreciated every cast I've made with this reel (especially the ones that produced a nice fish).
Pros
The reel is smooth. Everything on the setup feels smooth. Whether I was pulling line quickly from the reel or reeling in as fast as I could, it never felt outmatched. The drag system, even when it's tight, feels quite smooth. You'll be hard pressed to find a scenario when the reel feels overwhelmed.
The reel looks great. It has a perfect combination of modern and vintage design. There aren't any other reels on the market that look like it. That's what makes Moonshine's design team so special. They've found a way to create unique looking rods and reels even in a market filled with unique looking products.
For a high performance reel, it's not that expensive. For only $260 you can have a reel that's going to perform just as well as any other high performance reel on the market. Moonshine has found a nice niche right below the big players in fly fishing.
They aren't as pricey, but still create products that are similar in quality. For me, it's a no-brainer which company I would choose.
The final pro that really sets this reel apart is the handle. While many reels come with a hard plastic or metal handle, the Moonshine Creede reel handle is made of a material that gets grippier as it gets wet. If you land a fish, you don't have to worry about your reel slipping out of your hand.
It's a minor feature, but it's one that many companies don't choose to put on their reel. I found it to be extremely helpful when I was fishing in the rain. I didn't even know I wanted it until I had it.
Cons
There really aren't many cons on the Moonshine 5/6 Creede reel. They did their due diligence with testing it out in a variety of situations and determined what was best for the reel and made sure it functioned properly.
For me, I like my reels a little heavier than normal. It offers me more of a sense of security. Moonshine kept their weight right around where other 5/6 high performance reels sit, but in my opinion it could be a bit heavier.
This isn't a knock against the reel by any means! This is just a personal preference.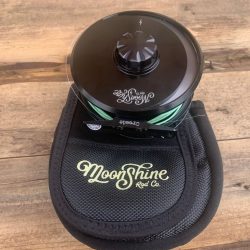 Order The Moonshine Rod Co. 5/6 Creede Reel
If you like what you see in this Moonshine Rod Co. 5/6 Creede Reel review, you can order the reel on Amazon.
Conclusion
Overall, the Moonshine Rod Co. Creede 5/6 Reel is a great choice for anyone looking to upgrade their reel arsenal. It'll work hard for you and perform well in many different types of situations.
You can clean it easily, push it to its limits and not have to worry about how it's going to operate. This is a vital part of fly fishing! There are many aspects of the sport that require an angler's attention.
The last thing we should be worrying about is how our gear is going to perform. Moonshine Rod Co. makes sure you don't have to worry and you can focus on all of the other things that happen while you're on the water. I like that, and I really like the reel.
Disclaimer: IntoFlyFishing.com is a participant in the Amazon Services LLC Associates Program, as an Amazon Associate I earn from qualifying purchases. Please see our Privacy Page for more information.