In this Shilton SL fly reel review, I'm going to take you through everything you need to know about why I think it's one of the best saltwater fly reels on the market.
I've been fly fishing since my Dad put a rod in my hand at the age of 3. Now, 33 years later (having been a fly guide for 10 of them), you can imagine how many fly reels I have seen put to the test.
I was first introduced to the Shilton SL fly reel when I started guiding on Alphonse Island, Seychelles. It's the only reel used there along with the Shilton SR. I, of course, had to own and my Shilton SL7 has helped me subdue striped marlin in the Galapagos, sailfish in Kenya, roosters in Costa Rica, and GTs in Seychelles.
You will find out what I love about this reel as well as its cons, specs, features, and more in my Shilton SL reel review. I'll also compare how it stacks up to the likes of the Mako 9600B and the Nautilus CCF-X2.
Shop The Shilton SL Fly Reel
View the Shilton SL Fly Reel and compare prices on Trident Fly Fishing.
Why Trust My Shilton SL Fly Reel Review?
If you're new to Into Fly Fishing, you might not know that we only review fly gear that we have personally owned, used, and tested to the max. I have been playing around with Shilton SLs for over 6 years now in some of the harshest environments and with some of the toughest fish on the planet.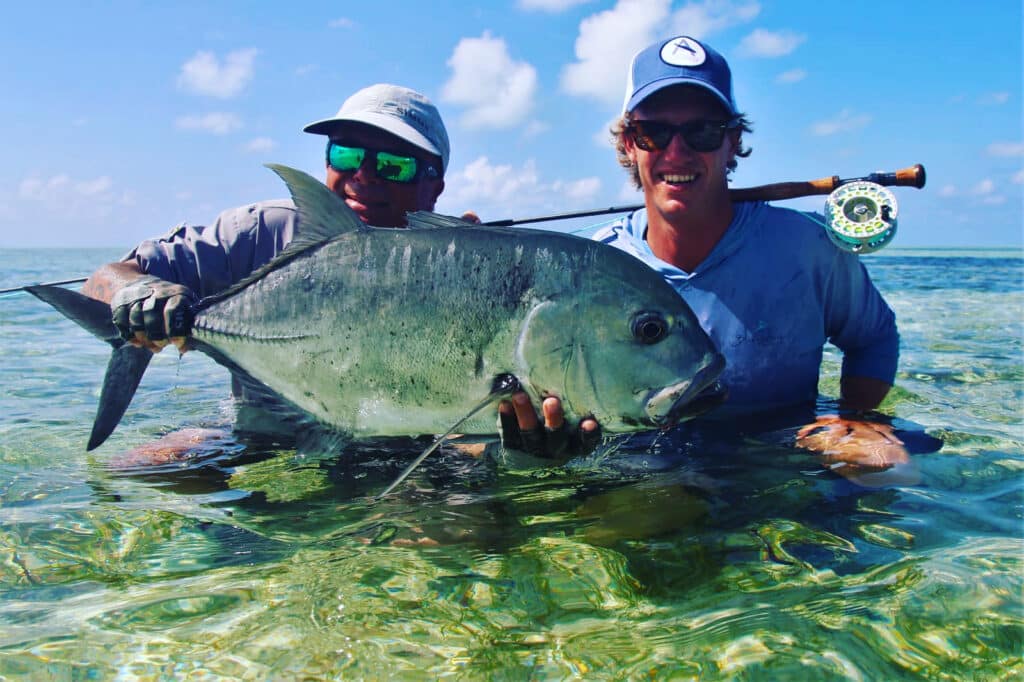 Being an expert guide, especially in saltwater, I'm always looking for a reel that can handle the journey. I used to use the Nautlius NV only, and now it is the Shilton SL.
How I Fished The Shilton SL Fly Reel
When you guide the likes of marlin, sailfish, and GTs on fly in hot salty conditions, you had best come prepared so your clients have a chance, and the Shilton SL has always delivered for me.
I own the SL7 which is designed for 11-12 wt lines and I fish in on the Sage Motive fly rod. I can cram close to yards of 80 lb backing on there and it balances my rod perfectly.
When you turn up the heat on a GT that's trying to break you off the coral, the SL says "NO" when you engage its full drag. I have literally seen GTs do a headstand when the drag is in full!
What's In The Box?
When you open the box of the Shilton SL fly reel, you get more than just a reel. It also comes with reel lubricant and a handy cover in which the reel sits to keep it safe during shipping.
Shilton SL Fly Reel
The Shilton SL's smooth finish is a delight when you first feel it as is its reliable but low weight. It feels tough and reliable, which it is. The drag knob makes a nice sound when you first play with it and to start to imagine the fish you intend to stop with it.
Reel Case
You also get a reel case in the box, along with the reel. The case is padded, has a holder for the reel lubricant, and will clip around the reel and your rod so you can transport it safely to the boat.
Reel Lubricant
The addition of some reel lubricant is a nice touch from Shilton and it is imperative you use this to keep the reel working at its maximum capacity.
Shilton SL Review Features & Specs
Next up in this Shilton SL fly reel review, we will take a look at things like drag tension, ergonomics, and how the reel handles in a fishing situation. When saltwater fly fishing, it's imperative to get things right in the moment, as it can be over in a flash. So, let's see if the Shilton SL helps or hinders that:
Weight
Physical Weight: 10.7 oz (303 g) (SL7 11/12 wt)
Available Weights: 5/6, 7/8, 9/10, 11/12, 13/4
At 10.7 oz in the SL7 model (11/12 wt), the Shilton doesn't feel heavy on your rod, but it doesn't feel too light either. The weight is the ideal amount to balance the setup so that you can cast quickly and easily to approaching fish.
In its range of models, it can be used to tackle any species from bass to marlin; there's a Shilton SL for pretty much every occasion.
Warranty
Every Shilton SL comes with a lifetime warranty to the original owner which means you will have a reel for life no matter what happens to it. If your Shilton fails, you can send it off to be repaired or receive a replacement free of charge.
Since the Shilton SL is by no means cheap, the warranty is free and there's no need to pay any extra for it – as you would expect of a reel of this class.
Sound
The sound a reel makes can matter a lot to some anglers, whereas others don't mind so much. Personally, I like a tiny bit of noise or none at all – I don't want it to be loud and overtake the situation. The last thing any fly angler needs in a high-pressure moment is a screaming reel to add to the situation and cause panic.
The Shilton SL makes no sound at all on the way out and has a nice soft sound on the way in. In my eyes, it's the ideal combination to allow anglers to keep calm when the fish takes line. Also, the guide can hear when a client is winding or needs to be told to.
Reel Handle
The reel handle on the Shilton SL fly reel is solid in my eyes. It's not big enough to catch the line while you strip, nor is it too small. You can quickly find it when you need to gather line in a fight and it's very smooth when it comes to winding, keeping your hands fresh and ready for more.
Drag Knob
Shilton SL reels come with a small drag knob, a thing some anglers aren't fond of. I personally like it as it keeps it out of the way. It has a textured outside for good grip, I've never seen anyone not find it in the heat of the moment, and it turns very easily.
Retrieval Rate
The arbor on the Shilton SL is labeled as "large" but it's actually more of a mid-arbor. This means its retrieval rate is a little lower than other reels in its class, so you won't be able to gather line as quickly as you would with other reels.
That being said, I'm yet to see anyone struggle to land a marlin, sailfish, or GT with this reel.
Changing Spools
Changing the spool on the Shilton SL requires taking the reel apart. There's no quick-release option, so changing lines in the middle of the fishing day takes some time, which some fly anglers will not appreciate. However, by not having a quick-release spool, this reel stays together under a lot of pressure.
Shop The Shilton SL Fly Reel
View the Shilton SL Fly Reel and compare prices on Trident Fly Fishing.
I cannot tell you how many stories the guides in Seychelles have of quick-release spools popping out of the reel mid-fight. This is something the Shilton SL avoids, and thank goodness it does!
Line Capacity
All Shilton SLs have excellent line capacity. The SL7 (12 wt), for example, can hold 300 meters of 50 lb backing plus a 12 wt fly line. This is more than enough to subdue most saltwater species up to around 200 lbs.
Finish
All Shilton SLs are hard anodized which makes them tough as nails. Salt, heat, and the odd bang on the floor are not going to stop these reels from working for a very long time.
Drag System
The drag system is where the Shilton SL really shines in my opinion. It has one of the best cork drag systems ever created, made from custom-made cork which is pretty much maintenance-free.
The drag is super smooth and fully adjustable from close to 0 lbs of drag all the way up to 12.6 lbs (SL7) -which is a lot. Set the SL7 to full drag and try to pull the line off it; you'll either struggle a lot or straight-up fail altogether.
Drag Adjustment
It takes 3 full turns of the drag knob to take the Shilton from zero to hero which is pretty solid in my eyes. However, some reels do it all in one turn and are marked so you know where you're at.
It's hard to know where you are with regard to the amount of pressure you are applying on the Shilton SLs. After two turns, you are just about at 1/2 the drag force, the real power is in your final turn of the knob, so be careful when looking for heavy drags.
Drag Seal
Shilton SLs do not have a sealed drag and this might worry some saltwater fly anglers as the drag system is not protected from the elements.
However, the Shilton SLs require very little maintenance, perhaps every 3 months when used consistently on the flats, but you do need to rinse them in fresh water every day (as with all reels).
The advantage of not having a sealed drag is that you can fix them easily on location if something goes wrong. If a sealed drag reel fails on an outer atoll, it has to be shipped to the US and back – a Shilton SL will be working the next day.
Available Colors
The Shilton SLs come in a large range of colors to match the style you want, your rod, or the fishing situation. Colors include black, titanium, red, blue, purple, turquoise, and burnt gold.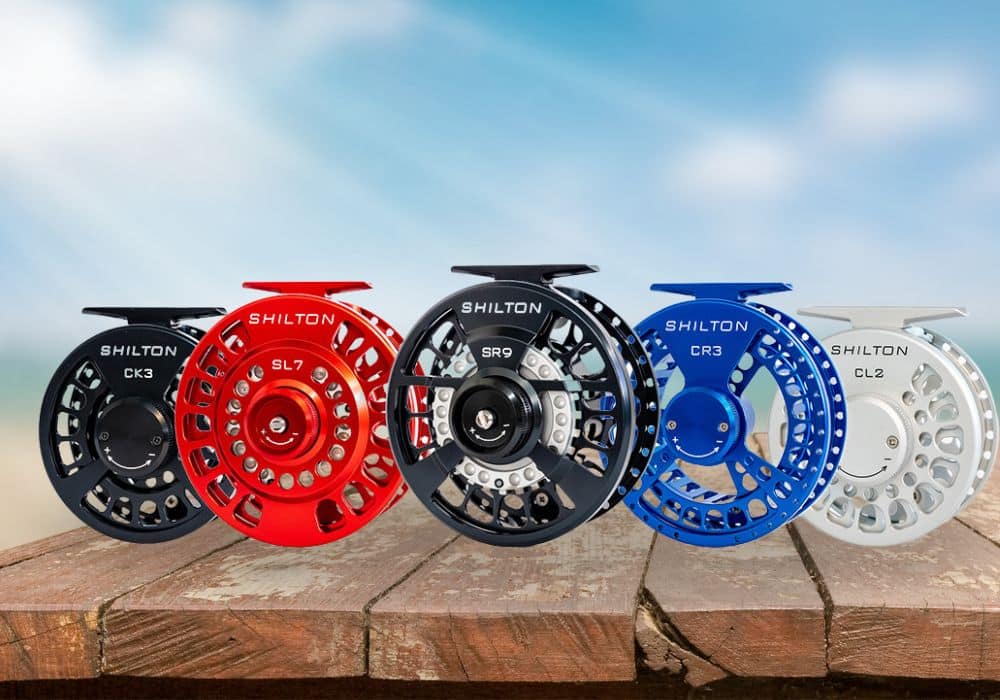 Build Material, Finish & Durability
Made from high-grade machined aluminum with a hard anodized finish, the Shilton SLs are designed to last forever. These reels do not rust, are very hard to dent, and are as durable as they come. There aren't any environments they won't handle.
Overall Ergonomics
Overall, the Shilton SL reels are very easy and comfortable to use. My hands never hurt, even after 1.5 hours battling striped marlin, and I can always find the drag knob and adjust it as required too. It truly is a lovely reel to fish with.
How The Shilton SL Fly Reel Compares
While the SL fly reel is one of my favorites, this wouldn't be much of a Shilton SL fly reel review if I didn't compare it to some of the best on the market. So, how does the Shilton SL do against the likes of Mako, Hatch, and Nautilus reels?
Hatch Iconic 9+
The Hatch Iconic 9+ is very similar to the Shilton SL with regards to weight. It has a slightly higher retrieve rate than the SL7 and the drag is much more linear; meaning at half you are actually at about half.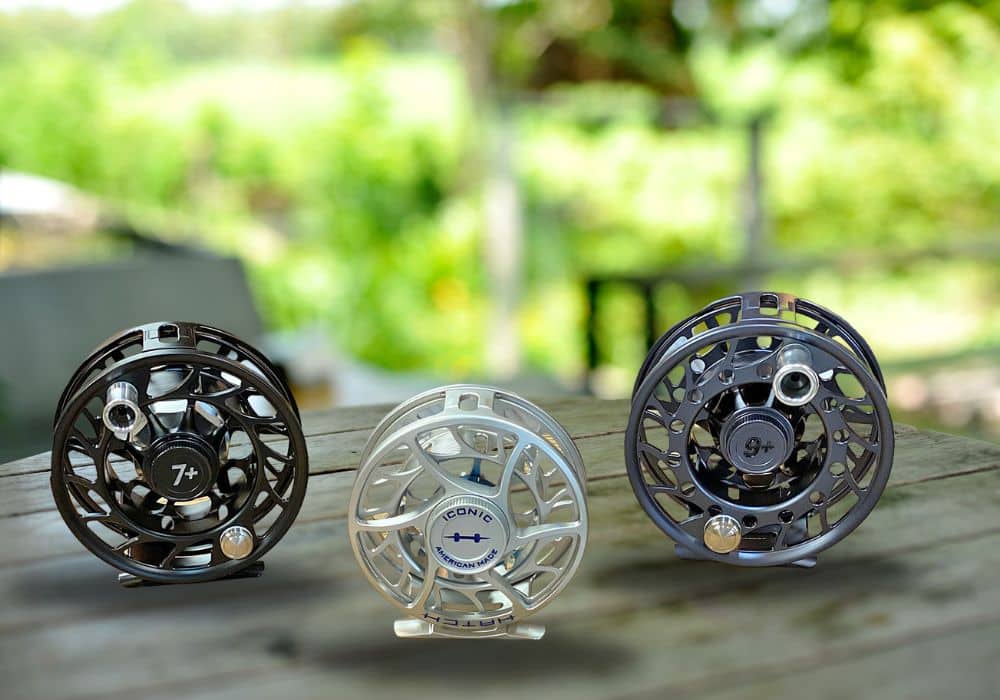 The main difference is the sealed drag of the Hatch vs. the cork drag of the Shilton – the cork being more reliable in every case in my opinion.
Mako 9600B
The Mako 9600B is the other reel I would happily fish with along with the Shilton SL. It's a lot heavier and more expensive than the Shilton but is just as reliable and durable.
It has a sealed drag system, and you can go from zero to full drag in one turn; stopping fish in an instant up to a huge 14lbs, which is 2lbs more than the SL, and is much faster.
Nautilus CCF-X2 beats the Shilton SL7 in a few categories, including its lower weight and the faster retrieve rate of its ultra-large arbor. The drag is about the same as the SL7 but is sealed and not fixable on location. However, the Shilton SL7 wins hands down when it comes to durability and line capacity.
Shilton SL Review: My Personal Thoughts
Pros
Super durable and reliable
Comfortable to use
Easy to fix drag system
Minimal maintenance
Excellent max drag
Very smooth and reliable drag
A solid weight for balance
Can be changed from LH to RH retrieve
Cons
The retrieve rate could be higher
The drag is not very linear
A few turns to get from low to high drag pressure
Personally, I love the Shilton SL range. I used the SL6 to catch bonefish, triggers, and permit. The SL7 has stopped every GT, sailfish, and striped marlin it's come up against. I honestly can't fault it in any way when using it on the flats or offshore hunting giants.
What I love about it most is that I can take it to full drag and really stop a fish when I need to, as well as the fact I can fix it when fishing in a remote place. Yes, the retrieve could be faster and the drag knob could get higher quicker, but I have never noticed these issues while hooked up to a fish.
The Verdict
Overall, and as you might have noticed from my Shilton SL fly reel review, this is a fly reel that I trust to handle the toughest fish on the planet, and in the harshest environments. It simply doesn't break and the drag never fails, even if you forget to maintain it now and then.
Shop The Shilton SL Fly Reel
View the Shilton SL Fly Reel and compare prices on Trident Fly Fishing.
Personally, I wouldn't go buying the Shilton SL4 (5/6 wt) or the SL5 (7/8 wt) as these reels are expensive and you don't need that kind of robustness or stopping power in such light versions. However, the SL6 (9/10 wt), SL7 (11/12 wt), and the SL8 (13/14 wt) are worth the money and the peace of mind they come with.
If you're looking to chase tarpon, roosters, GTs, tuna, and billfish on fly the Shilton SL6/7/8 has got your back, and will continue to for a lifetime.
Disclaimer: IntoFlyFishing.com is a participant in the Amazon Services LLC Associates Program, as an Amazon Associate I earn from qualifying purchases. Please see our Privacy Page for more information.