Redington has flown under the radar in fly fishing for far too long. No, not all of their gear is ultra-high performance with all the best components, but it's functional, reliable, and always does the job. One of their best products is their Crosswater Reel.
The Redington Crosswater is budget-friendly and pairs well with most rods in your arsenal. Plus, it has a unique design and ultra-light components make for a fast-paced, exciting day on the water.
We saw the positive reviews online and wanted to test it ourselves. Redington sent us two of their new fly fishing kits. Each kit came with fully spooled Crosswater reels. We put the reels to the test to see if they lived up to the hype.
Why Trust My Redington Crosswater Review?
I've been able to fish with the Redington Crosswater over the past several months. I've taken it fly fishing in Arizona, Colorado, and Minnesota. Throughout my time with it, I've had nothing but good experiences. Whether I was fishing in fast or slow water, the Crosswater stepped up for the majority of the challenges I gave it.
At Into Fly Fishing, we only review gear we've personally used. I've given it a good test for several months and feel like I have a full understanding of its good qualities and flaws. Plus, I have used various budget fly reels throughout my years as an angler and understand what a quality, affordable reel feels like.
The Redington Crosswater checks most boxes for anglers looking to maximize their time on the water without breaking the bank.
Watch the Redington Crosswater Review
What's in the Box?
When you receive the Redington Crosswater, you'll receive a reel case, the reel, and some general instructions on how to use it and change the spool.
Reel Case
When you receive the reel, Redington sends it in a neoprene reel case. Unlike many budget reels, you get a case that's capable of protecting your product. You can travel with it and have no worry that it'll survive plane rides, car rides, and time in the drift boat.
The velcro is sticky enough to stay closed even in the most bumpy and challenging conditions. Plus, you don't feel that you have to force it into the case. It slides nicely into the case and keeps everything snug and in place.
I usually have to switch my affordable reels into more protective cases when I get them, but that isn't necessary with the Crosswater. Redington and Far Bank want you to know they value and take pride in protecting their product.
Reel
The reels themselves came unscratched, clean, and already spooled. You can purchase the reel without the line, but the kits came ready to hit the water. I was sent the 4/5/6 reel already spooled with 5-weight RIO Mainstream Line and Dacron backing.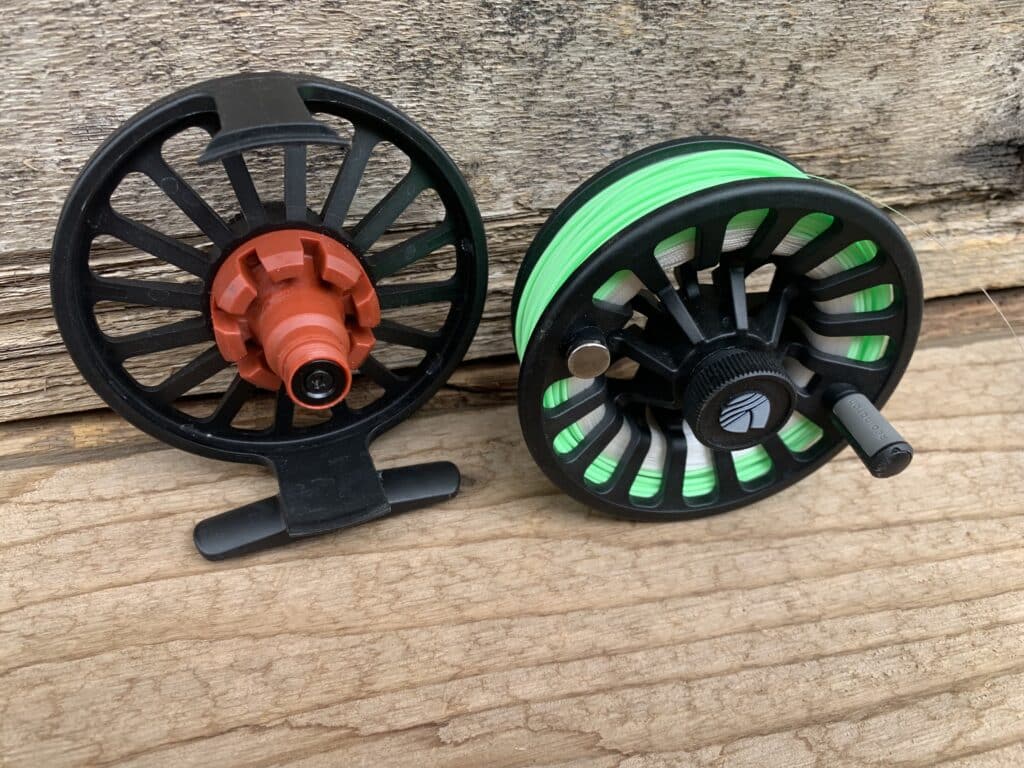 The line alone gave me confidence that I received a quality reel. Redington and Far Bank wouldn't invest in higher quality fly line unless they knew the reel could handle it.
Redington Crosswater Reel Features & Specs
The Redington Crosswater reel is built with some lesser components than you would find on other affordable fly reels, but they're by no means cheap. Redington is a large brand and could get away with charging a higher price, but the more affordable components allow them to keep them at a lower price that almost anyone could afford them.
Build Quality
The Redington Crosswater is built with a durable polymer. The composite is both lightweight and durable. While it's not made with the aluminum that you'd find on some of the higher-performance reels, it still can take a beating. You can drop it on the rocks or bang it against and tree and not worry that it's going to break.
The bearing within the reel is stainless steel, but the rest of the components are composite. The reel handle and drag cover still feel solid even though they aren't made with metal.
The benefit of the materials being composite is that they're extremely light. You can pair it with your lightest rod and easily find the balance point. Plus, you can put some torque on the reel and not have to worry that it will break.
The reel isn't as durable or high quality as some budget reels. However, the components are worth trusting. You won't immediately feel disappointed.
Arbor Size
The 4/5/6 Crosswater Reel has a large arbor. You get a quick and easy retrieve, so you don't waste time getting on and off the water. Plus, you can spool as much line and backing as you need for any fish you land with a 4/5/6 reel. It's not going to get in your way.
Weight
The 4/5/6 weight weighs five ounces or 141 grams. The 7/8/9 reel weighs 5.5 ounces. When the reel is spooled with the line, you'll add more weight. The reel and backing don't add much difference, and it still feels like a lightweight finesse reel.
The more hollow design doesn't make the reel as heavy as other, more affordable fly fishing reels. I could find the balance point on all my rods with no trouble. Depending on the fly line you choose, you'll add more weight, but nothing will feel unnatural.
Drag
Redington offers two different drag systems with their reels. The 4/5/6 drag system is different than the 7/8/9 reel.
The 4/5/6 Crosswater has a Rulon disk drag system. The Rulon system is a Teflon plastic, and it's used as the friction plate in the drag. It's still powerful and reliable, but not as powerful as the carbon disc drag system. They're still fully sealed and saltwater-ready, but they're more affordable than disc drag systems.
The 7/8/9 Crosswater reel is equipped with a carbon fiber disc drag system. This feels familiar to anglers who are used to higher-performance fly-fishing drag systems. The click drag is accurate and can be pinned down to provide some serious pressure.
The 7/8/9 can handle bass, pike, salmon, and steelhead. When fully pinned, any fish you land will struggle to pull out much line. Have faith that Redington gave the larger reel the exact drag system it would need to land the fish you target.
Whether you're fishing in freshwater or saltwater, it's ready to go.
Sound
The Redington Crosswater has a good sound. It's not quiet and not too loud. If you find a fish that starts to take line, you'll get that screaming sound many anglers love. It's not too loud that it'll scare off fish in tight water, but loud enough that you know it's there and when it's working.
Aesthetics & Color Options
At this point, Redington offers the Crosswater Reel only in black. It's a unique design with thin, plastic pieces creating a bicycle wheel pattern. It looks different than many reels in circulation today. Anglers will definitely know that you're fishing with a Redington reel.
I appreciate a unique design, and Redington accomplished it. At some point, Redington may offer different color options, but for now, all you can use is black.
Price
The Redington Crosswater reel costs you $65 unspooled. For the reel alone, that's an extremely fair price. Yes, there are some other affordable fly fishing reels on the market, but not from as reputable of a company as Redington.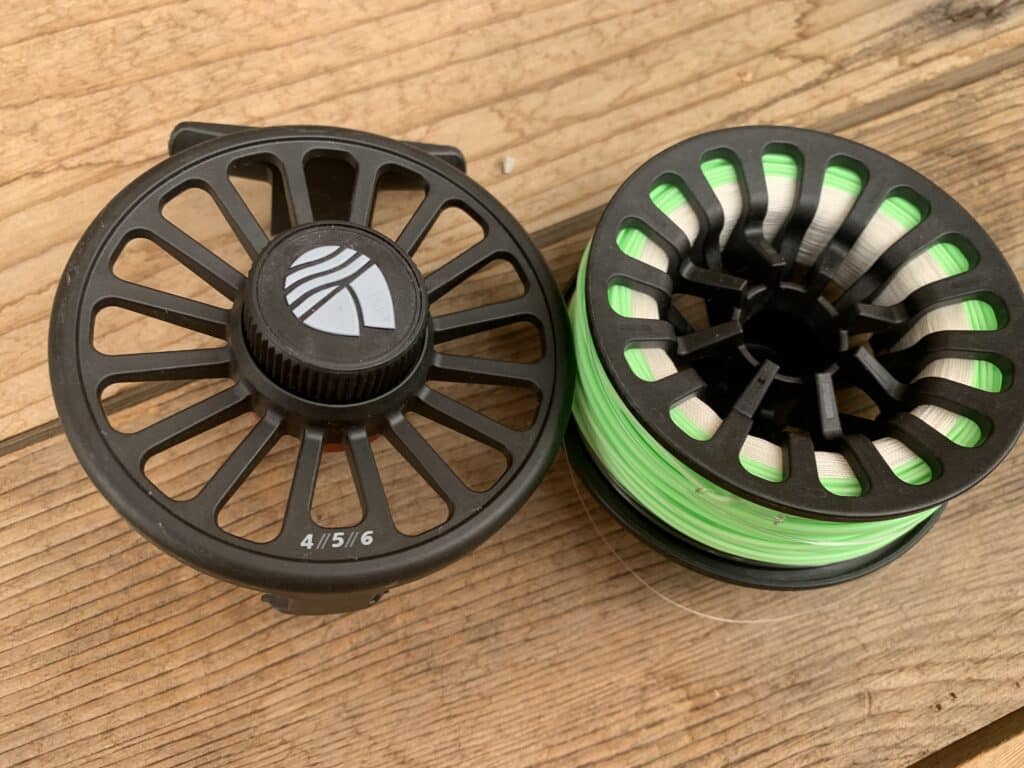 If you want to purchase the reel fully spooled, it will cost you around $100. For only $40, you're getting high-quality fly line and backing. Plus, you don't have to do any of the work of spooling the line yourself.
Warranty
While most of Redington's other reels are covered by a lifetime warranty, the Crosswater, Minnow, and Topo reels are only covered by a 1-year manufacturer warranty.
The warranty covers manufacturer defects only, so if you break it you'll have to send it in for repair at a cost. This is a pretty standard warranty for this level of fly reel in the industry.
Redington Crosswater Reel: My Personal Thoughts
Since I tried Redington waders a few years ago, I've been sold on their fly fishing products. I try and purchase and use new Redington products whenever I can. The newly designed Crosswater reel has been at the top of my list, and I'm glad it's part of my regular rotation.
I see my fly reels as the heart and soul of my fly fishing setups. As a result, I need to have confidence that they will work. I trust the Crosswater on any of my setups. Even if I'm fishing in tight water in ultra-finesse situations, I know the Crosswater is up for any challenge.
When I hooked into bass, the drag did everything it needed to keep pressure on the fish and give me a good chance to land them.
While the components aren't the highest quality and as nice as what you'd find on some other fly reels, I know that they're able to withstand some tougher conditions. I've dropped my reel, banged it up against rocks, and put some serious tension on it. At no point has it felt like it was going to break.
I highly recommend this reel for any new angler looking for a quality fly reel to get them into the sport. Also, if you're looking for a backup reel to keep in your vehicle in case something happens to your primary reel, then the Crosswater is the ideal choice.
Disclaimer: IntoFlyFishing.com is a participant in the Amazon Services LLC Associates Program, as an Amazon Associate I earn from qualifying purchases. Please see our Privacy Page for more information.