As an Amazon Associate I earn from qualifying purchases.
When reputable fly fishing companies like Orvis started to make affordable fly fishing equipment, the industry changed. It gave the everyday angler a chance to use some high-quality gear at an affordable price. The Encounter and Clearwater lines from Orvis are easy on the wallet and perform well.
I grew up fishing the original Orvis Clearwater setup, so I was excited to test out the newer version of the reel. Plus, we saw all the positive reviews and wanted to give it a full and honest review.
Watch the Orvis Clearwater Fly Reel Review
Why Trust My Orvis Clearwater Reel Review?
As mentioned, I grew up fishing the original version of the Clearwater, so I had a good idea of how it should feel and perform.
I've been using numerous other budget-friendly fly reels with similar components as the Orvis Clearwater and have a solid understanding of what it should do.
I fished it in numerous situations and rivers and fully tested all of its capabilities.
At Into Fly Fishing, we only test the gear we use. I've tested numerous budget-friendly reels throughout my career, so I know what a quality reel should feel like. I enjoyed my time with the Orvis Clearwater and think it's a quality reel.
Watch the Orvis Clearwater Reel Review
What's in the Box?
Reel Case
Orvis sends along a reel sock with their logo on the front. A lesser reel case keeps the price affordable.
Since the Clearwater is used in my regular rotation, I chose to put it in a more solid case.
Even though the reel is durable enough to handle drops and a lesser case, I want to keep it as protected as possible. I've left it in my vehicle for the past few weeks, and all of the bouncing hasn't caused any damage.
Reel
When I received the reel, it looked great. There were no blemishes, scratches, or stuck components. We purchased the II model that's perfect for fly lines between 4 and 6 weights. You have the option of purchasing the reel with line and backing, but we purchased the reel only.
Orvis Clearwater Reel Features & Specs
The Orvis Clearwater is a step above a true budget-friendly reel. You get the Orvis name and some nicer components than what you'd find on other reels. When you handle the Clearwater, you are confident it will perform well. It doesn't feel cheap, and a few minutes with it on the water is all you need to confirm its quality.
Build Quality
The Orvis Clearwater is made of die-cast aluminum. It's not the 6061-CNC machined aluminum you find on the ultra-high performance reels.
However, even the use of aluminum shows that Orvis intends for this reel to survive many years on the water. The casting is great, and it looks nice.
Some other die-cast aluminum reels on the market have durability issues, but the Clearwater hasn't shown itself to fall apart after a few seasons. Yes, it may get some cosmetic scratches as you use it, but the integrity of the components is there.
The inner parts of the reel are stainless steel. They don't skimp on the bearings and other components.
It's sealed and corrosion-resistant, so you can use it in saltwater situations, but it's better suited for freshwater fly fishing. If you do choose to use it in saltwater situations, take time to clean it after each use.
The reel has an aluminum drag knob and a composite plastic reel handle. The drag knob is grippy and moves easily, so you can adjust the reel while fishing. The composite plastic doesn't feel slippery, and it can take some serious pressure if needed.
Many budget-friendly reels are made entirely of composite, so I appreciate that Orvis cared enough to make it of aluminum to give it a more solid feel.
Arbor Size
All Orvis Clearwater reels are large arbor. The II model's spool is 1 and 3/16 inches wide. The IV model's spool is 1 and 6/16 inches wide.
The large arbor retrieves the line well and gives you more room for line and backing.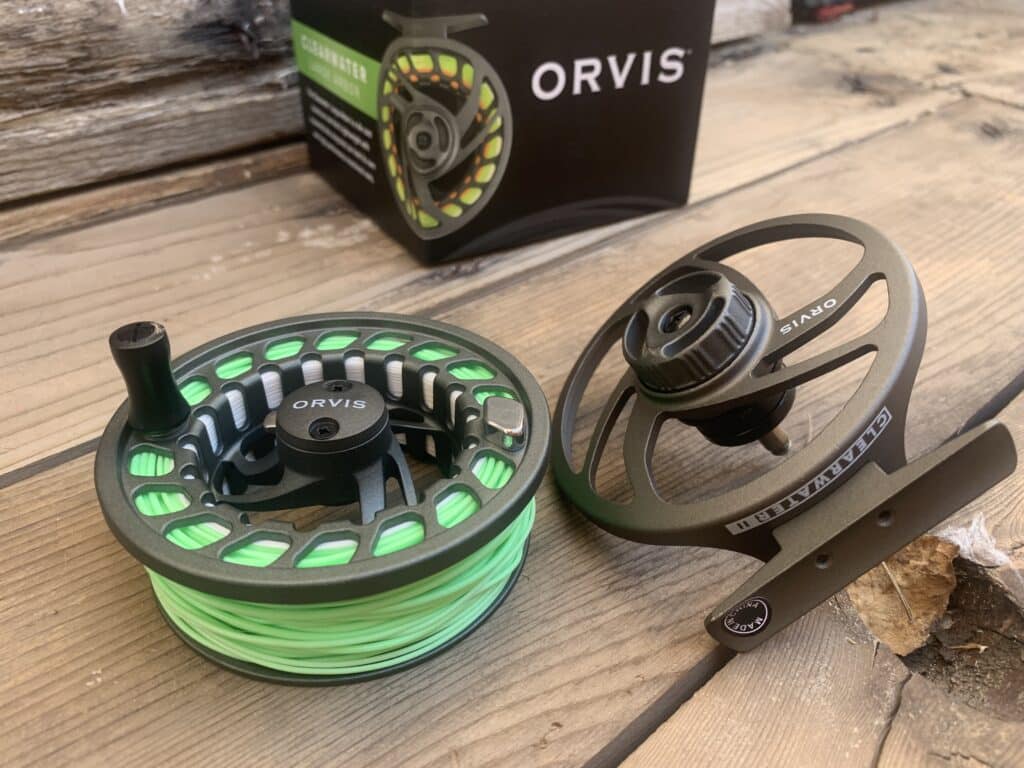 The II model holds 100 yards of 20-pound backing paired with any weight forward 4-6-weight fly lines.
The IV model holds 200 yards of 20-pound backing and weight forward 7-9-weight fly line.
Weight
Even with the aluminum, the Clearwater reel is similar in weight to other budget-friendly reels.
Even with the extra weight, you don't lose out on any of the necessary balance. The balance points on my 4-weight and 5-weight rods were extremely easy to find.
The Orvis Clearwater II model weighs 5.2 ounces without fly line and backing.
The Orvis Clearwater IV model weighs 6.1 ounces without fly line and backing.
The Echo Base 4/5 weight and Temple Fork Outfitters NTR Series 2 weigh right around 5 ounces as well. I really enjoyed the feel of the reel as I was using it.
Drag
The Orvis Clearwater has a Rulon to stainless steel drag system with a click-drag adjustment knob. Many budget-friendly fly reels have Rulon drag systems because they're far more affordable than carbon fiber disc drag systems.
The Rulon discs are built to handle high heat, so if you tie into a massive fish, it won't seize or run into any issues. The II model puts out around 5 pounds of drag, so it's great for most freshwater fish you'd target with it.
The stainless steel components of the drag system give me more confidence than true Rulon-disc drag systems. It's a little stronger and more durable than other affordable reels on the market.
Sound
The Orvis Clearwater has a sound as you strip and retrieve. The stripping sound is louder than the retrieval sound. If you do hook into a large fish, you'll know it. The reel has a nice scream to it when it's really ripping out of the reel.
Even on the retrieve, you get a nice click and sound. I like to feel my reel at all times.
Aesthetics & Color Options
The Orvis Clearwater has a nice utilitarian look. It's not fancy or unique, but it has the traditional Orvis design.
The smooth edges make it stand out amongst other reels I own. Currently, Orvis only offers the Clearwater in a matte grey color. It's not shiny or flashy like many other reels you find, but it still looks solid.
Price
The Orvis Clearwater II costs anglers $98. You can spend a little more and get the reel fully spooled with backing and fly line.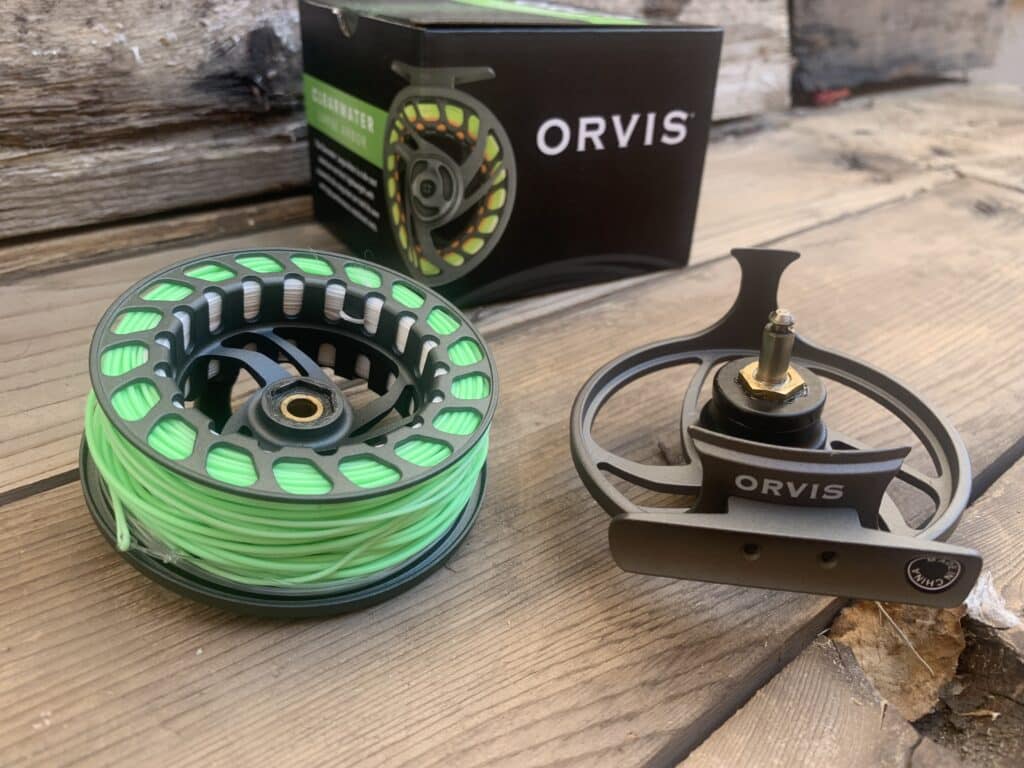 The Orvis Clearwater IV costs anglers $120. Like the II, you can spend a little more to get it spooled.
It's on the more expensive side of budget-friendly fly reels, but it's worth the price. You get the reputable Orvisname and some higher-end components you won't find on other affordable reels. The reel will last you numerous seasons with some standard care.
Orvis Clearwater Reel: My Personal Thoughts
I have always been a fan of the Orvis Clearwater. I used the original version as I was learning to fly fish and passed it along to some other beginners when they needed gear. They're still using it 5 years later.
Now that I've used the newer model, I forgot how much I enjoyed using the Clearwater gear. It's smooth and feels more durable than most of the other budget-friendly reels I've used. The more time I get with it, the more I enjoy using it.
Even as an experienced fly angler, I have this reel in my regular rotation. I've never felt the need to use high-end fly fishing reels because of the Clearwater. I have far more expensive reels in my arsenal, and I can't help but use the Clearwater.
It reminds me of all of my favorite aspects of fly fishing. I'm not a flashy angler; I keep my setup simple, and I work hard to find as many fish as possible. The Clearwater follows suit. It's not the best-looking reel on the market, but it works hard and steps up to every challenge I put in its way.
The drag system is powerful, the reel handle feels nice, and the stainless steel components do exactly what they need.
Whether you're a new angler or an experienced angler looking for a change, the Clearwater is a great option for you. It won't break the bank, and it feels great. You'll appreciate the smoothness and simplicity of the reel.
Orvis stands behind the reel, and they offer anglers a lifetime warranty for defects in material or workmanship. If you're questioning if it's the right reel for you, don't. It is one of the best reels on the market for its price point.
Amazon and the Amazon logo are trademarks of Amazon.com, Inc, or its affiliates.
As a part of the Amazon Associates Program and other affiliate programs, Into Fly Fishing® may receive a comission if you order products through links on this website.