Over the past few years, Temple Fork Outfitters has started to make some noise in the world of fly reels. They've been well-known for their quality fly rods, but the NTR (No Tools Required) reel series is becoming a favorite for fly anglers of all skill levels. It has high-performance reel components and everything an angler might want.
Budget-friendly fly reels aren't easy for anglers to find and trust. There are dozens of reels available, all claiming to be the best and most affordable reels on the market. Thankfully, well-known brands like Temple Fork Outfitters continue producing affordable fly reels that give entry-level anglers a chance to have a reel they can trust.
We saw all the positive reviews and wanted to give the reel a test ourselves. We purchased it and put it through a test to see if it lived up to the hype.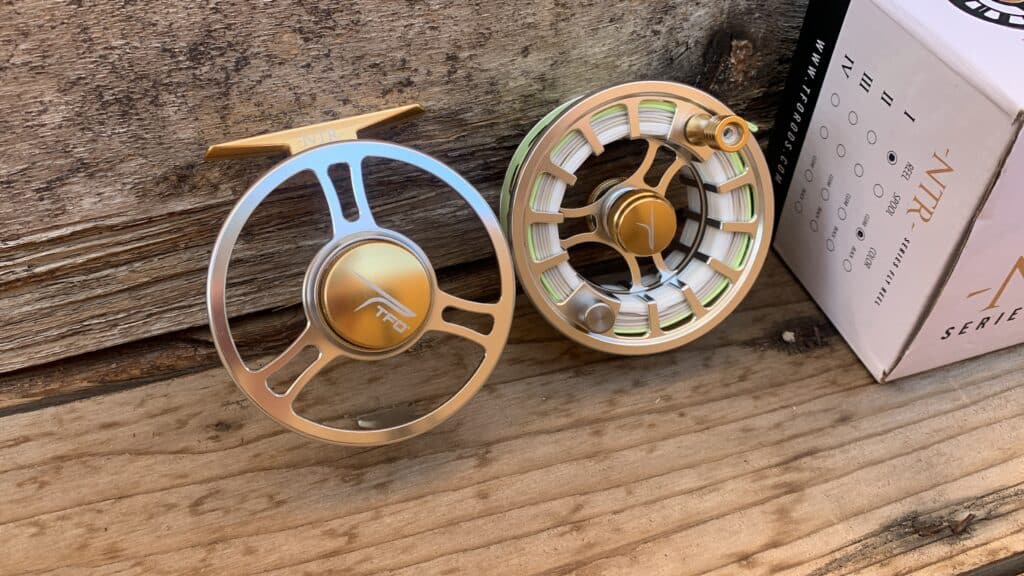 Why Trust My Temple Fork Outfitters NTR Series 1 Reel Review?
I tested the Temple Fork Outfitters NTR Series 1 Reel over a few weeks. Drag strength, smoothness, construction, and components were all part of my tests. I didn't have to try the reel long to understand the quality. Everything I threw its way, it handled. The TFO NTR Series 1 gave me all the confidence I needed.
At Into Fly Fishing, we only test the gear we use. I haven't used the TFO NTR Series 1 for long, but my years of fly fishing and testing affordable fly fishing gear gave me a good idea of what a quality fly reel should feel like. The TFO NTR Series 1 provides anglers with all the components they would ever want.
Watch the Temple Fork Outfitters NTR Series 1 Reel Review
What's in the Box?
Reel Case
Temple Fork Outfitters pulls no punches with their reel case. Where many affordable reels would come with a thin sock that doesn't protect the reel, TFO gives anglers a neoprene velcro case. The reel fits snugly, and you can throw it in a backpack or leave it loose in the back of the truck and trust that it won't break.
I've left it loose in the back of my vehicle for the past few months, and it looks no worse for wear. I always appreciate when a company cares enough to send their equipment in protective cases. It shows they care that their product will last for more than one season.
Reel
When I received the reel, it had no scratches or blemishes on its surface. The Series 1 reel is the 3/4 weight option, so it's smaller and perfect for finesse anglers looking to fish smaller streams or ponds.
It was easy to take apart to spool on the backing and fly line.
Temple Fork Outfitters NTR Series 1 Reel Features & Specs
The NTR Series 1 reel from Temple Fork Outfitters isn't the most affordable budget fly reel. TFO ensures anglers who choose to invest in the reel receive the best quality components possible for their price. All of the quality components create a smooth and powerful reel.
Build Quality
The TFO NTR is made of fully CNC machined 6061-T6 aluminum. This is the same design as many of the high-performance reels on the market today. It can take a beating, and the hollow design keeps it lighter than many of the other budget fly reels you find today.
You get a one-way stainless steel bearing with an internal cap and o-ring seal. It'll stay mostly sealed, but it's not going to keep everything out of it, so don't think you're getting a reel that's not going to have anything slip into it.
Some anglers put too much faith into the seal, so make sure you take the time to clean it if you do fish it for multiple days in a row. You want to fully dry out the components to ensure it doesn't rust or lose its smoothness.
The handle itself is aluminum as well, so it's ready for whatever you throw its way. You can put a serious amount of tension on the handle.
Weight
The 3/4 weight (Series 1) model weighs 4.72 ounces (133 grams).
The 5/6 weight (Series 2) weighs 5.86 ounces (166 grams).
The 7/8 weight (Series 3) weighs 6.99 ounces (169 grams).
The 9/10 weight (Series 4) weighs 8.0 ounces (226 grams).
Once you spool it with the line, it gets a little heavier, but overall, it's a fairly light reel. The hollow design and aluminum make it extremely manageable. It's important that whatever reels you use feels solid and capable.
I could find the balance point on my 3-weight and 4-weight rods. Even though it's built to fish finesse water, you don't feel as if your setup is too light. You can fight larger fish and have the power you need.
Drag
The drag system is a fully sealed cork drag system. This is extremely rare for a reel that's under $200. The one-way stainless steel spindle bearing with the internal cap and o-ring seal does its best to keep out any moisture, sand, or dirt you might get into the drag system.
The drag system is really smooth and gives you more tension than you'd ever need on a 3/4 weight fly reel. When fully pinned, it takes some serious torque to get the line out of the reel. Any fish you hook into with this reel will struggle to spool you.
Since you won't be targeting true giants with a 3/4 weight, you won't have any trouble controlling trout, panfish, or small bass with the drag.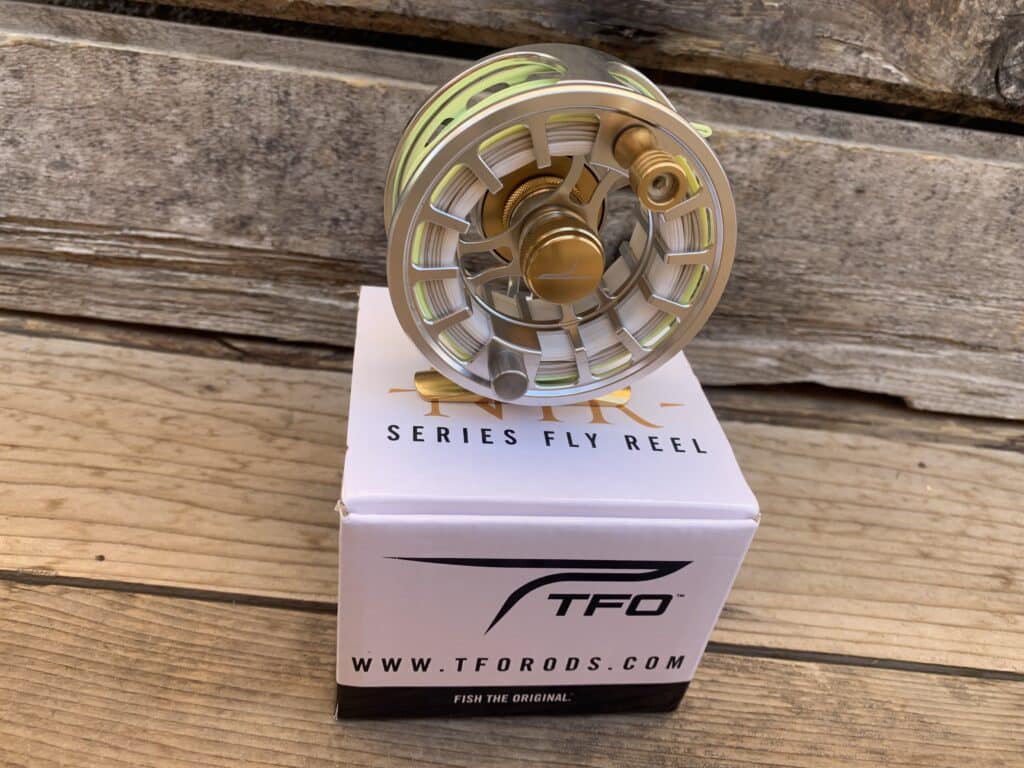 Sound
The Temple Fork Outfitter NTR Series 1 has an outgoing click that's quite subtle. You won't get the screaming sound you'd otherwise find on a different reel, but it's definitely there. As you retrieve, there is no sound at all.
If you want to stay more inconspicuous, you'll be happy with the TFO NTR Series 1. If you're the type of angler who wants loud clicks on the retrieve and stripping motions, the TFO NRT Series 1 isn't the best option.
It is not loud and obnoxious. You can sneak around and stay as quiet as you would like.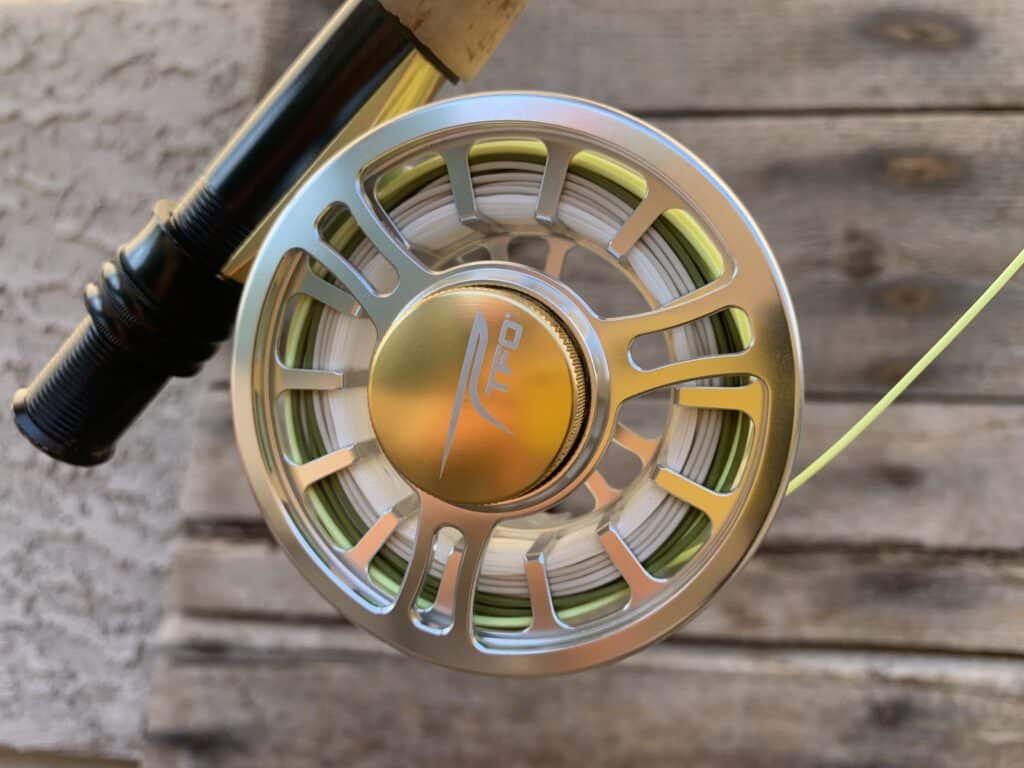 Aesthetic, Color, and Size Options
You either have a silver and gold model or a black and gold model that looks equally good. This is one of the best-looking reels I've seen in a long time. It's a classy-looking reel that mimics some high-performance options, and it also has a vintage look you don't find today.
The TFO NTR comes in Series 1, 2, 3, and 4 options.
The Series 1 is a 3/4-weight reel.
The Series 2 is a 5/6-weight reel.
The Series 3 is a 7/8 weight reel.
The Series 4 is a 9/10 weight reel.
Price
The TFO NTR Series 1 starts at around $150, and the price increases by $10 with each size up. For an affordable, budget-friendly fly reel, this is on the higher end. You're paying more than you would for other affordable options, but it's worth the investment.
You can still create an affordable setup even with the $150 reel. Reels can last you for years, and the TFO will follow you regardless of how skilled you become.
Temple Fork Outfitters NTR Series 1 Reel: My Personal Thoughts
I wouldn't hesitate to recommend the TFO NTR Series 1 to an expert angler or a beginner. No angler who uses this is going to be disappointed with the performance. I compared it to some of my higher-end reels, and I didn't notice much difference in feel and components. I'm definitely going to put this in my finesse fishing arsenal.
I love small stream fishing, and I know the TFO NTR Series 1 is up for any challenge I put in its way. It has one of the smoothest retrieves I've felt. There are no hitches in the bearings even when it's fully spooled.
Plus, I have full confidence in the drag system. The fully-sealed disc drag system is built to last and withstand strong runs from whatever fish I hook into.
Whether you're going after panfish, trout, or small bass, the Temple Fork Outfitters Series 1 is a perfect option. I love this reel, and anglers of all skill levels echo my thoughts. You won't find many anglers with any bad things to say about it.
Disclaimer: IntoFlyFishing.com is a participant in the Amazon Services LLC Associates Program, as an Amazon Associate I earn from qualifying purchases. Please see our Privacy Page for more information.