This is an in-depth TFO Pro 2 Review. I've owned two models of Temple Fork Outfitters Pro II over the years. I go with a 10′ 5 weight first, then a 9′ 10 weight. Although it's a relatively inexpensive, bare-bones fly rod, I was very excited to discover that it was a true workhorse.
TFO produces a great lineup of fly rods at fairly affordable prices. The Pro II is toward the bottom end of their range of rods — a little less expensive than the popular BVK, a little more than the Signature II series. Having not owned a TFO before, I figured the Pro II was a good start.
TFO Pro 2
If you like what you see in this TFO Pro 2 Review, you can order the rod on Amazon.
I've fished the Pro II for everything from giant snook and striped bass to big brown trout and salmon. It's one of the most thoroughly tested rods in my arsenal. So let's dive into it, shall we?
Disclaimer: IntoFlyFishing.com is a participant in the Amazon Services LLC Associates Program, as an Amazon Associate I earn from qualifying purchases. Please see our Privacy Page for more information.
Why Trust My TFO Pro 2 Review?
Every review on Into Fly Fishing is written after a thorough examination of the quality of the gear. I've fished with the TFO Pro II for more than five years now, so you can be certain I've had the time to find all of this rod's pros and cons.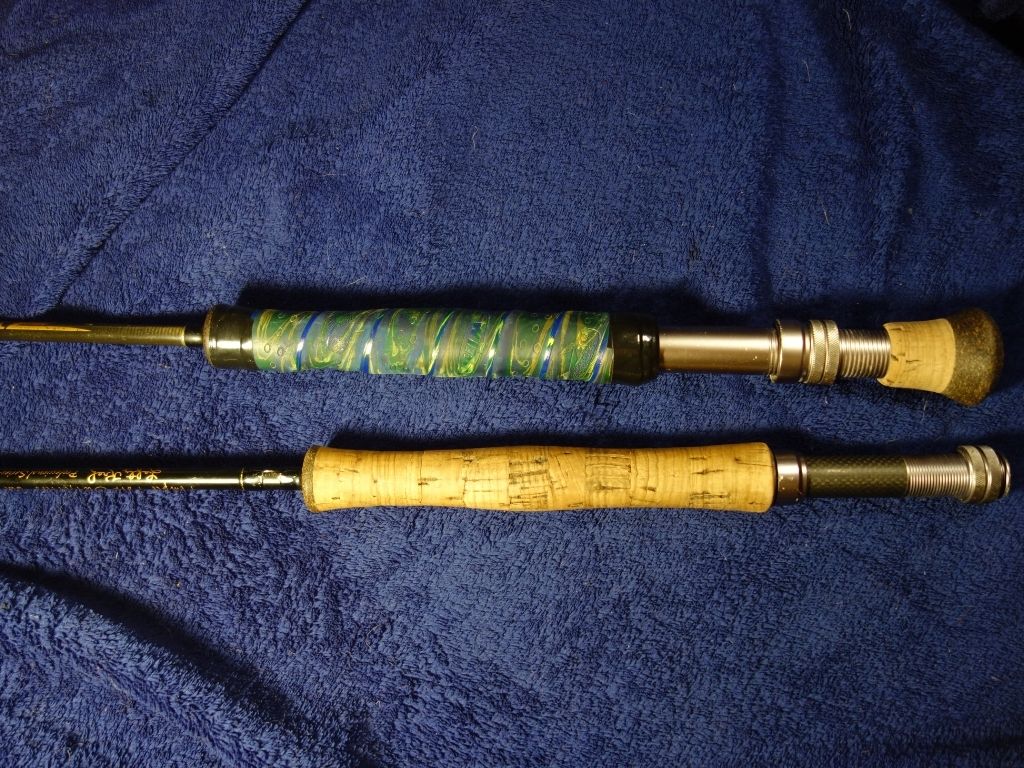 I've had a lot of other fly rods for the same purposes. I bought both my Pro II 5 weight and 10 weight, so there were good comparisons. There's a lot to be said for time and experience. This TFO Pro II rod review is, indeed, hands-on, tried and tested.
Watch the Video
What's in the Box?
When you order a Pro II, what you receive is pretty minimal. The four-piece rod comes with a rod sock and warranty card and not much else.
The Rod Sock
The Pro II doesn't come with a rod case, which is a bit irritating I must admit. It does come with a nice rod sock that separates the pieces and offers some level of protection. It would be a good idea to plan on buying a rod case that will fit the model Pro II that you buy, so you have something secure to carry it in.
The Rod
Out of the box, the Pro II is a fairly minimalist-looking fly rod. It doesn't exactly sparkle. The cork handle with its burled accents looks good, the blank has a light-gloss grey finish, and the guide wraps are accented in gold. It isn't really a pretty fly rod, but it doesn't look bad either.
TFO Pro 2 Review Features & Specs
I'd call the Pro II a bare-bones, blue-collar, work-horse fly rod. It doesn't look like a high end fly rod, but it acts like one. With design input from the late great Lefty Kreh, would you expect any less?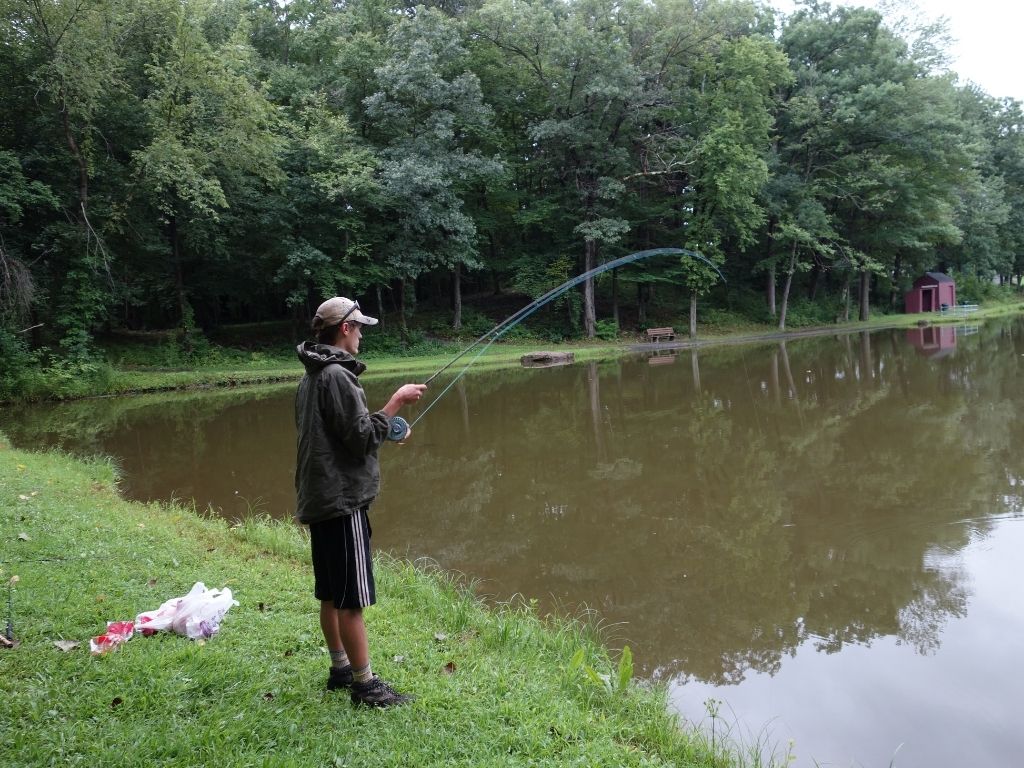 The Pro II has a great taper, excellent action for distance and accuracy, and a good feel in hand.
Build Quality
Overall the build quality of the Pro II is very good. The graphite blank is excellent and tough. The guides and guide wraps hold up well to abuse. The reel seat is anodized aluminum or anodized aluminum with a braided graphite insert, depending on the model. It looks nice and is durable.
The handle is fairly typical of most low- to mid-cost fly rods and will wear over time as the fill comes out and the cork gets worn. As you can see in some of the photos, I covered the handle on my 10 weight Pro II with a winn grip because it began to fall apart over time and I wanted to prevent damaging it further.
Weight
The Pro II is a little heavy in the hand compared to some other graphite rods in the same price range, though it has made very little difference for me. I've noticed no change in the onset of casting fatigue.
Physical weight: 3 oz (2wt)- 4.6 oz (10wt)
Available line weights: 2, 3, 4, 5, 6, 7, 8, 9, 10
Available lengths: 7'6″ (3,5wt), 8′ (2,4wt), 8'6″ (3,4,5wt). 9′ (4,5,6,7,8,9,10wt), 9'6″ (7,8wt), 10′ (5,6,7wt)
Warranty
Temple Fork Outfitters has an excellent warranty program. Simply register your rod online, and if it ever breaks you can send it to TFO with a check for 35 dollars and they'll either repair or replace your rod, simple as that. In some cases, you may want to just buy the broken section.
They have you covered there as well, as you can order each section of your rod individually on their website. This is an excellent service not all rod manufacturers offer. The warranty is a big perk of owning a TFO fly rod.
Taper
Blank taper is a key factor in fly rod design. A rod can be made of the best materials on the market, but if it doesn't have a good taper it will cast poorly. It seems TFO did a great job in the design of the Pro II taper because it casts fantastically for a rod of its price.
Action
TFO considers the Pro II to be a medium-fast action rod, and on the whole I agree, especially for the heavier models. They deliver a quick, strong cast and can handle the strain of wind and big flies. The lighter models lean more towards fast than medium-fast for rods of their size.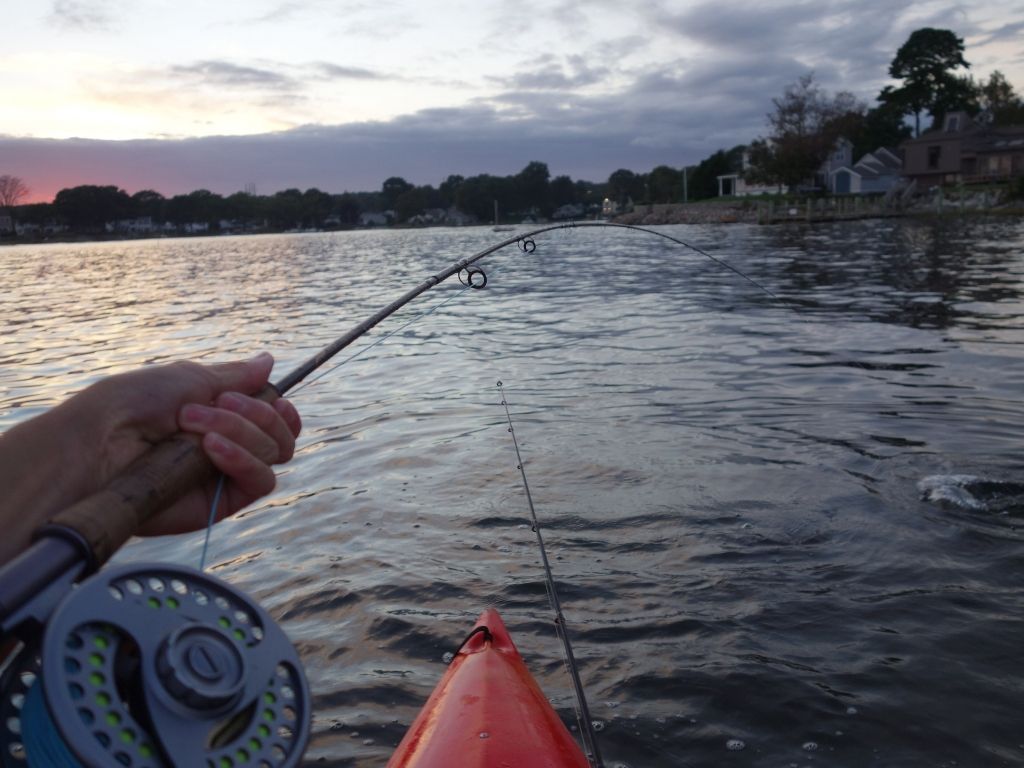 All in all, the Pro II is well rated for its action and you shouldn't have to up or downsize your line unless you plan on doing something unusually specialized.
Distance
The Pro II is a good distance casting rod, especially for being a four piece. I've had no trouble delivering 80 foot casts with either model I've owned and could hit 110 feet on a really good day with the right fly line.
An experienced caster could do well with the TFO Pro II, and it's also a good rod for a beginner to learn distance casting with.
Accuracy
When I started using my 10′ 5 weight Pro II, I quickly realized it was better at accurate mid-range casts than the rods I was using for carp at the time. Even though it was lighter than what I'd typically prefer, I began using it for that purpose regularly. Accuracy is so key in carp fly fishing and the Pro II excelled.
I also regularly use my 10 weight while sight fishing in saltwater, and it has proven accurate from close range out to 70 feet. Beyond that, it can be slightly sloppy but still get the job done, and that is beyond the range of where tight accuracy is very necessary anyway.
Aesthetics
If pretty fly rods are your thing, the TFO Pro II might not be your first choice. But honestly I like how it looks. It isn't an overly flashy rod but it looks great in a photo sitting in the water next to a good fish. The appearance fits the rod well, since it's very utilitarian.
One advantage of the TFO is marks on the ferrules to use for lining up the guides when assembling the rod. This is a convenient little trick. I also think the oversized striping guides are good for casting and look nice.
Fish Fighting
My 5 weight Pro II caught everything from 8 pound brown trout to broodstock Atlantic salmon to 26 pound common carp. It handled all of these fights admirably with the sort of tipped protection and control you'd want in a 10′ 5 weight.
When I first got my 10 weight, I saw how skinny the butt section looked and worried it might not have the backbone to fight the fish I'd bought it for.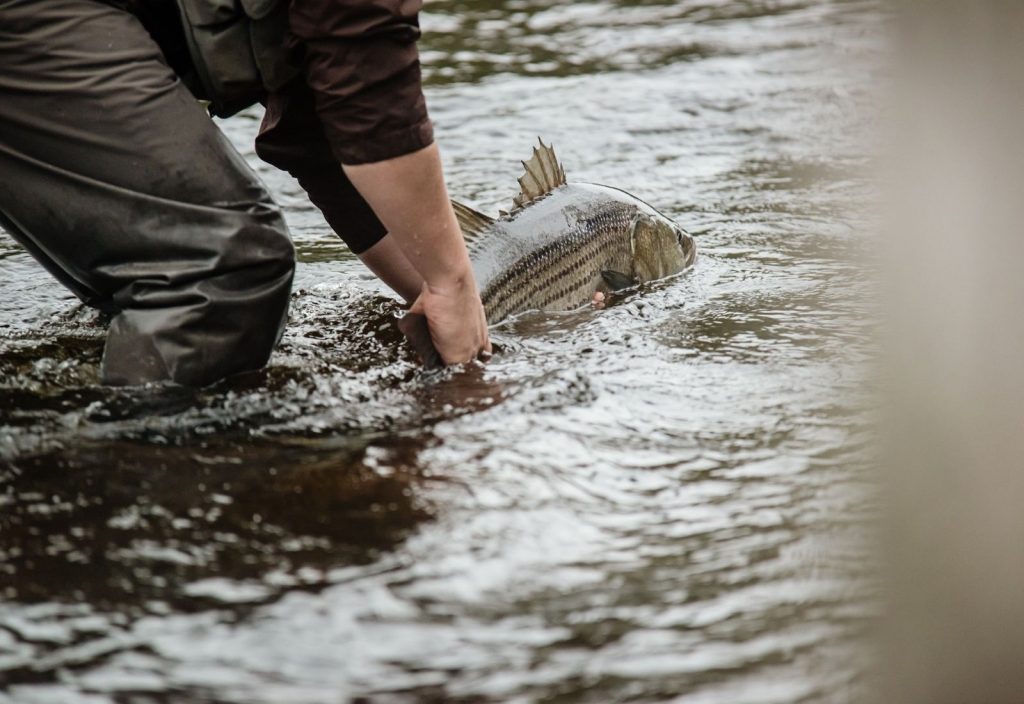 I was sorely mistaken. I've whooped 20 to 30 pound striped bass, large snook, and big little tunny in mere minutes with my 10 weight TFO Pro II. It has also scuffled with some large pike and made short work of them.
Versatility
TFO's Pro II lineup is suitable for a fantastic range of species, fly sizes, and presentations. Rods like the 8 and 10 weight can handle some truly large fish, and I wouldn't hesitate to fish them for shark, even. The 2 and 3 weight models are excellent for small wild trout streams and small farm pond bluegills.
The 5 weight models have just about every sort of river trout fishing adequately covered. The 6, 7, and 8 weight models are phenomenal for flats bonefish, carp, and topwater bass. The 10 foot length models are perfect for Great Lakes salmon and steelhead fishing.
Affordability
With every model costing less than 200 bucks, the TFO Pro II is great bang for your buck. This fly rod is an excellent second rod for a beginner looking to upgrade and will likely cement itself as a permanent tool in your arsenal. Or, if you have a few really nice fly rods already, the Pro II can be a very reliable backup.
Order the TFO Pro 2
If you like what you see in this TFO Pro 2 Review, you can order the rod on Amazon.
I also think the Pro II is well priced within the TFO lineup. Although the BVK has a better taper and an even better cast, the Signature II is a little less high quality. The TFO Pro II is well priced right between the two, which are each good fly rods in their own right.
Durability
I was a bit disappointed by how quickly the handle wore out on my 10 weight, but I did find a quick and easy repair for it with a winn grip. Every other part of my rods has held up to everything I expected and demanded them to, including some things I didn't think they'd survive.
The guides haven't begun to corrode despite years of saltwater exposure. I once used my 10 weight in 16o feet of water in Maine to haul cod and pollock up on a heavy drop shot rig with two flies and a sinking line. It got the job done without issue.
I even once had my 10 weight come out of the rod rack on the top of a friend's car while we were driving. It looked almost completely undamaged, so I fished it the rest of the day without issue. Since then, it has lasted an entire season of regular use on striped bass and other big fish and has not broken. Incidentally, something similar happened with my 5 weight and it didn't break then either.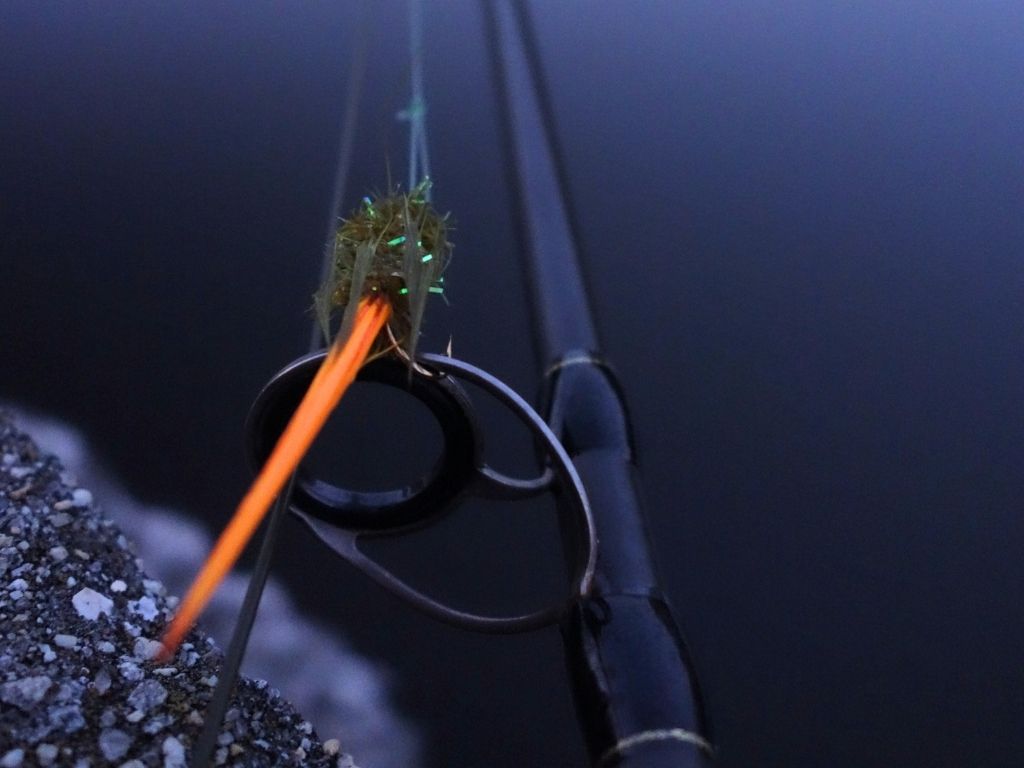 The only time I've broken a Pro II was when I jammed the ferrules and forced it too much trying to get the sections apart.
TFO Pro 2 Review: My Personal Thoughts
Pros:
Affordability
Taper
Distance
Accuracy
Good build quality
Warranty
Cons:
Handle wears easily
Only comes with rod sock, no tube
Having used Pro IIs all over the East Coast for dozens of fish species, I can say that I'm very impressed with its performance. The Pro II worked fabulously for trout, carp, bass, walleye, stripers, snook, redfish, salmon, and even cod. I know I can trust this rod, and it has earned a permanent place in my lineup.
The warranty and extra parts service TFO provides is also a huge plus. For the cost, this is a really good fly rod for beginners, intermediates, and experts alike.
Order the TFO Pro 2
If you like what you see in this TFO Pro 2 Review, you can order the rod on Amazon.
Although I do wish it came with a rod case and a more durable grip, these are issues that can easily be rectified. The aesthetics aren't great but aren't bad either. There really aren't many flaws to report with this fly rod.
After having written this TFO Pro II rod review, I can truly say they come highly recommended. There are precious few better fly rods on the market for a similar price.
Conclusion
This has been as thorough a TFO Pro II fly rod review as I could conduct. The Pro II is a great casting and fishing rod for a relatively low price. The large range of available models make it a very versatile rod. It can be used for most species of fish commonly targeted by fly fishers.
It excels in accuracy and distance and has a very good taper. The Pro II fits well for the uses of both beginner and experienced fly fishers. Temple Fork Outfitters backs their rods with an excellent warranty, and that says a lot about the company. If your Pro II breaks they will likely be able to find a way to take care of you.
I highly recommend the TFO Pro II. I hope you've enjoyed this TFO Pro 2 review. Have you owned one of these rods? If so, comment below what you think of it. Also, consider sharing this article. Tight lines!