This is a thorough examination of Cabela's CGR rod. The CGR or "Cabela's Glass Rod" saw a burst in popularity not long ago. I saw a lot of people using it. I bought one four years ago in the 5/6 weight model and have also owned a 2/3 weight model.
The hype suggested that this was a pretty good rod for the price, so I was excited to try it out. I've also been a fan of fiberglass fly rods for a long time and was interested in experimenting.
Why Trust My Cabela's CGR Review?
After I bought it, I ended up pitting the CGR against all sorts of fish in Florida, Montana, and the Northeast. I learned a lot about its strengths and weaknesses in that time. I fished in wind, on big water, in tight quarters, and for all sorts of species and sizes of fish.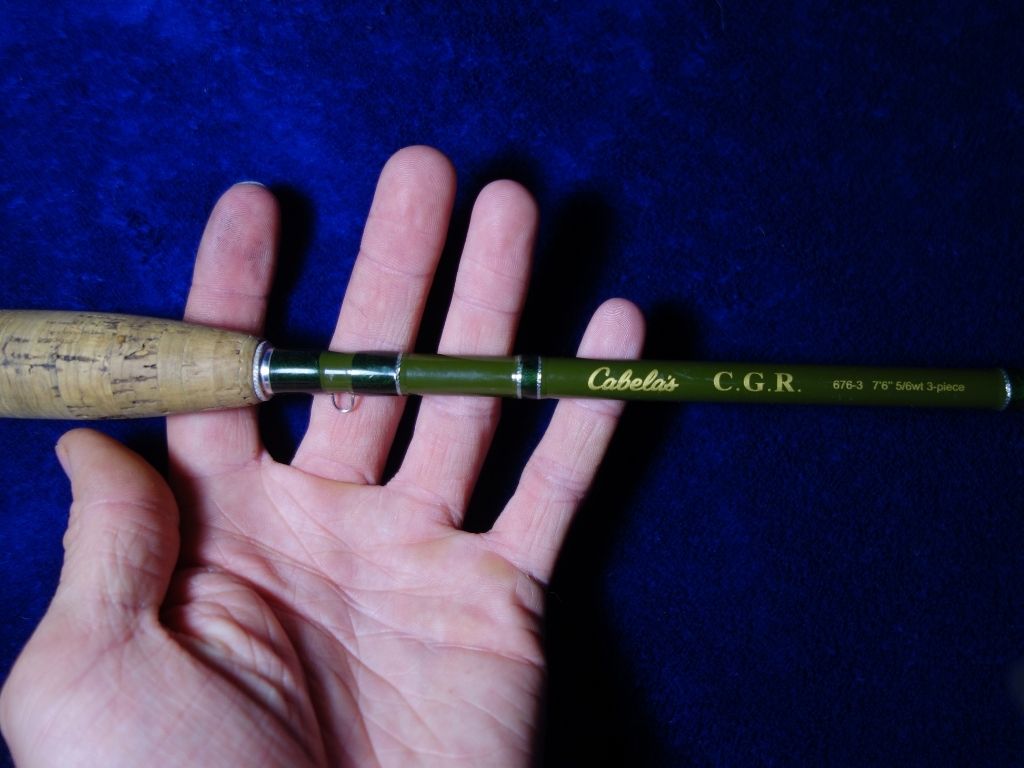 My long history with glass rods also gave me a good baseline. I've used them from the very start of my fly fishing career. This is, after all, a hands-on, tried-and-tested review of Cabela's CGR.
What's in the Box?
When you buy a Cabela's CGR you get the rod and the rod case and little else. The rod case itself is nice and the rod doesn't look bad right out of the box either.
Rod Case
When I got my CGR, it came with a light grey carry case. It's rigged with a nylon fabric around it and an insert with separate spaces for each rod piece. This is the type of rod case I prefer. It's tough and rugged, the rod sections can scrape against each other, and it packs away neatly. This is a good quality rod case.
The Rod
The CGR itself isn't a bad looking rod overall. It has the typical cork handle and on some models, a fighting butt. Most of the components look and feel nice. The blank is a pleasant forest green color.
It has spigot-style ferrules. However, some things immediately struck me as looking wrong, and I'll get more into that later.
Cabela's CGR Review Features & Specs
The Cabela's CGR is a fairly typical, inexpensive fiberglass rod overall. It is a full-flex blank with moderate-slow action. It casts quite well when balanced with the right fly line and reel. For the price, it seems like a good deal at first. It also has some major flaws, however.
Build Quality
Honestly, the build quality of the CGR is quite poor. The hand and reel seat look and feel fine, but it didn't take very long for the metal insert of the reel seats to come loose and need to be glued back into place.
The guides are all appropriately spaced and haven't broken off or rusted in my time fishing the rod.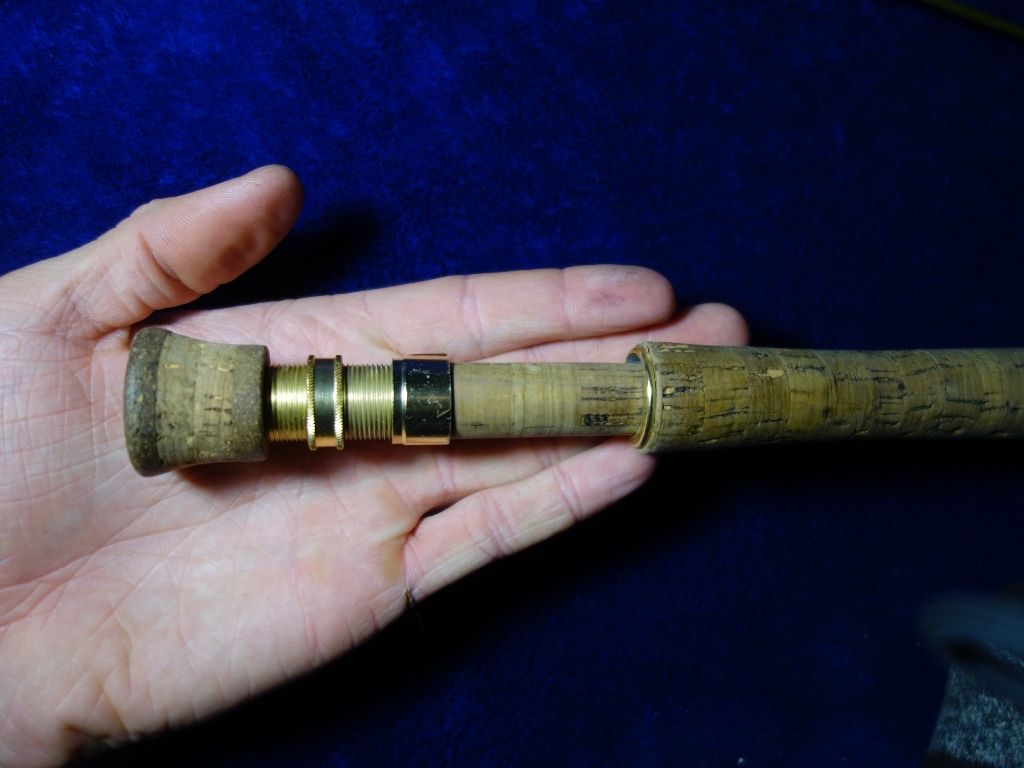 However, the tip eye was so absurdly large that I went so far as to take it off and replace it with a more appropriately-sized one. I can say the same about the CGR tip guides on the three I've owned. They were all too big.
Weight
Unfortunately, Cabela's doesn't list the physical weight of each CGR model, but as with any fiberglass rod the CGR is heavier than a graphite rod the same length would be. Cabela's has also changed the lineup and labels over the years, so what they have now doesn't match what they were offering when I first bought a CGR.
Available weights:
2wt, 6'2″
3wt, 5'9″
4wt, 6'6″
5wt, 7′
7/8wt, 7'6″
Warranty
The fantastic lifetime warranty Cabela's once had on all of its name brand rods is no longer company policy. It has become much more difficult to get a CGR repaired or replaced. If you are looking for a rod with a good warranty, look elsewhere.
Action
The CGR, being a full-flex fiberglass rod, has a slow action you might not be used to if you mostly fish with graphite fly rods. The slow action can be great with delicate presentations. Also, upsizing the fly line by one or two weights can give the rod a faster, more powerful cast.
Accuracy
The CGR is an accurate rod in the right hands. It does what it's told; if you cast accurately, the rod will deliver. That being said, short- and mid-range accuracy are much better with this rod than long-range.
Distance
None of the models of Cabela's CGR were made for distance casting. Fairly long roll casts to 45 or more feet are possible with all models. A really good caster could probably get a full fly line out of the rod tip with the 7/8wt model. I never found these rods to be good for long casts, however.
Tight Quarters
The CGR excels in tight quarters. The short lengths help, but it's also a great roll casting rod. With minimal space for a back cast, the CGR is still able to deliver a fly with a precision roll cast. I also found the rod to perform admirably with a bow-and-arrow cast.
Blank Quality
The rod blank itself — its taper and integrity — are very important. The taper of the CGR allows for comfortable and accurate casting at short and mid ranges. It is prone to breaking, though. Fiberglass fly rods are known to be tougher than graphite.
When I had these rods break on me under minimal and routine strain, I knew it was a problem. Other friends had similar problems. These rods seem to break at the male ferrule much too easily.
Handle
The Cabela's CGR handle is pretty run-of-the-mill for an inexpensive rod. The cork feels nice and looks good out of the box. They usually have a lot of fill though, and over time this will come out and the handle will lose a lot of its integrity.
Fish Fighting
The full-flex, deep bend of this rod makes it a lot of fun to fight fish with. The smaller sizes are great fun with trout and panfish. A big bluegill will really bend the 2 weight version! I've caught big trout and carp on the 5 weight and it performed well.
A rod with this sort of flex also does a lot to protect light tippets during the fight.
Versatility
The CGR lineup has a good variety in it. The 2 and 3 weight versions do well on small wild brook trout or cutthroat streams. The 4 weight is a blast for bass and panfish on poppers. The 5 weight is fantastic for fishing dry flies, nymphs, or streamers for larger trout.  The 7/8 weight model wouldn't be out of place for smaller saltwater species and big carp.
Affordability
Cabela's is selling the CGR for $69.99. I would consider this well within the range for anyone looking for a low budget fly rod. For this cost, it isn't a bad purchase.
Cabela's CGR Review: My Personal Thoughts
Pros:
Affordable
Casts well
Fun to fight fish on
Cos:
Mediocre build quality
Bad warranty service
I used the CGR on various ponds and streams in Connecticut, the Beaverkill and Delaware rivers in New York, and even the Yellowstone in Montana. I've had a lot of fun with this rod, and at times it really shined. Casting a parachute sulfur to a rising brown trout over two feet long and hooking and landing it was a moment I'll never forget.
The CGR came out on top with that fish. However, it has some flaws I just can't look past. These rods seem to break all too easily, and Cabela's warranty program isn't as good as it once was. The build quality is so poor I even felt the need to make my own modifications.
In Montana, I broke the rod at the ferrule on a normal hook set with 6x tippet and a dry fly. The rod should not be what fails in that situation.
Conclusion
After hearing so much hype about this rod, I was honestly a bit disappointed. Although it casts nicely, feels good, and handles fish well, it has some issues. I do believe that when the Cabela's CGR first came out, it was a better rod than it is today.
It was also backed by a great warranty at the time. Unfortunately, now it is a decent but still disappointing inexpensive fiberglass fly rod.
It would be nice if Cabela's worked out a few of the kinks, even if it meant offering it at a higher price. There is a lot of potential still, and I really like the taper of the blank. It is good at slow, delicate presentations. Yet when sized up, it is perfectly comfortable with heavy streamers and mid-range casts.
If you are looking for an inexpensive fiberglass fly rod, the CGR still isn't a bad place to look. But it does fall short of being as good as it was hyped up to be. The last thing I expected was to be writing a Cabela's CGR fly rod review that focused so heavily on its negatives.
Have you owned a Cabela's CGR? Comment below telling us about your experiences with this fly rod.