The best portable fish finders are small, compact, and lightweight without sacrificing screen clarity. They may contain other features that will help you out when you're spending a day on the water.
Portable fish finders can also make a great option for shore anglers or for people who have small boats. They're the best portable fish finder for kayaks, as well as for other small boats, such as canoes and jon boats.
So, if that sounds good to you, then check out the article below. There are five different products listed, along with descriptions of some of the best features of portable fish finders.
Best Fish Finders Video
What Is a Portable Fish Finder?
The best portable fish finder will meet all of your needs as an angler. On top of that, it'll also be very easy to carry or transport from your house to your boat.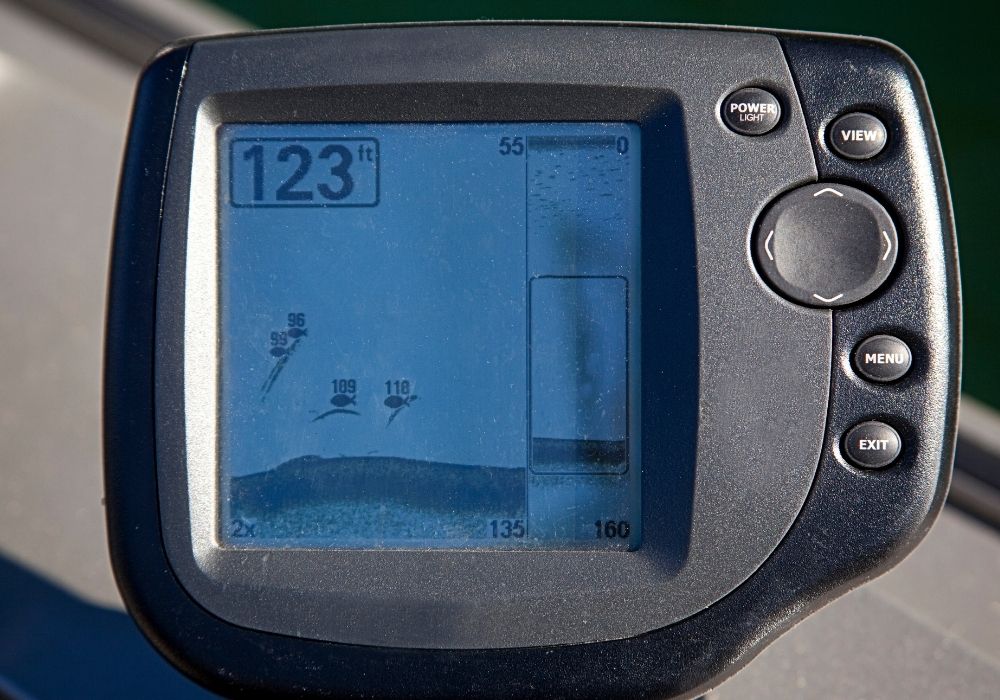 Some portable fish finders are small enough that they can even fit in your pocket. However, these may have some limitations that the bigger sizes do not.
Types of Portable Fish Finders
You may think that there's only one type of portable fish finder. There are actually several different types that you can utilize as an angler. It can be a little overwhelming at first, though. Have no fear because I'm going to break it down for you.
Below, I'll describe each type. So, read carefully and determine which one will be the best product for you and your style of fishing, because the wrong product could result in longer days with less time spent fishing.
Mountable
Some portable fish finders come with a mount, which allows you to easily take it on and off the boat. This makes it ideal for taking it with you when you finish up fishing for the day.
Ensure that the mount is secure, though. You don't want to lose your fish finder because the mount was either faulty or installed improperly. Most products come with the mount and screws so you don't have to worry about going out and picking anything up.
Fixed
If you come across a "fixed portable fish finder," then let me know, because that defeats the purpose of having a portable fish finder, doesn't it?
All portable fish finders are able to be moved by hand whenever you need to move them. That's the whole point of having a portable fish finder. So, if you need to be able to easily move around your fish finder, then stay away from anything that says fixed.
Portable
This is what we're all here for. Portable fish finders come in all different sizes. Most can be carried in a tackle box, by hand, or inside your pocket.
The smaller they are, the more portable they become. So, think about what you plan on doing with them and consider that factor in your decision when picking one out.
Handheld
This is the smaller version of a portable fish finder. These are small enough to fit inside of your hand. They're a similar size as a cell phone.
The screen may be smaller on these, so keep that in mind when purchasing one. It may be a little more difficult to see if you're not holding it closely because of how small the screen is.
Castable
This is a new type of handheld fish finder. These are a device that you attach to your fishing line, and then you cast it out into the spot where you want to see below the water.
Typically, these work by using an app on your smartphone. This is true with the newer models. Some of the older models might actually come with a handheld device that you use to see.
When to Use a Portable Fish Finder
When you want to have something small and lightweight in your pocket, tackle box, or floor of your boat, you'll want to be using a portable fish finder. The light weight makes it great for this.
However, don't think that you can't use one on larger boats as well. They make for easy visibility no matter where you are located on the boat. No longer do you have to find the screen. Just pop it out of your pocket and you can see what's beneath you.
Do You Really Need a Portable Fish Finder?
You don't need to have a portable fish finder in order to have success while fishing. You can easily locate structures with your eyes and find fish that way.
However, having a portable fish finder will only increase the number of fish you catch. You can only see so much with the naked eye, and a fish finder will open a whole new world to you as an angler.
Five Best Portable Fish Finders
Below, I'll go over five different portable fish finders. All of them are different sizes and have different features and prices.
So, think about what you need in a fish finder, and then apply that to the list below. I'm sure there will be at least one that meets most if not all of the needs you have as an angler.
Lowrance Hook2 Ice Fishing
Pros: Comes in several different sizes and includes a carrying case
Cons: Can be complicated and time-consuming to learn how to use the unit
If you want something to use for ice fishing and need it to be portable, then look no further than the Lowrance Hook2. It comes with a carrying case that's easy to pack and hold.
It has five different sized screens to choose from. So, you can pick exactly which size you need the screen to be so that you can tell exactly what you're looking at. This is great for the gear weight conscious angler as well.
It does seem to have some difficulty when you first start out using it, though. As with most technology, it just takes a little time to figure out exactly how to use it, and then you're off and running.
Product Specifications
Five different screen sizes: 4, 5, 7, 9, and 12 inch screen sizes
High resolution
SolarMax display
Auto tuning sonar
Doubles CHIRP coverage
Broadband sounder
High CHIRP
Downscan
Lucky Portable Fish Finder
Pros: Can show you up to 328 ft depth, great price
Cons: Can be difficult to mount the transducer
For the price, this might be the best fish finder on this list. It shows you everything you need to know so that you can go out and find those big fish lurking in your local lakes.
The Lucky Portable Fish Finder also comes with a TFT LCD color screen. This is clearer display so that you can detect exactly what's beneath your boat. No longer do you need to wonder about what you're seeing.
The display will also tell you the size of the fish beneath you. It'll show you three different sizes, so that you can decide if it's a bait fish or the sport fish that you're after.
Product Specifications
LCD color screen
Water depth
Water temp
Contour
Fish size
45 degree beam angle
328 foot depth
Venterior Portable Fish Finder
Pros: Wireless and also castable fish finder
Cons: Very short battery life
The Venterior Portable Fish Finder device is both wireless and castable, making it ideal for fishing in situations where you need your gear to be lightweight. It's perfect for shore anglers or for fishing from a kayak.
The device is also very easy to use. The learning curve is very low, so you'll be able to figure out this device pretty quickly. This will make it easier when you're out on the water.
The castable transducer is perfect for someone who wants to see what lies beneath the surface in an area you can't get to or when you want to have a stealthy approach. It's ideal for shore anglers.
Product Specifications
2.6 inch screen
131 foot depth
20 level sensitivity
10 level backlit brightness
125 kHz frequency
Sonar beam angle 135
Garmin Striker 4
Pros: Stores maps and comes with GPS
Cons: The screen is difficult to read if you're wearing polarized lenses
The Garmin Striker 4 device includes a transducer that's compatible with CHIRP sonar and scanning sonar. This gives you the ability to see everything beneath your boat.
The mapping software lets you create and store maps. This allows for 1′ contours and up to 2 million acres. It's perfect for the angler who needs a reference point for the lakes they're fishing.
You can also mark waypoints on the maps for the water that you plan on fishing, making it easy to find structures that you may have forgotten about or those lucky spots that always hold fish.
Product Specifications
4 inches long
Garmin CHIRP sonar
Quickdraw mapping
GPS included
Can store maps
Allows for water depth
Boat speed
Water temp
Humminbird Piranha 4
Pros: Comes with carrying case and has a 328 foot depth
Cons: Great at seeing the bottom and structure, but not so great at seeing fish
The Humminbird Piranha 4 is great for seeing the bottom of the river or the lake. However, the fish can sometimes be misrepresented, making it tough to determine what's a fish and what might just be floating in the water column.
That being said, the portability aspect of this device is great. It comes with its own case so that you can easily and quickly move it from the house or truck to your boat.
The 328 foot depth is great for fishing in just about any type of water. Very rarely are you going to be fishing in something deeper than that, so this will be ideal for 99% of users.
Product Specifications
4 inch display
Dual beam sonar
2400 watts
300 watt RMS
320 foot depth sonar
Sonar coverage is 28 degrees
Tilt and swivel mount
Carrying case
Features of the Best Portable Fish Finder
Now that I've covered some different products, I'll go over in some detail about what makes the best fish finders. Some of the features might not work for your style of fishing, so think about what you need and apply it to the list below.
GPS Integrated
GPS integration on your fish finder is a great feature to have. It can help you navigate waterways effectively and also safely. The best portable fish finder GPS combos will ensure you don't get lost.
Also, many of these GPS integrated maps also come with preloaded maps that you can add waypoints to. This makes it easier to find those great spots where you've caught fish before.
Cone Angle
Think of cone angle as an upside-down ice cream cone. It shoots out from the transducer, and then the transducer receives back the information that's within the range of the cone.
A larger cone will give you a larger area that you can see. It's ideal for fishing in deep waters and jigging. However, a narrow angle will give you a clearer view of what's directly beneath your boat.
Side Scan vs Down Scan
Side scan will give you an image of what's next to the boat, allowing you to see a laydown that might be twenty yards away and locate a fish sitting near it.
Down scan tells you exactly what's beneath the boat. This is great for fishing in deep water when you want to jig. This way you can hover over a fish and bounce your jig just in front of its face.
Mounting Type
The type of mount you use is important. A fixed mount is great for larger boats that have the ability to hold a larger and heavier fish finder.
Smaller boats, such as kayaks and canoes, do best with smaller fish finders. Portable ones are ideal. Look for a removable mount so you can take it with you when you need to go inside.
Vessel Specific Fish Finders
I touched on this in an earlier section. Vessel specific fish finders usually depend on what type of boat you have and also on what type of fish finder you have.
Larger fish finders do well on larger boats, while smaller fish finders do well on smaller boats. However, a portable fish finder can be used on any size boat, meaning they're very versatile.
Transducer
The transducer is the most important part of the fish finder. If you have a bad transducer, then you're going to have a bad fish finder. It's the heart of the device, and you need to ensure it's installed correctly.
It receives all of the information and sends it out. You need it to be able to read all of the information quickly and accurately. Without it, your fish finder is just a screen.
Display
The display is crucial in ensuring that you can actually see what you want to on the screen. Having a screen too small will impair you visually, so it can be difficult to locate fish and structure.
Look for something large enough for your style of fishing. Also, ensure that it works well in direct sunlight and in low light conditions. Fishing is done in both low and bright light. You need your screen to work in all conditions.
Frequency
Most frequencies on fish finders are between 15 kHz and 200 kHz, while the majority of fish finders are usually somewhere between 50 kHz and 200 kHz.
Anything above 200 kHz is be used for commercial fishing. This would be overkill for the average angler, so it doesn't need to be used.
Who Makes the Best Portable Fish Finder?
There are many different companies out there that produce fishing electronics. So, if you're new to the game, then it can be a little overwhelming when you're picking out a product.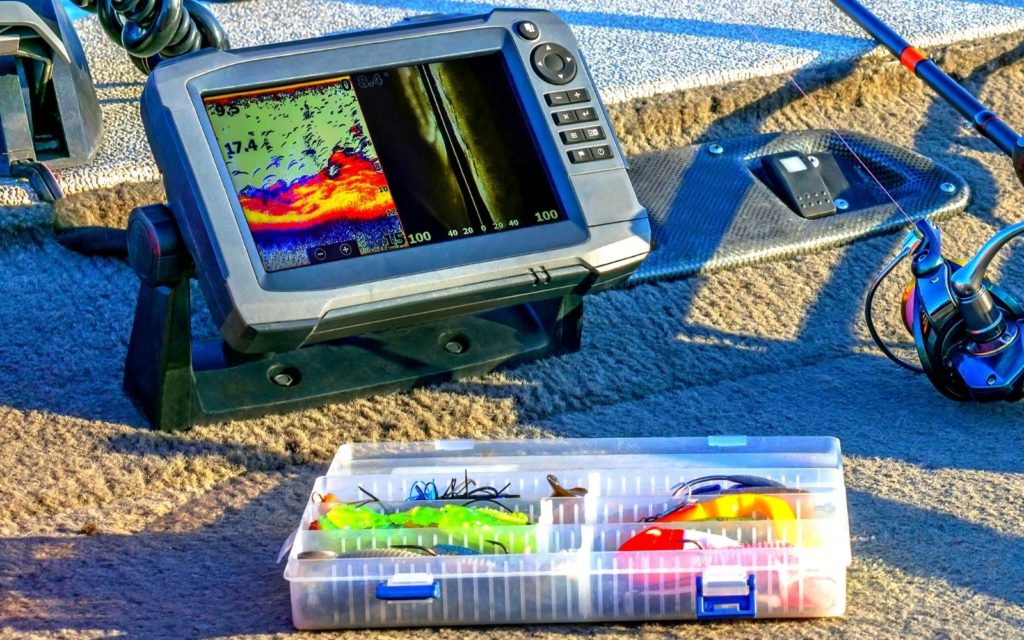 So, below I'll go over three different brands. Each of these makes phenomenal fish finders and all of them are quality products.
Humminbird
This is one of the best-known fishing electronics companies in the world. They make quality electronics, and their fish finders are top-notch. It's hard to go wrong when picking out a Humminbird.
They make a wide range of fish finders, from larger sizes that are ideal for larger boats, all the way down to smaller sizes as well as portable fish finders.
Lowrance
This company is similar to Humminbird. They make great products and are well known across the world for making some high-quality fishing electronics. Lowrance portable fish finders are great and are easy to use as well.
These can be slightly cheaper than Humminbird, making them perfect for the angler who's shopping on a budget or is cost-aware.
Garmin
The final name of the big three. If you want a great product, then any of the three brands I just mentioned will work well for you. Garmin portable fish finders will flat out help you catch more fish.
Garmin is always up to date on ensuring their products are on the cutting edge of technology. This puts you in the best possible position to catch more fish.
Review This Post
Conclusion
A portable fish finder is a great way to get out and enjoy the water. It's easy to move and use, and it's easy on the wallet as well, especially compared to larger sizes.
Portable fish finders are also great for shore anglers. You can easily carry one in a pocket or in your tackle box. Then, break it out whenever you feel the need to check out the bottom of the lake.
So, use the article above to help you make your decision. Check out the features I listed and see which ones you like the best. Then, take a look at the list of products and check them out. You might see the one you're looking for!