As an Amazon Associate I earn from qualifying purchases.
I'm a bit of a fishing tech geek to be honest, and I've been fishing with fish finders since I was a little kid trolling around lakes and ponds here in Virginia.
My dad was never into spending a lot on fishing gear, so he was definitely in the market for fish finders that offered the best value for money and I am the same way today.
I've purchased quite a few fish finders over the years, and while some of them have been expensive (apologies to my wife), I'm always looking for the best quality for the price.
Quick Look: Best Fish Finder for the Money
★ #1 Best Fish Finder for the Money Overall: Garmin Striker 5CV ★
So, if you want a great fish finder but don't want to drop a bunch of money on one, then check out the article below. I'll list some different products directly from my own research and personal experience, and go over some different features as well.
Looking for the best fishfinder overall? Check out my full guide to The Best Fish Finders including portable, mounted, fixed, and more.
Best Fish Finders Video
What Is a Fish Finder with a Great Value?
This is a product that will match all of the needs you have as an angler while staying under budget. Or, it will meet most of those needs while staying under budget.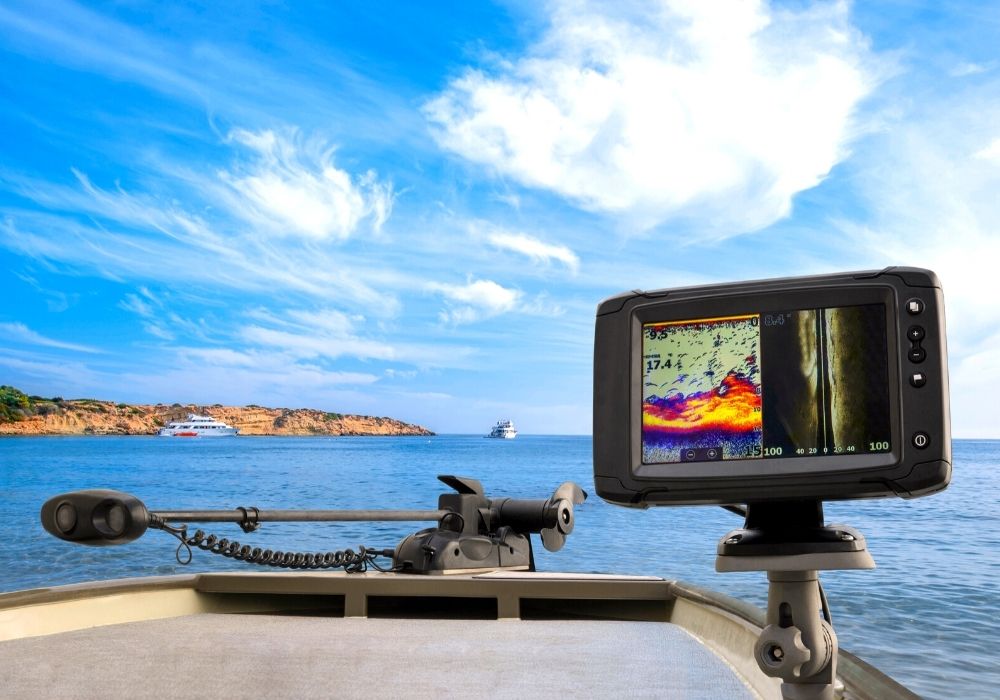 When searching for the best value, you may need to be flexible when it comes to having a product that will meet every need you have. You may be able to find one, but it's usually rare to do so.
Different Types of Fish Finders
Below, I'll go over some different types of fish finders. Each of these types of fish finder can be found on Amazon and can be utilized with your style of fishing.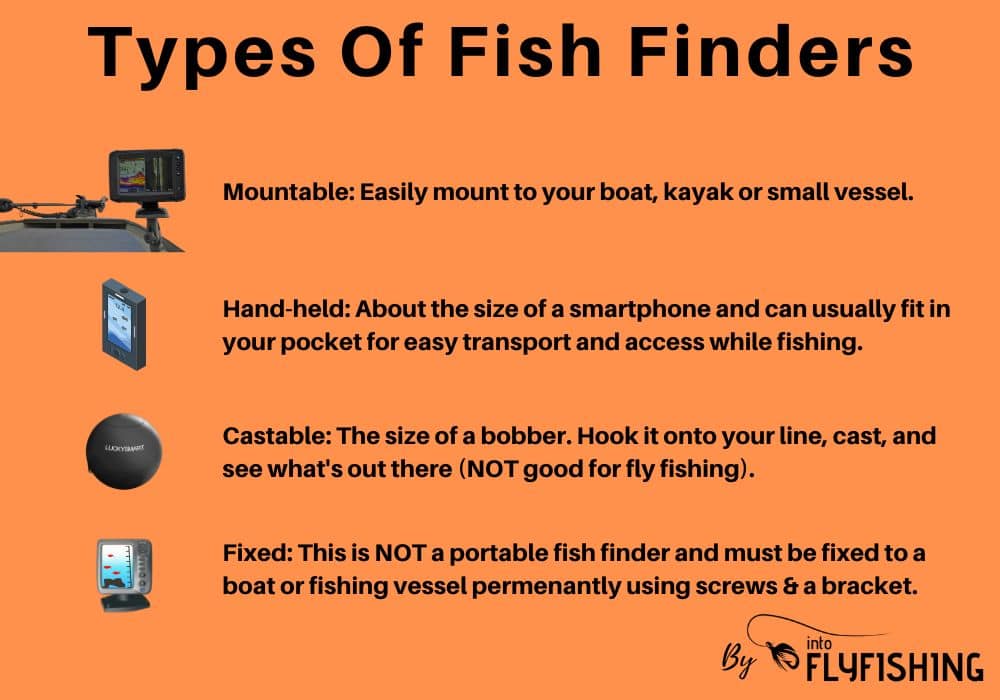 Take some time to think about which of these below would suit your style of fishing the best. Each has its own pros and cons, and the wrong one could lead to a more difficult day on the water.
Mountable
These are some of the most popular fish finders out there. Mountable finders are great because they can be easily and quickly set up on most boats.
It can be either a large or small boat. From a skiff to a kayak, mountable fish finders are very versatile. If mounting one on a small boat, take into account the weight, as larger finders can be heavy.
Fixed
Fixed fish finders are typically only used on larger boats, such as bass boats, skiffs, and boats for deep water ocean fishing. This is because these larger boats can handle something big and heavy.
Since they're fixed, you don't have to worry too much about them getting stolen off of the boat. Someone would have to get into the water or underneath the boat to disconnect everything.
Portable
Portable fish finders are ideal for small boats, ice fishing, or fishing from the shore. These can be easily carried in a pocket or a tackle box, so shore fishing is a breeze.
These are also great for putting in a kayak or a canoe, as they can be easily taken in and out. That way you don't have to worry about them getting stolen, and they can be kept safe.
Handheld
Similar to portable fish finders, these are great for someone who's fishing from a canoe, from a kayak, from shore, or ice fishing. They are extremely lightweight and easy to carry back and forth.
With handhelds, you also don't have to worry about mounting it anywhere. Drop the transducer in the water and you'll be using your finder within seconds.
Castable
These are a new fish finder that hasn't been out on the market for very long. Most of these are compatible with apps that will work on any type of smartphone.
All you need to do is cast out the transducer and it will give you an image of what's beneath it, just like a normal fish finder. These are also pretty cheap, too.
Check out our guide to the top fish finders on the market today!
When to Use a Fish Finder
Anytime you're out fishing you can use a fish finder. Now that there are so many different types to choose from, you're no longer limited to owning a bass boat.
Now you can have handheld, portable, or castable fish finders when out on the water. This makes it easier for all types of anglers to utilize this technology.
Do You Really Need a Fish Finder?
You don't need a fish finder to go fishing. However, it will only benefit you and will help increase the number of fish that you're going to catch during your time spent out on the water.
They can be incredibly useful once you've learned how to properly use them. The good news is that many of them have a very small learning curve, and most people can pick it up pretty quickly.
5 Best Fish Finders for the Money
Below, I'll go over five different fish finders that are great for the money. Each has its own pros and cons, so think about what you need for your own style of fishing and apply it below.
Some of these are better for shore fishing, and some are better for fishing from a boat. I'll mention which are better in the descriptions.
Garmin Striker 5CV
Pros: Includes transducer and wide scan sonar
Cons: No maps or charts come with it
If you want the best Garmin fish finder for the money, then this is the one. The price is great and you;ll get everything you need with this product.
It doesn't have mapping or GPS. So, don't think you can use it to help you navigate new waterways and get back to the boat ramp at the end of the day.
The Garmin Striker 5CV is a very barebones type of machine. There aren't many bells and whistles. However, it'll help you locate and catch more fish, which is all you can ask for.
I have had a couple Garmin fish finders over the years and they're great. I've had my eye on the Striker 5CV for some time and played around with it a bit at my local fishing store.
Product Specifications
Bright 5 inch display
CHIRP sonar
Quickdraw software
Speed
Depth
Temp
Deeper Start Castable Fish Finder
Pros: Portable and generates its own WiFi
Cons: Doesn't work in water that's under two feet
If you plan to fish from shore or from a kayak or canoe, then this Deeper Start Castable Fish Finder will be a great product for you. You can easily cast out and see what's in front of your spot without having to paddle over to it.
It creates its own WiFi signal so that you can use this product anywhere. Because it creates its own WiFi, you won't have to waste any of your data while using this product.
All you need to do is download the app onto your smartphone and you're ready to roll. The learning curve is simple and it won't take you long at all to figure out exactly how to use this device.
Product Specifications
Built-in WiFi
165 foot casting range
2.3 oz
Single beam scanning cone 40 degrees
Can work in water from 32 degrees to 104 degrees
Can save waypoints
6 hour battery life
2.5 hour recharge
Humminbird Helix 5
Pros: Great price and a powerful CHIRP sonar system
Cons: Not very easy to learn how to use
If you're looking for a great starter fish finder, then the Humminbird Helix 5 is the one for you. It comes at a great price so you don't have to spend too much money on your first fish finder.
It's also equipped with everything you need to get started. It may not have all the bells and whistles of the more expensive finders, but it has a great base.
It can be a little consuming to learn at first. However, after you have spent some time messing with it out on the water, you'll be ready to get it up and running.
Product Specifications
5 inch screen
Keypad control
GPS
Speed
Comes with transducer and mount
CHRIP sonar
Humminbird Helix 7
Pros: Very clear and accurate
Cons: No SD card or manual
The Humminbird Helix 7 is a great fish finder if you have a larger boat. It can also be mounted on a kayak or a canoe and will be functional. The extra weight might be too much, however, and with your other gear, it could be excessive.
The down scanning allows you to see exactly what's beneath your boat. This is ideal when you're fishing in very deep water. So, big lakes and the ocean are ideal for this fish finder.
It also has GPS, so you can create waypoints on the body of water that you're fishing. This makes it easier when you want to come back and try a spot again, or try spots where fish always hold.
Product Specifications
7 inch screen
Color screen
125 feet max depth
Comes with transducer
Two display modes
Can tell you temperature or speed as well as depth
Bracket included
Garmin Striker 4CV
Pros: Size and weight
Cons: Doesn't work well in shallow water
The Garmin Striker 4CV is the best kayak fish finder for the money. It's also the best portable fish finder for the money. It's small, lightweight, and portable. So, you'll be able to easily stow it in your pocket, tackle box, or just keep it out and not weigh down your boat.
It comes with everything you need to help you catch fish. No longer do you need to purchase a large boat just to install a fish finder.
It also features GPS. This way you can add waypoints to your system. So, you can go back and hit those hot spots that you found out in the lake.
Product Specifications
Transducer included
CHIRP sonar
Create and store maps
Bright display
4.3 inch screen
Features of the Best Fish Finder for the Money
Below, I'll go over some of the best features that you can find on fish finders with a great value. Check them out and see which one will work best for you.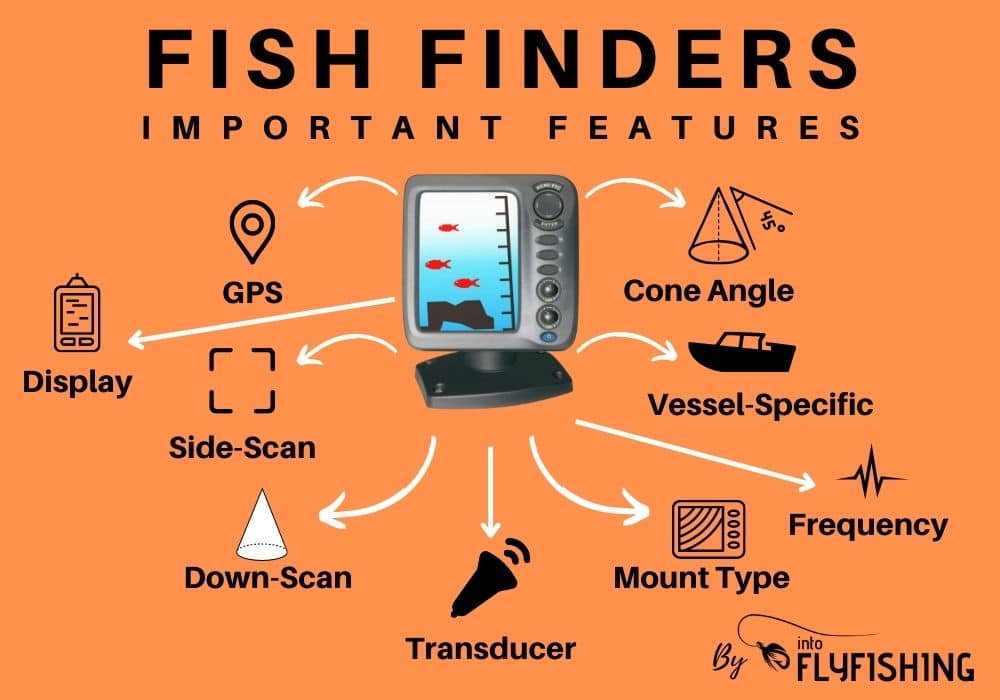 GPS Integrated
If you have GPS integration in your fishfinder, then that will open up a whole new world for you. Not only will you be able to easily move around in new water, but you can save waypoints.
This will save you a lot of time and effort in having to remember spots. Plus, you won't have to worry about getting back to the boat ramp before the sun goes down.
Side Scan vs Down Scan
Side scan gives you a picture of what's to the side of your boat. This is great if you want to take a look at a brush that is off to the side but don't want to float over it and spook fish.
The down scan shows what's directly beneath the boat. This is often the most useful because it will give you an accurate depiction of the depth, temperature, and what the bottom is made of.
Cone Angle
Think of the cone angle as an upside-down ice cream cone. The transducer sends out a beam of sound in that shape that then shoots down to the bottom of the lake.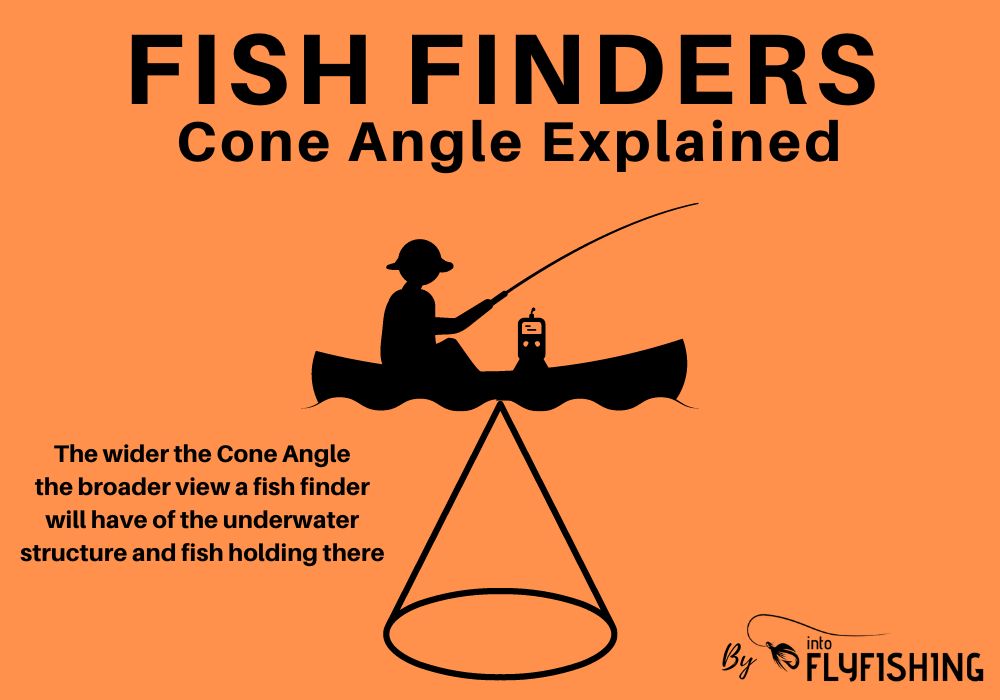 It receives the information and will give you an accurate depiction of what the bottom of the water looks like. The angle is important because it determines how much cone shoots out from the transducer.
Mounting Type
The mount depends on what you want for your own boat. Fixed mounts are great for larger boats that will be in choppy water and you need something sturdy.
Detachable is great for smaller boats like kayaks or canoes. This way you can take them out after a long day on the water and keep them secure.
Vessel Specific Fish Finder
Finding the best-valued fish finder won't be as easy as buying the cheapest or most expensive. You need to find something that will meet your budget as well as your needs.
So, take some time and figure out what your budget is, followed by what the needs of your style of fishing are. There may need to be some wiggle room, but the best one will meet most of those needs.
Transducer
How good your fishfinder operates will depend on how effective your transducer is. It's the most important part of the fish finder.
So, ensure that your transducer is effective and set up properly when you install it. Installing it wrong could lead to missed readings and missed opportunities to catch fish.
Display
The display for your fish finder is also important. You need something that is big enough to read, but not so big that it can weigh you down. This is especially true in a small boat.
Also, you need to think about color displays and brightness. The wrong brightness could affect the way you see the screen in bright and sunny conditions.
Frequency
Most fish finders have a frequency between 15 kHz and 200 kHz. However, you'll find that the majority of conventional fish finders are between 50 kHz and 200 kHz.
You might find some that are higher than 200 kHz. This is for commercial anglers. So, the weekend angler won't need something like this.
Who Makes the Best Fish Finders for the Money?
There are so many different companies that make electronics for anglers. It can be a little overwhelming if you don't know the makers and what their reputations are.
So, below I'll go over some of the best companies out there that make the best fish finders for the money. Check out the list and see which ones you like the best.
Humminbird
One of the best-known names in the world of fishing electronics, Humminbird has been helping anglers catch fish for decades, and now they have a great reputation.
They make some truly great fish finders, and they even make some that come at a solid price point. It's hard to go wrong with anything from this company, so pick and choose.
Garmin
Similar to Humminbird, Garmin also is a leading name in the world of fishing electronics. They've been around for years and make great products for all types of anglers.
They have a wide range of products available. So, check them out if you want a great product that's both reliable and durable.
Deeper Start
These guys are a new company, so they don't have the same history and reputation that Humminbird and Garmin have. However, that shouldn't scare you.
They make a great product that will help you catch more fish. So, check them out if you want a great castable fish finder that's an incredible value.
Review This Post
Conclusion
Hopefully, after checking out the article above, you'll see that finding the best-valued fish finder is not all that difficult.
So, use the list of features and products above to help guide you in finding the right fish finder for you. It may take a little bit of effort, but it will pay off in the end.
Each of the products above has its own pros and cons, so think about what you need and apply it to that list. Then, go ahead and check out Amazon for the fish finder you need!
Amazon and the Amazon logo are trademarks of Amazon.com, Inc, or its affiliates.
As a part of the Amazon Associates Program and other affiliate programs, Into Fly Fishing® may receive a comission if you order products through links on this website.