As an Amazon Associate I earn from qualifying purchases.
I've been fishing with a fish finder for more than 20 years and I still use them both in my kayaks, and on my small 25hp fishing boat. On top of that, I'm always researching them and I love playing with the newest versions at my local fishing stores.
My latest couple fish finders have had GPS included and now when I'm shopping for a new one, I'm always looking for a GPS combo.
With all of my experience researching, fishing, using (and breaking) a few fish finders, I think I'm the perfect person to write the guide on the best ones out there.
When looking for the best fish finder GPS combo, you should ensure you're picking something that's not only compatible with your boat, but also your wallet.
I've been fishing from kayaks and boats for more than a decade. I've rented, used, and tested countless fish finders on my local waters near Virginia. These are my top picks for the best fish finders on the market, based on my extensive knowledge and on my ongoing research.
Many of these can be very expensive. However, they don't have to be. Many different companies are now making GPS fish finders that are much more reasonably priced. There are still many expensive models, though.
Our Top 3 Fish Finder GPS Combos
Best Overall: Humminbird Helix 12
Best Budget: Garmin ECHOMAP
Best for Kayaks: Garmin 010
SEE FULL LIST: Click Here To Jump

So, if you're looking for a great GPS fish finder combo, check out the article below. I'll describe several different models. First, here's a quick look at the list.
Looking for the best fishfinder overall? Check out our full guide to The Best Fish Finders including portable, mounted, fixed, and more.
Quick Look: Best Fish Finder GPS Combo
★ Best Fish Finder GPS Combo: Humminbird 10 ★
Best Fish Finder Video
What Is a Fish Finder GPS Combo?
A fish finder GPS combo is exactly what it sounds like. It's a device that gives you the water depth and temperature, as well as allowing you to see the locations of sport fish, baitfish, and all kinds of humps and drop offs in the water.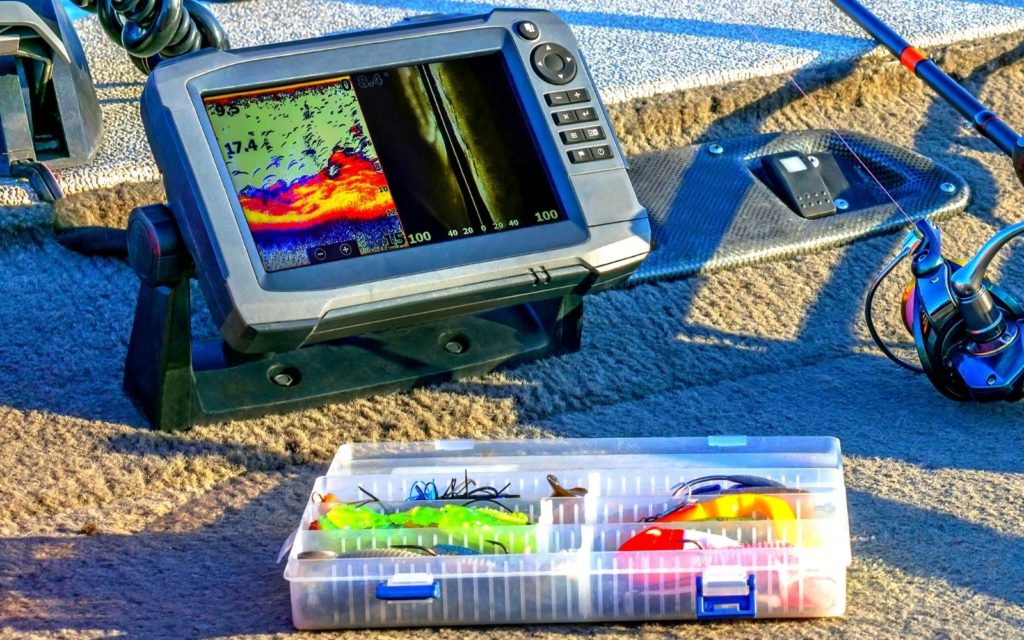 On top of all of those features, it'll give you the option to use GPS. This will let you easily plot out a map for your trip and find great fishing spots, while also helping you find your way back to the dock.
Types of Fish Finder GPS Combos
Below, I'll go over a few different types of fish finder GPS combos. Each has its own pros and cons, so think about what you need for your own fish finder and apply it to the list below.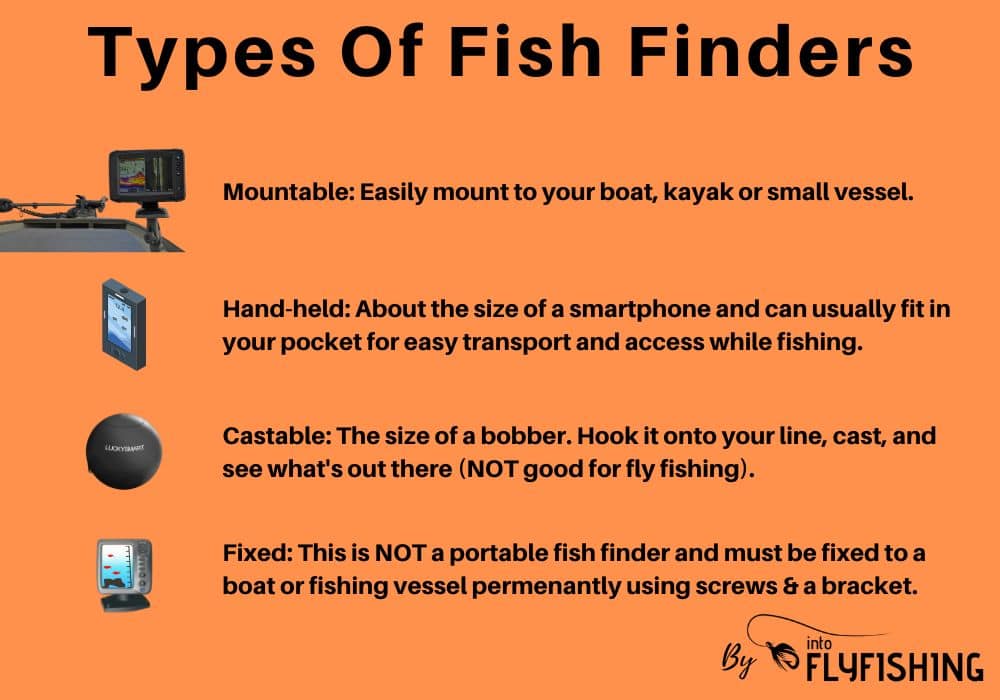 Also, the types of fish finder features below vary based on who you purchase from. Each company is slightly different, so reading reviews on them beforehand will help.
Mountable
These types of fish finders allow you to put them just about anywhere. They come with a mounting bracket, so you can screw it into any surface that will hold the bracket and screws.
Typically they are used on larger vessels. However, if you can create your own stand to mount the bracket on, then you could put this on a kayak, canoe, or some other small vessel.
Fixed
A fixed bracket is usually used on larger boats. Most likely you'll see these on skiffs, bass boats, pontoons, or other larger boats that may be in choppy water and need something more stable.
These are similar to mounted, although they are much stronger. That's why they're usually used on larger boats. This doesn't mean you can't put it on something smaller, though.
Portable
These are ideal for smaller boats, shore anglers, and ice fisherman. Being able to walk it right out of your house to the kayak or a fishing spot will help these types of anglers greatly.
These vary in size. Some of the larger ones might be difficult for kayak anglers because of the extra weight they need to lug around. Those anglers should look for something smaller and more portable.
Handheld
As I mentioned above, kayak and canoe anglers who don't have a fixed or mounted fish finder should use something smaller. That's where the handheld GPS fish finder combo comes in handy.
These are great because they can easily fit into the pocket or pack of the kayaker or canoeist. They're easy to transport. Shore anglers can use this as well, in order to utilize the GPS feature.
Castable
These are a relatively new fish finder, although they're gaining in popularity. Many of these are compatible with apps. So, all you have to do is download the app to your smartphone, cast out the bobber, and you're ready to go.
Be careful with these, as many aren't high quality. However, they can absolutely get the job done. Keep in mind that they'll only get better with time, too.
When to Use a Fish Finder GPS Combo
If you're going to be on a vessel and moving around a body of water, then a fish finder GPS combo will be incredibly useful to you. It'll help you catch more fish and make you more efficient.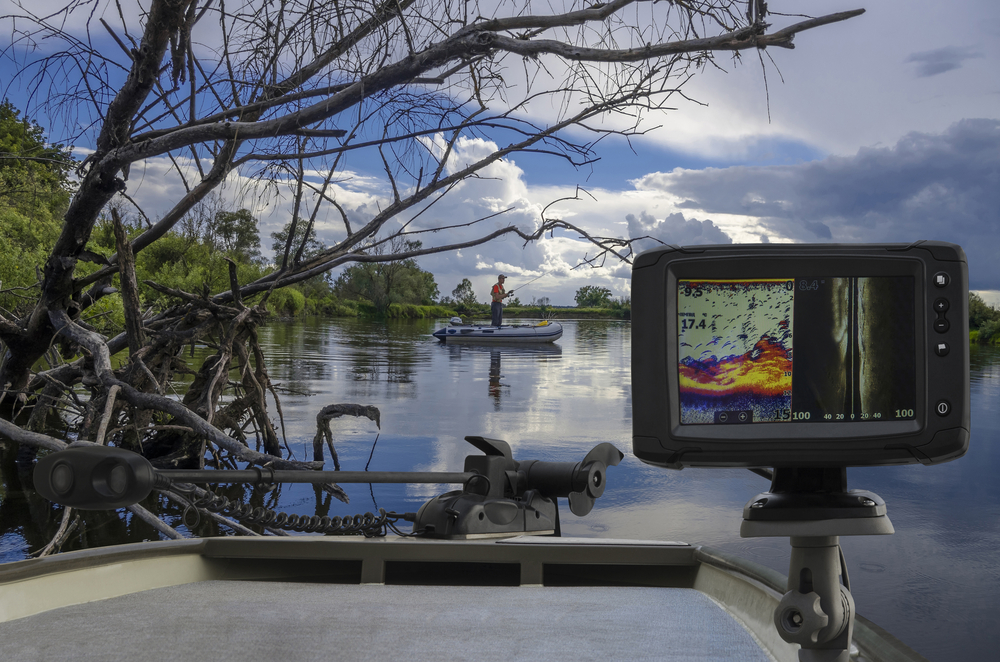 It can be a little more difficult if you plan on fishing on foot and working the shore, because you'll have to continuously recast or reset your fish finder. This is probably the only scenario I can think of when a fish finder might hinder you.
Do You Really Need a Fish Finder GPS Combo?
You don't actually need a fish finder, for the same reason you don't actually need a rod to fish. Bait, line, and a hook are all you need. Everything after that is just gravy.
That being said, a fish finder will only help you out on the water. It'll determine the water temperature and help you find different baitfish and gamefish, as well as drop offs, structure, and humps in the water.
Best Fish Finder GPS Combos
Below, I'll go over five different fish finder GPS combos. These are all great products that will help you out on the water.
Each has its own list of pros and cons, though. So, think about what you need as an angler and the style of fishing you do, and then apply that knowledge to the list below.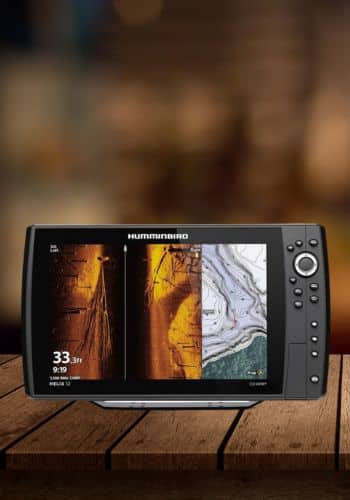 Humminbird Helix 12 (Added 2023)
Pros: Huge display, great interface, Bluetooth, additional maps available
Cons: High price tag (very high)
I added the Humminbird Helix 12 to this list of the best fish finder GPS combo in 2023, although it's been on the market since late 2018. Still, this is the best high-end fish finder with GPS on the market in 2023.
It has all features you'll need (so many that I'm still learning a lot of them), and it's incredibly accurate.
The enormous and crisp 12.1-inch display is worth the extra money, and the interface on this device is extremely intuitive. If you have the money to spend, this unit is definitely worth the added cost for all of the features and the great display.
Product Specifications:
12.1-inch touchscreen
Body: 14.86 x 8.83 x 4.25 inches
Dual spectrum CHIRP sonar
Best SONAR technology available
Ethernet networking & i-pilot link compatible
LakeMaster & Navionics charts compatible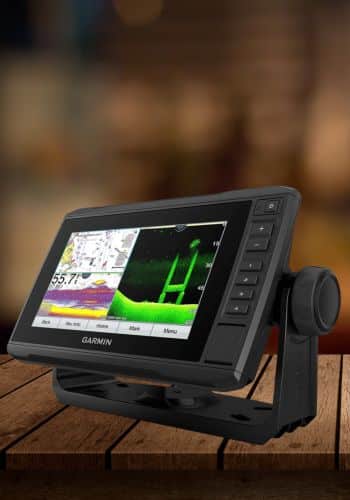 Garmin ECHOMAP
Pros: Big screen, sunlight-readable
Cons: Can be a pain to mount the bracket and device
This is the best Garmin fish finder GPS combo. The large and bright sunlight-readable touchscreen monitor is ideal for just about any angler. It allows you to see exactly what is to the side as well as beneath you while providing a crystal-clear image.
This setup also includes a GT24 transducer. This gives you high-quality images and also a very wide CHIRP, meaning you can see more of the bottom of the lake with this product.
The Garmin ECHOMAP also comes with a quick-release bail mount, making it easy to remove and take with you. This ensures that your fish finder is safe and secure, either inside your home or inside your vehicle.
Product Specifications
Seven-inch touchscreen
GT 24 transducer for clear imaging
Wide CHIRP
Preloaded coastal charts
Supports Panoptix sonar
Tilt and swivel mount
Releasable mount to take it with you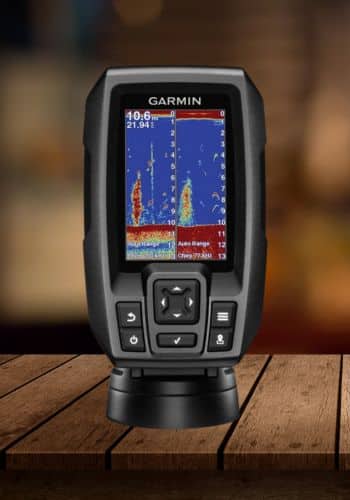 Garmin 010
Pros: Great price and small size
Cons: Requires a 12v battery, making it difficult to move around
High-frequency sonar gives you an incredible view beneath the water, allowing you to see everything you need from fish to structure, along with water temperature and a clear image. Garmin 010 is the best fish finder GPS combo for under $200.
It also has a waypoint map, making it great for marking locations where you have either caught fish before or in areas where fish will eventually be.
The small size and reasonable price are great for people who are looking to get into fishing from a boat and need a fish finder, but don't want to spend too much money.
Production Specifications
Great price
Waypoint map
1600 feet depth fresh water
750 feet depth salt water
CHIRP Sonar
Built-in flasher for sonar data when ice fishing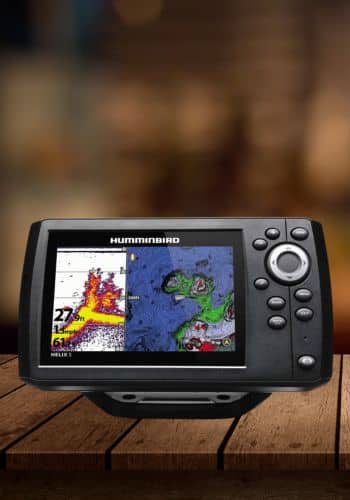 Humminbird Helix 10
Pros: Color display and GPS plotting
Cons: Poor materials for mounting
The Humminbird Helix 10 has a five-inch color display screen, allowing you to easily spot those nooks and crannies in lakes and rivers where fish could potentially be.
It also features GPS plotting. This way you can either save spots that have been successful for you in the past or mark a spot that has great structure or cover where you know fish could be in the future.
There's also a micro SD slot. This way you can save waypoints or spots, allowing you to have a whole backlog of lakes and rivers where you've been productive.
It can be a little difficult to learn everything about the device and how to properly save information. However, once the learning curve is gone, you'll be quickly using this device again and again.
Product Specifications
Five-inch diagonal screen
Keypad control
GPS Speed
Transom mount for transducer
CHIRP digital sonar
Dual beam plus
Internal GPS receiver
Humminbird basemap
Humminbird auto chart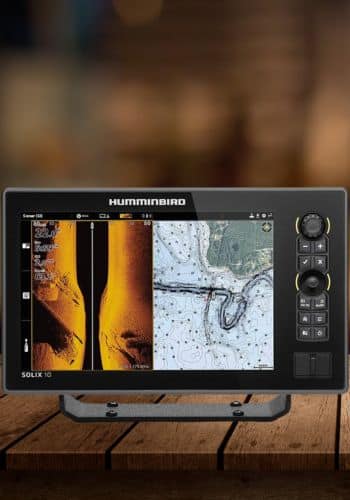 Humminbird Solix 10
Pros: Very clear, has down and side imaging
Cons: Potential software issues
Occasionally you could receive a product that has some software issues, which means the product won't work past the loading. Although it's a pain, especially for the price, all you need to do is send it back and Humminbird will replace it.
Despite this issue, this is a pretty remarkable product. It comes in two different display sizes. One is a ten-inch while the other is a twelve-inch size. They're ideal for a large picture, so you can see everything you need.
The dual spectrum CHIRP sonar allows you to see well defined fish on the screen. No longer will you be straining your eyes trying to figure out if its weeds or fish on your screen.
The Humminbird Solix 10 also has enhanced Bluetooth technology, allowing you to connect your phone to the device. This way, you can keep your phone safe in your pocket, as alerts and notifications will pop up on the screen.
Product Specifications
10-12 inch display
Touchscreen
Multigesture capability
Built-in GPS
Bluetooth connectivity
Dual micro SD slots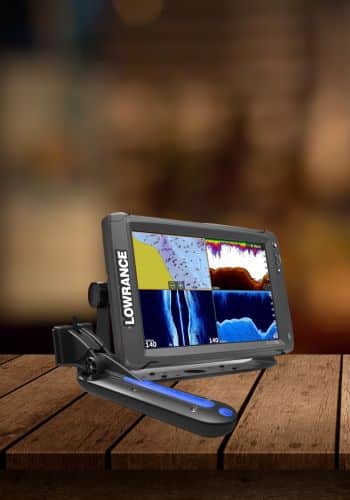 Lowrance Elite 12
Pros: Touchscreen display with WiFi and Bluetooth
Cons: Price
This Lowrance Elite 12 fish finder GPS combo is great. The touchscreen display allows for ease of use and a quick learning curve. It controls all features and allows you to easily and quickly navigate menus and scroll by just using touch.
You can also control this device by using your phone. This is thanks to the Bluetooth technology that the device is outfitted with. You can also hook it up to WiFi for easy device updates.
There is a single transducer that can be set up and mounted on the transom of your boat. It's very easy to do and doesn't require a full tool box in order to do so.
This product can also give you down scan, side scan, and CHIRP sonar, so you can have a complete view of the water beneath you and to the side.
Product Specifications
Touchscreen display
Bluetooth and WiFi
Easy setup
Down scan
Side scan
CHIRP sonar
Preloaded maps
GPS and fish finder
Upgradable
Features of the Best Fish Finders
Below, I'll go over some different features that you should be looking for when purchasing your own fish finder. Check out the list below and see which ones work best for your own fishing style.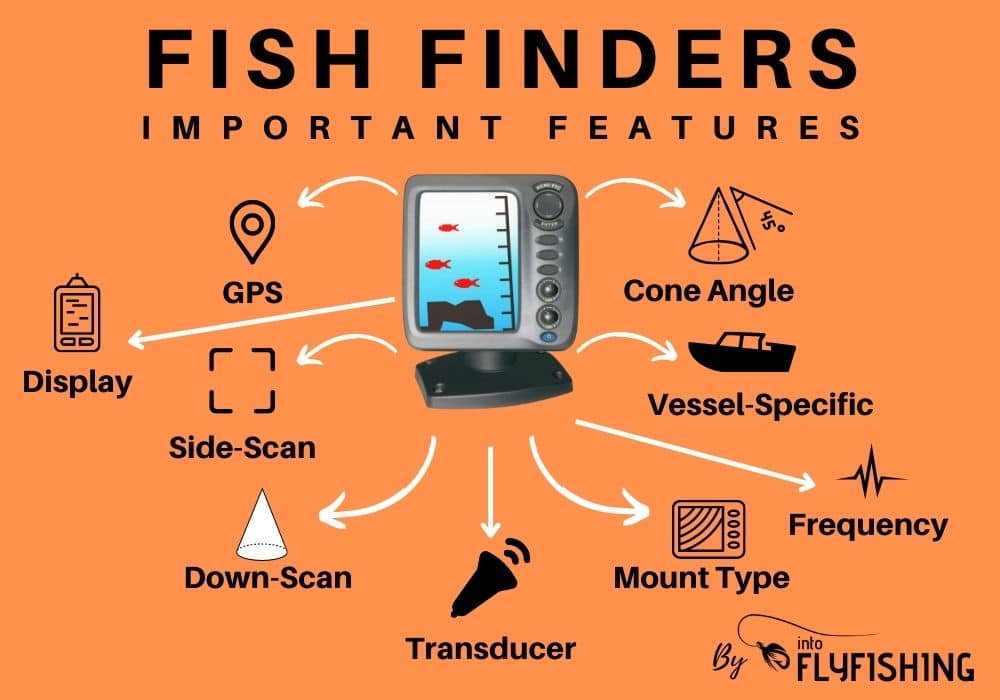 GPS Integrated
A fish finder that's GPS integrated will only be beneficial to you when out on the water. This is especially true when you're out on lakes and rivers that you've never been on before.
GPS integrated maps allow you to see the whole body of water. This way you can easily navigate to spots that look like fish might hold in or get yourself back to the dock after a long day.
Cone Angle
The degree of the cone angler varies by company and even by product. Depending on the size, it will show you a certain amount of the bottom of the lake.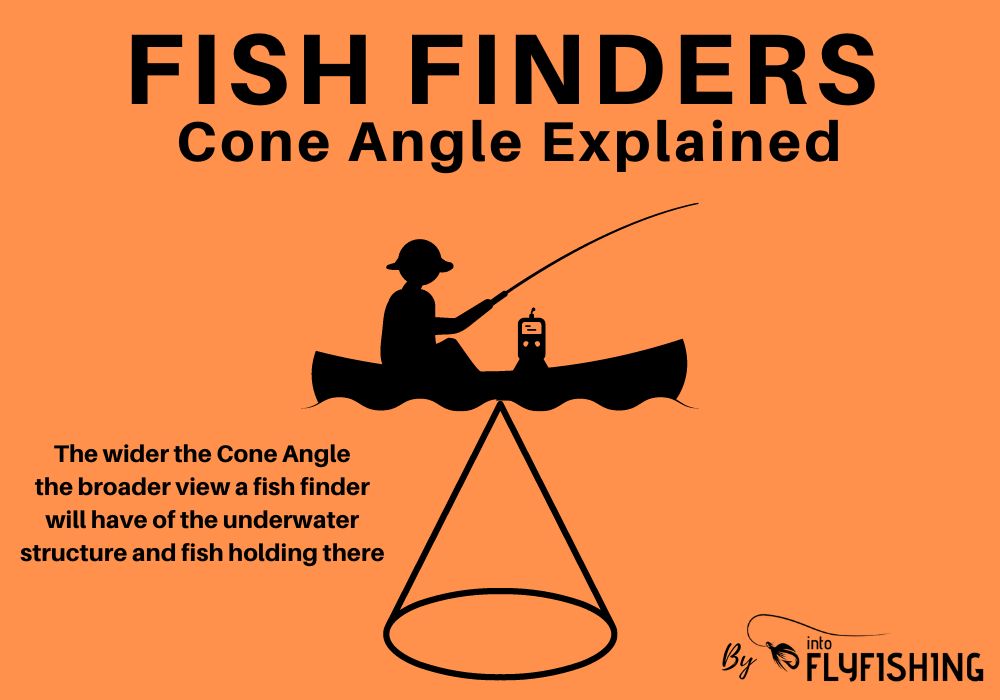 A product with a larger cone angle will show you more of the bottom, while a product with a small cone angle will give you a limited view of the bottom of the lake.
Side Scan vs Down Scan
Side scan will show you what the water around the sides of your boat looks like. How far off the side of the boat it shows depends on the brand as well as the product.
Down scan will show you what's below the boat. This is great for fishing in deep water where you can float right over the fish and drop a jig off the side to catch them that way.
Mounting Type
The mount type depends on what you need. Larger boats will most likely use a fixed or a mountable fish finder. This makes it easier and more secure in case you're encountering some chop.
Handhelds are great for small vessels, such as canoes, kayaks, and float tubes. These can be kept in a pocket or directly in front you, and can be easily taken out of the vessel.
Vessel Specific GPS Fish Finder Combos
Any vessel would benefit from using a fish finder with GPS. It'll give you a better picture of the lake and will also allow you to get around much easier than without one.
This is also true for anglers who prefer to shore fish. You can walk around the lake and see all the coves and drop offs that occur in spots that you're able to reach.
Transducer
Fish finders depend on the transducer to receive and send signals. It's the heart of the imaging system. Without it, you wouldn't be able to see clear images on the screen.
These can sometimes be a pain to mount. However, most of the newer models are becoming easier and easier to mount on the transom.
Display
The display is important because it allows you to see the images on the screen properly. A smaller screen can be difficult to read, and you could misread what the fish finder is trying to show you.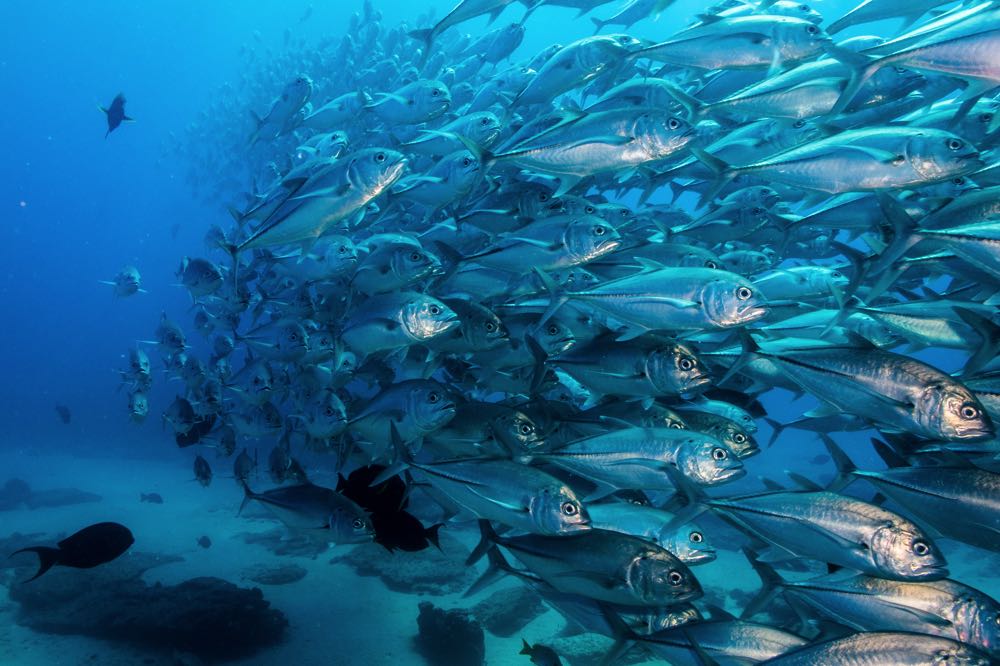 The quality and clarity of the screen is also important. Like most anglers, you'll most likely be fishing in very sunny conditions. So, you'll need a color screen that you can see with the sun beating down on it.
Frequency
Frequency usually ranges from 15 hz to 200 hz. However, you'll find that most of the fish finders on the market usually only have either 50 hz or 200 hz. Some have both.
A higher number is better for deeper fishing. So, if you plan on fishing deep lakes or in the ocean, a higher number is ideal. That would make the best offshore fish finder GPS combo. A smaller number is best for the everyday user going out on local lakes.
Who Makes the Best GPS Fish Finder Combos?
Below, I'll go over some of the best fish finder GPS combos. These will give you a better picture of the lake, so you can catch more fish.
So, if the above information sounds good, check out the information below. These products are great, but each has its own pros and cons. Think about what you need and apply it to the info below.
Garmin
Garmin is a great company when it comes to not only producing fish finders, but also producing angling electronics in general.
They have a wide range of products that are great for just about any angler. They have cheaper handheld models for anglers who don't want to drop too much money. Or, they have expensive models for anglers who live on the water.
Lowrance
One of the longest running marine technology companies, Lowrance has been leading the way in technology for anglers since the 1950s.
They've pioneered the game in fishing tech, while also keeping up with the times by continuing to evolve to give their customers the best products imaginable.
Humminbird
For over 40 years, Humminbird has kept one goal in mind: to improve anglers' days out on the water.
So far, they have. They've continued to evolve and give anglers of all backgrounds the ability to go out and catch more fish.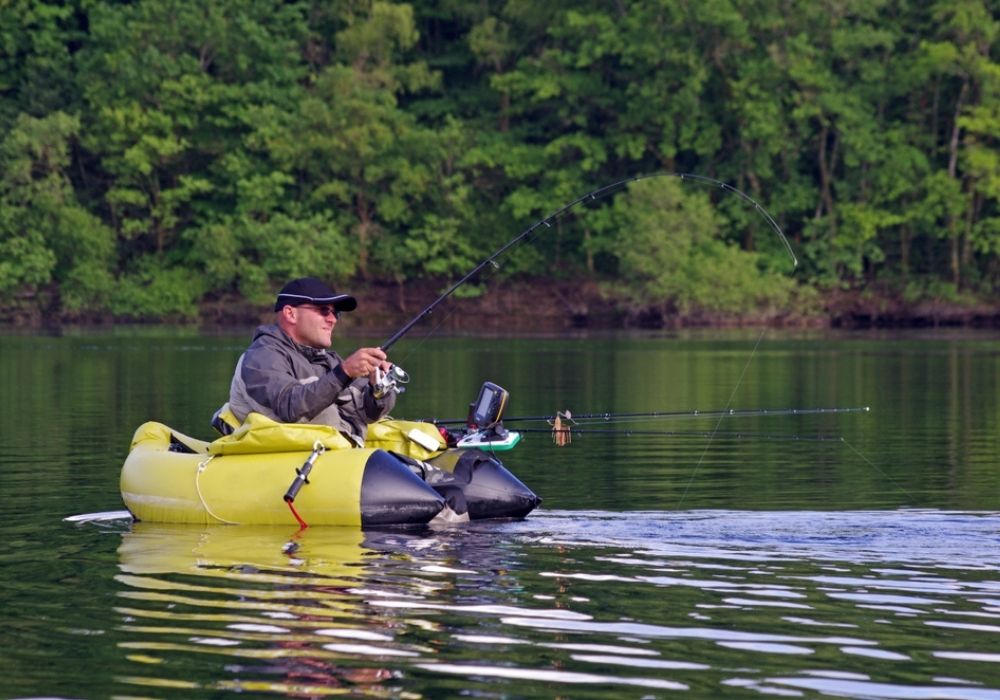 Raymarine
It doesn't matter if your passion is offshore, inshore, or freshwater fishing, Raymarine has a product that will help you out on the water by getting you on top of fish more often.
They have a wide range of products that perfectly meet the needs of their customers. Whether you're a hobby angler or pro on the circuit, Raymarine has a product for you.
Review This Post
Conclusion
Fish finders with GPS combos are a great way to get out and catch more fish, while also keeping you safe. It allows you to find new areas and also helps you navigate the water safely.
They can come with a little bit of a learning curve, but it's worth it. They'll only benefit you, and the time spent learning will result in more fish caught.
So, if the information above sounds good, check out the products I've listed. Feel free to head on over to Amazon and grab one for your next trip!
Amazon and the Amazon logo are trademarks of Amazon.com, Inc, or its affiliates.
As a part of the Amazon Associates Program and other affiliate programs, Into Fly Fishing® may receive a comission if you order products through links on this website.