Fishfinders are not known for their cheap prices. Usually, these can cost hundreds of dollars, or some of the nicer models can even get into the thousands. However, you don't always need to spend that much.
Many fishfinders these days can come at a much cheaper price. Allowing anglers the opportunity to see the bottom of the lake or the river without having to spend a mortgage payment or electronics.
Quick-Look: Best Fish Finder Under $200
★ #1 Best Fish Finder Overall: Lowrance Hook 2 ★
So, below, we're going to go over the best fish finder for under $200. Check them out and see which ones are going to be the best for you.
As an Amazon Associate I earn from qualifying purchases.
Best Fish Finder Video
https://youtu.be/S00vsjbioQU
What is a Fish Finder?
A fish finder allows you to see what is either directly beneath your boat or to the side of you. They can allow you to see either a school of baitfish or game fish, or a structure laying on the bottom.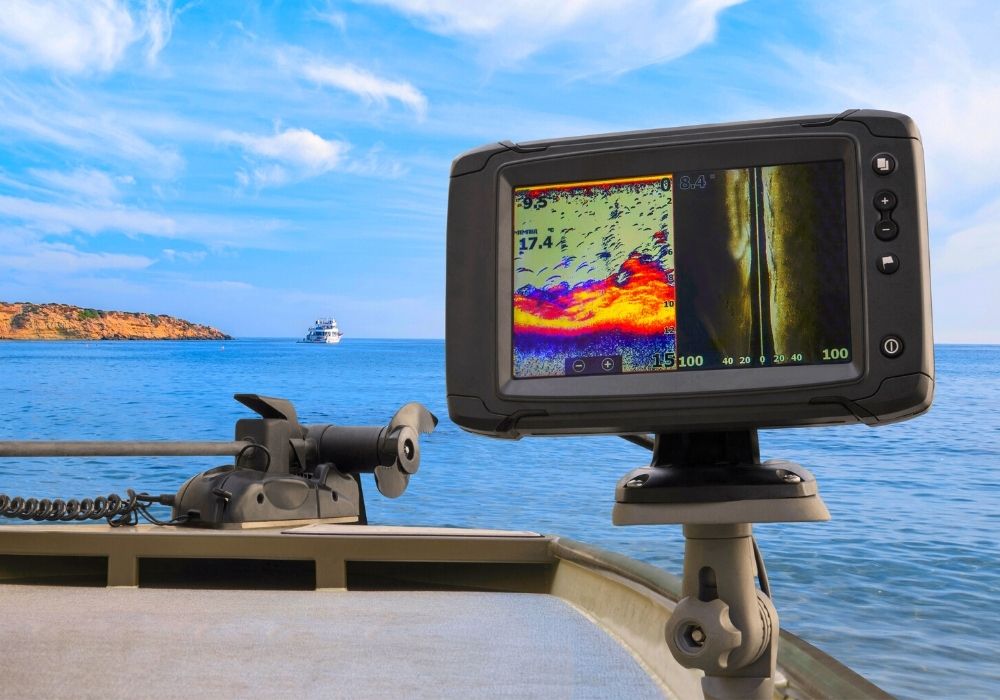 They are a pivotal tool for helping you succeed in fishing. Using your eyeballs will only get you so far. There is a whole world beneath your boat. So why not use every tool possible?
Types of Fish Finder for Under $200
Below, we're going to go over a few different types of fish finders as well as some different features. Each is going to have its own pros and cons so take a close look and see which is best for you.
The ones we have listed are all going to be under the $200 mark. So, they may not be as high quality as some of the other more expensive models. They will still put you on fish though.
Mountable
A mountable fish finder is going to be great for anglers who have a vessel that has an area for it. It may be tough on canoes or kayaks, but you could always rig up a spot that you could mount it.
Usually, these are made for boats that have an area created specifically for electronics. These usually come with mounting brackets and frames in the package so you won't have to purchase any extra items.
Fixed
These are going to be similar to mountable. They are going to be mounted somewhere on your vessel in a permanent spot that cannot be moved. Thus the term "fixed".
Again, putting these on a kayak or a canoe may not be the best idea. Typically these are best to be used on a bigger boat. Such as a pontoon, bass boat, skiff, flats boat, or any other type of large vessel.
Portable
Many portable fish finders are going to be in the price range that we are looking at now. They're usually not the highest quality, but there are some companies out there that are bucking that trend and making great products.
These are ideal for anglers in smaller vessels, or for ice fisherman. Something that can be easily dropped into the ice or off the side of the boat and then carried with you is ideal for these conditions.
Handheld
These are also great for ice fishing and smaller vessels. They can be easily carried back and forth on the ice to your car. Or from your house to your canoe, kayak, or float tube. Making it one of the best fish finders for a small boat.
The screens will be smaller but that shouldn't deter you. They are still going to give an accurate picture of the bottom of the lake. Allowing you to see fish, drop-offs, and structure.
Castable
These are relatively new to the fishing world. However, they can still be just as effective as the mountable, handheld, or portable options out there.
They work exactly the same except you cast it out to where you want. Then it sends the signal back to the screen. This is ideal for anglers who are fishing from shore. Or, who don't want to spook fish beneath them.
When To Use a Fish Finder?
You can use a fish finder whenever you want. They make them for just about any type of fishing scenario that you can think of. Each of them will help you catch fish.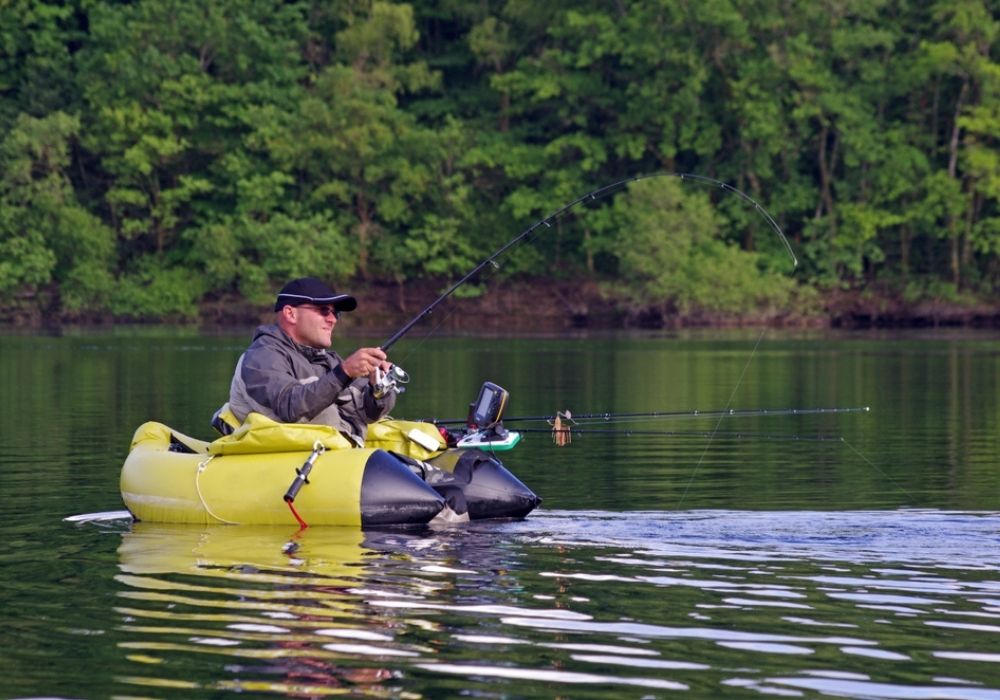 However, it makes more sense to use a fish finder in deeper water that you can't see at the bottom. Making it ideal for large rivers, lakes, and oceans. Shallow and clear rivers aren't needed but it can be an added bonus.
Do You Really Need a Fish Finder?
All you need in order to fish is a hook, line, and bait. Everything after that is just gravy. So, you don't technically need a fish finder. However, it is only going to add to the experience.
Fishing with your eyes will only get you so far. Seeing a fallen tree on the bank and knowing bass hold onto structure is one thing. Seeing a drop off on your radar is another and allows you to attack spots you wouldn't know of.
Five Best Fish Finders for Under $200
Below, we're going to cover five different fish finders. Each of them is going to have their own pros and cons. So, take a close look and see which one is going to be the best for you.
Also, make sure you take into consideration the style you plan on fishing. If fishing from the shore then a castable finder is best. If you have a bass boat then a mountable or fixed finder is ideal.
A quick note, this list has been updated for 2021 but we still find that these fishfinders make the list of the best. There were only a couple of upgrades released so far in 2021 and when considering the price, we think these still rank the best.
When new fish finders under $200 are released in 2021, we'll update them and add them to this list if we think they are worthy.
1. Lucky Handheld Portable Fish Finder
Pros – Easy to transport and a great price
Cons – Great for targeting structure, locating fish is hit or miss
The handheld device will show you the water depth, fish and structure location, shot and tall weeds, and sand or rocky bottom. It can also be worn around the neck if you don't want to hold it.
The Lucky Handheld Portable Fish Finder product is great for kayak fishing or canoe fishing. However, it can be utilized for just about any type of fishing. Easily use it on larger boats, ice fishing, or shore fishing to see the water temp.
It can measure anywhere from three feet to three hundred and thirty feet. Meaning it is extremely versatile and can be used in just about any fishing situation you can think of.
Product Specifications
Two inch LCD Display
Blue LED Backlighting
3-330 feet range
45 Degree beam angle
twenty five foot cable length
2. Garmin Striker 4
Pros – Very clear and a strong CHIRP sonar
Cons – Needs a 12V battery in order to be portable
Despite its small size, it is not as portable as you would originally believe. It needs to be run on a 12V battery, which adds another piece of gear you would need to bring on your boat.
Besides that the Garmin Striker 4 is a solid piece of equipment for under $200. The screen is very clear and despite its small size will be able to pick up everything that it is showing you on the screen.
It also has a waypoint map. Allowing you to easily mark great spots where fish like to hangout or new brush piles that you may have found while traversing the lake. Also, it may be the best fish finder GPS combo.
Product Specifications
Comes with GPS
Easy to use
CHIRP sonar
3.5 inch color screen
Dual-frequency available either 50hz or 200hz
3. Lowrance Hook 2
Pros – Auto tuning and easy to navigate the screen
Cons – Works great for showing depth and temp but not clear on structure and fish
The device is extremely easy to use. Making the learning curve very small so you spend more time out on the water fishing and less time figuring out your electronics.
Despite it being so easy to use, it does not do a very good job of showing fish, or structure. it's not very clear. However, if you just want to know the temp and water depth then this is ideal.
The Lowrance Hook 2 is also very easy to set up. It has a single transducer that can be mounted on the transom, inside the hull, or on the trolling motor.
Product Specifications
Solarmax Display
Automated Sonar Settings
Double the sonar coverage
Optimized keypad
One touch access
Comes with Transducer
Transducer fits any fishing situation
4. Outdoor XF 03
Pros – Long-lasting battery and brightness adjustment
Cons – Can be difficult to learn when first starting
This is a great handheld device. it is easy to carry and bring with you no matter where you plan on fishing. You can also strap it around your wrist so it can be more secure.
It has a five sensor brightness adjustor. So you can use it in just about any type of light that you may find yourself out in. It's never too bright to use this.
The Outdoor XF 03 device is also waterproof and also cold resistant. So, no need to worry about too much water getting on your device and ruining it. The same goes for any cold-weather fishing you plan on doing.
Product Specifications
.6-36 Meter range
2.4 inch LCD screen
Wireless
Can support 3 mobile apps
five gear brightness settings
continuous battery life is eight hours
cold resistant
waterproof
pull-resistant cables
5. Ibobber Reel Sonar Wireless Bobber
Pros – Is a free app and has 10 hours of battery life
Cons – Connection consistency
Ibobber Reel Sonar Wireless Bobber is great if you want to fish from shore but don't know the depth you're fishing or the water temp. This device will allow you to know all of that information so you can catch more fish. Might be one of the best fish finders for 2021.
All you need to do is download the free app on your smartphone and you're ready to start using this device. It's easy to figure out and even easier to carry around with you.
The connection is not great, so if you want to cast over fifty feet away then be ready for some inconsistencies. However, if you want to keep it close then it is going to be a great product.
Product Specifications
Built in LED beacon
10 hours of battery life
Bluetooth smart sync
GPS tagging
Trip log
Weather
Social media features
Features of the Best Fish Finders for Under $200
Below, we're going to go over some of the features you should be thinking about when purchasing a fish finder. Each has its own pros and cons so think about your own style and fishing and which will work best for you.
GPS Integrated
Having GPS on your fish finder isn't something you need to have. However, when you don't have it, then it becomes glaringly obvious that it is needed.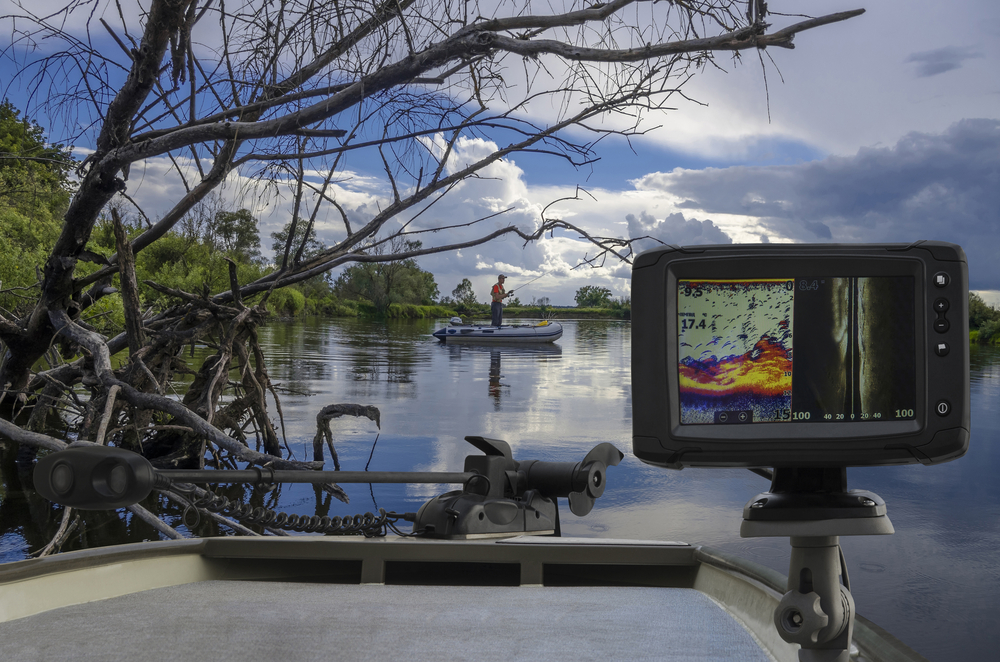 Having GPS will ensure you can find your way around the lake. Whether it be to your favorite fishing spot, or back to the dock at the end of the day. GPS is something you should look for.
Cone Angle
The cone angle will determine how much of the water column and bottom of the lake or river that you're able to see. The wider the cone angler the greater the view is and the more you'll be able to locate.
Cheaper models typically won't have a great cone angle. However, that does not mean they won't be effective. A smaller cone angle can still locate fish and structure that will inevitably lead to more fish caught.
Side Scan Vs. Down Scan
Side scan is going to allow you to see what is to the side of your boat. As opposed to what is beneath it. This is great when you're in shallower water and don't want to take your boat on top of the fish.
Down scan is ideal for deeper water. This allows you to see directly what's beneath your boat. So you know the water temp, depth, as well as if there are any game fish or baitfish in the area.
Mounting Type
The mount type will all depend on what type of vessel you have. A larger boat such as a pontoon, flats boat, or bass boat will require something with a more permanent mount.
Smaller vessels such as canoes or kayaks will usually not have the space needed for a permanent mount. So something that can be easily taken in by hand or a temporary mount is ideal.
Vessel Specific Fish Finders for Under $200
Like we mentioned above, a permanent mount is going to be better for larger vessels because there is more space for them on board.
Where smaller vessels are better off using handheld or mountable units that they can take on and off each time they go to the water. This just makes it easier to travel.
Transducer
A good fish finder will rely upon the transducer in order to receive good signals. The transducer is the main part of the echo system for the fish finder.
This is the part of the fish finder that changes the electrical pulses into sound waves. This allows the whole operation to work. So a good transducer is very important.
Display
The display will depend on the maker. Some brands like to have a smaller screen in order to save on money. So a $200 fish finder will most likely have a smaller screen.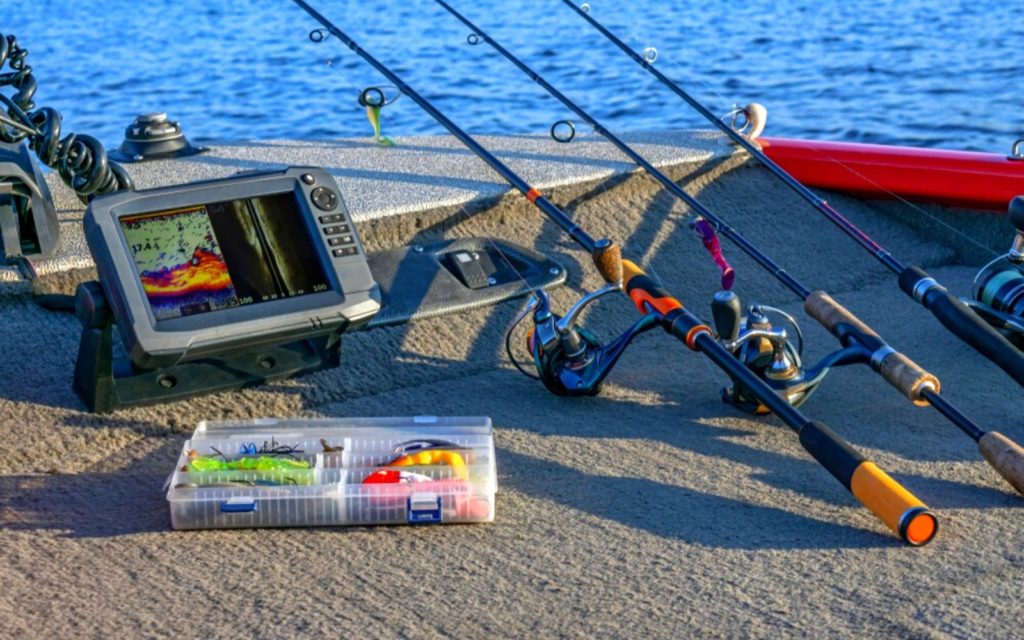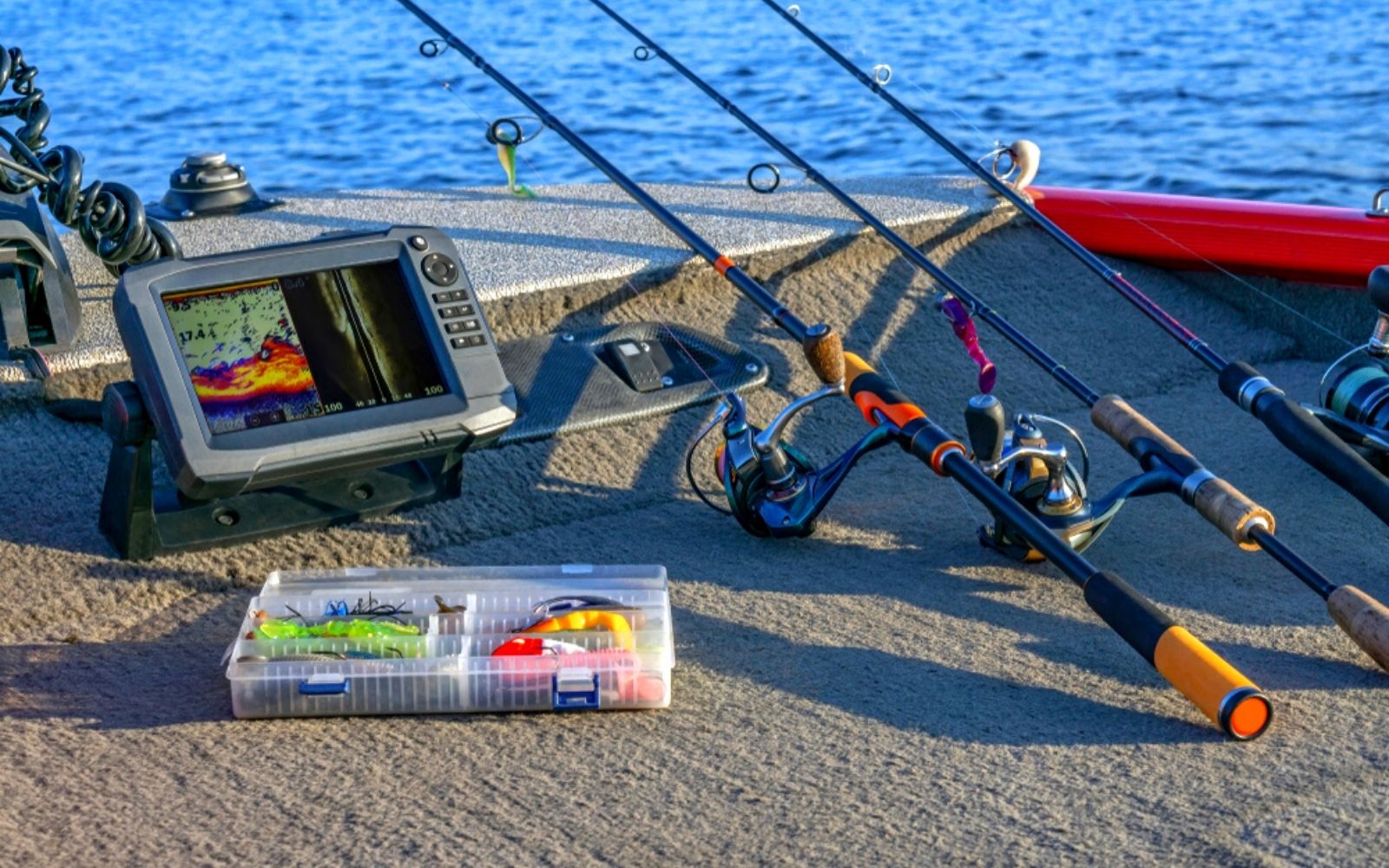 Also, the display could man the brightness or whether the screen is LCD or not. You can find great screens for cheap so don't think a cheap fish finder is going to have a bad screen.
Frequency
Typically, the frequency for fish finders is going to be somewhere between 15hz or 200 hz. That being said, the majority of the fish finders out in the market are either going to be 200hz or 50hz.
Some really high end can be found at 400hz. This is rare and is usually only used by professional anglers who are hauling in boat loads of fish and need this high of a frequency.
Who Makes the Best Fish Finders for Under $200?
There are many different companies that make fish finders now. It's not just the big three that you know. There are many different smaller operations that are now coming out with great fishing electronics.
So, below, we're going to go over four different brands that make great fish finders. Check them out and see which one is going to be the brand for you.
Lowrance
One of the most popular names in the fishing world today, Lowrance fish finders are some of the finest out there. They have been making incredible fishing electronics for decades. They have a strong reputation and are always leading the pack in fish finder technology.
Most of their products are going to be over $200. However, as we listed above they do have a product that is cheaper. So, check them out whether you want a premier product or something a little bit cheaper.
Outdoor
This seems to be a new company that only has produced the one product that we posted above. However, it's a great opening product. It's easy to lug around and can benefit many different anglers.
Coming in at a solid price point it would be great for use from just about anyone. Even someone who uses the latest and the greatest would be happy using the Outdoor XF03.
Ibobber Reel
With the popularity of the smartphone, it was only a matter of time until someone figured out a way to incorporate fish finding technology into the phone for easy use.
Ibobber was one of the first companies to do so. Effectively changing the fishing game for many anglers. This is especially true for many of us who can only fish from shore.
Garmin
Garmin is similar to Lowrance. They are a very well known brand in the fishing world and have a great reputation. Most of their items will be more expensive however they do have some cheaper items as well.
It's hard to go wrong with a Garmin fish finder product. So, take your time to figure out exactly what you want in a fish finder and then apply that knowledge to the products that they have. You'll find exactly what you're looking for.
Review This Post
Conclusion
Fish finders are a great way to get to know the body of water that you're fishing. They allow you to see the depth of the water as well as what else may lay beneath the surface such as rock, or brush piles.
It can be a little overwhelming picking out your fish finder though. So, hopefully, the article above gives you the knowledge you need to gout and purchase one yourself.
They can be a great asset to have. Regardless of how expensive they are. Remember, you don't need to purchase the most expensive fish finder to have success.