As an Amazon Associate I earn from qualifying purchases.
I've been fly fishing in southern Virginia for more than 15 years and ever since I first started trolling with my dad from our small 50hp boat when I was 12, I've fished with a fish finder.
Picking out the best fish finder for small boats will not only help you find fish more effectively from smaller vessels but also locate and save key areas where fish could be hanging out in the future.
So, it will help you catch fish now, and you can also mark key spots on the river or lake. That way you can always come back and try those spots.
Quick Answer: Best Fish Finders For Small Boats
If you're looking to find fish and locate habitat, then check out the article below. I'm going to go over some of the best small boat fish finders.
We also have a "Best Fish Finders Overall" article if you're looking for all types of fish finders.
Check Out Our Video
What is a Fish Finder?
A fish finder is able to tell you several pieces of information that will be critical for helping you find and catch fish. It's possible to fish without one, but it can make a world of difference.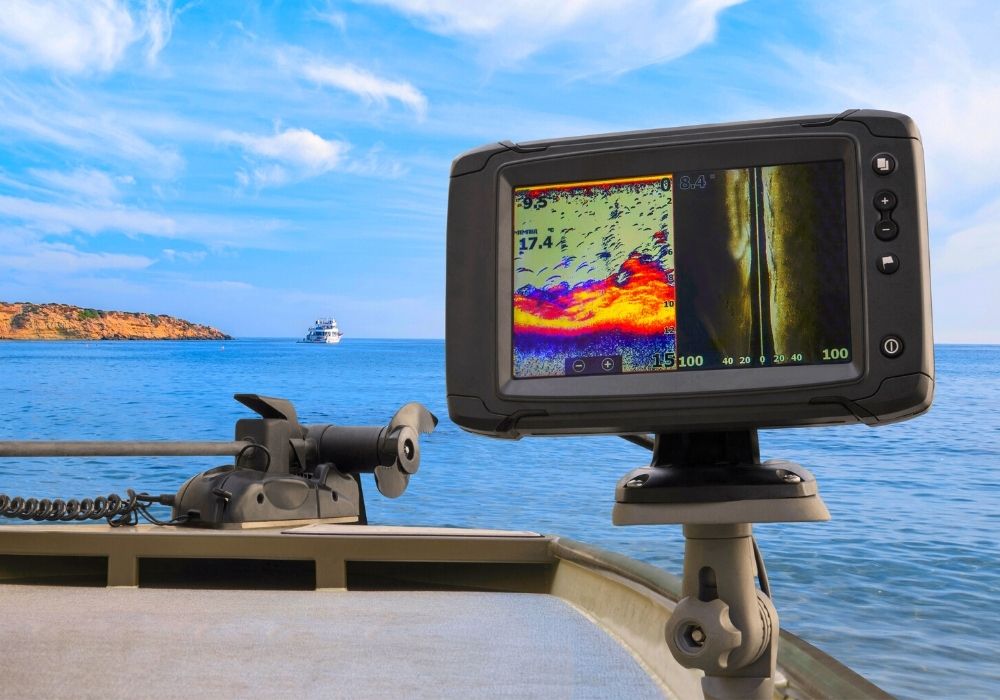 Fish finders can tell you the depth of the water and the temperature, along with where the structure, bait fish, and game fish you're after are. Plus, some different models also have GPS.
Types of Fish Finders
There are several different types of fish finders. Each has its own pros and cons, so you should do careful research before you purchase one, as it may not work well for your style.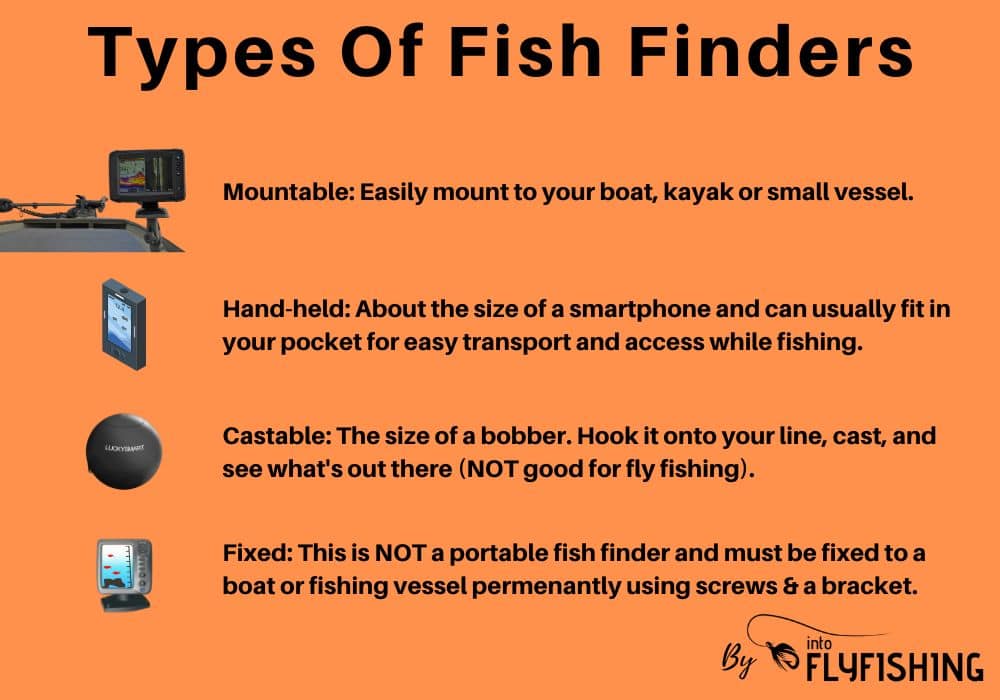 So, below I'll go over a few different kinds to help you figure out which one will work best for you. Check them out and then see which one you can best utilize.
Mountable
These are great because they come with a bracket that's fixed onto the boat. However, the actual unit can be taken on and off. So, the next morning, it can easily be mounted back on.
This is great for travel or if you have your boat parked outside. You can now take off your electronics and keep them safe inside your house or your truck.
Fixed
If you have a boat that you know will be safe and secure, then a fixed fish finder will be fine. These are great because it's just one less thing you have to worry about taking on and off the boat at the end of the day.
These are also great if you'll be fishing in choppy conditions. Since it's fixed onto the boat, it has a low likelihood of falling off from waves crashing and bouncing off the boat.
Portable
Portable fish finders are great for when you have a smaller boat or a kayak. These can be easily installed before getting to the lake, or right at the water's edge.
The portability factor makes it easy to transfer to and from your boat and reduces weight. This is great when you're fishing from a kayak or float tube that may have a weight limit.
Handheld
These are similar to portable fish finders. They can be very easy to travel with and can also be lighter, making them great for use on smaller boats that have a weight limit.
Typically, these aren't as nice as some of the bigger units that you mount. However, I think you'll find that these will capture all the information you need and help you catch more fish.
Castable
These are great for shore anglers. Since you're not actually in the water, you can cast out the transmitter and see the depth, water temperature, and even if there are any fish below the transmitter.
You can also use this when fishing out on boats too. They're typically not as efficient as some of the handheld models out there, but are a great option for a cheaper model.
When to Use a Fish Finder
You can use a fish finder whenever you want to. Since you can now utilize castable fish finders, anyone can go out to their favorite water and have some sort of idea of what the bottom of the lake looks like.
The only time you may not need one is when you're floating a shallow or clear river. Typically the water depth will change rapidly, and the only thing you may need to know is the water temperature.
Do You Really Need a Fish Finder?
If you want to go fishing, then you don't actually need a fish finder. You can find success without one by looking for lay downs and other structure that your naked eye is able to find.
However, it will make a world of difference if you use a fish finder. It can help you locate bait fish, humps, drop-offs, sunken structure, and even schools of game fish.
5 Best Fish Finders for Small Boats
Below, I'll go over five different products. These are the best fish finders for smaller boats. Kayaks, jon boats, paddleboards, and all other small vessels will be able to utilize the products below.
Check them out and see which one will work the best for your fishing style. Each has its own pros and cons, so take a close look and figure out which one will be the best for you.
1. Humminbird Helix 5 Series
Pros: Has sonar and comes with a transducer, great value
Cons: Smaller screen, not as bright, older model
The Humminbird Helix 5 is a great overall fish finder. It can be mounted onto smaller boats and even comes with its own transducer. Setting it up is a breeze.
It has side imaging, down imaging, speed, and GPS. It comes with sonar, water temperature, and a depth indicator, meaning this isn't just a barebones unit. But, it has everything you need to locate fish.
It comes in at a solid price point, so a beginner angler can purchase this and learn how to use a fish finder properly without having to spend too much on a unit.
Product Specifications
5 inch color display
Dual beam sonar
4000 watts power output
Comes with a transducer
Broadband CHIRP
Easy use and set up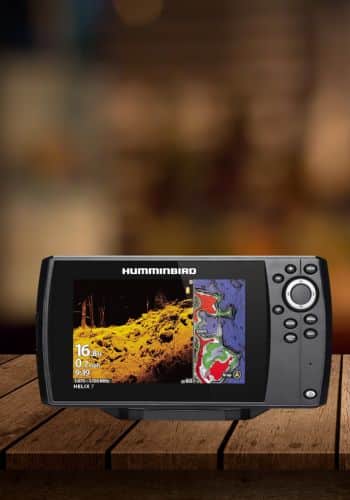 2. Humminbird Helix 7
Pros: GPS and down imaging
Cons: No SD card with loaded maps
If you're looking to take the next step in purchasing a fish finder, then the Humminbird Helix 7 is a great option. It won't break the bank but it has a solid price point, especially considering what it can do.
With down imaging, this unit can tell you exactly what's beneath your boat. It's ideal for fishing in deep lakes, rivers, or in salt water. You can easily tell the water temperature and the depth as well.
The device can give you coverage up to 125 feet, which is more than enough for most anglers out there. If you plan on taking this into really deep salt water, then maybe another unit would be better.
Product Specifications
7 inch screen
Mega down imaging
125 feet depth
Low Q CHIRP transducer
Dual spectrum CHIRP
Two display modes
Includes transducer and mounting hardware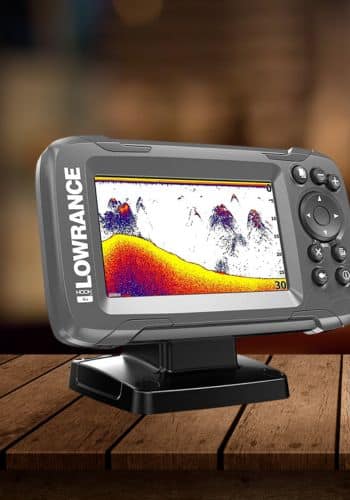 3. Lowrance Hook 2 GPS
Pros: Comes equipped with GPS and wide sonar coverage
Cons: Can have issues with consistent depth readings
If you're looking for a unit that has GPS capabilities, then this is the one for you. A GPS unit on your boat is great for when you're fishing big water that may be new to you. This allows you to traverse the lake without getting lost.
The Lowrance Hook 2 is also very easy to use, which makes it ideal for someone who may be new to the world of fish finders. You can easily mount it, set it up, and learn to use it out on the water.
It gives you traditional CHIRP sonar, so you can tell if there is any structure below you. It also tells you the water temperature, depth, and if there are any schools of fish beneath your boat.
Product Specifications
Auto tuning sonar
Easy to use menu options
Wide sonar coverage
Easy setup
Mount on transom, hull, or trolling motor
GPS
Transducer included in the package
4. Joywee Phiradar
Pros: Small and compact size, accurate depth readings
Cons: Can be a pain to install and set up to a battery
If you're looking for a great fish finder that can be used on a kayak, then this is the one for you. The Joywee Phiradar is small enough that it won't add too much extra weight, which is important when kayak fishing.
Installation can be a bit of a pain, but once you have it set up and ready to go, then it's fine. You can easily paddle around the lake on your kayak utilizing the great work this fish finder does.
It's extremely accurate and outworks the price, making this another great deal. It's perfect for someone who doesn't want to drop a crazy amount of money on a fish finder.
Product Specifications
3.5 inch screen
Depth reading from 1.8 to 900 feet
Auto zoom tracking
Bottom contour and temp readings
Multi-language settings
Big or small fish indicator
Dual beam sonar frequency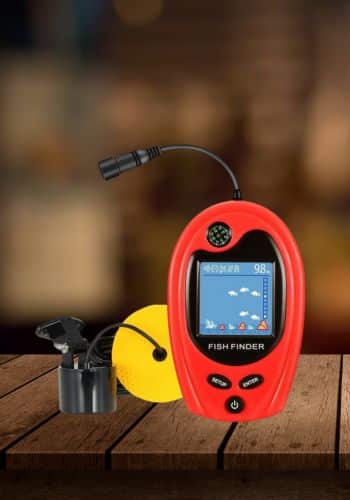 5. Lucky Portable Fish Finder
Pros: Small and easy to use and transport
Cons: Slow readings and no bells and whistles
For the price, the Lucky Portable Fish Finder is pretty incredible. Don't expect too much, though, as this is a very barebones fish finder. It will tell you depth, water temp, and fish location. It seems the fish location can be slow sometimes, though.
This can be taken out in just about any type of watercraft you can think of and be utilized. So, if you don't want to pull the trigger on something crazy expensive, then this is the one for you.
Ideally, this is best suited for a kayak. Since it's so small and lightweight, it won't take up much extra space in the boat. It'll deliver all the essential information you need to catch more fish, but nothing more.
Product Specifications
Portable
Streamlined shape
Real-time water depth
Background light
Fish detector
328 feet max depth
Extremely easy to use
Features of a Good Fish Finder (Particularly Those For Smaller Vessels)
Below, I'll go over some of the best features of fish finder for small boats. Each has its own pros and cons, so think about what you want and then apply it to the list below.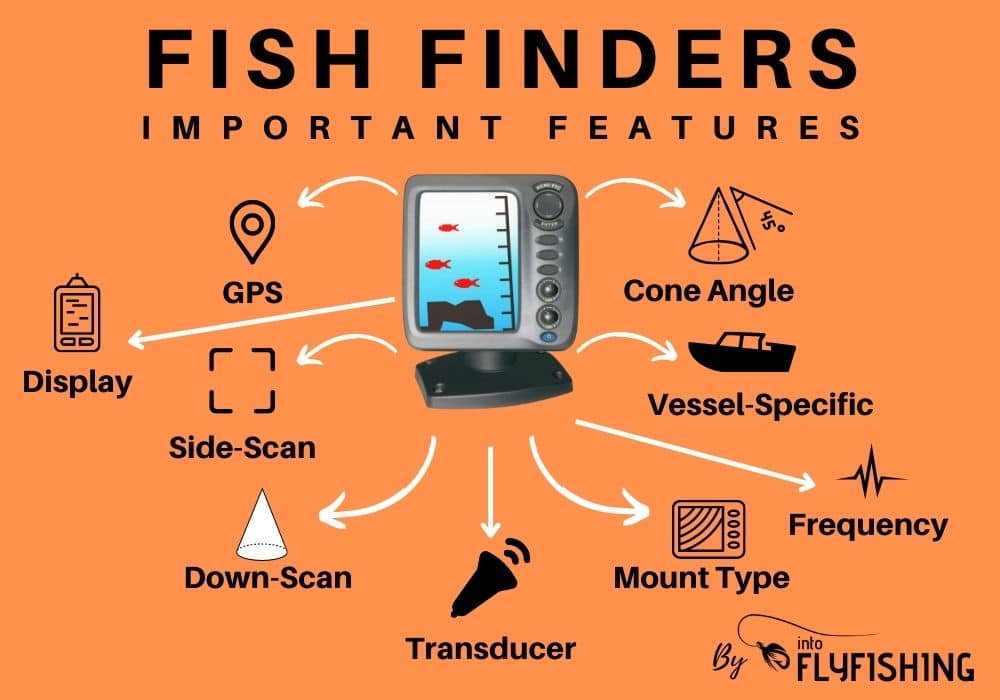 GPS Integrated
Having GPS on your fish finder can be the ultimate game changer. Most of these have waypoint settings that will allow you to plot exactly where fish have been hanging out or where you think they will be.
It's also great if you plan on fishing large waterways for the first time. This way you can easily plot your way back to shore or the boat ramp without getting lost.
Cone Angle
The cone angle is the sound generated by the transducer that works its way towards the bottom. The sound wave looks similar to an upside-down ice cream cone.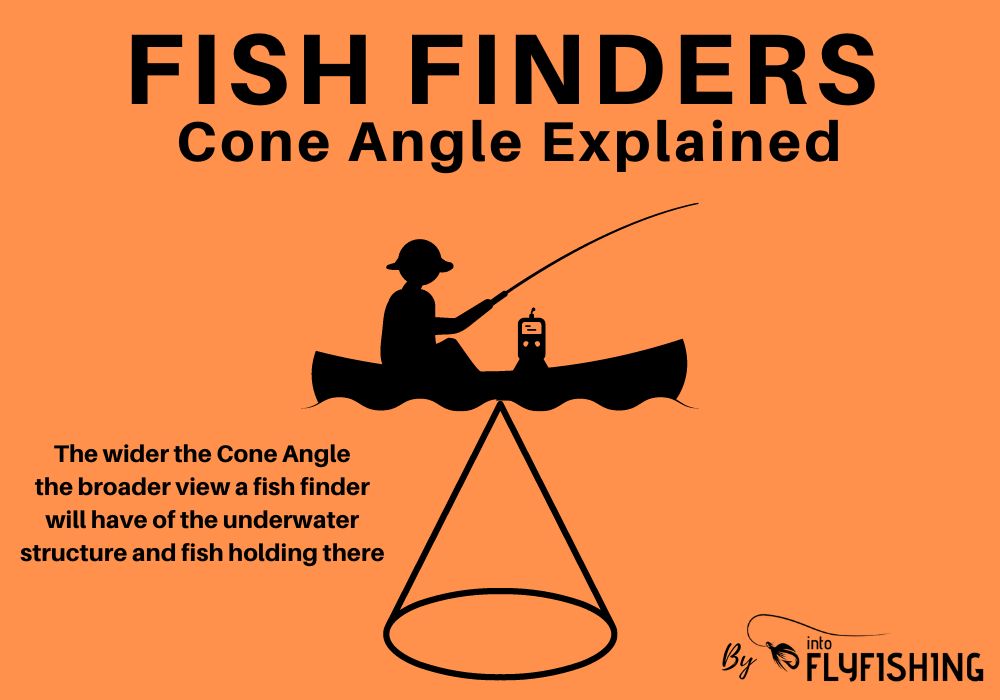 Some fish finders have a wider cone than others. The wider cone will allow you to see more of the bottom, thus allowing you to see more drop-offs, bait fish, or anything you may want to key in on.
Side Scan vs Down Scan
Side-scan gives you an image of what is on the sides of your boat. It shoots out an image a number of feet and allows you to see a lay down or brush pile that may be off to the side.
Down scan allows you to see directly beneath your boat. This is ideal when fishing in deep water, such as lakes or oceans. It's especially effective if you plan on jigging beneath your boat.
Mounting Type
The mount type for your fish finder should depend on what type of boat you want to use. A small vessel would do well with one that can be removed or something that's handheld.
Larger ships do well with fixed units. These are usually locked up and can't be taken off without power tools and either lifting the boat out of the water or getting in the water to take them off.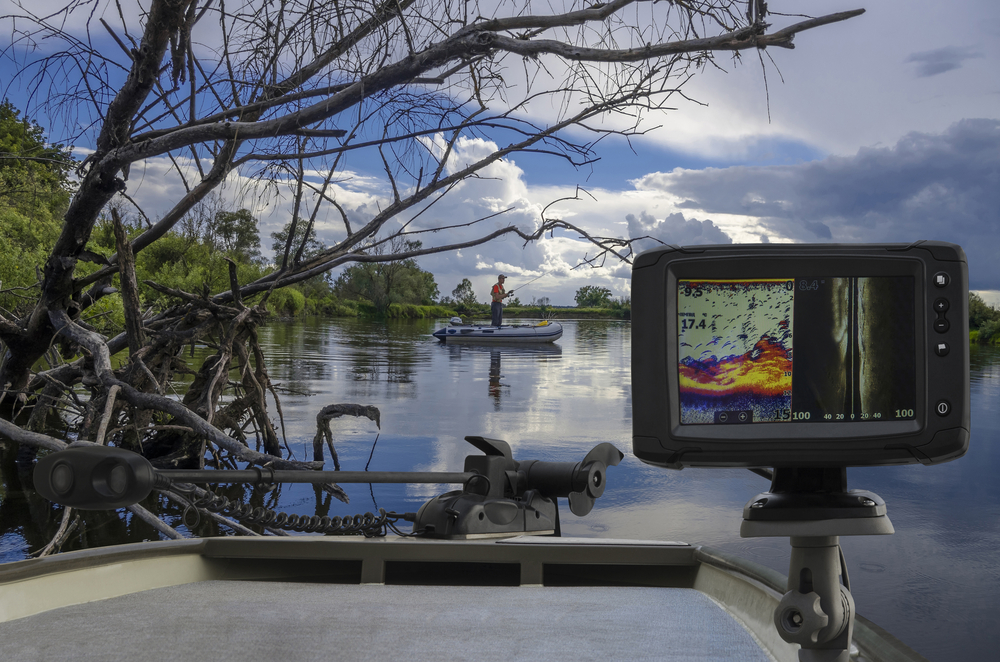 Vessel Specific Fish Finders
If you have a small boat, then something that can be easily taken on and off would be great. Also, something small and lightweight would be best because smaller boats can't handle as much weight.
Larger boats can handle much more weight, so 12 inch screens and large electronics won't weigh down the boat. These are best when you're using a larger ship.
Transducer
A good fish finder will have an even better transducer. The transducer will send and receive signals, and it acts as the heart of the echo sound system.
It changes electrical pulses into sound waves and then back again, so that the machine can accurately read what's beneath the boat.
Display
The display of the fish finder depends on the size as well as the backlight. Some are made to be used in all different lighting conditions, from midnight darkness to the brightest of conditions in the middle of the day.
The size of the screen is also important. The bigger it is, the easier you'll be able to spot different fish attractors or baitfish on the screen. You'll need to find a screen that's large enough to see but not too big to weigh down a smaller boat.
Frequency
Ultrasound frequency usually ranges from 15 kHz to 200 kHz. The majority of fish finders out there usually only have a range of 50 kHz to 200 kHz.
Some expensive or commercial fishing vessels may have a fish finder with a frequency that's much higher. This isn't needed for a recreational angler.
Some of My Favorite Fish Finder Brands
If you'd like to know who makes great small boat fish finders, then check out the section below. I cover several different brands that should meet your needs.
Take a close look at each brand before purchase, though. Each has its own pros and cons, and it could hinder your style of fishing if you purchase the incorrect one.
Humminbird
If you want to make the most out of your time on the water, then it's hard to go wrong with a Humminbird. They have all of the high tech features needed to enhance your fishing experience.
It doesn't matter what type of water or what type of boat you have. Humminbird makes a fish finder that will help you catch more fish.
Lowrance
One of the best-known names in the world of fishing electronics, Lowrance is regarded as one of the best companies out there in terms of producing high-quality fish finders.
It doesn't matter the size, color, frequency, or cone angle. Lowrance creates a fish finder that will work perfectly for the style of fishing you plan on doing.
Joywee
Joywee is not a household name the way that Lowrance or Humminbird is. However, they make great fish finders that can be utilized by both professionals and amateurs.
Look to them if you want something that works well but won't cost an arm and a leg to get. These are great for smaller vessels.
Lucky Fish Finders
Lucky fish finders are in the same vein as Joywee. This a newer company that makes great fish finders. They may not be well known, but they sure do work well.
Most of these are smaller and cheaper, making them ideal for anglers who may be new to the fish finder game and don't want to spend too much. These are ideal for the angler who uses kayaks, canoes, or float tubes.
Review This Post
Conclusion
Fish finders are a great way to get you out on the water and improve your chances of catching fish. There's only so much your naked eye can see, and there's so much beneath the surface.
The items above are a great start, but feel free to use them as a jumping-off point to help find the right fish finder for you and your way of fishing.
If you want more success on the water, then you need to be using a fish finder. It doesn't matter by who or how big. As long as you have one, then you'll catch more fish than you did before.
Amazon and the Amazon logo are trademarks of Amazon.com, Inc, or its affiliates.
As a part of the Amazon Associates Program and other affiliate programs, Into Fly Fishing® may receive a comission if you order products through links on this website.