I've been fishing with fish finders since I was a 12-year old boy, trolling around the lakes and reservoirs of Virginia. These days, I have a fish finder in both my small 50hp fishing boat, and attached to my fishing kayak.
I still use them when hitting up new waters and I'm constantly researching the newest models and geeking out playing with them at my local fishing stores. I know fish finders and I have enough expertise to share with you my top picks under $500.
When looking for the best fish finder for under $500, you may have to compromise slightly on what you want versus what you need the product to do.
Fish finders under this price are usually a barebones type of product. So, think about what you need exactly and then find the product that has it.
Quick Look: Best Fish Finder Under $500
★ #1 Best Fish Finder Under $500: Lowrance Hook 2 ★
It can be difficult to find a fish finder for under $500. However, below I'll help you out. I list five different products and then I talk about some of the best features of fish finders for under $500.
Looking for the best fishfinder overall? Check out our full guide to The Best Fish Finders including portable, mounted, fixed, and more.
Best Fish Finder Video
What Is a Fish Finder?
A fish finder is a device that will allow you to see the bottom or the sides of the body of water you're in. It'll also allow you to see what is in the middle of the water column.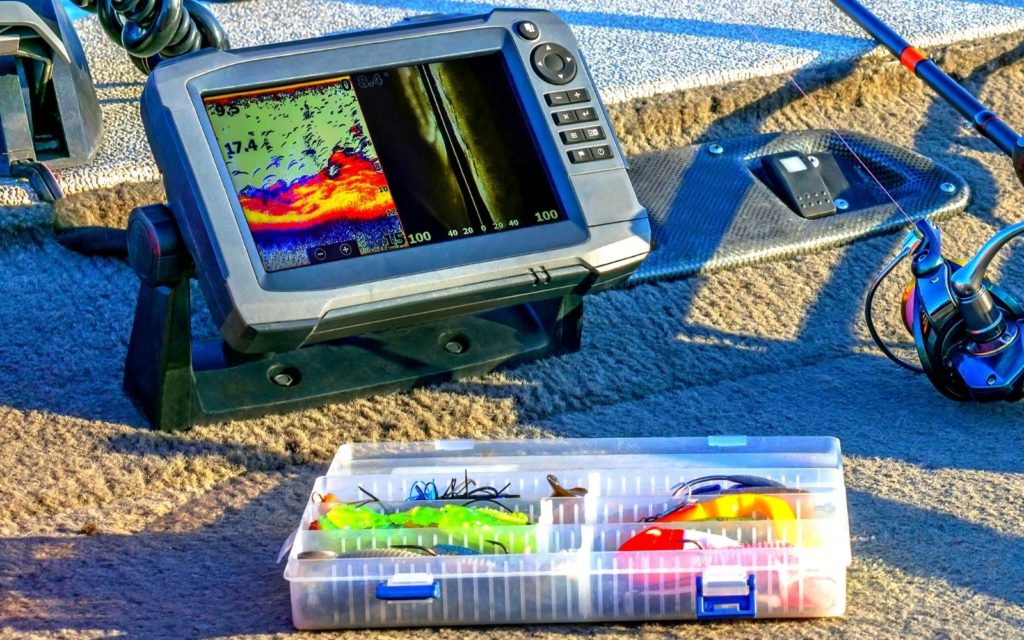 This will help you detect game fish, bait fish, drops offs, humps, ledges, brush, and lay downs. Any area where a fish might be sitting and waiting you'll be able to see as well.
Types of Fish Finders for Under $500
There are several different types of fish finders for under $500. However, it can be daunting when you're looking at the list, especially if you're not familiar with the vocabulary.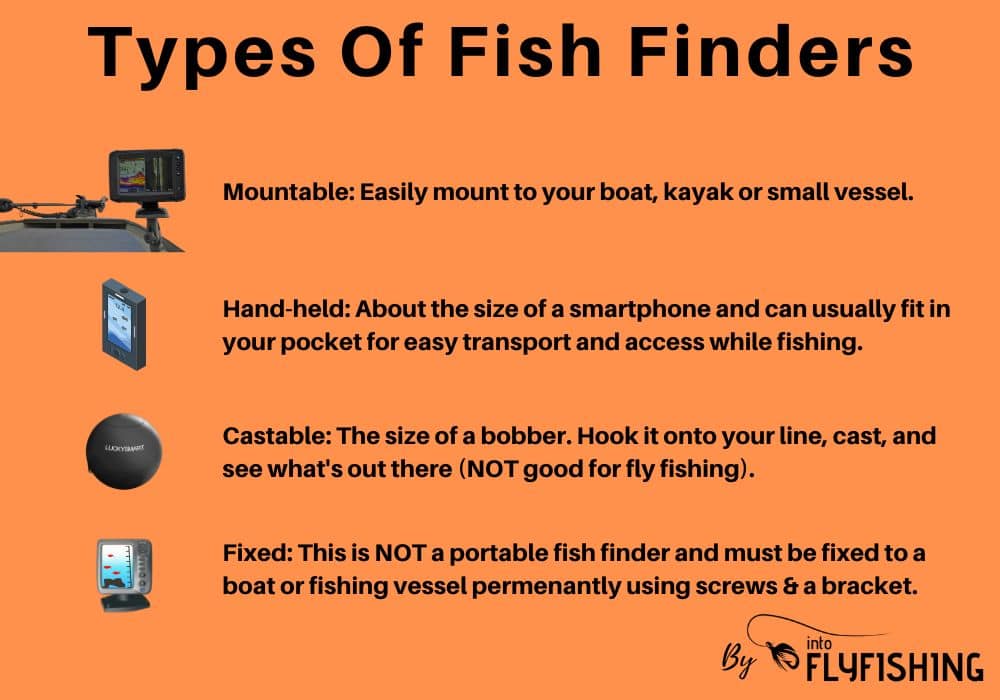 So, below I'll go over the different types in detail. This way you can have a better understanding of what you need for fishing and what you should be looking for.
Mountable
Mountable fish finders are great if you want something stable, but you also want to remove it after a day of fishing. Mountable fish finders can be used on many different types of vessels.
These come with brackets that you can mount anywhere on your boat. The bracket will keep it stable during your day out, and then you can remove it and keep it inside your home or in your truck where it's safe.
Fixed
A fixed fish finder is similar to a mountable fish finder. They both come with brackets that will keep your fish finder stable in rough conditions.
However, you'll find that you won't be able to remove it once you've attached it to your boat. These are great for larger boats that are kept secure.
Portable
Portable fish finders are ideal for anglers who are shore fishing or want to use them in kayaks, canoes, or other small vessels. This is because they're usually smaller and easier to move around, making these the best kayak fish finders.
These are also great for ice fishing. Typically they don't come with all of the bells and whistles that some of the fixed and mountable products do. They still work very well and will help you catch more fish.
Handheld
Handhelds are great for shore fishing and other smaller vessels. These can easily fit into either your pocket or inside of a tackle box. They're perfect for someone who wants to lighten their load.
These can be used for larger boats, although this doesn't make too much sense. If you have a larger boat and you're fishing in big water, then a larger fixed fish finder will serve you better.
Castable
These are the new guys on the fish finder scene. Everyone having a smartphone in their pocket has given rise to the castable fish finder. They could also be the best fish finders for a kayak.
Many of these are a bobber that you cast out and work similarly to the one in your boat, except the screen is accessed through an app on your phone.
When to Use a Fish Finder
Anytime you find yourself out on the water, you can use a fish finder. It doesn't matter if you plan on fishing from a skiff, a jon boat, the shore, or an inner tube. There's a fish finder for you.
No longer do you have to purchase a bass boat in order to utilize a fish finder. Anyone can use one these days, and this will lead to more success on the water.
Do You Really Need a Fish Finder?
You don't need a fish finder in order to go out and have success. You can use your eyes to locate lay downs or any other structure you can notice from the shore or a boat.
That being said, using a fish finder will significantly improve the amount of fish you catch. It will open up whole new spots of the water that you didn't even know were there.
Five Best Fish Finders for Under $500
Below, I'll go into some more detail on five different fish finders. All of these are under $500, so they aren't as complex as some of the more expensive models.
So, think about what style of fishing you use, and then below there will be a fish finder for you. Check out the list and see which one is best for you.
Lowrance Hook 2
Pros: Easy to use and has auto tuning sonar
Cons: Struggles in shallow water
The Lowrance Hook 2 is the best all-around fish finder under $500. It comes with the essentials that you need to go out targeting and catching fish all day.
It's easy to use and also easy to mount on your boat. No longer do you have to spend half of your day fishing only taking your time figuring out how this thing works.
The automated sonar settings make it incredibly easy to use. So, even the most technologically challenged will be able to figure it out and catch more fish in the process.
Product Specifications
SolarMax display
Automated sonar
Double the sonar coverage of normal fish finders
Optimized keypad
One touch access
Comes with transducer
Transducer fits all
Garmin 010
Pros: Size and depth
Cons: Not great for salt water
This Garmin 010 fish finder is a great portable device that can be used for just about any type of fishing. It's especially great for anglers who will be in smaller boats, such as canoes and kayaks.
The lightweight design is ideal for these smaller vessels. It won't weigh you down when those precious ounces matter. This is especially true since you'll be the one paddling around.
It's not ideal for salt water, though. Abrasive and harsh conditions can break or alter the look of the screen, minimizing the effect that it can have while you're out fishing.
Product Specifications
ClearVu sonar
Three different size displays
Waypoint map
Can go down to 1600 feet in freshwater
CHIRP sonar
Built-in flasher
Humminbird Helix 5
If you want a great fish finder for your boat, then this is the one. The Humminbird Helix 5 is equipped with dual beam sonar, so you can see everything you need that's beneath your boat.
On top of that, you'll also be able to tell the water temp, speed, and depth, making it the perfect fish finder for finding the fish of your choosing.
Similar to the unit above, it's also very easy to use. Simply use the pad on the device to navigate through the screen and menu to access the area you need.
Product Specifications
Speed
Temp
Depth
Keypad control
Transducer included
Transom mount
Dual beam sonar
Humminbird Helix 5 G2
Pros: Down imaging, SwitchFire sonar
Cons: Doesn't tell you your speed
If you want a little something extra with your fish finder, then this is it. The Humminbird Helix 5 G2 down imaging scan can easily show you exactly what's beneath your boat. No more do you have to question what is below you.
It has a five-inch color display. So, it's not very big but it's large enough that you can properly read the device without having to question what's on it.
The keypad control makes this device very easy to use. Easily scroll through the different settings and find exactly what you need to help you catch more fish.
Product Specifications
Five-inch color display
Down imaging
SwitchFire sonar
Dual beam sonar
Keypad control
Lowrance Hook 5
Pros: GPS and split shot transducer
Cons: Needs SD card to chart waypoints
The Lowrance Hook 5 device comes with FishReveal technology, making it easier to locate fish on your map. This will also help you identify different structures in the water as well.
It also features a GPS plotter, making it the best fish finder GPS combo. This marks the route as well as the location that you've chosen. This will help you remember where those great spots are that hold a lot of fish.
The auto-tuning SONAR also helps you spend more time fishing and less time messing with your fish finder. This means more time catching fish and less time spent on your electronics.
Product Specifications
FishReveal tech
GPS plotter
Split shot transducer
Auto-tuning sonar
Five-inch display
Features of the Best Fish Finders for Under $500
Below, I'll go over some of the best features of a $500 fish finder. Check them out and see which one will be the best for you and your style of fishing.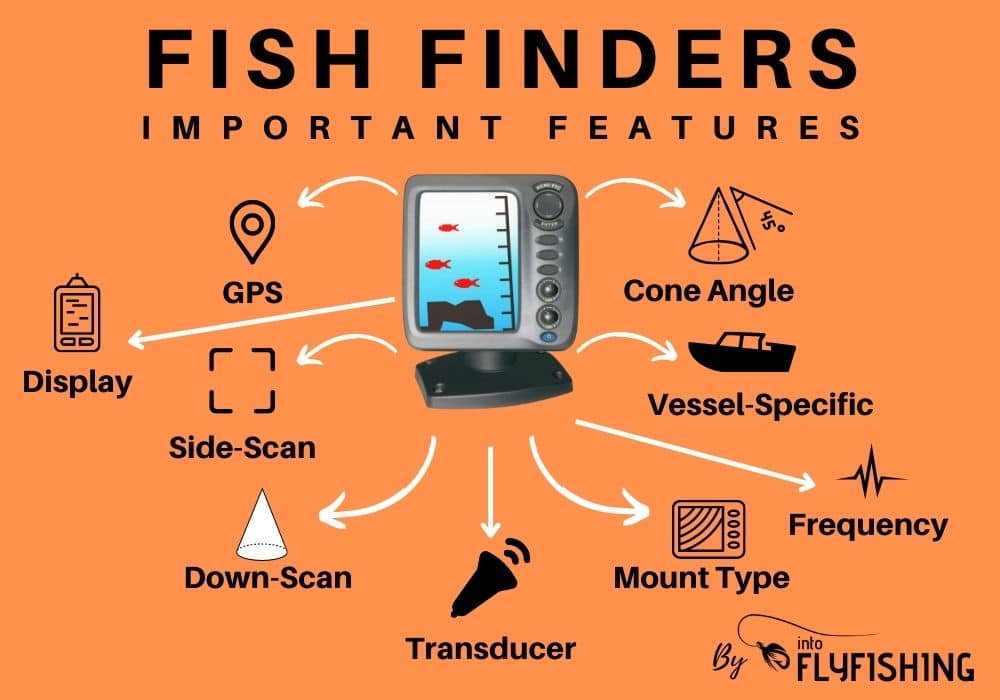 GPS Integrated
GPS integration is a great feature to have in a fish finder. This usually means that the device is equipped with a waypoint marking feature, which makes it easier to find your previously successful spots.
Also, having GPS means that you can navigate waterways more efficiently. This is ideal if you're fishing on a new body of water for the first time.
Side Scan vs Down Scan
Side scan will give you an image of what's located on the side of your boat. This is ideal for narrow waterways that may have a lot of structure on the sides.
Down scan gives you an image of what's beneath your boat. This is great for fishing in deeper water, such as lakes or the ocean. Down scan is great for jigging beneath your boat.
Mounting Type
The mount type all depends on what's either best for you or for the boat that you have. A fixed mount is ideal for larger vessels that may be in some chop. Fixed is sturdier and usually has a larger screen.
Mountable and removable is great for smaller boats. This way you can take off the fish finder at the end of the day and either bring it inside or lock it up in your car where it's safe.
Cone Angle
The degree of the cone angle will tell you exactly how much of the bottom of the water column the device will show you on the screen.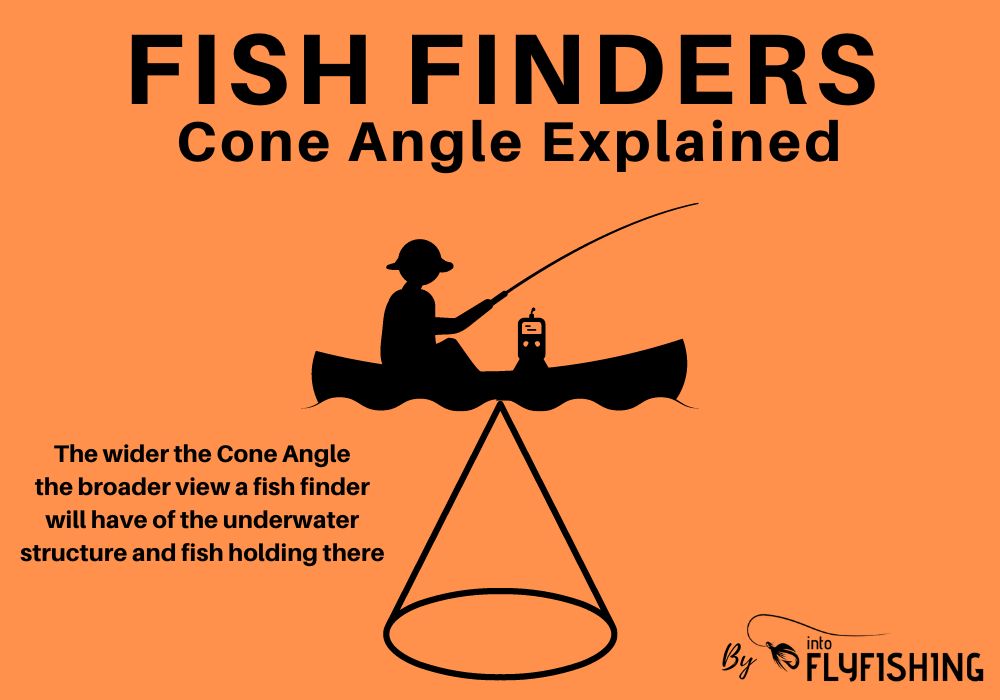 It looks like an upside-down ice cream cone and sends down a signal to the bottom of the river or lake. The signal it receives back shows you what's on the bottom as well as the water column.
Vessel Specific Fish Finders for Under $500
Most fish finders under $500 are on the smaller side, making them great for smaller boats, such as jon boats, kayaks, or canoes.
Since the screens are smaller, you won't be able to see them as well as on larger boats. So, you could mount it on a big bass boat, but you'd need to be close up to see what's on the screen.
Transducer
This is the heart of your fish finder. It's what sends and receives the signals that it then puts on the screen. A good transducer will make all of the difference in your fish finder.
These can sometimes be tricky to mount onto your boat. This is true if you have something smaller, such as a kayak or a canoe, where it can be difficult to find spots to mount it.
Display
The display is very important. It needs to have just the correct amount of brightness so that the sun doesn't overpower the screen on a really sunny day.
Also, it needs to be large enough that you can see it without having the squint or move too close. Ideally, a larger screen is great for larger boats, and smaller screens are best for small boats.
Frequency
Most frequencies are between 50 kHz and 200 kHz. However, you will find that most of the frequencies out there are set to 50 kHz.
You can find some that are larger than 200 kHz. However, those are typically reserved for commercial fishermen in deep water.
Who Makes the Best Fish Finders for Under $500?
There are a lot of names out there in the world of fish finders, and it can become overwhelming, especially if you're not familiar with the brands or the products.
So, below I'll go over some of the different brands. Each has its own pros and cons, so think about what you need for your own style of fishing and apply that to the list below.
Humminbird
One of the best known and most trusted names in the world of fishing electronics, Humminbird has seemingly been around forever and for good reason.
They make great products and even better fish finders. They're reliable, and the company is always working to keep on the cutting edge of the latest technology.
Garmin
Similar to Humminbird, Garmin has also been around for a long time and is an extremely well-known and trusted name in the world of fishing.
They're consistently keeping up with the latest technology and applying that to their work, ensuring that you have the latest and greatest in order to become a better angler.
Lowrance
It doesn't matter what you're looking for in the world of fishing electronics, Lowrance fish finders have it. From trolling motors to fish finders, they're always making quality products.
You can't go wrong with a Lowrance fish finder. They have everything you need, from expensive models all the way to models that are under $500. Check them out because you can't go wrong!
Review This Post
Conclusion
Fish finders for under $500 can be found. However, it can be difficult to find all of the features you want in something that's priced that low.
So, it may take some time and effort to find the right one. Once you do, though, it'll be completely worth it because you'll have everything you need and you've met your budget.
Use the article above to help guide you. Use the products or features I listed to make your own list and apply that to your needs. Hopefully, I had the one for you on here!
Disclaimer: IntoFlyFishing.com is a participant in the Amazon Services LLC Associates Program, as an Amazon Associate I earn from qualifying purchases. Please see our Privacy Page for more information.